Donald Glover's Joke in Black Panther
Donald Glover Is Responsible For One of Shuri's Best Jokes in Black Panther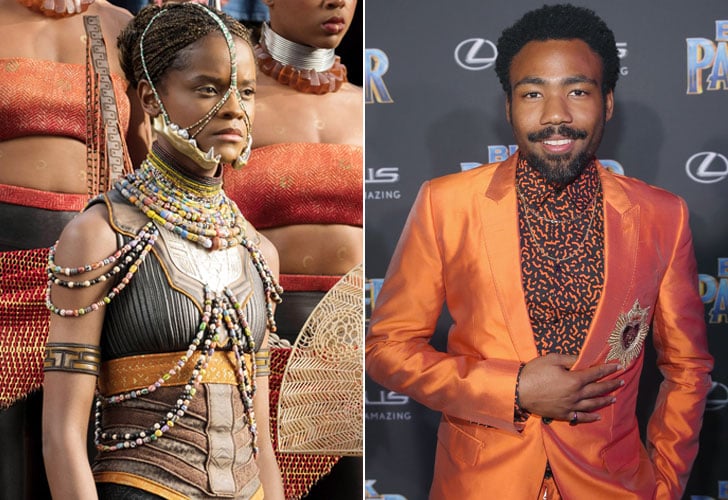 Black Panther is not only responsible for smashing the box office to smithereens, bringing representation to Marvel's nearly all-white superhero world, and even breaking a historic cinema ban in Saudi Arabia but also for giving us a six-pack from laughing so hard.
Despite the fact it's mainly an action film, Black Panther is packed with jokes, which mostly come courtesy of Princess Shuri. The character, played perfectly by British actress Letitia Wright, is the sarcastic (and insanely smart) little sister of T'Challa (Chadwick Boseman), but she doesn't let the fact he's a king or a superhero stop her from getting in a few quips at his expense. As it turns out, one of her best lines was actually written by a fellow member of the MCU: Donald Glover.
Glover, who popped up in 2017's Spider-Man: Homecoming and is currently portraying Lando in Solo: A Star Wars Story, teamed up with his brother, Stephen, to give a draft of the Black Panther script an extra dose of humor right before the film started shooting. While he didn't write the "what are thoooossssse?" line Shuri is most famous for, the DVD's audio commentary reveals that the brothers were behind her hilarious complaint about her corset in the scene when T'Challa endures the Wakandan tradition of people challenging him for the throne. When Zuri (Forest Whitaker) asks if anyone wants to fight T'Challa, Shuri raises her hand and prompts loud gasps from the crowd, only for her to say: "This corset is really uncomfortable, so could we all just wrap it up and go home?"
"this corset is really uncomfortable. so could we all just wrap it up and go home?" SHURI IS SO PRECIOUS AND FUNNY. HOW CAN YOU NOT LOVE THIS PRINCESS??? pic.twitter.com/67lx8McZZF

— why is erix? (@spideylings) May 8, 2018
It's one of her best lines, and according to director Ryan Coogler, it's all thanks to Glover. Maybe he can lend a hand if that all-female Black Panther movie ever comes to fruition?