Shuri's "What Are Those?" Joke in Black Panther
The Real Hero of Black Panther Is Shuri With Her Hilarious One-Liners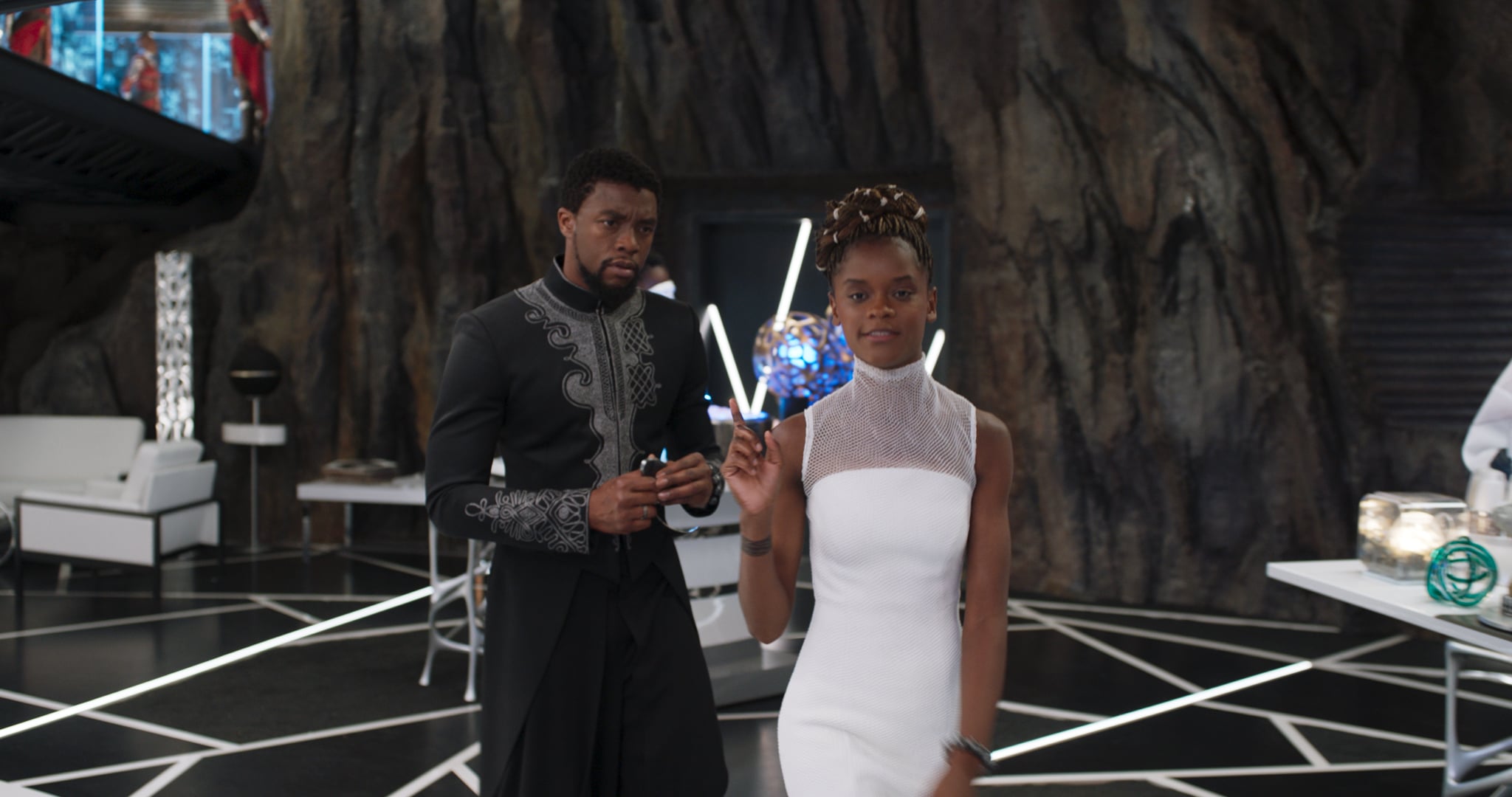 Warning: a few spoilers for Black Panther ahead.
We've already discussed how important, groundbreaking, and badass Black Panther is, but not enough of us are talking about how hilarious the movie is, as well. Case in point: one of the funniest scenes in the entire movie happens when Shuri (Letitia Wright) teases her brother T'Challa (Chadwick Boseman) by mocking his sandals, asking, "What are thoooose?!" If the joke sounds familiar to you, it's probably because it's from a popular meme that went viral in 2015 after a video of a man asking a police officer about his black work boots was uploaded on Instagram.
"This made it to the [Black Panther] movie. Crazy," one person wrote underneath the video after watching the film. The scene-stealing moment was just one of the many times that I was in near-tears because of Shuri's one-liners. The others were when she refers to Agent Everett K. Ross (Martin Freeman, a white man) as a "colonizer," and her Easter egg reaction when Ross first arrives in Wakanda for repair after taking a bullet for Nakia (Lupita Nyong'o). "Another broken white boy to fix," she jokes.
Ruth Carter, the costume designer who put together all the mesmerizing pieces in the movie, recently dished about the scene, revealing to Elle that the sandals were actually an altered pair of Alexander McQueen shoes made to look "like a royal sandal, in sort of a dated, Roman way." Carter also told the publication that she "really loved those sandals" and took no offense to the joke. "[Shuri] making fun of them was okay because they did look like cool sandals — it's not like he put his foot up and it was in a flip-flop."
Luckily for T'Challa, Shuri hooks her big brother up with some high-tech footwear to help him in his pursuit of chasing down bad guys. Here's to hoping we'll get to see more of their hilarious sibling banter in the all-but-confirmed Black Panther sequel. Check out some of the best reactions to Shuri's "What are those?" joke ahead.
They made a "WHAT ARE THOSE?!" joke in Black Panther and it is now my favorite movie

— Andrew Battifarano (@AndrewAtBatt) February 16, 2018
Shuri yelling "What are those!!!!" at T'Challa's sandals is me. #BlackPanther

— Ʌshley 😈 (@xxashsapxx) February 18, 2018
Shuri is my new favorite Disney princess, beyond an icon. "WHAT ARE THOSE!" Had me screaming in the theater

— Amanda (@A_Liddicoat) February 19, 2018
me when anyone else says 'what are those' vs me when shuri said 'what are those' #BlackPanther pic.twitter.com/Uwm6TrFyH3

— amy˚✵.·˚.·✫ (@goawayamy) February 18, 2018
Black Panther MVPs

M'baku
Okoye
T'Challa
Nakia
Killmonger
Shuri
Letitia Wright/Shuri's delivery of "What are those?!"#BlackPanther

— Aʙsᴏʟᴏᴍ Jᴀᴍᴇs 😱 (@absoloj) February 19, 2018
My favorite thing to ever come out of a Marvel movie is clearly Shuri saying "WHAT ARE THOSE" #BlackPanther

— Amy Elizabeth (@aelizaabethe) February 19, 2018
All hail Princess Shuri.