Stranger Things Season 2 Episode Titles
Why Stranger Things' Season 2 Episode Titles Might Contain 3 Subtle Spoilers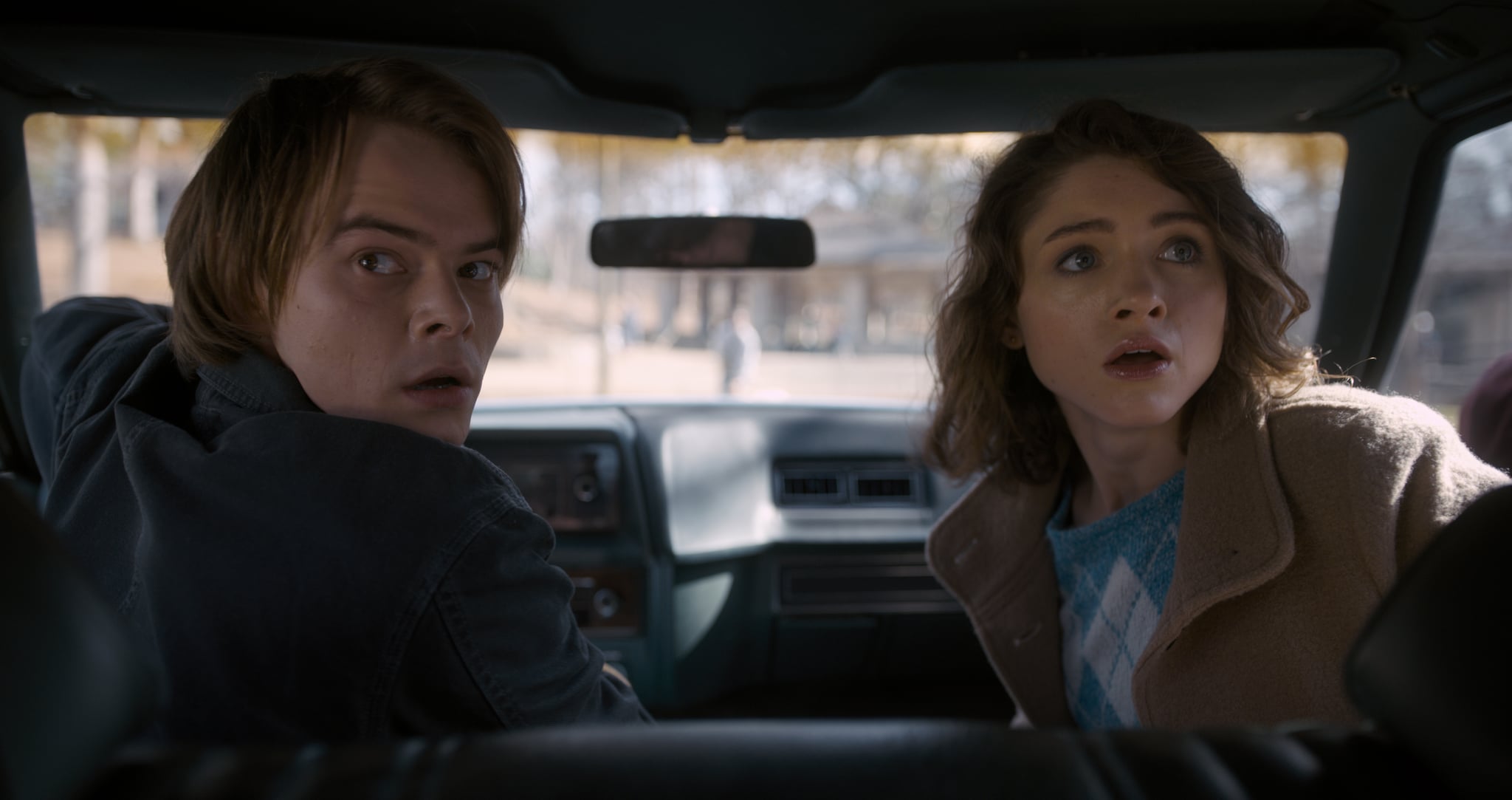 There are only a few weeks left until Stranger Things drops its second season, so in honor of the ever-nearing premiere date, Netflix decided to give fans a few clues about what's to come via Twitter on Tuesday: season two's episode titles. The video the Stranger Things Twitter account shared includes the names of the first six episodes — "Madmax," "The Boy Who Came Back to Life," "The Pumpkin Patch," "The Palace," "The Storm," and "The Pollywog" — but leaves the last three blank, simply referring to them as "Chapter 7," "Chapter 8," and "Chapter 9."
At first glance it might not seem like any of the names contain spoilers, but when you take into account that we've actually already seen the last three episode titles before, it kind of feels like we should be giving them a closer look.
The story continues. New chapters on October 27. #StrangerThings pic.twitter.com/NPF1NPNQSt

— Stranger Things (@Stranger_Things) October 9, 2017
As you might recall, Netflix released a teaser back in August 2016, which named the last three episodes as "The Secret Cabin," "The Brain," and "The Lost Brother." Could the Duffer Brothers simply have decided to rename the final trio of episodes later on in production? Totally. But let's see what we can parse from the episode titles alone. For starters, "Madmax" is no doubt a reference to Sadie Sink's new role on the show, a new girl at Hawkins High School named Max. We can assume "The Boy Who Came Back to Life" is about Will Byers, given what happened to him last season, and "The Pumpkin Patch" is a nod to all of the Halloween scenes we got a glimpse of in the trailer (maybe a pumpkin patch in Hawkins ends up being a battleground for some kind of showdown, or the lair of a new, evil force?).
"The Palace" is a little trickier, as is "The Storm," (unless you take it literally, of course), but "The Pollywog" definitely seems to hint at a new monster. In the most recent video, the title card to go along with "The Pollywog" is a black, goop-y creature in a trash can (which certainly looks like the same shaking trash can that Dustin goes to investigate in the trailer). "The Secret Cabin" and "The Brain" don't seem to allude to anything directly at the moment, but "The Lost Brother" does give us pause. With all the allusions to Will not being quite right since his journey back from the Upside Down in season one, is he once again the brother who gets lost? Or maybe his older brother, Jonathan, sacrifices himself to save Will once and for all?
The new season premieres on Netflix on Oct. 27, so we'll just have to wait until then to see if the last three episode titles are the original names, or something completely different.