Supernatural's The Walking Dead Crossover With Lucille
People Are Freaking Out Over Supernatural's Huge Nod to The Walking Dead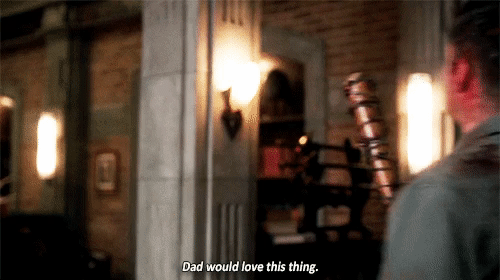 It's been quite a few years since Jeffrey Dean Morgan left his role on Supernatural as John Winchester, the father of demon-hunter brothers Dean (Jensen Ackles) and Sam (Jared Padalecki), but the long-running fantasy drama still finds ways to give the fallen patriarch a shout-out. In the latest season 12 episode, which aired on March 9, Dean strolls in after a hunt holding a bloody, barbed-wire-wrapped bat. "Man, Dad would love this thing," he says, a clear reference to the weapon The Walking Dead's Negan (played by Morgan) carries in the zombie show (a barbed-wire-wrapped bat named Lucille). Naturally, fans lost their minds a little bit.
I CAN'T BELIEVE THEY HAD LUCILLE IN AN EPISODE.#Supernatural @JDMorgan Are you missing something? pic.twitter.com/Ufmnt1UmKH

— ᗪOᑎ'T ᗷE ᗩ ᒪITTᒪE ᗷ (@TONiANN_ROSE) March 10, 2017
OMFC!!! THE BAT!! ITS LUCILLE #Supernatural

— sydney fury-windu (@royally_syd) March 10, 2017
OMG I'M FREAKING OUT!!!

Dean: "Man dad sure did love this thing."

HE WAS HOLDING LUCILLE!!!! 😱 #Supernatural

— ⋆𝒮𝓉𝒶𝒸𝒾ℯℒ𝓎𝓃𝓃⋆☾ (@ms_stacielynn) March 10, 2017
THEY PUT THE LUCILLE BAT IN SUPERNATURAL OH MY GOD.

— Gen. (@nowandgcn) March 10, 2017
If Jeffery Dean Morgan ever returns to Supernatural it needs to have zombies in it & dress up like Negan with Lucille. Hunting trip gone bad

— Whirty (@CWhirt) March 7, 2017
This isn't the first time there's been a mini-crossover between Supernatural and The Walking Dead, either. Back in October, Ackles shared some behind-the-scenes photos of him holding the Easter egg while shooting the episode, captioning a photo, "Hey Dad, you left something in the impala. #spnfamily #walkingdead." Morgan, for his part, was totally game to get in on the joke and tweeted his former costar a hilarious burn. Maybe he can return the favor by having Negan drive an Impala around in The Walking Dead?