Who Is Toni Topaz on Riverdale?
A Bisexual Character Is Coming to Riverdale, and She's Going to Change Everything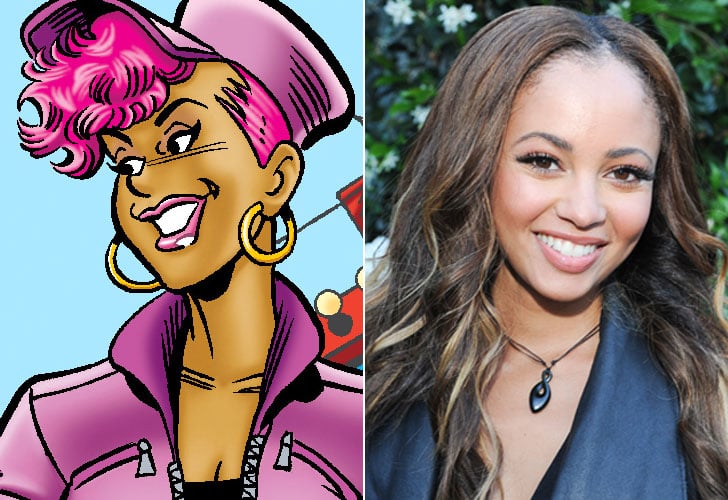 Riverdale might not return until October, but we've already confirmed that the second season is going to be one hell of a ride. In addition to seeing what Cheryl (Madelaine Petsch) is up to after burning her house down (spoiler alert: nothing good) and watching Archie go down a dark hole after his father is shot, The CW's hit mystery-drama is introducing a character who might be the reason why Betty and Jughead eventually break up: Toni Topaz.
In the Archie comics, Toni Topaz is a bisexual student at Riverdale High, fond of Jughead, pink hair dye, competitive eating (who isn't?), and singing for Betty & the Waves. Although the TV version of Toni won't be exactly like like her comic-book counterpart, Riverdale is taking a few key traits from the source material for their onscreen adaptation, played by actress Vanessa Morgan. She's losing the taste for competitive eating and enrolling at South Side High instead of Riverdale, but the character will still be bisexual and grow close to Jughead (Cole Sprouse).
"Toni Topaz is great because it's nice to have another woman on the show with a distinct personality and point of view. I think that's one of the strongest things about Riverdale," executive producer Sarah Schechter revealed during our interview with her at Comic-Con. "She is sort-of a female Jughead, which is really fun. It's fun to see a smart, opinionated woman from the South Side."
Toni's bisexuality will definitely be showcased when she makes her debut, which Schechter described as "an opportunity for more, different love triangles and love stories." Will that love triangle involve everyone's beloved "Bughead"? Since she's going to become good friends with Jughead, it's wise not to rule the situation out, but it's even more likely she'll end up forging a romantic connection with Cheryl Blossom. During the same Comic-Con interview, actress Madelaine Petsch, who plays the red-headed pot-stirrer, noted that she'd finally be getting a love interest, but it's not necessarily a man.
We don't know much else about Toni Topaz just yet, but we have a feeling season two is going to be that much more dramatic when she gets into the mix.