Zoe Saldana Interview About Guardians of the Galaxy
Zoe Saldana on Why Her Guardians of the Galaxy Character Needed to Be Pretty
Zoe Saldana is no stranger to playing an alien — she rocked blue skin in Avatar, after all — and she's about to put her own spin on one of Marvel's most badass female characters: Guardians of the Galaxy's Gamora. I, along with a group of reporters, was invited out to the film's London set last year for a chance to chat with the actors, including Chris Pratt, about adapting the comic for the big screen. Find out what we learned from Saldana, like why she's concerned with the feelings of teenage boys and how she thinks her onscreen sister (played by Doctor Who's Karen Gillan) is hot. Before the film hits theaters on Aug. 1, take a look at what else Saldana had to say.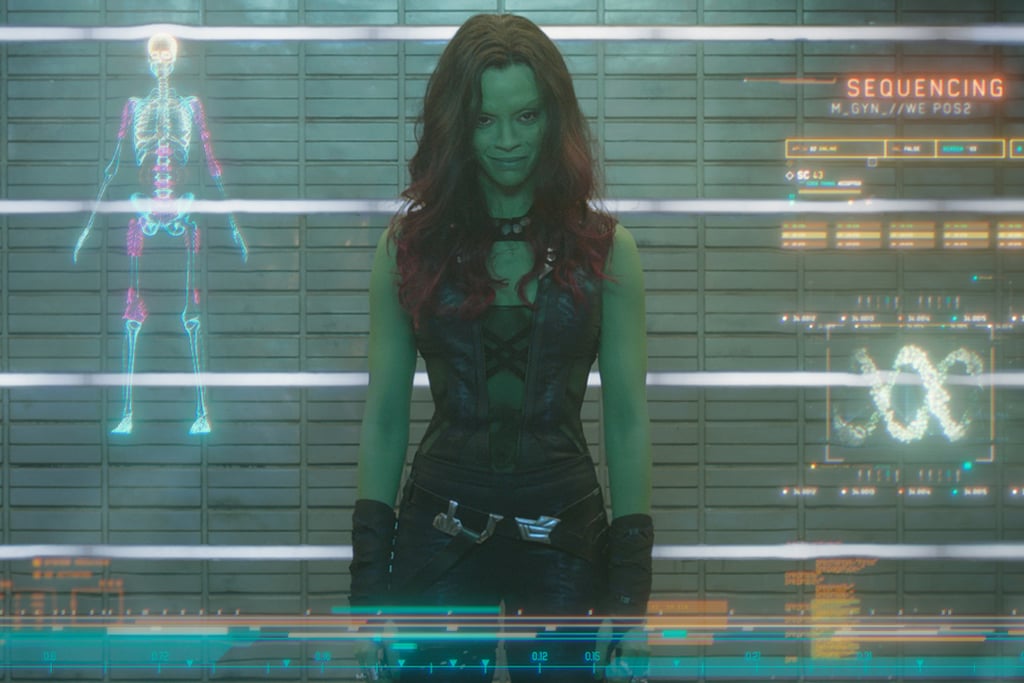 How did the designers settle on a costume for Gamora?
Zoe Saldana: What I was thinking was, "She just needs to be pretty." That's usually a thing that I don't think about with other characters, but because I was going to be green and I was going to be the lead girl, I just wanted teenage boys to find me attractive. I don't know why I was stressing that a lot. Everybody else was just like, "Contacts, do we dye the hair, wig no wig, what color hair, how long is it." I'm like, "Pretty." Teenage boys, please, we gotta get their vote.
This isn't even the first role you've been in that would appeal to teenage boys, though!
ZS: I'm older, and you go, "Am I losing my sex appeal or something?" But when you're green for four months, it definitely moves you a bit. You find yourself going, "OK, what is beautiful?" And then you start to find your character very beautiful in how different she looks, because you get used to it.
Having been in Avatar, did you have any hesitation about playing another alien?
ZS: To me, it's no different of a concern than Cate Blanchett and Keira Knightley have because they just do primarily period pieces. I like working with filmmakers who have the balls to imagine the unimaginable. Those are kind of like the radicals that I identify with. Also by playing an alien, I avoid playing someone's girlfriend here on Earth, because that's a bit of a canker sore.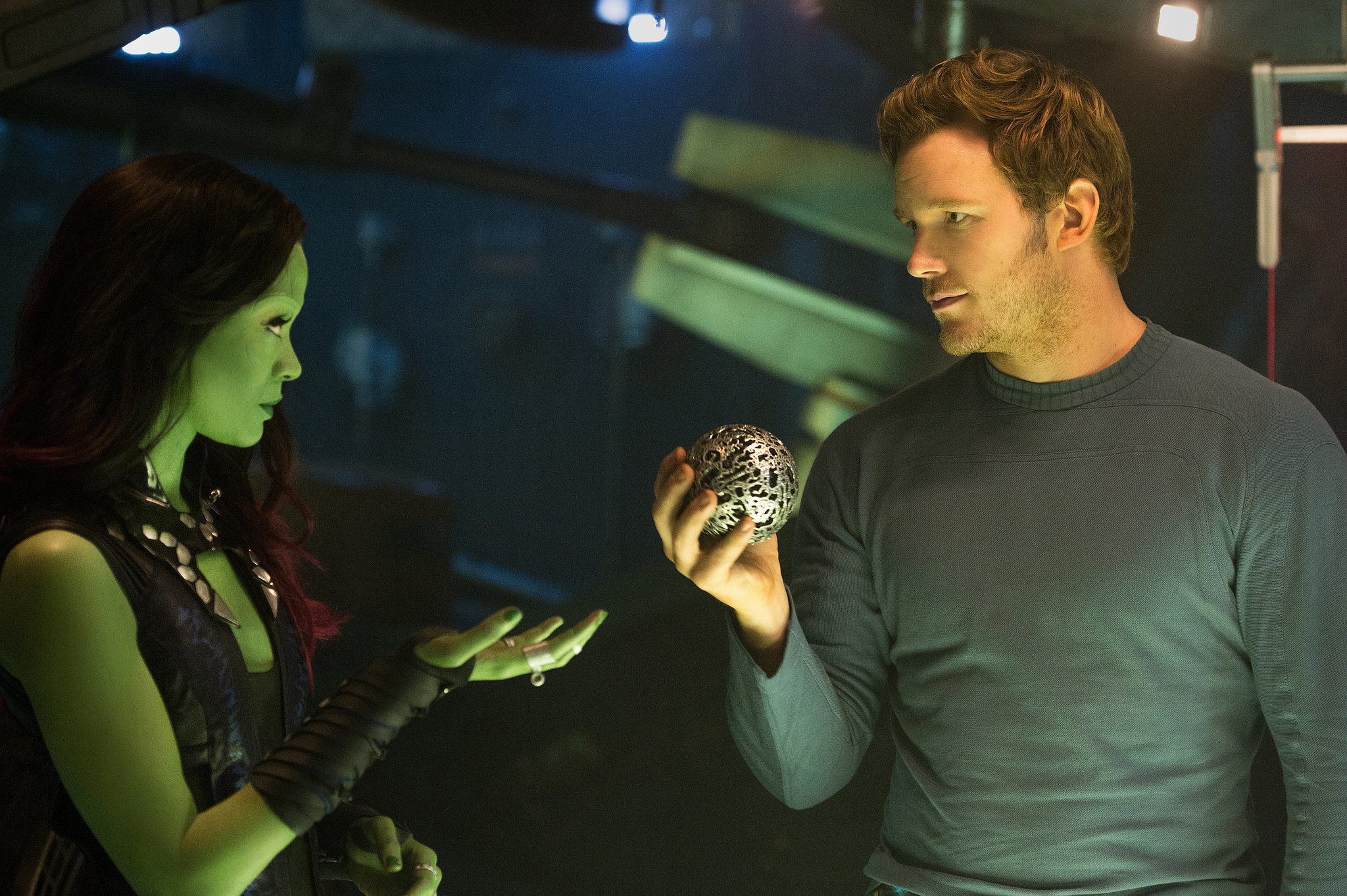 Did you read any of the comics?
ZS: No, and I didn't do it for Star Trek, either. If I read the comics I would be cheating myself out of the adventure that I find so beautiful, which is conceiving a character and doing all my research. That's the part that belongs to me that I don't really have to share. That's the part I remember the most about what I do and like the most.
How is Gamora different than Avatar's Neytiri?
ZS: When it came to Gamora, my approach was very different than the one I had with Neytiri. Here, because it's sort of a dark comedy, we're kind of like The Rolling Stones of the whole Marvel universe. We're like the ones that always failed in class, but for some reason, we can burn the house down, and I like that.
What's your favorite part of playing Gamora?
ZS: My nephew is the only person that I know who reads the Guardians comics, so I would ask his opinion. He asked me, "Who do you think Gamora is?" I said, "She's a warrior," and he goes, "Yeah, but not only is she a warrior, but she's an assassin. She's very lethal, but what saves her is the same thing that can doom her: she has a sense of righteousness." That was coming from an 11-year-old boy. I was like, "That's it. That's going to be like her overall mojo of Gamora, is her sense of always wanting to do the right thing." This is why she compels the Guardians not to — or she's trying to ask them not to — sell their souls for money, because if it means that a lot of people will lose their lives, then it's not really worth it. We end up creating a very beautiful family unit and becoming good, decent people sometimes.
What's different about the weapons used in here versus some other weapons you've wielded on screen?
ZS: It's so much better to have a gun — I'm more prepared and I've trained with SEALs, like it's fine. This time around it was a heavy sword and my wrists are very thin, so I have this insecurity that I look wimpy with the sword.
What's Gamora's relationship like with this band of dudes?
ZS: She finds Quill [Chris Pratt] interesting, but he's such a douche at first. She's intrigued by Groot . . . He's such a human, yet he's the most physically inhumane character out of all of us. Drax is such a drama queen. He can't shut up, but at the end of the day, I learn to understand that I'm not the only victim. Drax has lost his family and probably in front of him, like I did. We are kindred spirits in that sense. Rocket had a lot of alterations done to his body and so did Gamora. Quill lost his mom and he was basically taken from his home planet. So there are a lot of things that they all have in common.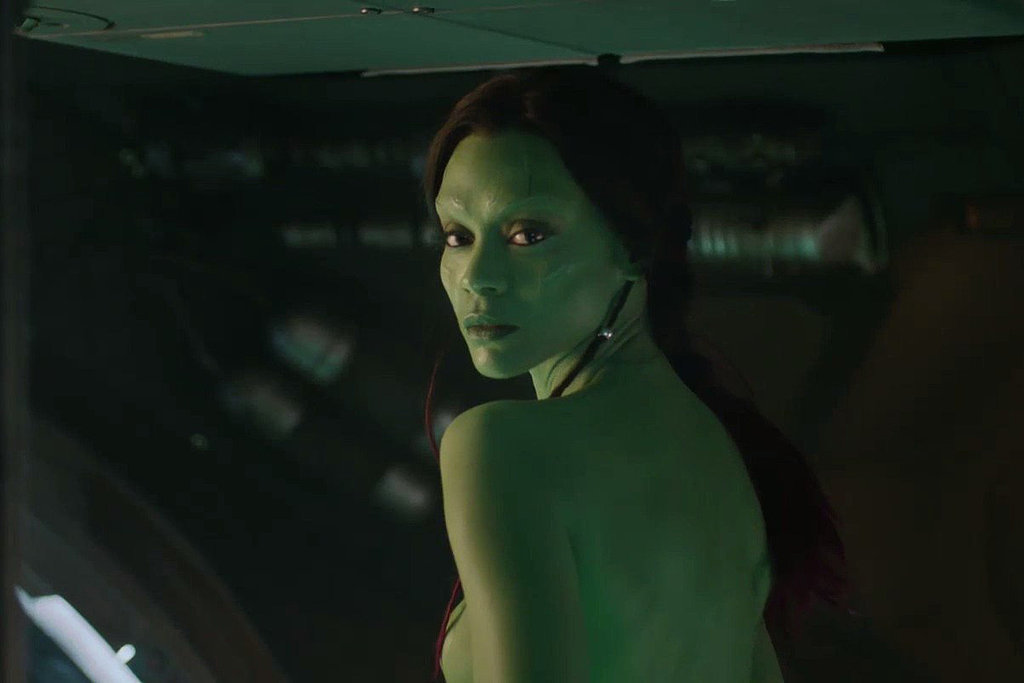 How about her sister, Nebula [Karen Gillan]?
ZS: It's complicated. The biggest heartbreak for Gamora is the fact that she wasn't able to save her sister. Gamora and Nebula have very similar paths: they were abducted from their families, their parents were probably killed in front of them, but Gamora wants to change. Nebula was definitely born with a sense of wanting to taste blood; she doesn't want to change, and that's something that's very frustrating for Gamora because there's this big responsibility that she feels to Nebula.
Who's your favorite out of all of the whole ensemble?
ZS: Nebula; I think my sister's really hot. The transformation is absolutely wonderful, and the balls on her, to shave her head. I would have been like, "How much are you paying me?" I'm also very fascinated by Drax's makeup. Dave [Bautista] comes with it. He comes to set and he's going to bring it, but when you meet him in real life he's so tender, so sensitive, very soft-spoken, really kind, but a kick-ass actor.
With Gamora's direct connection to the villain Thanos, she's definitely a big link to the greater Marvel universe. Is that something that informed you in playing the role?
ZS: Actually, no, I don't read comics and I don't follow. I've learned now as I'm doing the movie about the importance that Thanos has with all of these characters in the Marvel universe. I thought, "OK, she definitely does have an upper hand with a lot of the characters because she was raised by this individual." But in terms of how deep their blood ties are, that will probably be put into question in the next movie, because it wasn't really covered enough in this one.
Get the details on who exactly the Guardians are, and be sure to check out the trailer and the posters!