AJ McLean Says "RuPaul's Secret Celebrity Drag Race" Was "Very Therapeutic" For Him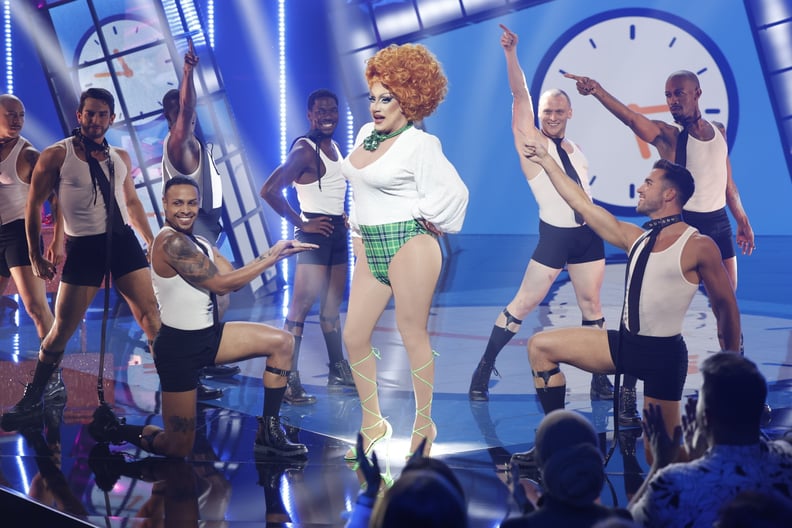 Poppy Love, aka AJ McLean, has made it to the season two finale of "RuPaul's Secret Celebrity Drag Race," and win or lose, he's undoubtably left his mark on the show. Week in and week out, viewers witnessed McLean work tirelessly to bring magic to the stage as Ms. Love, from his Lady Gaga-inspired "Born This Way" performance to his out-of-this-world "The Boy Is Mine" duet with Morgan McMichaels.
McLean tells POPSUGAR it's an "honor" and a "privilege" to have made it this far in the competition. "I could have been bounced after episode one, and I still would've had the f*cking best time of my life. This experience changed me for the better," he says. "The number one thing that I took from this show is to love the body that I'm in. And it's been absolute heaven."
"The number one thing that I took from this show is to love the body that I'm in."
Of course, the 44-year-old Backstreet Boy is no stranger to wearing drag. He recalls "dabbling" in his mom's clothes as a kid and rocking a dress and heels for his wedding to hairstylist Rochelle Karidis in December 2011. "When I got asked to do this, I was like, 'Where do I sign?'" he says. "I grew up in musical theater. I'm a huge advocate for the LGBTQ+ community. I have been for over 35 years, and I'm going to stay that way. And I got ordained as a minister to marry my two best gay friends. I'm in it, man, and I love it. And I have such a newfound respect for the drag community because it takes a village to put a drag queen together. Let me just tell you, it is a lot of moving parts."
This season kicked off with nine celebrity contestants, and now only three remain: Tatyana Ali (Chakra 7), Mark Indelicato (Thirsty Von Trapp), and McLean. In addition to competing for the title of America's Next Celebrity Drag Superstar, the winner will also receive $100,000 for a charity of their choice, which is another reason McLean was inclined to join. He explains, "I was a fan of the show, [and] I've known Mama Ru for years . . . so anytime I can give back, sign me up! And I get to do it in drag? It's a win all the way across the board."
McLean reveals that creating the amazing Poppy Love was much easier than he anticipated, with the hardest part being choosing the perfect name. "Poppy Love was easier than I thought it would be. Getting the name not as easy. She had gone through many different names — Poppy Star, like pop star. Vivacious was another name that I came up with. And then Poppy Tart was another name," he says. "And then I just wanted to incorporate love in there to show everyone to love themselves and love, love, love everybody. So she finally settled on Poppy Love, and it was the best possible choice."
Out of all of Poppy Love's performances, McLean says the burlesque, and his routine in the upcoming finale are his favorites. He teases, "I really feel like I finally embodied full drag, and I went above and beyond. My kids will see it, but I'm going to have a lot of explaining to do, a lot of explaining to do."
McLean is a proud dad to daughters, Elliott, 9, and Lyric McLean, 5. By participating in the show, the musician hopes he inspires his kids to love and embrace their true selves. "We are a very liberal, open-minded family. We are all allies," McLean says. "I'm going to support them a trillion percent. And whatever their path is set for them down the road, I will never turn my back, whatever that may be. If they want to be a doctor, if they realize that they may be gay, whatever the case is. I will be there in their corner as their number one supporter and their number one fan, always will be."
Heading into Friday's season two finale, McLean is ending his time on the show on a positive note, regardless of the outcome. "It was very therapeutic for me, being in recovery for over 25 years. I just celebrated my one-year birthday two days ago," he reveals. "And a lot of it has to do with this experience, because I'm a very insecure person. People would not expect that, considering what I do for a living . . . Even though I'm an outgoing person and I'm a people person, it doesn't mean that I'm not hurting inside. And I'm finally coming into this phase of my life at 44 where I'm finally loving the body that I'm in."
He continues, "And I don't think, had I not done this show, would I be where I am right now. I really owe a lot to this show and the whole experience. And again, like, no lie: I've tried on some of my wife's heels to see if can, if I still got it, and I do. I'll tell you what: if I could be in drag in a Backstreet Boys video, I would do it in a heartbeat."
But Poppy Love isn't ready to hang up her pantyhose just yet. McLean says, "If they called me tomorrow and said, 'We need you back,' I'm there. I can't wait to do DragCon next year as Poppy Love. I might even do a couple Backstreet Boys songs as Poppy Love. That'd be fun. But I mean, everyone from the crew, the wig department, makeup, all of it, they had to do three hours of makeup for me every single day until I was revealed. That was a lot of time consuming this, but it was such a great experience. It really was."
"RuPaul's Secret Celebrity Drag Race" season two finale airs Friday at 8 p.m. EST on VH1.