The Avengers Still Have "One Promise to Keep" in the Emotional New Trailer For Endgame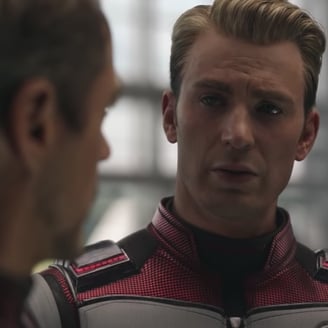 A brand new trailer for the fourth and final film in Marvel's Avengers franchise is here, and, yes — we're already sobbing. While we're not totally sold on the film's official title, to be quite honest — Avengers: Endgame — it looks like the movie is going to deliver on the emotional conclusion to the story we've come to know and love.
In the trailer released on April 16, Marvel pays tribute to each of the preceding films and shows the journey of characters like Tony Stark, King T'Challa, Thor, and Steve Rogers as they all come together to become the Avengers. Toward the end, we see footage from Endgame, showing a few shots of the remaining team all together at the Avengers compound — Steve, Tony, Bruce, Nat, Thor, Rocket, Nebula, and more. The trailer ends with a clip of Tony, Steve, and Thor facing down Thanos on a deserted planet.
And in case you thought the gang was too devastated to keep fighting, think again — they all vow to do "whatever it takes" to bring back their dearly departed friends. On the bright side, though: Ant-Man has arrived, Captain Marvel is ready to kick ass after touching down at the Avengers compound, and Nebula might have made her first friend in Rocket, so things are looking up . . . well, sort of. Are you hooked yet?
Watch the trailers ahead before the film hits theaters on April 26, 2019.
"Whatever It Takes" Teaser
Marvel Studios' Avengers: Endgame "Special Look"
Marvel Studios' Avengers: Endgame "To the End"