The Musical Style of Billie Eilish: 18 Songs That Tap Into Heavy Emotions and Dark Fantasies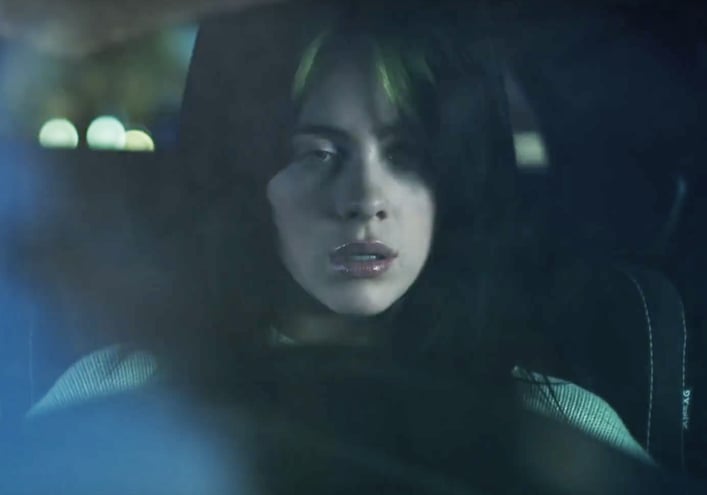 Youtuber user Billie Eilish
Youtuber user Billie Eilish
Billie Eilish's musical makeup is a smorgasbord of styles, ranging from electropop to alternative rock. The 18-year-old Los Angeles native — and her brother/producer Finneas O'Connell — garnered widespread attention with 2016's "Ocean Eyes" and her 2017 EP, Don't Smile at Me. She finally hit her stride as a chart-topping global star in March 2019 after releasing her debut album, When We All Fall Asleep, Where Do We Go?, and things haven't slowed down for her ever since. Not only has she graced the covers of Rolling Stone, Vogue Australia, V, and Elle, but she's also won a handful of awards, including Billboard's woman of the year honor and Variety's hitmaker of the year title. Ahead of this year's Grammys, the singer made history as the youngest artist to receive a nomination in all four major categories: album of the year, record of the year, song of the year, and best new artist.
Whenever I tell people the first song by Eilish I ever heard was "Copycat," I'm met with confused looks since people typically attribute her breakthrough success to "Ocean Eyes." But I actually couldn't think of a better song to introduce me to her. It came on when I let my Spotify radio play while I was getting ready for class during Fall 2017. As soon as I heard the slow, ominous opening, I stopped and listened. I hung on to every word in the intro. And when the beat dropped, it was over — I was a stan.
Evidently, that led me down the path of Eilish, and I took a deep dive into her music. "Copycat" is definitely distinguishable from her typical sound: slow, subdued, wispy. But I ended up falling in love with her other jams. "Idontwannabeyouanymore" and its message of struggling with insecurities particularly hit me hard. It's quite the opposite of "Copycat," but it shows how you can have a dichotomous outlook on your own self-esteem. One day, you're loving yourself, and the next, you can barely stand the thought of being in your own skin.
Eilish is able to express all of these different emotions so vividly and visually through her music. And she manages to do so without being tied down to any specific genre. Whether you're feeling low, on top of the world, like you're over relationships, or maybe a little psychotic, there's a Billie Eilish song that probably describes what you're going through. Keep scrolling to listen to some of her best works!
01
"Bad Guy"
In this banger from Eilish's debut studio album, the singer revels in being the "bad guy." She's far from perfect, but she embraces it rather than being ashamed of it.
02
"Xanny"
Eilish isn't a fan of drug use, which she makes clear in "Xanny." The hazy tune describes Eilish's vexation with friends abusing alcohol and narcotics. In December 2019, the singer made her directorial debut with the music video for "Xanny," which shows her being burned by cigarette butts.
03
"Everything I Wanted"
After revealing some of her fears (e.g. losing fans), Eilish sings the praises of O'Connell for always being her support system. The music video for "Everything I Wanted" also showcases their tight-knit sibling bond.
04
"Ocean Eyes"
This haunting tune was co-written by Eilish's brother (who had roles on Glee and Modern Family) before Eilish recorded it at the age of 14. It describes someone looking into the eyes of a love interest and falling hard for them. In addition to the official music video, Eilish — who is also a dancer — posted a performance video for "Ocean Eyes" in 2016.
05
"You Should See Me in a Crown"
The music video might not be for people with arachnophobia (like me), but the song — inspired by an episode of the BBC's Sherlock — is a bona fide banger. Eilish boosts her confidence with this track about being ready to take over and make everyone bow down "one by one." If the poised, self-assuring lyrics aren't enough to make you play this on full blast, then the sharp, textured beat certainly is.
06
"My Boy"
Eilish sort of flips the script with "My Boy." She's in control over her feelings for a significant other and accuses them of lying about changing their ways. Between the hard-hitting beat and equally as hard-hitting lyrics ("My boy / He ain't a man and sure as hell ain't honest" — whew!), this is one of Eilish's finest works.
07
"Idontwannabeyouanymore"
Eilish opens up about about her struggles with self-confidence and self-acceptance in this slow melody. When she looks at herself in the mirror, she can't help but wish that she wasn't herself. She doesn't know who or what she wishes she could be, but she does know that she's not comfortable with herself.
08
"Copycat"
Again, we see a different side of Eilish as she calls out all the people she's encountered who have copied her style and aura. Rather than having an uncomfortably vulnerable tone, she's sure of herself and her individuality. That strong sense of self is complimented by the gritty and pitiless beat.
09
"All the Good Girls Go to Hell"
In this bouncy track, Eilish brings awareness to climate change by introducing a conversation between God and the devil, who wonder why humans are harming their own planet. She sings: "Man is such a fool / Why are we saving him? / Poisoning themselves now / Begging for our help, wow."
10
"8"
At first, it seems like Eilish is sharing her own experience in "8," but the track is actually written from the perspective of someone she hurt. "I was just a d*ckhead for a minute and the only way I could deal with it was to stop and put myself in that person's place," Eilish reveals in Apple Music's description of the song.
This two-minute composition also features a ukulele. Eilish made sure to utilize the instrument on her album When We All Fall Asleep, Where Do We Go? because it's what she used to help write her first-ever song around age 7. During her December appearance in James Corden's Carpool Karaoke segment, Eilish also revealed that the first song she learned on the ukulele was "I Will" by The Beatles.
11
"Bury a Friend"
This one takes listeners through a rather disturbing story about some sort of paranormal entity speaking to Eilish. It's wondering why she's not scared or running away from it only to find out that it's because Eilish knows know the monster is actually her.
12
"I Love You"
Eilish describes a complicated relationship clouded by doubt and confusion in "I Love You." Her brother has a subtle feature on the song, lending his vocals to soft background harmonies.
13
"WHEN I WAS OLDER"
This eerie song was inspired by the award-winning film Roma and details what it's like remembering a better past while living in a painful present. One of the pivotal scenes in Roma happens on a beach, prompting some fans to believe Eilish uses auto-tune on this track to sound as if she's singing underwater.
14
"My Strange Addiction"
Yes, those are samples of The Office laced throughout the song. It's no surprise that Eilish incorporated clips from the popular comedy, considering it's her favorite show. As for the rest of the song, Eilish croons about being addicted to someone, even though their presence is toxic.
15
"Lovely" (feat. Khalid)
Months before this song was released, I kept saying it'd be amazing if Eilish collaborated with Khalid. Apparently, she heard me because we were given this gorgeous number. Khalid and Eilish lend their soft vocals to this tune about a duo trying to overcome depression. Its sorrowful message was so heavy and blatant, they decided to give it the ironic title, "Lovely." The track was included in the soundtrack for season two of 13 Reasons Why.
16
"When the Party's Over"
Eilish wishes to distance herself from a loved one in "When the Party's Over." Despite the mellow, fragile resonance, Eilish has confirmed that she's expressing anger rather than singing out of sadness.
17
"Bellyache"
We have another unsettling bop for ya! Eilish — who has previously said she and her brother enjoy writing songs about real things using fictional situations — portrays a psychopath who has committed a murder. She's on the run while wondering how she's capable of doing something so terrible — showing how we sometimes make bad decisions without knowing why. And in the end, her life was the only recompense.
18
"Listen Before I Go"
Eilish speaks to a loved one as she talks about taking her own life. She tells them that there's no saving her, but she wants her friends to know that she'll miss them. "Sorry can't save me now / Sorry I don't know how," she sings. "Sorry there's no way out / But down."