No Longer on a Break: Here Are the Biggest Things We Learned From the Friends Reunion
As POPSUGAR editors, we independently select and write about stuff we love and think you'll like too. If you buy a product we have recommended, we may receive affiliate commission, which in turn supports our work.
The highly-anticipated Friends reunion, aptly titled "The One Where They Get Back Together," finally had its premiere on HBO Max on May 27, and seeing the cast — Jennifer Aniston, Lisa Kudrow, Courteney Cox, Matt LeBlanc, David Schwimmer, and Matthew Perry — back together on the original Friends set brought tears to our eyes. The nearly two-hour special took fans down memory lane as the group shared their favorite guest stars, backstage secrets, and whether or not they had seen all the episodes. Apparently, Kudrow has not.
Joining them were previous guest stars in character, like Larry Hankin as Mr. Heckles and Tom Selleck as Dr. Richard Burke, and some out of character, like Christina Pickles, Elliott Gould, and James Michael Tyler. There were even a few celebrity fans that shared what the show meant to them, including BTS, Lady Gaga, Mindy Kaling, Malala Yousafzai, Kit Harrington, and David Beckham. To top it all off, the reunion featured some of the most iconic fashions from the show modeled by the likes of Cara Delevingne, Cindy Crawford, Justin Bieber, and even LeBlanc himself. "It was an incredible time. Everything came together," Cox said of the show. "We became best friends. Just the chemistry, the whole thing. It was life changing and forever will be. Not just for us, but for people who watch it and that is just such a great feeling to carry forever."
Ahead, read the biggest revelations from the Friends reunion, which is available to stream now on HBO Max ($14.99 per month).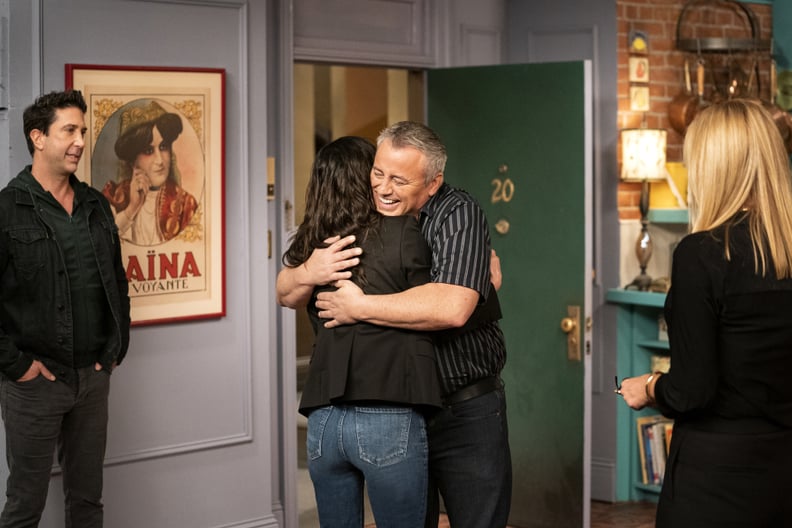 The set wasn't exactly the same since the cast took home props when the show first ended. Matthew Perry gifted Lisa Kudrow the original Cookie Time cookie jar, which he got permission to take from the set. The reason Matt LeBlanc took a ball from the foosball table instead of the table itself was because the table had to be smashed in an episode to save the new chick and duck. As for Jennifer Aniston, who actually owned the white dog statue seen on the show, she took home the neon coffee mug sign from Central Perk.
Courteney Cox would write her lines on the kitchen table. To remember important lines, Cox kept a script in the sink of Monica's kitchen and would write them down on both the apartment kitchen table and apples. LeBlanc once asked what the words were and Cox responded, "Mind your own business." He later erased them from the table before a scene. "I had so much of my dialogue within these apples," Cox replied. "I have memory issues."
David Schwimmer absolutely hated filming with Marcel. When asked if there was anything they didn't like on set, Schwimmer didn't miss a beat before bringing up Ross's pet monkey, Marcel. "What inevitably began to happen was we would all have choreographed bits kind of timed out, and it would get messed up, because the monkey didn't do its job right. So we would have to reset, we'd have to go again, because the monkey didn't get it right," an exasperated Schwimmer explained. In between takes, the monkey's trainer would feed it live bugs while it rested on Schwimmer's shoulder, resulting in them getting all over the actor. Eventually, Schwimmer felt that "it was time for Marcel to . . . f*ck off."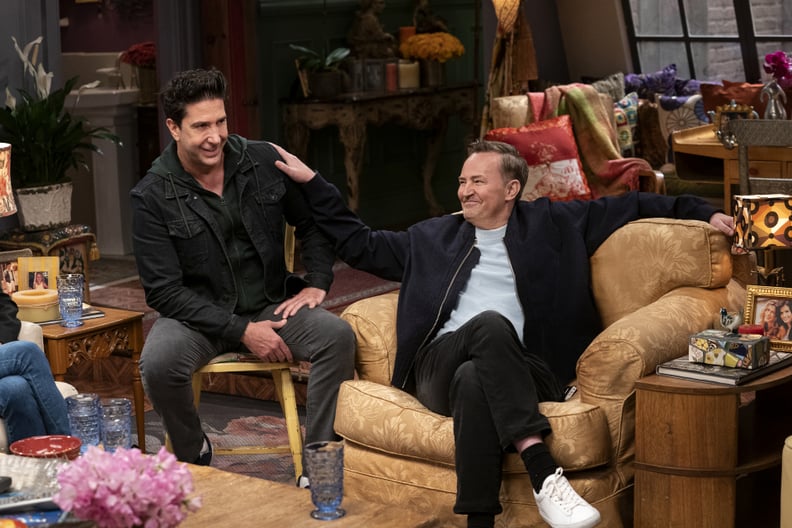 Schwimmer had given up on TV when he asked to audition for Ross. While the role of Ross had been written for Schwimmer, his agent told producers Marta Kauffman, Kevin Bright, and David Crane that he wouldn't be interested. "[We] tried to get David, [but] David had quit television. He had a miserable experience doing another show. He moved back to Chicago to just do theater," Crane explained. "We had to beg him and beseech him."
Louis Mandylor almost got the role of Joey over LeBlanc. The casting of Joey "went down to the wire" between LeBlanc and Mandylor. "But the funny thing about it is the other actor ended up in the show in 'The One With Unagi.' Playing Fake Joey, ironically," Bright shared.
Rachel was the hardest part to cast. Cox was originally in the running for the role, but persuaded producers that she was more of a Monica. It was important to get the casting right because, in the wrong hands, people would hate Rachel. Aniston almost wasn't cast because of her role on Muddling Through, which was still on the air at the time. She even begged execs of Muddling Through to release her from the show.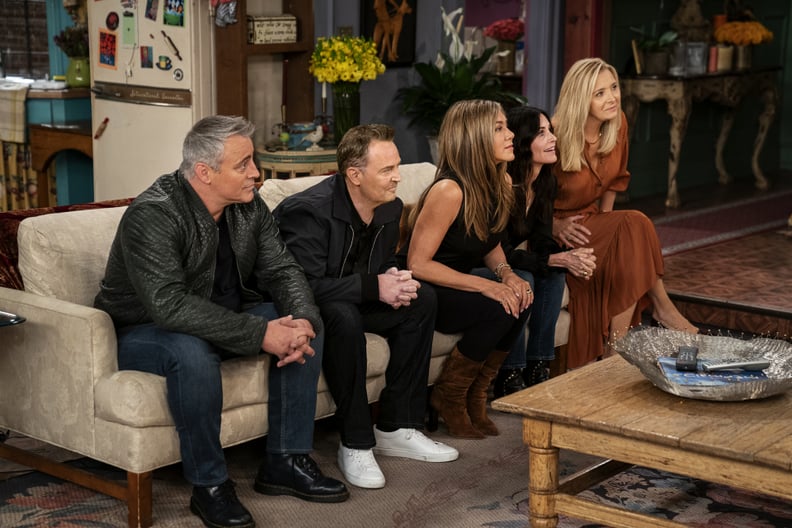 The audience is the reason Monica and Chandler ended up together. Originally, they were supposed to sleep together in London and have a brief fling afterward. However, the way the audience reacted made the writers realize there was more to it and they needed to pay attention. Monica and Chandler sleeping together happened at the end of the season, so they had time to make it into a real thing but the writers didn't realize how far it was going to go at that point.
Janice's iconic laugh is a result of Perry being too funny. Maggie Wheeler auditioned for Janice after seeing a casting post looking for a fast-talking New Yorker. "I know her, she lives in me," the actress told host James Corden as she put on the "Janice voice." It didn't take long for her to realize she needed something to do or else she would break whenever she had a scene with Perry. Wheeler finally settled with the idea that "this character needs a laugh because I'm not going to be able to get through a single scene with this guy."
Schwimmer and Aniston were crushing on each other while filming. During the early seasons of Friends, the duo had a mutual crush that they never acted upon since they never were single at the same time. Aniston recalled thinking how it would "be such a bummer if the first time you and I actually kiss is . . . on national television." Well, their first kiss was as Ross and Rachel in season two. "Sure enough, the first time we kissed was in that coffee shop. We just channeled all of our adoration and love for each other into Ross and Rachel."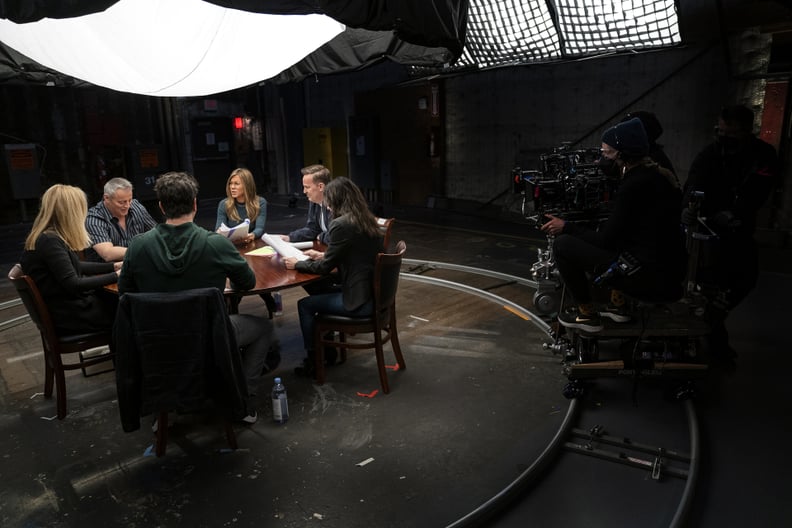 Perry felt like he was "going to die" if the audience didn't laugh. Jokes didn't always land on the show, but Perry felt devoted to the audience. "And it's not healthy, for sure. But I would sometimes say a line and they wouldn't laugh and I would sweat and just go into convulsions. If I didn't get the laugh I was supposed to get, I would freak out," the actor shared. This revelation was a surprise to his fellow cast as it prompted Kudrow to respond, "You didn't tell us that, though. I don't remember you ever saying that." Perry ultimately replied, "I felt like that every single night."
LeBlanc suffered multiple injuries thanks to Friends. Prior to his final callback, LeBlanc went out drinking with a buddy and ended up getting drunk and hurting himself in the process. When producer Marta Kauffman asked what happened when he arrived with a scabbed face, he fessed up and got the part of Joey. During the show's run, the one time the group didn't do their before-show huddle is the one time LeBlanc seriously injured himself while filming. While filming "The One Where No One's Ready," LeBlanc ended up going to the hospital after injuring his shoulder. This injury then had to be written into the show.
This is the last time the cast is doing a reunion like this. They are adamantly against ever doing a scripted reunion. "I once heard [the creators] say — and I completely agree — that they ended the show very nicely. Everyone's lives are very nice, and they would have to unravel all those good things in order for there to be stories, and I don't want anyone's happy ending unraveled. Also at my age to be floopy? Stop!," Kudrow stated.