Chris Evans and Jeremy Renner: Expect Some Personal Avengers Drama in Age of Ultron
The sheer number of stars on the London set of Avengers: Age of Ultron was seriously staggering when we visited this Summer. Many of them were newcomers to the Marvel universe, but the old crew was all back, as well. Captain America himself, Chris Evans, and Jeremy Renner (Hawkeye) both took a moment between scenes to chat with us about what all the new blood means for the second installment in the franchise — and what the future holds for the superhero collective. Read on for more from Chris and Jeremy, and don't miss our other dispatches from the set of Age of Ultron with Chris Hemsworth, Robert Downey Jr., and Mark Ruffalo.
Chris on the Newest Cast Members
"It's gotta be tough coming in, you know, being the new kid in the playground — people have done these movies as a group and in their individual franchises — and trying to not mess with the formula. But everyone's so talented and professional. I don't know what you wanna call it, but it just feels right. When we were sitting there yesterday having a scene with Paul [Bettany], with Aaron [Taylor-Johnson], with Lizzy [Olsen] and it's like, you guys weren't in the first Avengers? No sh*t, you weren't!"
Chris on How the Scarlet Witch Will Mix Things Up
"[She] has a way of making each of us . . . you know, she gets in your head. That's her ability. So each one is kind of confronted with their own personal issues and demons, and that creates personal struggles, as well as conflicts for the team. I don't wanna dive too deeply into each person's individual conflict but it's tense."
Chris on Feeling More Comfortable in the Marvel Universe
"The first movie, you're terrified. The second one, you're intimidated, because there's so many great people. But by Captain America 2 is when you really start kind of hitting your stride and feeling like you're making some core progress with the character and you get a little more comfortable speaking up when you have opinions. So at this point, I'm feeling really good and like I said, it's hard to give too much individual attention to your own plotline in a movie like this. They still give good hurdles to jump, but I'm very excited for Captain America 3."
Chris on Who Emerges as the Leader of the Avengers in the Sequel
"Certain people are moving on into different things, and so things that we've each seen in ourselves in this movie — each one of our hurdles, our battles, our struggles, our shortcomings, our fears — these are the things that have kind of motivated the catalyst for change and evolution. For someone like Tony, maybe he may not want to be anything but the front man. He has to kind of face that. There are people like Thor. Thor's a soldier. I mean, he's just a soldier in another world, so there's an understanding between those two men, Captain, Thor. And same with Hawkeye. These guys have all been in battle, so I think for the most part, there aren't as many conflicting egos. I don't think in terms of well, who's leading this crew? It's more personal conflicts and more personal questions about who they are as people, and what they're looking for, and what makes sense, and what's right and wrong. It's not so much about 'Well, who's the front man?"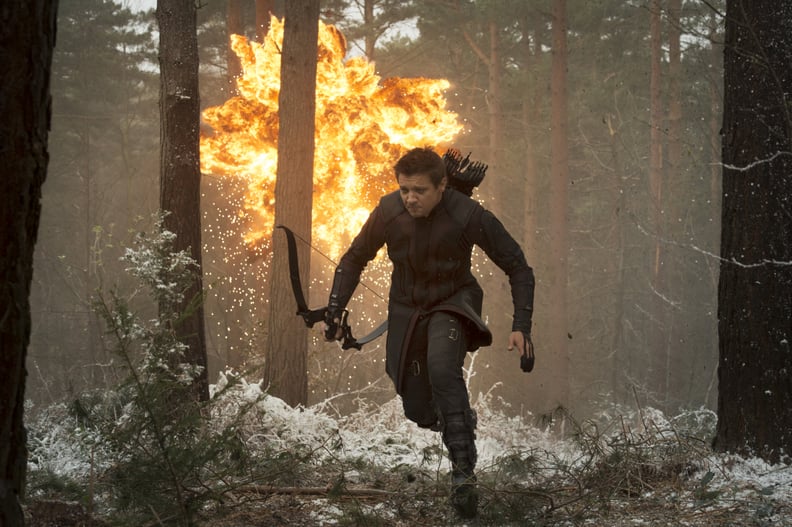 Jeremy on Hawkeye's Relationship With the Scarlet Witch
"Some wonderful secrets and relationships deepen. There's a lot more of him to deal with versus like, you know, the hypnotized version of him. Scarlet Witch and and Quicksilver are great characters. My character and them have a lot to do together. They're a little blurry on where they stand — as far as good as bad — which I appreciate. But I think I'm sort of policing them to see if they're worthy or not of, of being good guys or bad guys. I question them a lot."
On Whether We'll See Hawkeye in Other Marvel Movies or His Own Franchise
"I don't know. There's always opportunity in the Marvel universe to jump into a lot of different scenarios. I do not know the future. I'm just happy to be doing it now. . . . Again, there has, there has to be a good rhyme or reason for it. I like the character enough to explore him more. I'm always open to it because he's obviously not had a franchise of his own to really deeply explore who Hawkeye is."