Joss Whedon Avengers Age of Ultron Interview
4 Things That Might Surprise You About Avengers: Age of Ultron
Joss Whedon wasn't sure he wanted to direct Avengers: Age of Ultron. When we caught up with him on the London set of the film this Summer, he admitted making the original Avengers left him feeling "ragged," exhausted, and not 100 percent sure whether he could take on a second film about the superhero squad. "It did take a lot out of me," he said. "Going in this time, I just had to sort of recalibrate my entire existence and throw myself into it more wholeheartedly and say, 'OK. I'm gonna just invest myself in every part of it — in every production meeting, every location scout, and every question about a prop that I'd like to avoid.' I'm gonna give myself up to it like a Christian to a lion."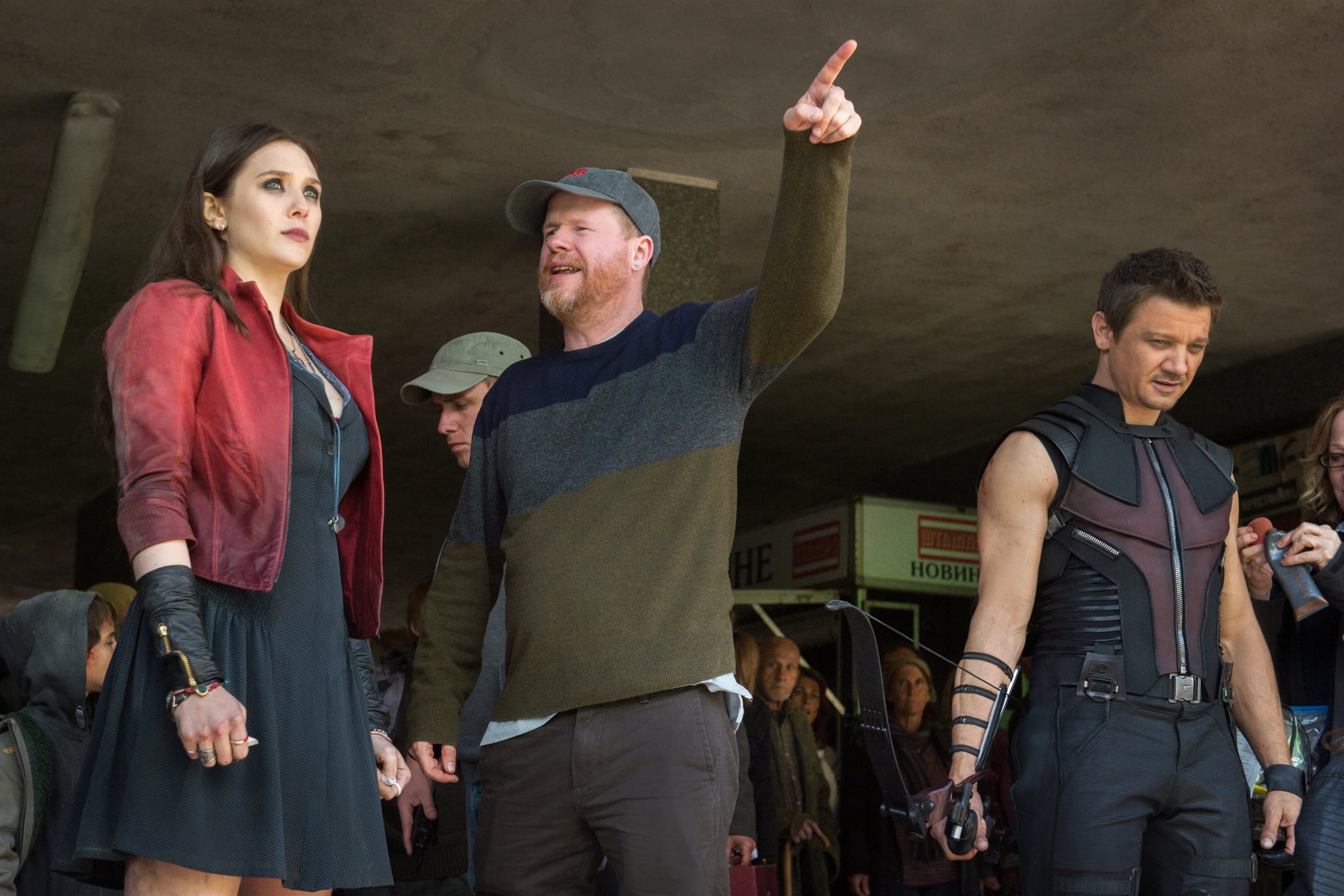 Whedon's obvious passion for the characters overrode any doubts he might have had about his second outing in the franchise's director's chair. When his agent came to him and said it was time to consider a potential second film, he sat down in a London pub and, in 45 minutes, filled an entire notebook with ideas for round two. "I was kind of surprised," he shrugged at the memory. "It took me unawares." And it turns out Whedon did already make a requirement of a potential sequel before even signing on for the first installment in the Marvel franchise: the villain had to be Ultron and Ultron had to create the Vision. "Those were absolutes," he told us. Read on for four more surprising things we learned about the movie from our visit to the set, and if you missed it, read up on what Robert Downey Jr. and Mark Ruffalo had to say and get more behind-the-scenes details on the upcoming movie.
Expect Much More From Bruce Banner and The Hulk
Whedon says Bruce Banner — played by Mark Ruffalo — has "a significant role" in Age of Ultron. He admitted that sometimes the character has presented a challenge in the filmmaking process. "We really held back on [The Hulk] for a long while in the first one. And there's something terrible coming that you'll love," he said. "What makes The Hulk so hard to write is that you're pretending he's a werewolf when he's a superhero. Banner doesn't want to see him, but you don't want Banner to be that guy who gets in the way of you seeing him. So the question is: how has he progressed?"
The Theme Is "Damaged by Power"
It sounds like Whedon is gearing up to explore his superheroes' flaws more than ever in the sequel. "'Strong but damaged by power' describes every person in this movie," Whedon explains. "It may, in fact, describe what the movie is about. The more power that we have, the less human we are."
Ultron Won't Be a Purely CGI Spectacle
Whedon wanted to be sure actor James Spader, who plays Ultron, could work directly with the other stars of the film — despite the fact that in the comics Ultron is a massive robot-slash-android. "The day Spader got here, we put on the mo-cap [motion-capture] pajamas, a giant thing with red dots on it for his eye line, and a helmet with two cameras in his face with lights to record his performance. He then did a scene with Scarlett [Johansson]," he explained. It also sounds like Spader's talents won't be lost inside the character. "He was wonderful and very game. He has an innate eccentricity in his delivery that is everything that I had hoped Ultron would be."
Whedon Isn't Busy Plotting Avengers: Infinity War Yet
Whedon says he isn't ready to start thinking seriously about the upcoming third and fourth installments in the Avengers franchise, which Marvel announced at a splashy event this Fall, where it mapped out phase three of the movie blueprint. "There comes a point in filming when you are writing, filming, and editing, and you cannot make a grocery list," he only half joked. "I haven't had a good idea about anything. I'm so excited that I'm wearing underwear — that I got that right today. We're just past the halfway point, and I'm still finessing and finessing and finessing, and . . . I got nothing."