Robert Downey Jr. Interview on Avengers: Age of Ultron
Robert Downey Jr. and Mark Ruffalo Respond to 3 Major Avengers: Age of Ultron Rumors
The London set of Avengers: Age of Ultron is overwhelming. It's a June day when I'm ushered, along with a group of fellow journalists, past the gates to the studios housing the shoot, just about an hour's drive outside the city. Beyond the franchise's star power — Robert Downey Jr., Scarlett Johansson, and Chris Hemsworth are just a few of its bold-faced names — the sets themselves are staggering. We walk inside Stark Towers, which is Tony Stark's new compound, and it looks like the actual interior of a sleek megamansion befitting the billionaire superhero. There are three stories of slick glass and concrete floors — Downey Jr. says they're like walking on "future ice" — expensive wood paneling, and modern art and pottery lining every wall and shelf. This no-holds-barred approach to moviemaking is to be expected for the follow-up to the film that scored the highest-grossing opening weekend of all time. More than two years later, the fervor for this Marvel franchise obviously hasn't waned. The new Age of Ultron trailer, which leaked last week, set a record for the most views in its first week of any trailer released in 2014.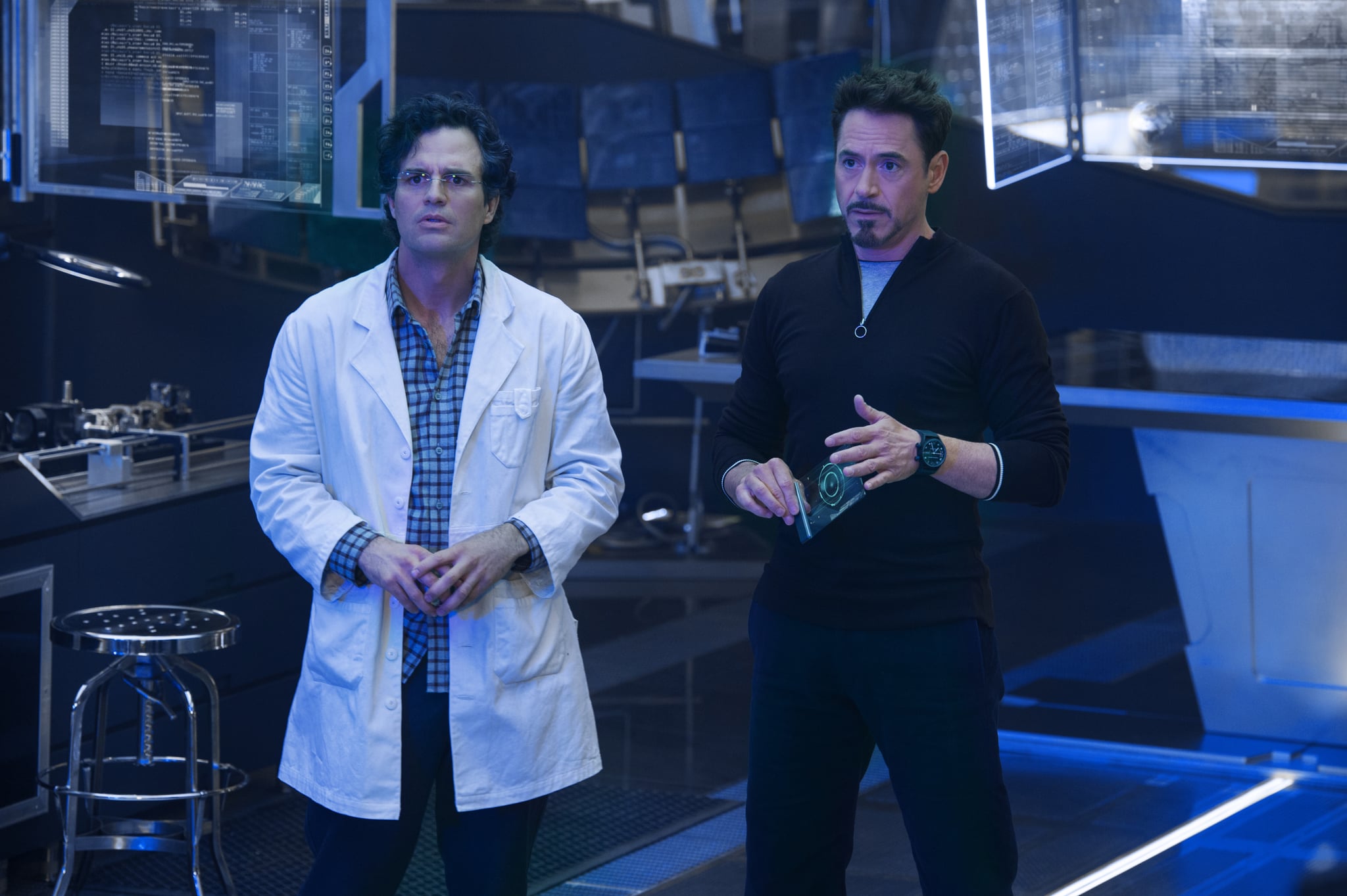 During our two days on the set, we got a chance to talk to Robert Downey Jr. and Mark Ruffalo about reprising their roles as Tony Stark and Bruce Banner and to find out what the influx of new characters — like Paul Bettany's The Vision and James Spader's Ultron — might mean for the franchise. Read on, and read into Downey Jr. and Ruffalo's answers about some of the biggest Age of Ultron rumors floating around. Stay tuned for more of our on-set interviews in the months leading up to the Joss Whedon film's May 1 release.
Is There a Romance Between Black Widow and Banner?
When Ruffalo was asked whether he was excited about his "relationship" with Scarlett, he went into coy mode. "What relationship?" he asked. "I was just happy that I was in the movie at all. Um . . . and any scenes that I got to be in with her were a big bonus." So, yes. We're feeling pretty safe in assuming that something romantical happens between these two in Age of Ultron.
Are Tony Stark and Bruce Banner to Blame For Ultron?
Both Downey Jr. and Ruffalo were happy to talk about how Tony and Bruce collaborate scientifically in the Avengers sequel. The feeling we got? That Ultron's rise to power begins as a well-intentioned experiment gone awry. "Every impulse to kill starts off as an impulse to change, to rail against, to challenge the authority," Downey Jr. told us. "I think because Tony's solution is what becomes the problem, in a way, that's really kind of interesting. And also ties into The Vision." Ruffalo also gave us a little more insight into the duo's working relationship. In the film, Banner has a lab — and an apartment — inside Stark Tower. "Banner's working on a lot of stuff and Tony's working on his own stuff," he explained. "They complement each other. They've gotten even more of a shorthand together." Downey Jr. elaborated on the many hints that the line between good guys and bad guys might not be so clear in the sequel; in fact, he said outright that Tony's solution becomes the problem. "There's that theme of, could it be that we're the problem? Therefore, I can't really say there's a bad guy. I mean, it's hard to call Jimmy Spader a bad guy," he said. "He's scary, but his thought is like: I see what's wrong here. And guess what? It's y'all [Avengers]."
Can Scarlet Witch Control the Other Avengers' Thoughts and Actions?
When Ruffalo was asked whether the Scarlet Witch could actually step inside and dominate the other Avengers' thoughts and actions as rumored, he skirted the question a bit. "She's able to bring out the worst in us," he answered after a thoughtful pause. "And there are people in our lives who can do that. And somehow when you're an actor you tend to gravitate towards those people. It's like Sid and Nancy. She's the Nancy. She's everyone's Nancy."