Is Drake Retiring From Music?
Drake Hints at Potential Retirement From Rap: "I'm Kind of Introducing . . . a Graceful Exit"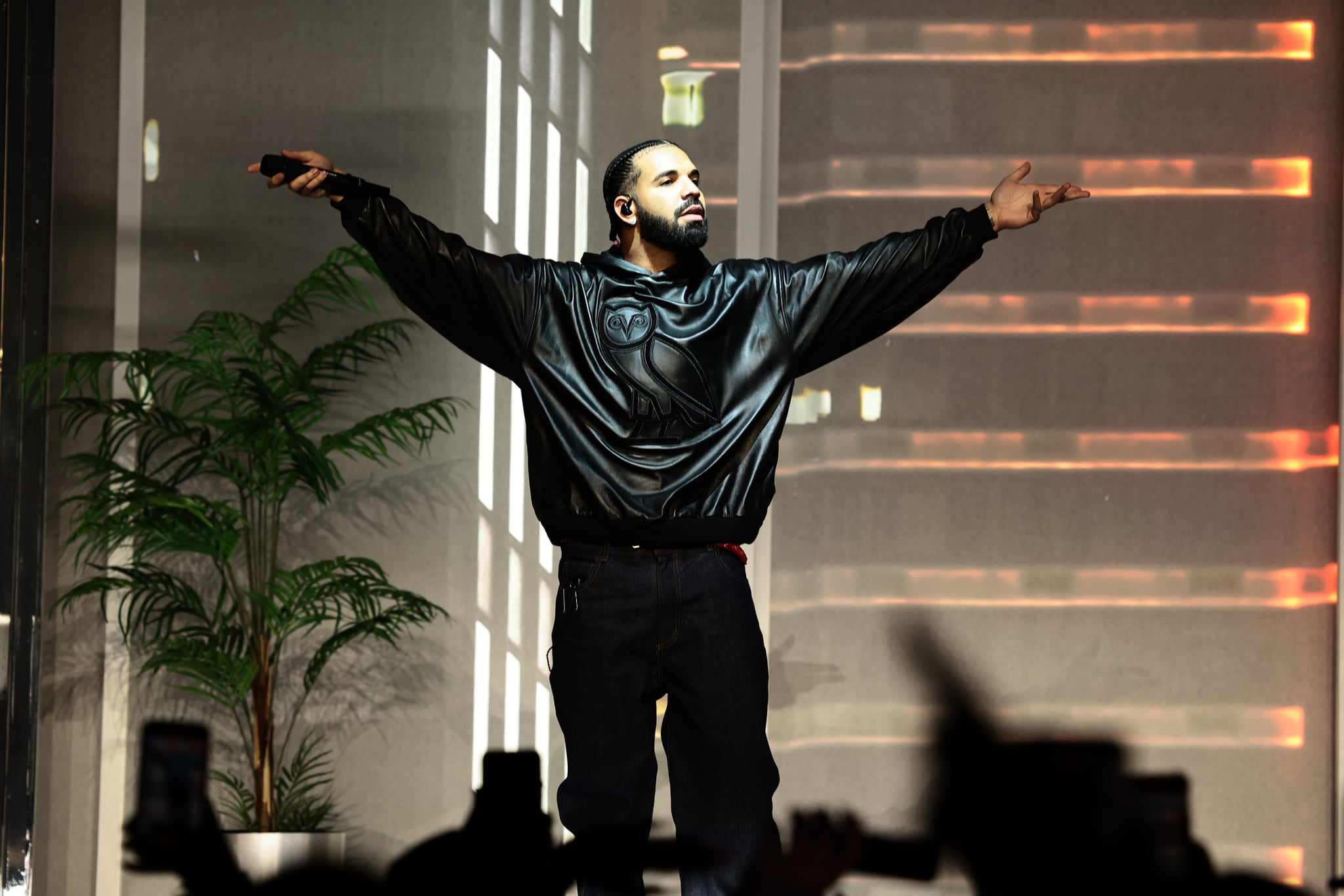 Is Drake really ready to hang up his rap jersey for good? According to the music icon, the end of his music career may be near. On Feb. 23, Lil Yachty shared a clip of him interviewing the "Her Loss" rapper for his sunglasses brand, Futuremood, on Instagram, during which Drake teased that he's seriously contemplating retirement.
"I'm at the point now where I just want to like, and I feel like maybe we talked about this the other day, but I feel like I'm kind of introducing the concept in my mind of a graceful exit," Drake admitted during the rappers' "moody conversation." The teaser video is just a preview of the full interview expected to drop on Feb. 24.
Drake's retirement comments may not come as a shock to his fans, as it seems the rapper has been subtly alluding to his exit from the rap game as of recently. In January, he performed a two-night immersive greatest hits show at the esteemed Apollo Theater in Harlem, in which he transparently told the audience of his performance, "I wanted to make this about gratitude," per Vibe, before treating them to songs from albums like "Take Care," "Nothing Was the Same," "Views," and more.
The rap superstar also took stock of his life and years-long career during his shows — which included revisiting his "Degrassi" days by sporting an old Jimmy Brooks jersey. However, he made a statement that appeared to affirm his dedication to music, at least for the time being, as Okayplayer reported that he also said, "I've thought about a bunch of things in life, but at this moment in time, none of those things are stopping making music for you. So I'll be here for you for a little bit at least."
Even if Drake is seriously retiring from music, it may not be a permanent move for the 36-year-old dad of one as he wouldn't be the first to make a quick comeback. JAY-Z famously announced his retirement from hip-hop after the release of 2003's "The Black Album," which was expected to be his last. Though we know that was short-lived because he returned to drop six solo albums afterward — "Kingdom Come," "American Gangster," "The Blueprint 3," "Watch the Throne," "Magna Carta... Holy Grail," and "4:44."
Seeing as though Drake has been a leader in music and pop culture for the last 10-plus years, we find it hard to believe he'll disappear from the spotlight completely. But perhaps he'll take a step back to nurture the next generation of rap artists.