Drake Reflects on Love: "I Don't Think I Can Offer Somebody What They'd Be Looking For"
Contrary to popular belief, Drake hasn't been in many relationships. While the artist loves love (and rapping about his past situationships), he's pretty content with his dating life — which, according to him, consists of "dating four or five women" at a time to truly find his perfect partner.
Though the rapper usually reserves his songs to reveal details about his love life, he occasionally opens up about it, and he did just that in a July interview with Bobbi Althoff. During the interview, Drake told Althoff that he sees himself marrying a non-famous person because celebrities are "not that intriguing." He also shared some thoughts about why he hasn't settled down yet. "The truth? I don't know, I don't think I can offer somebody what they'd be looking for right now," he said. "Just consistency, I think my life . . . my work is my priority. So then, I wouldn't wanna not be able to contribute as a partner." Later in the interview, the rapper said that he felt he'd "disappoint someone" in a serious relationship, but added that when it comes to his ideal partner, he's looking for someone who isn't "cookie cutter." He also said that he'd probably "f*ck with them more if they are into cosplay. Not with me, just like generally."
That interview wasn't the first time Drake opened up about his thoughts on dating and romance. In 2022, he had "absolutely no filter" when he talked about his views on relationships and marriage during a fake interview with Howard Stern, which was part of the promo for his collaborative "Her Loss" album with 21 Savage. On Nov. 2, 2022, Drake shared a clip of the interview on Instagram and in it, he revealed whether he could ever settle down with one woman. "I'm sure I could," said Drake. "When all this is said and done for us, that addiction of work and success and forward movement is over, I feel like we're all going to need something real . . . Hopefully, I find somebody."
Back in 2013, Drake provided a little more insight into his love life. During an appearance on "The Ellen DeGeneres Show," he confirmed that he goes on a lot of first dates. "They don't call me back after one date!" he laughed after confirming that the relationship rumors surrounding him and Tyra Banks, at the time, were just that — rumors. The same goes for Kat Dennings: "We went out for dinner, but that was it."
Of course, true Drake fans may not be surprised to learn this. He did, after all, spend close to a decade trying to woo Rihanna — #TBT to the 2016 VMAs — before she started dating A$AP Rocky and had her first child with him. Then there was that one time in 2018 when Drake asked Heidi Klum out on a date, and she ghosted him. "Sorry, Drake. You snooze, you lose. You know what I mean? He was basically like a week too late," Klum told Ellen DeGeneres of meeting her now-husband, Tom Kaulitz, days before Drake reached out.
It's been a while since Drake has confirmed or even hinted that he's in a serious relationship. However, the apparently lavish dates haven't stopped. In July 2021, Drake was spotted having a private dinner with model Johanna Leia at Dodger Stadium. (The organization confirmed to ABC7 that Drake made "a sizable donation" to the Los Angeles Dodgers Foundation to make the date happen).
Ahead, take a look back at the women the father of one has been linked to over the years.
01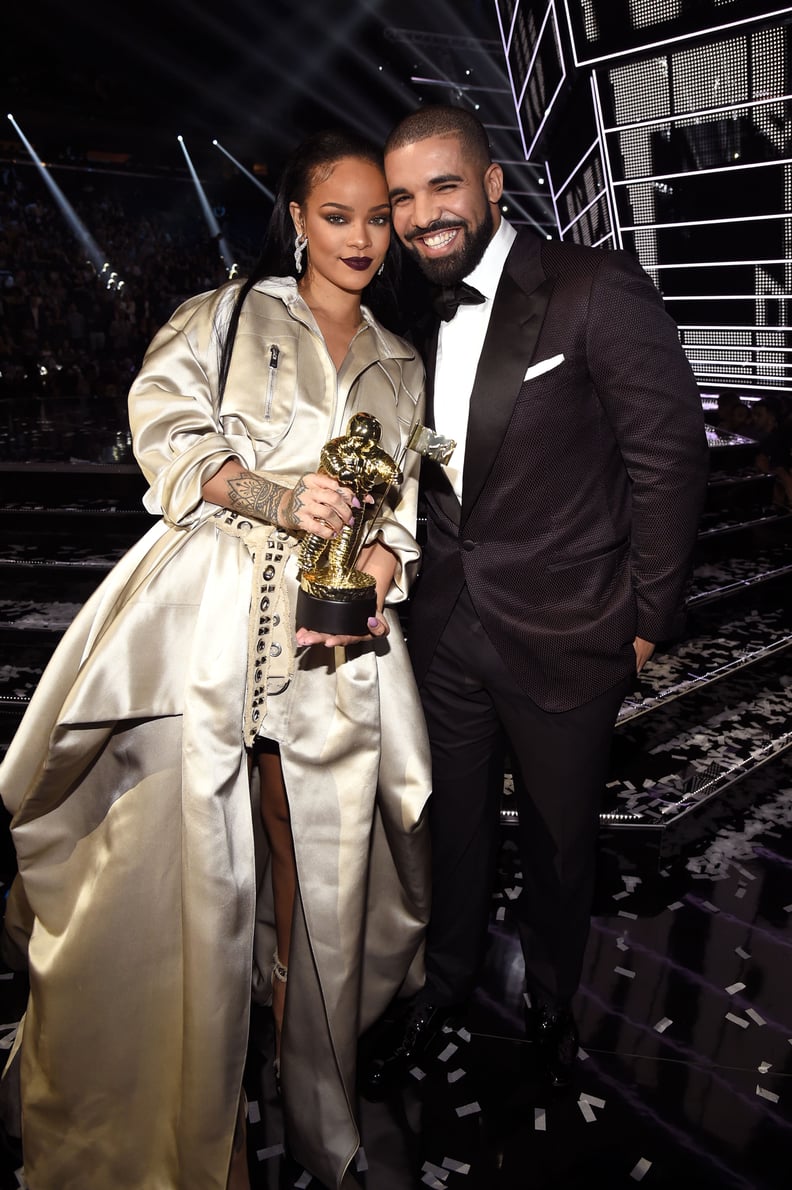 Rihanna
Rihanna and Drake's past is a complicated one, to say the least. The two collaborated throughout the early 2010s, sparking rumors of an on-again, off-again romance. In 2010, Drake told The New York Times that just before he rose to fame, he felt like Rihanna played him like "a pawn" by showing him quality time and then ghosting him. In 2013, Drake confirmed on "The Ellen DeGeneres Show" that they had shared a romantic "moment," adding he'll "always have love and support for her."
By 2016, the pair had released their hit "Work," performing together at several awards shows. Then, the 2016 VMAs happened. "Waiting through that speech was probably the most uncomfortable part," Rihanna told Vogue in 2018 about the presenter speech Drake gave, in which he infamously proclaimed his eternal love for her on national television. Two years later, Rihanna revealed that she and Drake weren't friends, but they weren't enemies either. "It is what it is," she quipped. However, the two have appeared to be on good terms in recent years.
02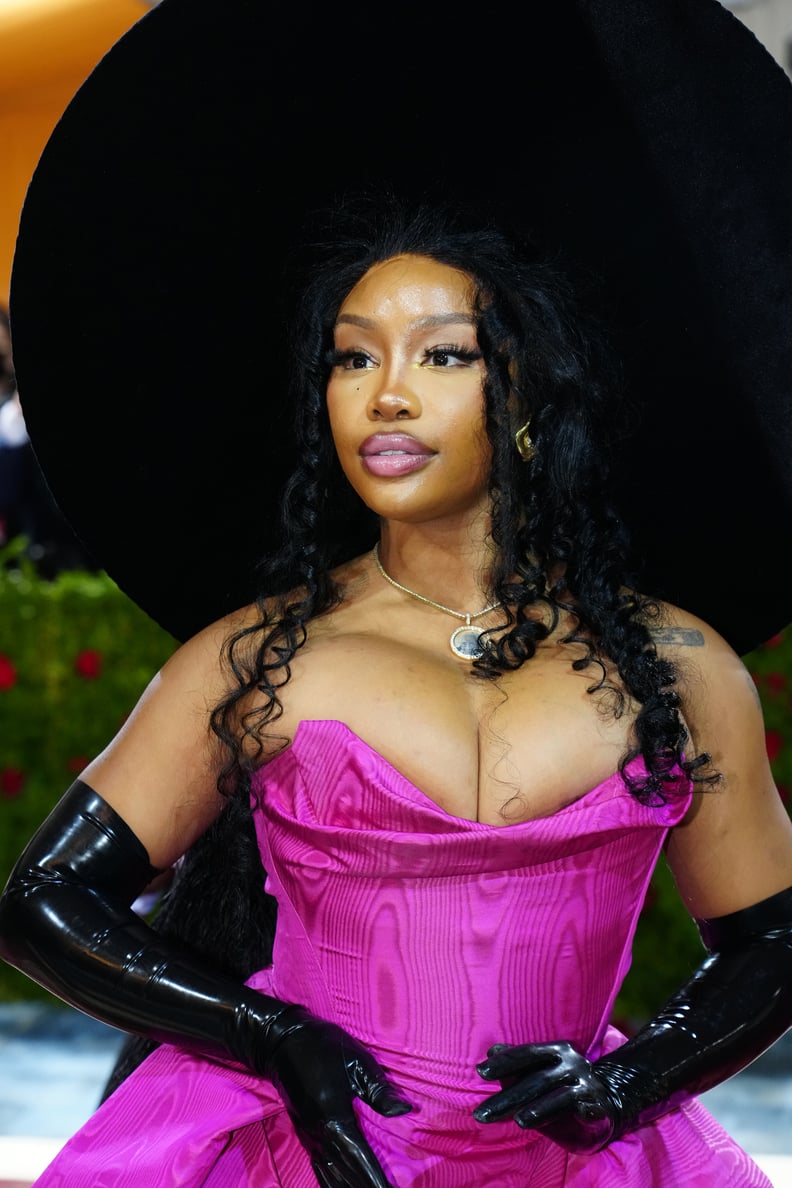 SZA
Drake first hinted that he and SZA had a past in his October 2021 song "Mr. Right Now," where he rapped, "Yeah, said she wanna f*ck to some SZA, wait / 'Cause I used to date SZA back in '08."
SZA later confirmed that the statement was accurate — almost. "So it was actually 2009 lol ... in this case a year of poetic rap license mattered lol," she tweeted in 2020. "I think he jus innocently rhymed 08 w wait. Anybody who really knows me and was around during this time can confirm ... it's all love all peace."
In a 2022 interview with Audacy, SZA confirmed that the pair are on good terms once again. "We're cool, we've always been cool. It's never been weird," she said. "Anytime he's ever mentioned me, it's always been positive. He never said anything negative about me, and I'm grateful for that. I think really highly of him . . . I'm an artist now, I wasn't then, and he's King Drake!"
03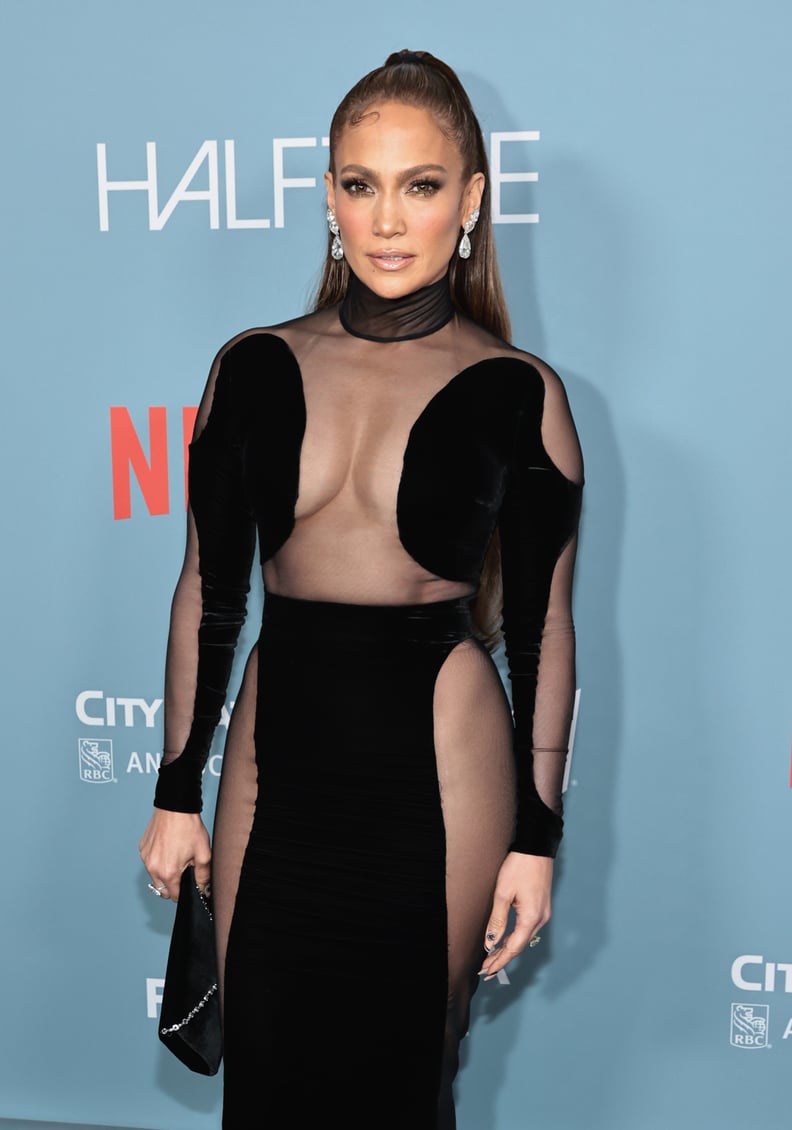 Jennifer Lopez
Apart from a since-deleted cozy photo, which appeared on both Drake's and Jennifer Lopez's Instagrams in December 2016, there's no evidence that the two artists were ever in a relationship. However, Drake hinted at the possibility of a romance in his 2017 hit "Free Smoke": "I drunk text J.Lo / Old numbers so I bounce back / Boy Wonder gotta bounce back." He rapped about Lopez again in 2018, in the song "Diplomatic Immunity:" "2010 was when I lost my halo / 2017 I lost a J.Lo / A Rotterdam trip had me on front page, though."
The closest we ever got to confirmation was when Drake spoke about Lopez — who's now married to Ben Affleck — in an interview with Rap Radar in 2019. "I have plenty of love for her. We had great times together," he said. "We were just hanging out at one point. It was an honor to be around her. She's a great artist and a great mother. [I have] nothing but positive things to say about her."
04
Sophie Brussaux
Drake shares his 5-year-old son, Adonis Graham, with French artist Sophie Brussaux. He confirmed that he was a father on his fifth studio album, "Scorpion," released in 2018. On the final track, "March 14," Drake opens up about the moment he learned he was a dad:
"Yesterday morning was crazy / I had to come to terms with the fact that it's not a maybe / That sh*t is in stone, sealed and signed / She not my lover like 'Billie Jean,' but the kid is mine / Sandi used to tell me all it takes is one time / And all it took was one time / Sh*t, we only met two times, two times / And both times were nothing like the new times / Now it's rough times, I'm out here on front lines / Just trying to make sure that I see him sometimes."
05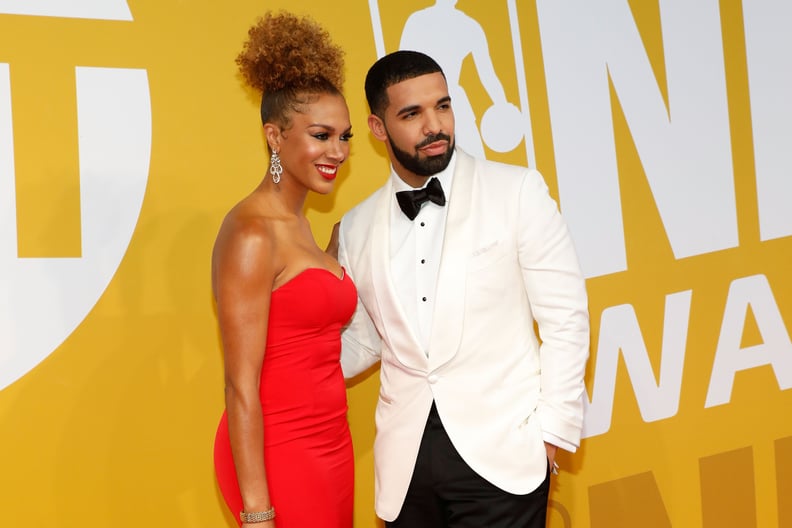 Rosalyn Gold-Onwude
Although a relationship between NBA reporter Rosalyn Gold-Onwude and Drake was never confirmed, the two spent an awful lot of time together between 2015 and summer 2017. They continued to fuel romance rumors when they showed up smiling, hand-in-hand, at the 2017 NBA Awards.
"The first thing was the connection because we're both Black and Jewish," Gold-Onwude told Respect at the time. She added that they originally met through mutual friends at a basketball game and, over time, began seeing more and more of each other. During the interview, however, she never referred to Drake as her boyfriend, only as a friend: "It's been really cool to cultivate a friendship with him."
06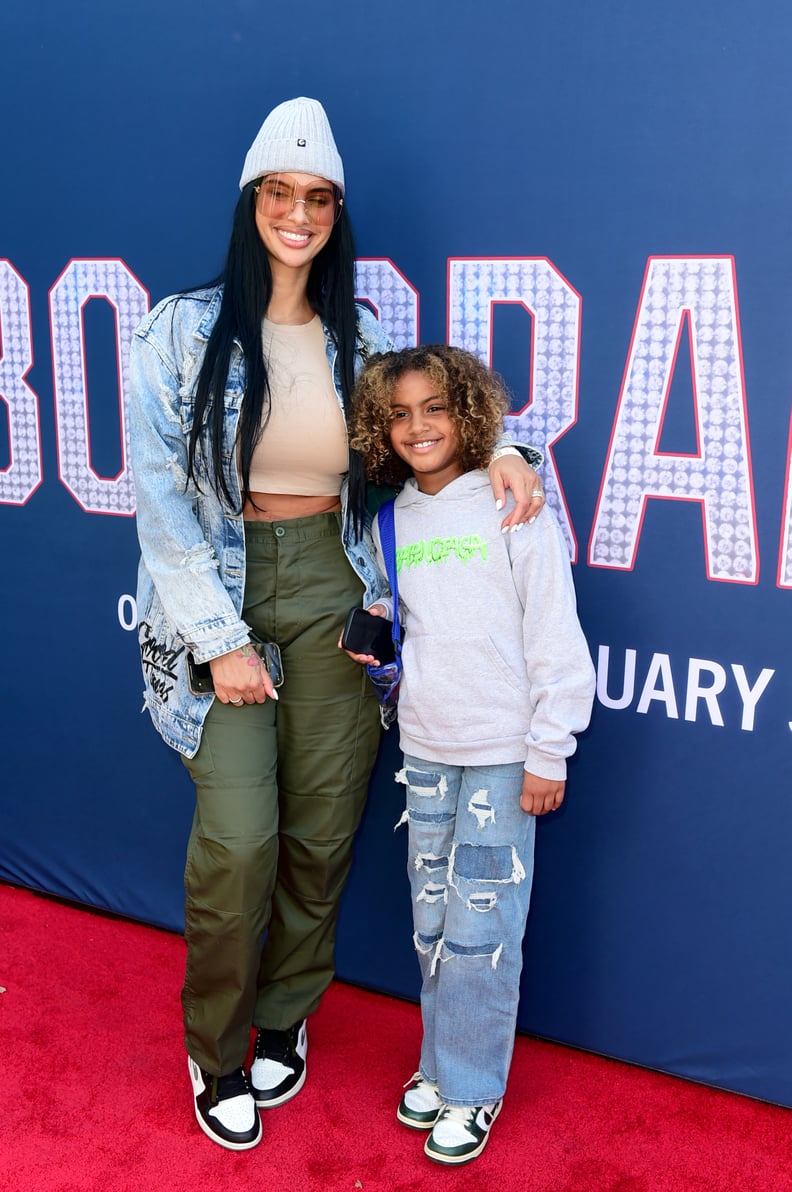 Johanna Leia
In 2021, Drake was linked to Leia, the mother of young basketball star Amari Bailey. According to People, they dated for a few months, and Drake also served as a mentor to Bailey, who started at UCLA as a basketball player in 2022, during that time. However, the pair seemed to fizzle out, as Leia confirmed she was single during a March 2022 interview on "the Morning Show 107.5 WGCI."