The Falcon and Winter Soldier TV Show Release Date
The Falcon and the Winter Soldier Is the Latest Marvel Show to Get a Release Date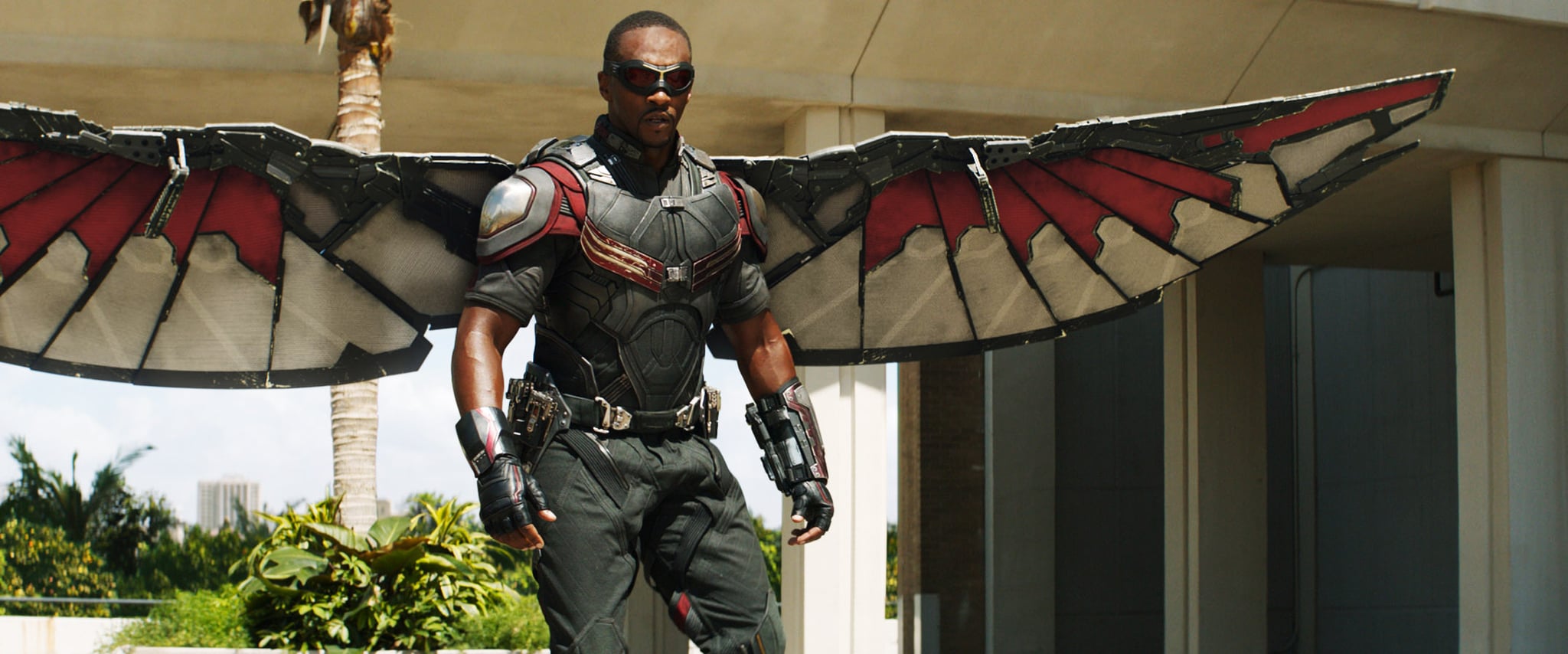 After a long delay due to production shutdowns in 2020, The Falcon and the Winter Soldier finally has an official premiere date! The Disney+ show, which will follow the ongoing adventures of superheroes Sam Wilson and Bucky Barnes in the aftermath of Avengers: Endgame, will finally arrive on March 19, 2021.
Originally, when Disney+ first announced its upcoming slate of Marvel TV shows, The Falcon and the Winter Soldier was scheduled to arrive in August 2020, making it the first Marvel show to arrive on the platform. Since production on the season was halted earlier this year due to the COVID-19 pandemic, however, the release was pushed back out of necessity, and the completed WandaVision will now be the first Marvel show on Disney+, with a Jan. 15, 2021 premiere date.
In the first full-length trailer for the series, it looks like Sam and Bucky are struggling somewhat following the events of Avengers: Endgame, which ended with their mutual friend Steve Rogers living out his life in an alternate timeline and returning as an old man to pass on his shield — and the mantle of Captain America — to Sam. While battling against your standard bad guys (including, intriguingly, Daniel Bruhl as Baron Zemo, the villain from Captain America: Civil War), it looks like the duo will be trying to figure out their place in the new world, while Sam deals with uncertainty about taking up Cap's legacy. The exact details of the six-episode series, however, are still uncertain, and aside from the two leads and Zemo, there's been little to no information released about what characters and storylines will appear in the show.
Although The Falcon and the Winter Soldier will debut as only the second Marvel TV show on Disney+, it won't be in a small club for long. Loki is slated for a May 2021 debut, while Hawkeye, She-Hulk, Moon Knight, Ms. Marvel, Secret Invasion, and What If? are all in the pipeline to arrive within the next couple of years.