A Breakdown of All the Easter Eggs in the Gossip Girl Reboot — You Know You Love It
As POPSUGAR editors, we independently select and write about stuff we love and think you'll like too. If you buy a product we have recommended, we may receive affiliate commission, which in turn supports our work.
HBO Max's Gossip Girl reboot is shaking up the Upper East Side. The new series premiered on July 8, and while it features some key differences — including the reveal of Gossip Girl in the very first episode — you can rest assured that it still pays tribute to the original series. Throughout the episodes, there are a handful of fun Easter eggs that will get fans very excited, including a few casual name drops and some intentional fashion choices.
Most recently, an original character made a cameo, and it seems like more are coming. "There are more returning characters coming," showrunner Joshua Safran told TVLine. "We haven't closed their deals yet, so I say that with a grain of sand and a prayer, but yes, we're going to have a lot of fun." The cast also guaranteed there will be even more references to the original as the season goes on. While chatting with POPSUGAR ahead of the premiere, Zión Moreno and Savannah Smith both noted that the cameo of Georgina's son in episode four is their personal favorite. Read ahead for all the Easter eggs so far.
Don't miss this show! Sign up for HBO Max ($14.99 per month) today.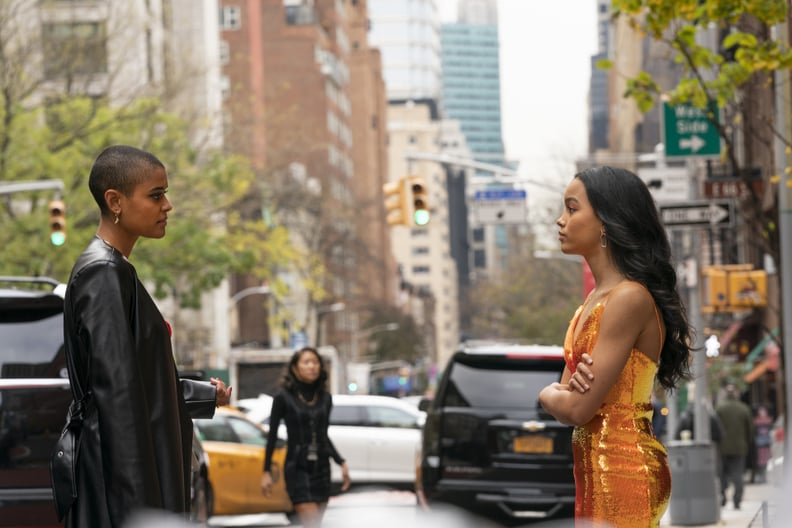 Gossip Girl Episode 1 Easter Eggs
The opening scene with Kate is pretty much shot-for-shot of the pilot with Serena coming back from boarding school at Grand Central Terminal.
Zoya tells her dad that she is attending Constance Billard School in hopes of getting into Yale. Not only is this storyline similar to Dan and Jenny attending Constance and St. Jude's to get into better colleges, but Yale is the school Blair always dreamed of attending.
If you pay close attention to detail, the fashion on the show actually includes some sly Easter eggs. Early in the episode, Julien is shown looking up clothes on Alice + Olivia, which was featured heavily on the original. At one point, Luna shades Zara clothing, which was also featured heavily on the original. Even Kate's outfit is supposed to be a tribute to the outfit Serena wore in the pilot.
During a scene in the teacher's lounge, we get our first name drop of a character from the original series. As Kate rants about all the privileged students at Constance Billard School, she notes all the incredible alumni the school has produced, including Nate Archibald.
In that same conversation, one of the faculty members and a former student at Constance Billard School, Rebecca Sherman, introduces the teachers to the former Gossip Girl website, which features a handful of iconic blasts from the original series. In the original series, the character was briefly mentioned as a possible Gossip Girl suspect.
While Zara clothing and headbands appear to be out of style in this reboot, sitting on the steps of the Met is not. We get a shot of all the students hanging out by the museum in the first episode.
Though Kristen Bell is back as the voice of Gossip Girl, her iconic intro is slightly different. Now she says Gossip Girl is "your one and only source for the truth behind the scandalous lives of New York's elite." This is likely due to the fact that characters on the show don't just live on the Upper East Side anymore: Julien is in Tribeca and Obie lives in Brooklyn.
All the characters have striking similarities to the original characters, but the first episode clearly states that Julien and Zoya are the new Serena and Blair of this series, which is precisely why Gossip Girl 2.0 tries to pit them against each other to start more drama.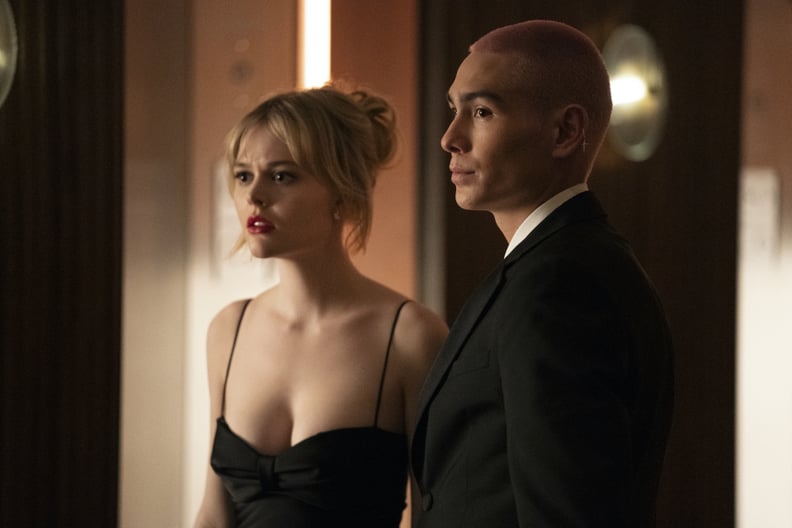 Gossip Girl Episode 2 Easter Eggs
There's a quick reference to actor Alec Baldwin as it's noted that one of his kids attends Constance Billard. Though Baldwin never appeared on the show himself, his brother William Baldwin notably played Serena van der Woodsen's dad in the series.
Like we said earlier, this Gossip Girl reboot is a whole new world, and now these kids actually party in DUMBO. In the original series, Blair used to constantly mock Dan and Jenny for being from Brooklyn, but now it's the hip place to be.
It's been noted that Audrey's character name is a reference to Blair's favorite actress Audrey Hepburn, but the second episode takes it a step further by revealing that Audrey's mother's name is Katherine. Perhaps like actress Katharine Hepburn?
Similar to Blair's mother at the beginning of the original series, Audrey's mother is a designer who is just getting over a divorce.
Gossip Girl Episode 3 Easter Eggs
In Gossip Girl's voiceover, she refers to Zoya as "Little Z," which is similar to how Blair would call Jenny "Little J" on the original series.
It may not be a direct Gossip Girl Easter egg, but it's also worth noting that actress Elizabeth Lail, who previously starred on You with Penn Badgley, makes an appearance in this episode as the girlfriend of Julien's dad. It's certainly a fun crossover moment!
While the original series often showed the characters attending shows at the New York City Ballet, it appears like Off-Broadway shows are the new cool pastime for these characters. There's also a fun connection with showrunner Joshua Safran's previous show Soundtrack as Paul James make an appearance in the production.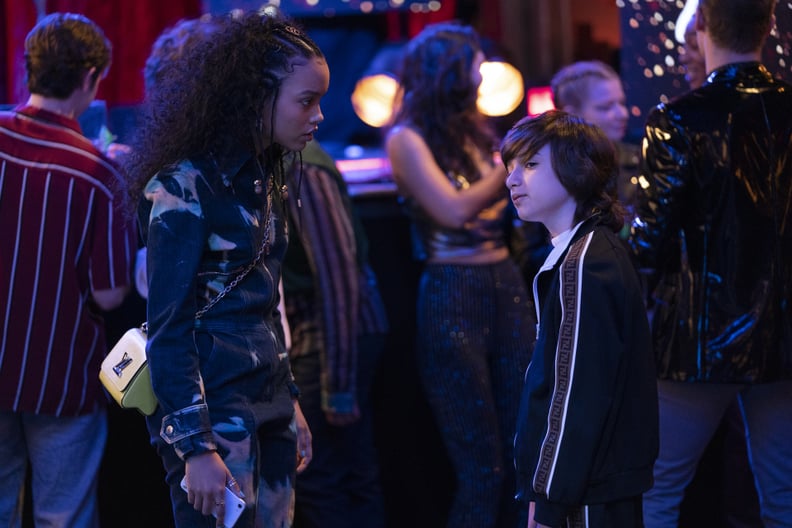 Gossip Girl Episode 4 Easter Eggs
Milo Sparks, who introduces himself to Zoya after she finds out about Julien's party, is the son of Michelle Trachtenberg's Georgina Sparks. During the show's original run, Georgina famously tricks Dan into thinking Milo is his son.
In Milo's apartment, not only do we see photos of Georgina with famous "friends" like Ed Sheeran, but there's also a large framed picture of Blair. "The idea that Georgina has a shrine to Blair in her house is just so much fun," Safran told TVLine. "Of all these people she's around in her life, her target is still Blair. She has to see Blair's face every day to energize her. Or to be inspired to do evil."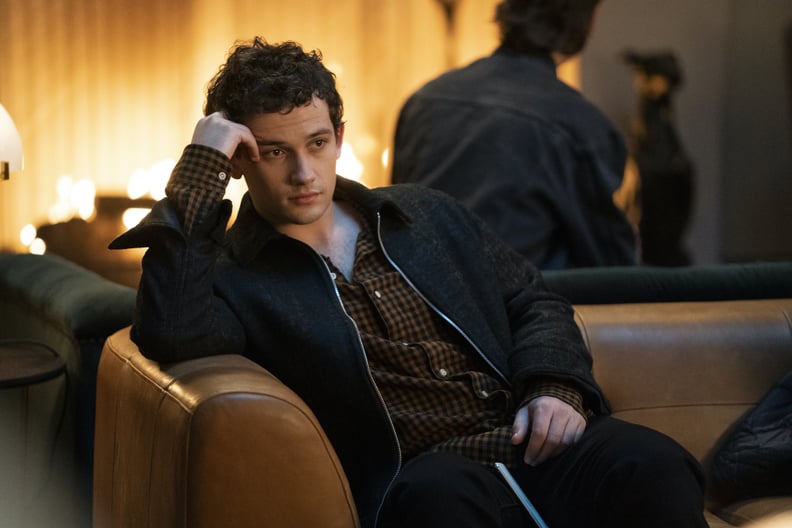 Gossip Girl Episode 5 Easter Eggs
The Halloween episode went above and beyond with the meta references to the original series. As two popular girls from a rival school, Pippa and Bianca, dress up as Blair Waldorf and Serena van der Woodsen, Julien and Zoya decide to ditch their clothes and put on Aki and Obie's suits to transform themselves into Dan Humphrey and Chuck Bass. At one point, Zoya replicates Chuck's iconic line from the original by telling reporters, "I'm Chuck Bass."
In this episode, there is a brief but incredible cameo from Nelly Yuki, who served as one of Blair's minions in earlier seasons and eventually became an editor for Women's Wear Daily. It appears like she has gotten another promotion, as she's now an editor for New York Magazine.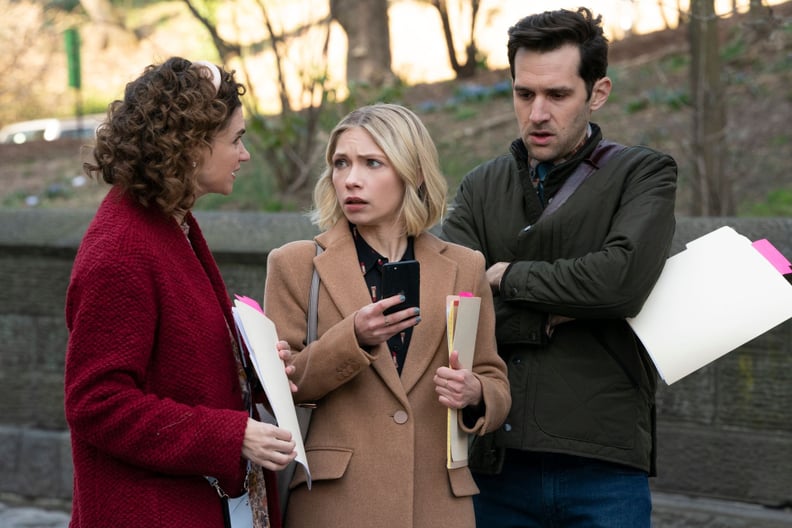 Gossip Girl Episode 6 Easter Eggs
While discussing strategy for how to run the Gossip Girl Instagram account, Kate makes reference to the spotted map on the original Gossip Girl app, calling it "a sort of teen Gawker Stalker map."