Grey's Anatomy Fall Finale: Cristina Sends Meredith a McWidow, Jo Steals a Baby, and More!
Warning, spoilers ahead!
Just when we think Grey's Anatomy might take the unexpectedly calm route for their season 16 fall finale, they remind us that we should know better. And they even managed to throw in a disaster to keep us on our toes until the second half of the season returns in January! Since there was a lot going on during the ninth episode, here's the biggest moments you need to know.
01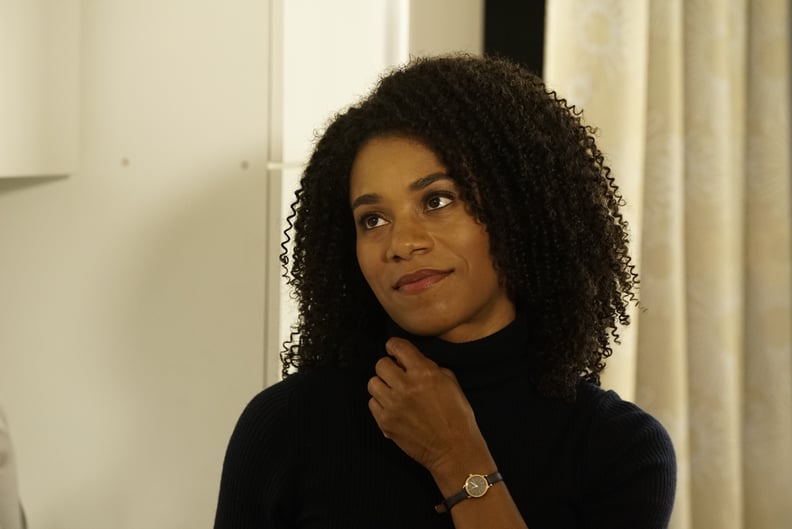 Maggie Quits the Hospital
Maggie has been going through a lot during the past couple of episodes, especially since her faith in her own abilities have been shattered since her cousin died on her operating table. Elliot Calhoun's return to the hospital does nothing to help that. He comes in for a fourth aortic valve replacement, with Maggie having done the previous three surgeries, right after his wife gives birth to their baby boy.
Already shaken by the very thought of going in solo, Maggie calls in Teddy to assist during surgery, but as soon as she feels secure and the other surgeon leaves the operating room, Elliot's heart stops. There's the possibility that it may start back up sometime in the future, but the situation causes Maggie to question herself and she resigns immediately after.
02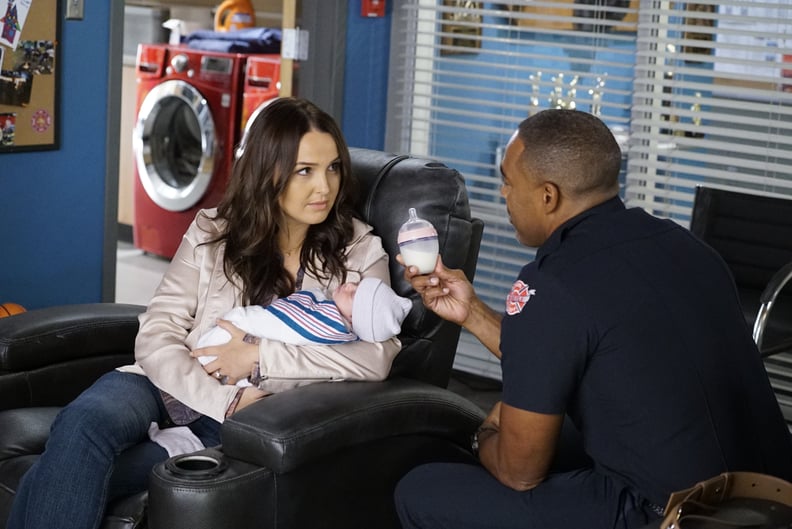 Jo Steals a Baby
Speaking of fresh babies, Jo reveals to Link that she's signed up to serve as a safe haven volunteer, picking up abandoned babies at firehouses and keeping them safe until they're picked up. She explains that she's taken on the role in an attempt to make nice with her past as an abandoned baby, but when she gets her first call to Station 19 (yes, it's a crossover episode) she runs into some trouble. She's immediately enamored with the aforementioned newborn and by the end of the episode, she tells Link "it was too much, too soon," revealing she's taken the baby boy home with her.
03
Bailey Suffers a Miscarriage
Remember how excited Bailey and Ben were at the thought of bringing a baby into the world? Their happiness soon turns to grief when Bailey suffers a miscarriage in the fall finale. She had just discovered that Chief Herrera's tumor was lymphoma when she began bleeding. Though Ben attempts to comfort her when they learn she's miscarried, Bailey is too overwrought and begs him to do anything but stick around "with those sad, beautiful eyes."
She immediately bumps into Amelia as she's leaving her hospital room, with the younger woman telling her that she's taking her advice to get an ultrasound. Not wanting to scare Amelia, Bailey keeps her devastating news to herself. Instead, she fibs that she elected to find out the gender of her baby, revealing that it's a girl. Or it would have been.
04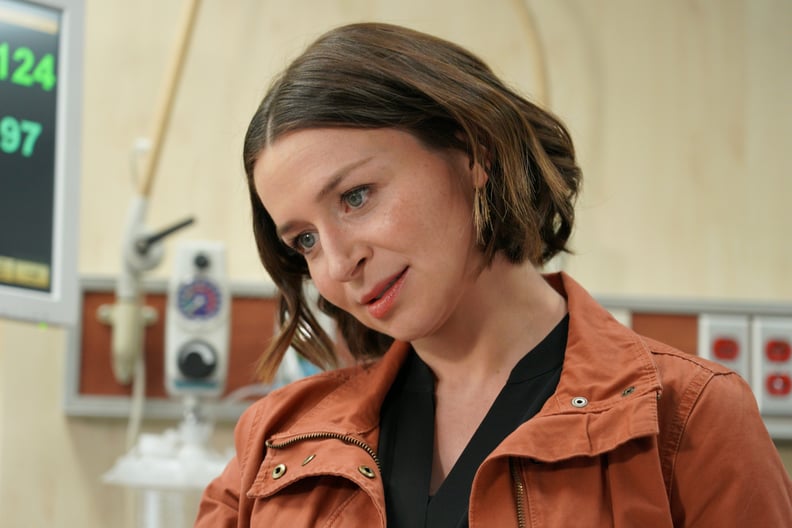 Amelia Gets Some Startling News (Again)
Amelia tells Bailey that she's never had an ultrasound and is immediately scolded to get the procedure done as soon as possible. Link backs up the sentiment and Amelia decides to go to Carina to get the baby checked over. The other woman reveals that Amelia isn't 20 weeks pregnant like she thought, but rather 24 weeks. The short period of time is just enough to throw a wrench in her family plans with Link because that means Owen is in fact, the father of her baby!
05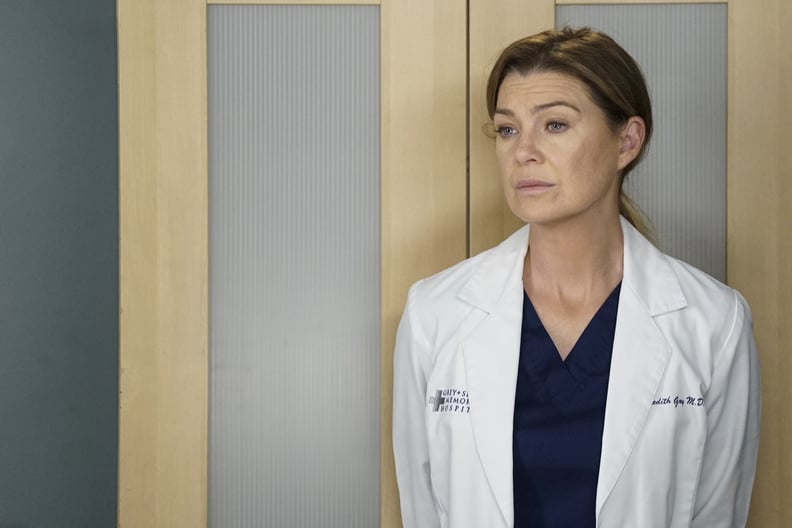 Cristina Makes Another Cameo
After penning a letter in support of Meredith during the trial concerning her medical license, Cristina makes another offscreen appearance to give her "person" a gift for her first day back to Grey Sloan Memorial Hospital. While Meredith puzzles over the mystery, she clashes with the new chief of pediatric surgery, Cormac Hayes, over the care of a 13-year-old patient with a tumor. After Meredith shows Cormac that he's "just a guest in her house" and saves her patient from a gallstone, Cristina sends her a message that the package she sent isn't an it, it's "McWidow." Looks like Cormac, who reveals his wife died right before Cristina sends the message, is going to stir up trouble between Meredith and DeLuca.
06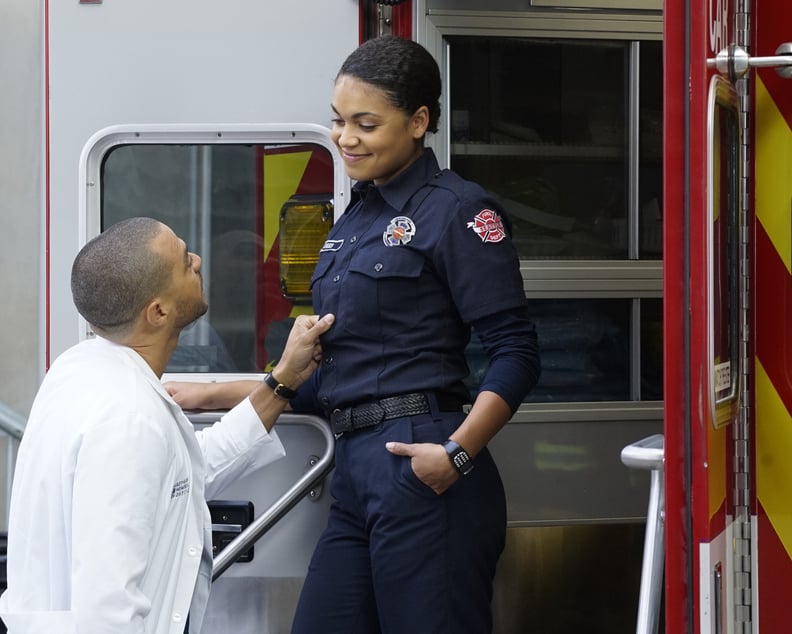 A Car Crashes Through a Bar Window
Grey's can never just emotionally wreck us, they have to threaten the lives of our favorites too. While various Grey Sloan doctors and responders from Station 19 hang out at a local bar, a car crashes through the main window. We don't get to see exactly is hurt by the crash, but we do know who is caught up in the disaster: Jackson, Ben, Chief Herrera, Levi, Nico, Helm, Casey and Blake. Looks like the perfect setup for the upcoming crossover when Station 19 and Grey's Anatomy returns on Jan. 23!
Station 19 and Grey's Anatomy Crossover Event Trailer
Check out what's in store when the two ABC shows team up for the epic crossover event on Jan. 23!