Everyone in Bachelor Nation Is in Love With Kevin After His Reaction to That Paradise Surprise
Bachelor in Paradise is known for pulling some kooky surprises, but sometimes it's less of a surprise and more of a cringeworthy, "Oh god, why would you put someone through that situation??" moment. We're not talking about the awkward quinceañera-crashing date kind of surprise — we're talking watching your ex get engaged less than 100 yards away from you kind. Yes, they went there.
For those of you who need a quick refresher on the schematics of the Kevin/Ashley/Jared situation, this all began in 2015. Ashley Iaconetti and Jared Haibon both came off of The Bachelor and The Bachelorette looking for love after having their hearts broken. Their complicated relationship began on Bachelor in Paradise season two, and though the two were on-and-off, it was obvious to everyone that Ashley still had strong feelings for Jared. After their stint in Paradise, Ashley wound up on The Bachelor Winter Games, where she met Kevin. The two hit it off quickly and went on to win the games, taking home golden roses. Three months later, they revealed that their romance couldn't stand the test of distance, and they had gone their separate ways. Shortly after, Ashley and Jared finally got together.
Flash-forward to the eighth episode of this season, with Chris Harrison bringing the couple onto the show as a "Paradise success story" who would decide the next couple to receive a date card. Let's ignore the fact that their relationship was terrible on their season of Bachelor in Paradise and just go with it. As Ashley and Jared head to the beach, it's quickly revealed that it's all a ruse and they're really there so Jared can propose. It's sweet until you remember that this is all happening right in front of Kevin, who has been trying to establish a solid relationship with Astrid after Ashley reportedly cheated on him. Yikes.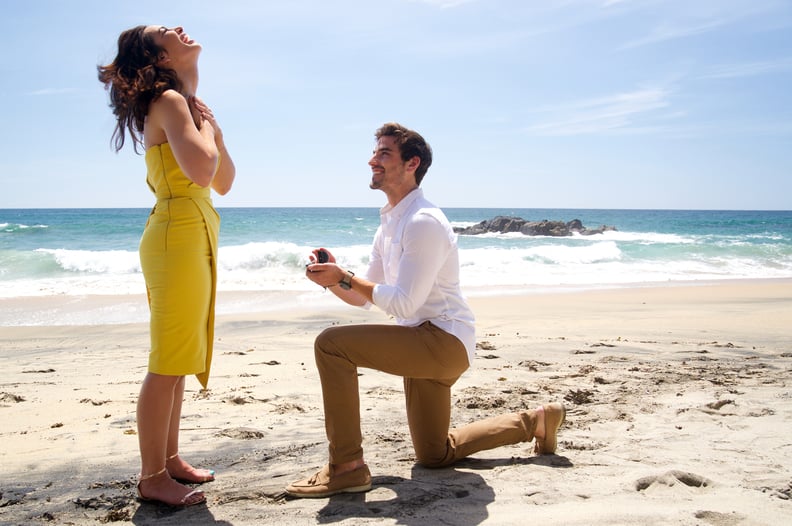 Kevin remained very gracious about the entire thing, and even offered Ashley a congratulatory hug after the proposal on the beach. When it was all over, he admitted to Astrid that the entire thing felt like a slap to the face, which is completely fair. Most people don't have to watch their exes get engaged right in front of them, they just deal with the photos on social media after the fact. Kevin handled the upset like a champ — he worked through his feelings and came out on the other side being able to open up to Astrid, exchanging "I love yous" at the end of their date (which they damn sure deserved after that).
Even though it had to be incredibly awkward to see in person and relive while watching the episode, Kevin and Ashley have shown that there are no hard feelings between the two. And Bachelor Nation is genuinely happy for Ashley and Jared, as well as Kevin and Astrid's blossoming relationship. Read on for their tweets after the episode aired and how fans have fallen more in love with our favorite Canadian on Paradise.