Mandy Moore and Milo Ventimiglia's First Script Read Was Just as Romantic as We Imagined
Jack Pearson may be the most beloved TV dad, but the This Is Us creators initially had very different plans for Milo Ventimiglia's character.
Ventimiglia's onscreen wife Mandy Moore recently attended POPSUGAR Play/Ground, where she was interviewed by her onscreen daughter-in-law Susan Kelechi Watson. The ladies discussed the bond of the Pearson family on TV and in real life and even recalled Moore's first read-through with Ventimiglia. I mean, their chemistry on the show is next-level, and it sounds like behind the scenes, it was the exact same way. Like, immediately.
"You're going into a room with a really handsome guy and you have to pretend to be husband and wife and you're pregnant with his three children," Moore recalled at Play/Ground. She and Ventimiglia shook hands, and he asked her if it was OK to "get close" to her, which she obviously agreed to, "and he nuzzled into my neck and pretended to be my husband."
These situations have the potential to be really awkward, but not for the future Jack and Rebecca Pearson. "I felt immediately connected with him," Moore gushed. "I was like, 'Oh, wow, this is how it's supposed to feel.' It was great." She also said that Ventimiglia was "the only person" the production team had her read with . . . that's how connected they were.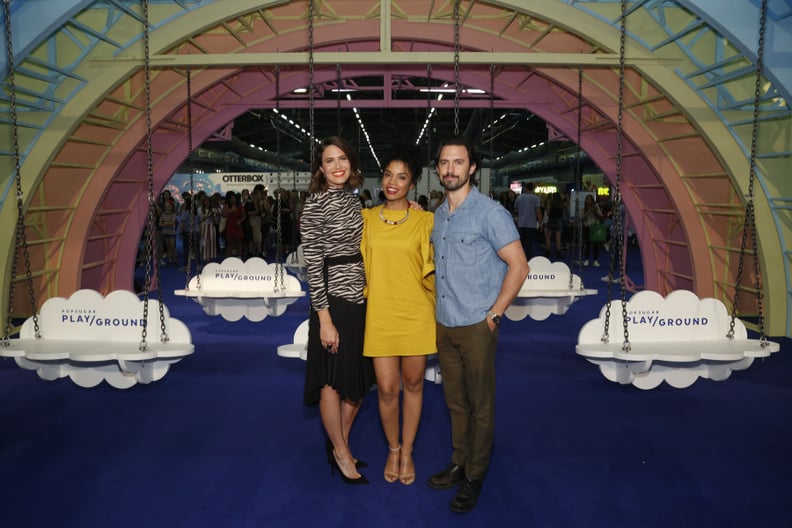 It's no surprise that Moore and Ventimiglia had an instant spark, but what is surprising is what she and Watson revealed about the original plans for Jack's character. As in, he "was actually written as a schlubbier guy." GASP. He was initially supposed to have a "bigger than average profile, kind of round," but of course that changed the second Ventimiglia entered the room.
"Milo comes in and takes off his motorcycle helmet, and everyone in the room was like, 'Oh, that's Jack,'" Watson said. "It's the power of bringing your full self to something even if it's not on the page." Clearly it's also the power of Milo Ventimiglia!
We have some time until season four of This Is Us returns in September, but it's moments like these at Play/Ground that are holding us over, and because we simply can't imagine a schlubby Jack.