We're Reverting to Teenhood, From Olivia Rodrigo to Nail Trends — and It's Not a Bad Thing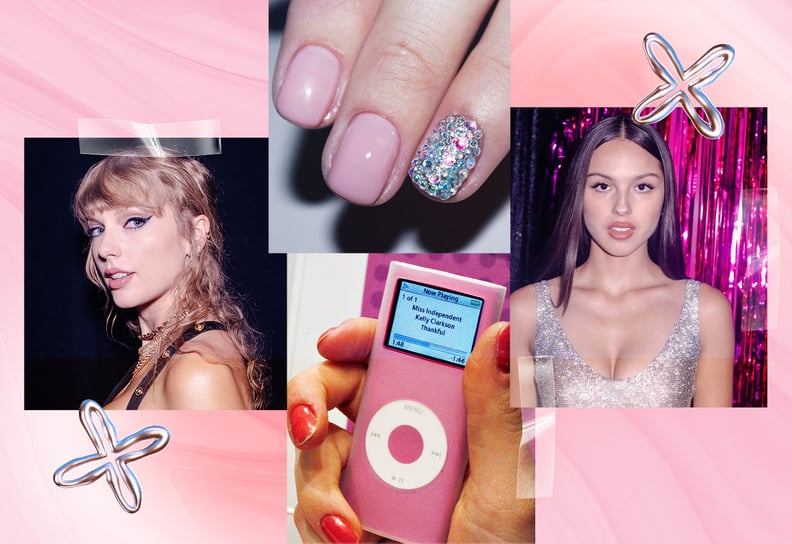 Celebrity Images: Getty | Catherine Powell; Stringer
Design Elements: Getty | Bloomberg; Oleksandr Smirnov; Ailey Daily
Photo Illustration: Ava Cruz
Celebrity Images: Getty | Catherine Powell; Stringer
Design Elements: Getty | Bloomberg; Oleksandr Smirnov; Ailey Daily
Photo Illustration: Ava Cruz
Welcome to the era of reverting back to teenagehood.
Just take Olivia Rodrigo as an example. Her latest studio album, "Guts," has allowed her to amass a large group of 20-something and 30-something "teenagers" who are obsessed with her music. While Rodrigo is only 20 herself — and broke out with her debut, "Sour," as an 18-year-old — she's been able to uncannily appeal to an older, more mature audience.
Of course, the idea of embracing youth as we age isn't a new concept, but this moment feels different. Across social media, millennials are talking about the phenomenon. From memes to videos, the "20-something teenager" is a veritable identity, thanks to Rodrigo's 2000s pop-rock sound; the resurgence of former Disney stars like Selena Gomez and Demi Lovato; and countless Y2K fashion trends, from accent nails to jersey dresses.
But how did we get here, and why are so many adults finding comfort in reminders of their youth?
"The resurgence feels like an opportunity to reapproach trends I didn't have the confidence to take part in as a teenager."
For one, this resurgence of trends from the 2000s seems to be something that was especially spurred on by the pandemic. While people stayed at home, the popularity of shows like "Gilmore Girls," "Charmed," and more skyrocketed as we rediscovered these shows or watched them for the first time. And on TikTok (which we were all spending a lot of time on), many shows from the 2000s and 2010s — including "House," "Grey's Anatomy," "Desperate Housewives," and "Suits" — experienced a resurgence because of the three-minute clips of episodes that are being uploaded to the platform. According to Rolling Stone, when the 2000s classic "Ugly Betty" was added to Netflix, it took only a few weeks for interest in the show to increase by 500 percent on TikTok.
But it's not just that these cultural touchpoints are more readily available to us. Looking back at these TV shows, movies, music, and fashion trends also allows us to embrace the trends in a way we may not have understood when we were, in fact, teenagers. Taylor Swift's rerecordings are a perfect encapsulation of this. Many millennials heard her albums for the first time as teenagers, but with her "Taylor's Version" albums coming out now, we're able to appreciate her music in a new light and relive the moments in our lives associated with the albums. Through these nostalgia-soaked listening sessions, we can approach the music with more understanding of the love and heartbreak that so many of her songs are about.
One popular Instagram user put it perfectly. The account, called Sh*t You Should Care About, wrote about why Taylor Swift announcing the release of "1989 (Taylor's Version)" at her last show of her US tour has such sway over us. "We've been regifted the Taylor Swift albums that once told us that someday we'd be living in a big old city, and now that we are, they're asking us whether we've done things greater than dating the boy on the football team," they wrote. "And we're eating this sh*t up."
From personal experience, reliving the carefree moments of teenhood through the music, movies, and TV shows that invoke nostalgia is more about healing my inner teenage self, especially as a woman of color. I personally grew up with a lot of insecurities and strived to fit in with everyone else. But fitting in felt harder to achieve when many of the trends from the past were not geared towards people of color.
Now, the resurgence feels like an opportunity to reapproach trends I didn't have the confidence to take part in as a teenager. While I do love rewatching "Gilmore Girls" the moment the weather cools down, it's hard to ignore the microaggressions, fatphobic comments, and other problematic behavior that were swept aside as lighthearted jokes at the time. As an adult, I am able to appreciate the nostalgia that it brings, but also look at shows like that with a more critical eye and understand now that my differences don't hold me back the way I thought they did as a teenager.
"Thinking of ourselves as teenagers is about more than just embracing our youth."
That's also why I'm also glad to see that more young adult TV shows, books, and movies are more diverse in the type of stories that they tell these days. Watching shows like "Never Have I Ever," which centers the coming-of-age experience of a young South Asian teenager, and "Ms. Marvel," which highlights the joyful youth of a Muslim high schooler, is especially healing for me.
And this all brings us back to Rodrigo's latest album. In the song "Lacy," Rodrigo sings about the experience of feeling inadequate to the character Lacy, a metaphor for a white girl who is perfect in her eyes. Hearing a popular singer who's universally beloved sing about the pain of not being able to compete with the beauty standards associated with whiteness definitely wasn't part of the conversation in pop culture in the past. But today, it's powerful to have these pop-culture moments that resonate with people of color of all ages at the forefront.
So for those of use in our twenties and thirties, thinking of ourselves as teenagers is about more than just embracing our youth. Feeling like a teenager is a safe haven from whatever struggles or hardships we're facing. It's a chance to rechart our histories, to repaint a time that's truly worry-free and full of excitement. And perhaps more than anything, it allows us to connect over shared nostalgia and create real community — even if just for the fleeting moment of an Olivia Rodrigo song blasting through our car speakers.