Orange Is the New Black: Here's What You Should Know About Season 6
"Orange Is the New Black's fifth season just premiered, and you're already talking about season six?!" you might be wondering to yourself. And yes, we realize it's a little early to already be speculating about a sixth season, but then again, Netflix has already renewed the prison dramedy for two more seasons. That means it's not really about if we'll be seeing our favorite inmates in the future, but when. Let's take a minute to break down what we know so far, shall we?
The Cast
Season six will likely introduce us to a few new faces, because even if no new inmates are brought in, there are always unfamiliar actors in the flashback scenes. It's also safe to bet that the new episodes will offer some lesser-known characters their chance to shine, the way season five does with Frieda and Brandy (Asia Kate Dillon). Another suspicion we have is that season six will be the last we see of Piper Chapman (Taylor Schilling). She's supposed to be getting out of prison pretty soon (her sentence was for 15 months for her pretty minor role in Alex Vause's drug cartel), which is probably one of the reasons season five takes place over the course of only three days — to pad the timeline. Unless she does something to lengthen her sentence, it'll be hard to justify keeping her in prison until season seven rolls around.
The Premiere Date
The exact date is still TBD, but Orange Is the New Black has kept a pretty rigorous premiere schedule since season one hit the streaming network back in July 2013. A new season arrives like clockwork each Summer, always within the first two weeks of June. For instance, season five just premiered on June 9, while season four's premiere was on June 17. That means we'll likely get season six in June 2018 and season seven the year afterward.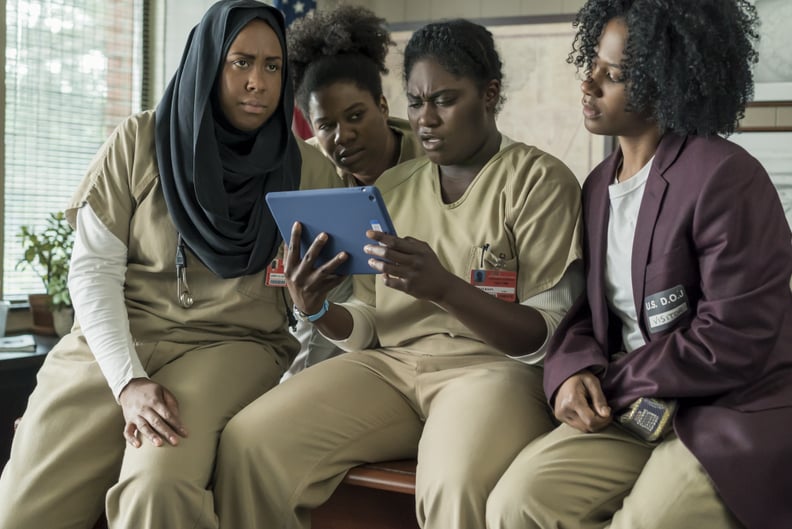 The Story
In Netflix's statement about the renewal news back in 2016, series creator and executive producer Jenji Kohan hinted that the show's tried-and-true storytelling structure — a present-day timeline in (and sometimes out of) Litchfield Penitentiary mixed with revealing, pre-prison flashbacks for each character over the course of a few months — was going to be switched up. "Three more years! Not quite a political term, but still plenty of time to do some interesting things. In some cultures, 'May you lead an interesting life,' is a curse, but I don't live in those cultures," she said. "Here's to keeping it interesting."
Season five is already proof of that vision. The season covers only three days, detailing every aspect of the prison riot that began in the season four finale. We have a feeling Kohan will keep experimenting with that freedom in season six, especially since the show is already renewed and she doesn't have to worry about getting canceled over creative differences.
What the Cast Thinks
In an interview with The Hollywood Reporter, many of the cast members opened up about what they think will happen, even though they haven't seen any scripts yet. "There is no question that it is an irreparable kind of change," Kate Mulgrew, who plays Red, revealed. "We are altered by trauma; the best among us are altered by it. It remains to be seen. Red is strong, multi-dimensional, and quite capable, but I've been hurt now in a way that I hadn't before . . . So I think going forward it will be fascinating to see how the writers deal with it, and how I deal with it in the dance with them. And I hope that born out of this are the terrible shadows that follow us when we have been badly, badly devastated."
Schilling added that "It's not looking good!" for the women left standing hand-in-hand as the riot police storm into the pool in the finale, which Natasha Lyonne (who plays Nicky Nichols) echoed. "I think we always feel like [anyone could die at any time]," she said. "Across the board, I think we're always sort of weirdly ready, on some strange level. And if the show is mirroring the truth of society in any way, the reality is that insane things do happen on a constant basis. And often, consequence-free. Ultimately, it's true to the nature of the kind of storytelling that Jenji's doing to be truthful in her reflection of the world."