Kate Mulgrew Interview About Orange Is the New Black 2017
Kate Mulgrew Promises You'll Be "Gobsmacked" by OITNB Season 5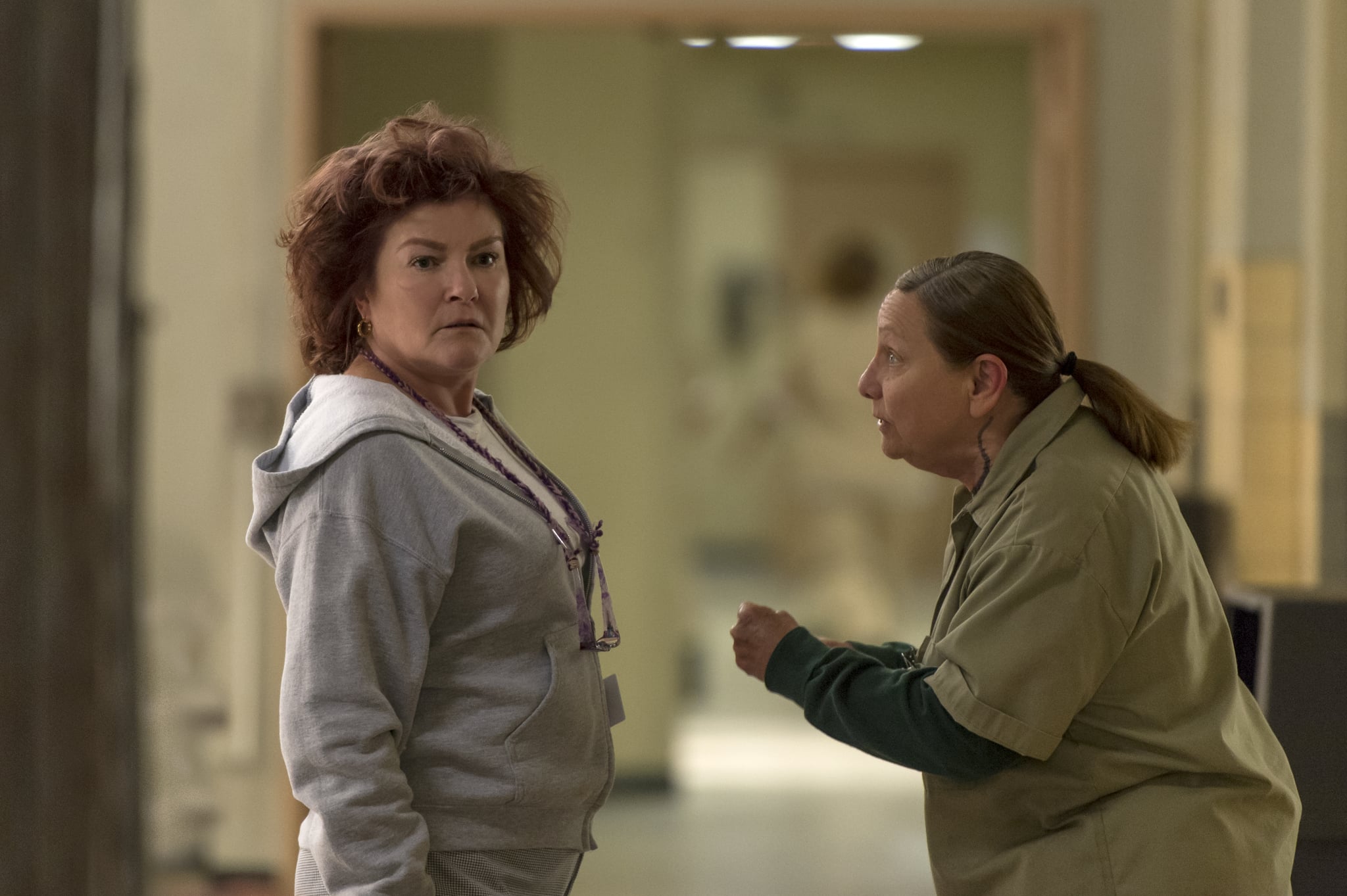 Galina "Red" Reznikov is not one to sit down or shut up. According to actress Kate Mulgrew, the mother hen of Litchfield is facing her biggest challenge yet in season five of Orange Is the New Black. Ahead of the June 9 premiere, Mulgrew hopped on the phone with us and dropped some major hints about what to expect from the new batch of episodes. Season four ends on a huge cliffhanger, and Mulgrew made it seem like that fever pitch of intensity will keep up all through the three-day arc of season five. "It's a pretty big season for me," she said. "At least, that's how I felt when I staggered home at the end of it." Here's what we learned from Litchfield's fiercest chef.
For the first time, Red is out of her element. The final line of season four comes courtesy of Red, who sees the the gun in Daya's hand and mutters, "Sh*t, here it is." Mulgrew clarified what Red meant, saying, "Women who have been incarcerated for long periods of time have very little to lose or so they feel in a moment like this. So when I say, 'Sh*t, here it is,' [it means] in all of my years at Litchfield I have not seen this kind of rupture and I know that this kind of rupture can lead to nothing but something seismic and that's exactly that happens in season five."
We're about to see everyone go their own way. "Everyone approaches a moment like this very differently; it's entirely subjective. What does it mean when a prison riots? Well, it means something different to each person. You're going to see Red probably take this personally. You're going to see somebody else take it politically.
Red's season five storyline really begins in season four. "Red has something happen to her, the kernel of which is planted in season four. It's actually fairly developed toward the end of season four, with a particular CO." May she be referring to the power-mad Piscatella? "In this relationship, there lies a scarlet thread that she has not felt since she was devastated by her family, the Russian people. She meets this person and it's as if everything she has fought for, everything in her character, everything in her being that she has willed to overcome, this horrific sentence, is overturned and she is filled with a great need and almost a force, a power, a drive to negate that. So for Red, it's a battlefield."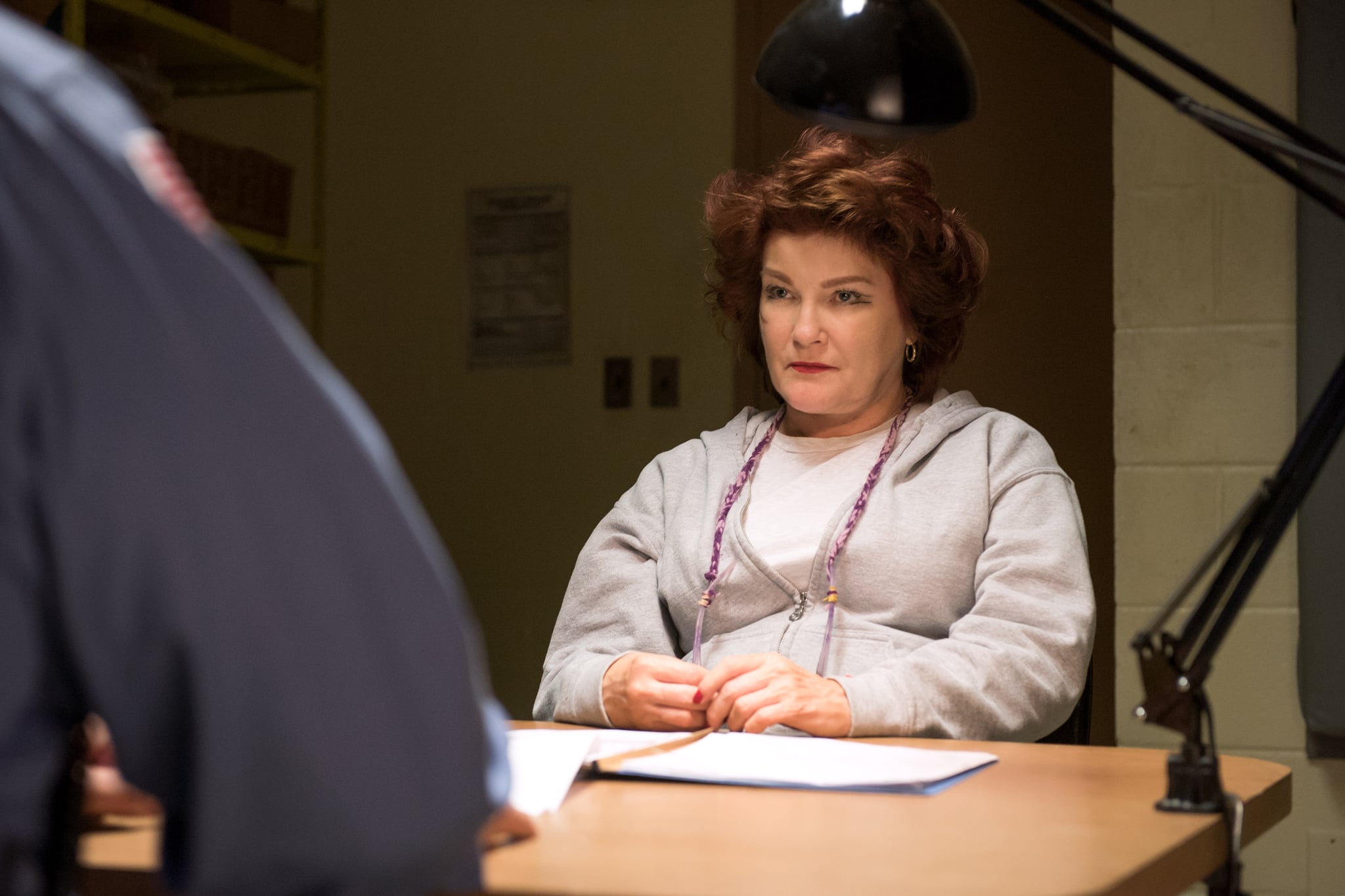 Red won't be in Mother Hen mode. "I would say it's not as familial as it has been in the past. It is far more isolated . . . Nicky is always there for Red. I love her, my love for her is constant and true. I'm always looking out for her and she is for me but something threatens even that. So I am looking at the greater evil and it is my mandate to myself to overcome this greater evil that I believe this person represents."
Whatever happens to Red, it's BIG. "Audiences are going to be gobsmacked, mouths agape at what happens to all of us in this season, but in particular probably what happens to Red. It's no holds barred. There's very little I did not experience, endure, and overcome . . . Red is an extraordinary creature, but she is a woman of many flaws, which are evident in a way that we have never seen before. Her humanity is threatened in a way we have never seen before. Something bigger than she could even have thought of — and she thinks at a pretty high level — has come to darken her life."
We'll see "a little bit" of Red's backstory. "The train is moving on a immediate track and I am in the front car," she said, confirming that most of the season is focused on the present. "There's just no question about it, it's moving and another train is moving toward it. That's what the audience is going to see for 13 episodes. A trainwreck is coming, but who will survive?"
Someone won't make it to season six. While Mulgrew implied that Red would survive the season, she did say that heads would roll. "Not everybody does survive, I will say that."
Orange Is the New Black season four is now available on DVD and Blu-ray.