I've Spent the Past Month Exploring Predictions For Outer Banks Season 2
Ever since Outer Banks, aka the bronzed, seaside, modern-day Romeo and Juliet, was released in April, we've been left wondering whether there will be a second season. Netflix has yet to confirm an official season two, but one of the show's creators Jonas Pates has already talked of fourth and fifth seasons. Therefore, I think it's safe to say we can plan for some more dreamy surfers, treasure-hunting, and "Kook" on "Pogue" action. Until that official announcement comes, why not plot the future outcomes of season two?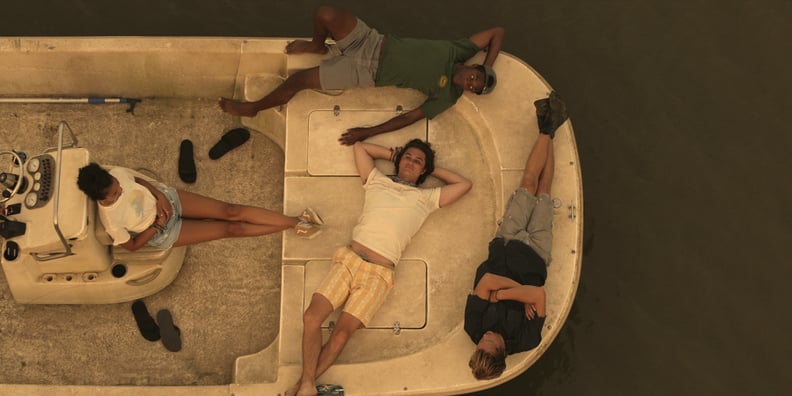 Sarah and John B. Will Go on a Second Treasure-hunt in the Bahamas.
At the end of the finale, John B. (Chase Stokes) and Sarah Cameron (Madelyn Cline) survive a massive tropical storm that almost kills them, and end up getting picked up by a boat along the way. To their surprise, they learn that this ship is headed to Nassau in the Bahamas . . . which is exactly where Ward had the Royal Merchant gold shipped off to. Therefore, we can assume that John B. and Sarah's time in the Bahamas will consist of searching for the Royal Merchant Gold.
During an interview with Entertainment Weekly, cocreator Jonas Pate said that fans can expect to see an episode or two of the upcoming season filmed in the Bahamas. However, he said that ultimately the plot will take the cast back to the Outer Banks.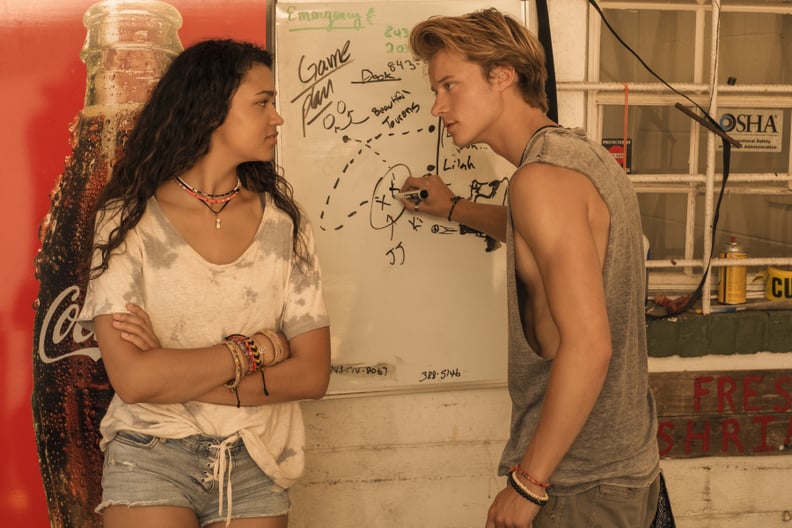 Kiara Might Actually End Up with JJ
OK, OK, I know this might be a bit of a jump, but, have you seen the way Kiara (Madison Bailey) and JJ (Rudy Pankow) look at each other? Not to mention, in episode 3, after John B. and Kiara kissed, the two go surfing together. While paddling in the water, Kiara asks John B., "Did you tell JJ?" He responds, "Why do you ask?" All Kiara says back is, "Just wondering." And even though Pope (Jonathan Daviss) and Kiara share a steamy kiss in the finale, Kiara shuts down Pope multiple times. Could this be because she has underlying feelings for JJ?
Of course, we already know JJ is into Kie. In episode 1, JJ says, "Dude of course I'm hitting on her. She's a super-hot, rich hippy chick, slumming it with us." Sounds like a little bit of a love triangle if you ask me.
When asked during an interview with Entertainment Weekly, whether or not Rudy Pankow, who plays JJ, wanted JJ and Kiara to be more than friends, he replied, "Whatever the writers write, I'm like, always down for JJ and Kiara, that deserves attention later on, but like, I don't know if it's season two. It'd just be a little fast turnaround with all the characters."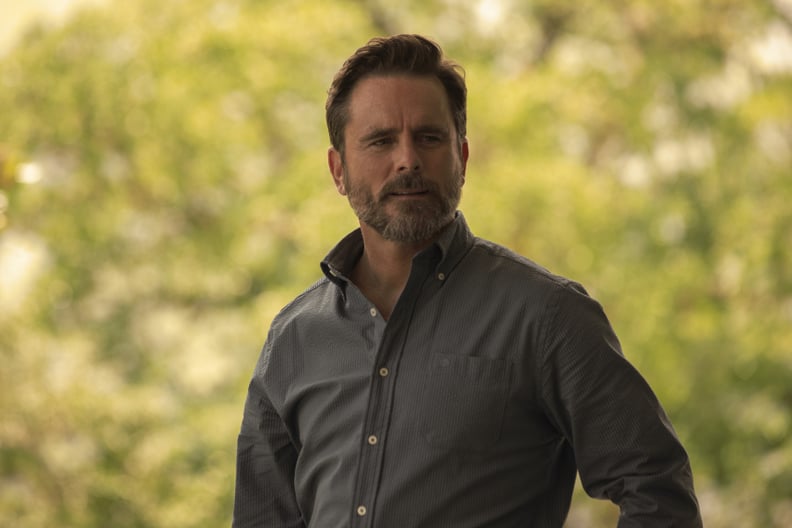 Ward and Rafe Will (Hopefully) Go to Jail
Toward the end of season one, fans learn that not only is Ward (Charles Esten) partially responsible for "Big John's" death, but he is also partially responsible for his friend Scooter's death. At the end of episode eight, Rafe (Drew Starkey) carries out his father's similar murder-like tendencies. In an attempt to save his father from an arrest, Rafe shoots Sheriff Peterkin, resulting in her death.
However, Ward and Rafe try to cover up the murder and are convinced they will not be caught . . . that is until they try to pin the murder on a fan-favorite "Pogue", John B. While attempting to escape in the season finale, John B. screams at Ward through the ship's system, "You killed my father and framed me for a murder I didn't commit. You took everything from me." The sheriff then replies, "You don't go anywhere. We're gonna need to talk to you."
Topper Might Become Friends with the Pogues
Near the end of the season, Topper (Austin North) says he wants to prove his love for Sarah. He then proceeds to pretend to be John B. to stall the cops in order to allow Sarah and John B. to escape. Clearly, he loves Sarah and he is bound to be upset when he learns that she is presumed dead. I can only imagine that when he learns she is still alive, he will be willing to help her and the other "Pogues," in any way possible. Plus, he just found out his best friend is a murderer, so who else is he going to hang out with?