Patina Miller Talks Power Book III: Raising Kanan Season 2
"Raising Kanan" Star Patina Miller Says We're Going to See Raq Sweat in Season 2: "Strap In For the Ride"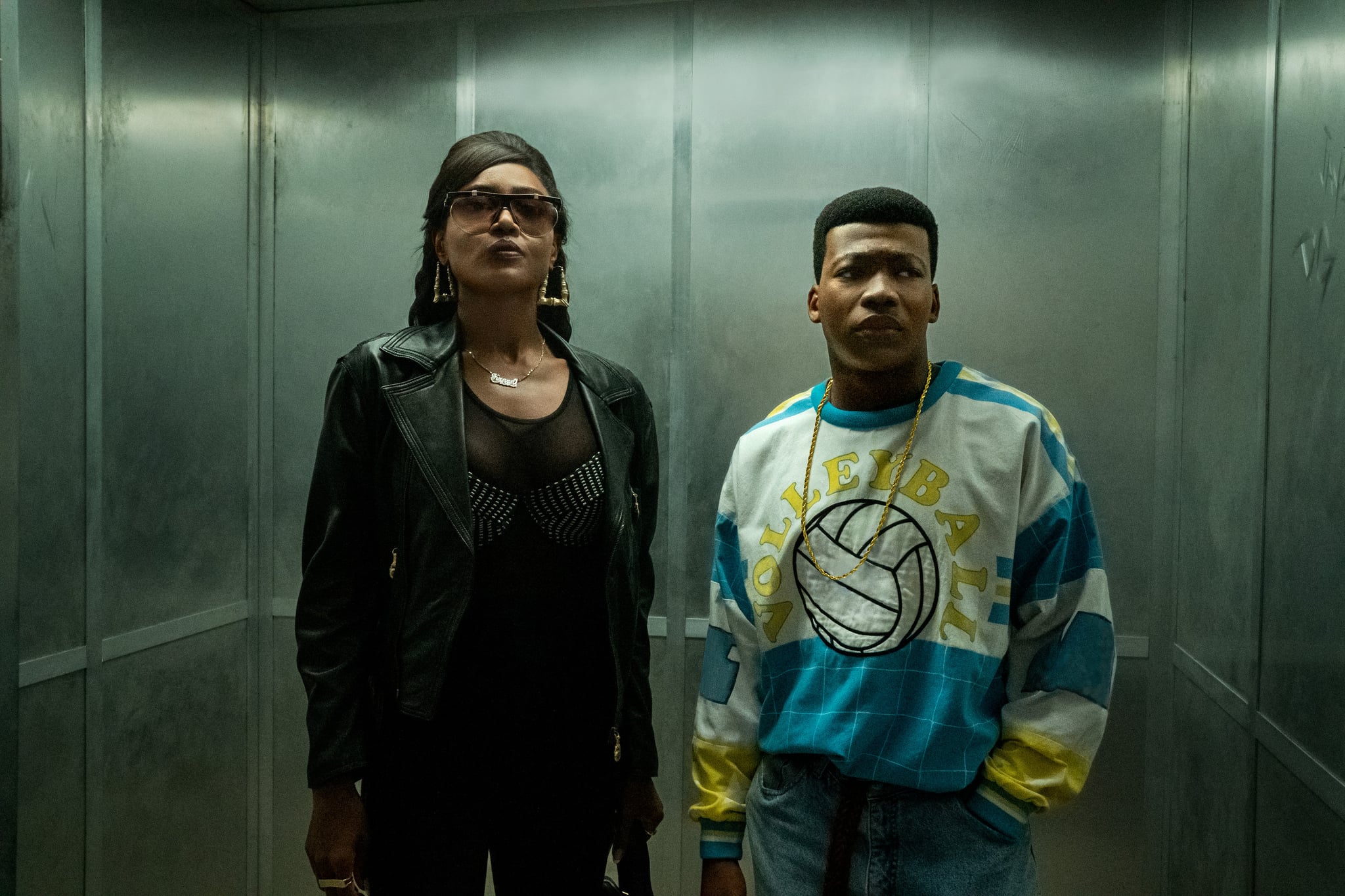 Image Source: Starz
If there's one thing we learned from the first installment of "Power Book III: Raising Kanan," it's to not mess with Raquel "Raq" Thomas, played by Patina Miller. As a drug queen-pin and Kanan Stark's (Mekai Curtis) mom, Raq will do whatever it takes to expand her empire and keep her family together, even though their bond has started to break down.
Season one concludes with Kanan escaping to Maryland with Symphony Bosket (Toby Sandeman) after shooting Detective Howard (Omar Epps), which Raq had Unique (Joey Bada$$) take the fall for. However, things don't pan out like Raq hoped, and Howard is still alive. According to Miller, season two picks up three months after the shooting, so the characters have had time to sort through everything that's gone down. "Kanan is dealing with the consequences of doing something like what he did and how he's changed," Miller tells POPSUGAR. "Raquel is the head of an empire now, and she's really running the streets in the way she wanted to. It's about her holding onto that power and expanding but also getting the family in line."
But keeping the family together is proving to be easier said than done. "[Kanan and Raq's] relationship has been completely damaged from the actions that she took, so there are a lot of consequences to that," Miller explains. "Raq is trying to find some sort of ground with Kanan because she knows that maybe she shouldn't have done what she did, so she's having to deal with that while also trying to deal with the threat of Howard not being dead and what that means for her and the safety of her business, herself, and her bond with her son."
When POPSUGAR spoke to Curtis in June, he said that "the foundation of Kanan and Raq's relationship has been broken," and Miller echoed the sentiments: "The trust is definitely broken. . . . The trust I would say that we're talking about is when it's revealed that she killed his friend [D-Wiz], but [only] because she had to." As a result, there's a period of time when Raq seriously questions whether or not she could trust her son. Miller continues, "They've been kind of dealing with trust a while . . . so she makes the stupid mistake of sending her child, who will do anything for her, to do the dumbest thing she could possibly do, [and now] she has to carry that into the second season. If Kanan find outs, that relationship will be done."
And Raq, of course, isn't just going to sit back and let that happen. According to Miller, Raq will "fight to tooth and nail to make sure her son is aligned with her." Miller says, "If she's got to plot him with being a soldier in the business and do sort of all the things that she does, you're going to watch her go through these different methods of getting her son back."
But what about Symphony? The last time viewers see him, he's driving Kanan to Maryland after Raq requests his help. Can we expect a rekindling of their romance in season two? "Like she told Lou Lou (Malcolm Mays), 'Once you're in it, you're always in it.' I think that's the problem that she's always had to grapple with. She knows the consequences of the game, but she's in it now," Miller notes. "With Symphony, she's able to dream of this other life, of the white picket fence, and she gets to sort of be vulnerable and have these ideas about being in a relationship with someone like him. What's exciting to her in the beginning is that he is a distraction from her chaotic world, and because of who he is, he's able to kind of get in deeper, and she feels too much with him."
Despite Raq's genuine feelings for Symphony, Miller says her character is scared she could potentially cause him harm with her involvement in the drug game. Miller explains, "She doesn't see a world where the two of them could be together without something happening, which is why she tries to push Kanan out of the business. She knows it's too difficult. It's not as easy as saying, 'I'm gonna get out,' which is what she preaches to Lou Lou."
Raq definitely has her work cut out for her this season. In addition to keeping her family intact, Raq now has to deal with the mafia as she moves into their hostile territory, and according to Miller, "things are going to hit the fan for her." Miller assures, "You will see her sweat in a way that you've never seen her sweat before. This woman is ferocious, things are happening in real time, and she is dealing with a lot. There are some things you'll never see coming, and I hope that people enjoy it, but strap in for the ride."
"Power Book III: Raising Kanan" season two premieres on Starz on Aug. 14.