For Patty Jenkins, Making Wonder Woman Was Literally a Dream Come True
"She inspires me still," Patty Jenkins says of Wonder Woman. She's huddled around a table with a small group of journalists in a New York City hotel to discuss the superhero film's upcoming DVD release, and her love for the iconic character is palpable. "Ever since she did when I was a kid, to be all things that I want to be: to have love and to have weakness, to have a sense of humor and have greatness, and to think for yourself."
It's clear that Jenkins, who's sitting next to the film's scene-stealing Lucy Davis, still can't believe she was given the utter privilege to direct a movie about a character she grew up idolizing. "The fact that she's so thoughtful about her use of power, and it's not glorious . . . it's serious the way she walks into it. I think, honestly, it's a spiritual model that I believe in . . . Making movies about stuff that you believe in always helps you be a better person, but when it's someone you would aspire to be, even more so it makes you think about your choices."
It wouldn't be right to call Wonder Woman's insane success over the Summer a surprise — as one of the DC Extended Universe's big-budget, superhero tent poles, it was always going to be a box office hit no matter what critics thought of it, if Batman v Superman and Suicide Squad were any indication. What people probably weren't expecting, though, was just how big of a triumph the film has become.
Not only has Wonder Woman's earnings surpassed more than a few male-driven superhero movies, but the Jenkins-directed, Gal Gadot-led flick got an overwhelmingly warm reception from both critics and fans. In such uncertain times, it's ended up being a much-needed source of inspiration and empowerment not just for women but also for anyone who's ever felt unsure of themselves.
"The idea of having that kind of communion with other people through a shared experience of something I made, and they saw, is unbelievable. That's art. That's what I'm here for."
"We did something for iTunes last night, and a guy stood up, and he didn't feel comfortable talking," Jenkins recalls. "But oh my god, wow. Something spoke to you so much that, even though you are so uncomfortable speaking, you feel compelled to do it? How incredible. I would have not been able to do it when I was that kid. The idea of having that kind of communion with other people through a shared experience of something I made, and they saw, and all of us made together is unbelievable. That's art. That's what I'm here for."
Our chat with the director, who's still in talks to direct the highly anticipated sequel, came just a day before Terminator director James Cameron made some bafflingly off-the-mark comments that asserted Sarah Connor is a stronger female character than Wonder Woman because she's "troubled" and "not a beauty icon." Although Jenkins couldn't have possibly known his comments were coming, she actually spoke at length about why Wonder Woman is taken seriously despite her decision to steer the film away from being gritty and dark, like Man of Steel and the Dark Knight trilogy.
"I came in very definitively only wanting it [to have a lighter tone]. The choice of me [as director] became the choice for that tone. [Making a gritty Wonder Woman] probably was a conversation, and I peripherally heard of some of that. I always believed that Wonder Woman is not dark. If ever there's a place for a dark superhero, great. Do it. But that's not Wonder Woman to me. That's not a way I would want to make Wonder Woman," she says. "I love this genre, which I feel is almost a little bit of a pocket that nobody else is doing, which is the grand, classic Superman superhero; a totally sincere love story. So I was like, if not Wonder Woman, who? She's a great opportunity to do that because that's what she really stands for. I was very clear about what I wanted to do and very supported."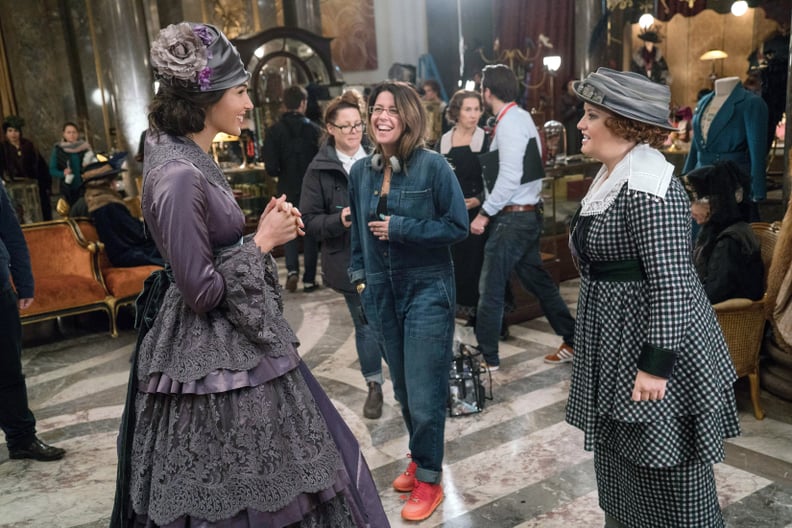 Of course, after Cameron's comments went public, Jenkins shared her unfiltered thoughts on the matter with a tweet. After pointing out that multidimensional female characters come in all shapes and sizes, she noted that "there is no right and wrong kind of powerful woman. And the massive female audience who made the film a hit it is, can surely choose and judge their own icons of progress." Though the 2017 Wonder Woman audience is a vocal one, it's no secret that the Diana Prince character has been around for years. The immensity of her legacy is one that Jenkins is still coming to terms with, she tells us. Fortunately, there's one person who's gone through the same situation, one whom Jenkins regularly turns to for support: Lynda Carter, who played Wonder Woman on TV and whom Jenkins talks to "two or three times" a week.
"There will forever be kids who are touched by Wonder Woman, who will talk to me about my version of Wonder Woman."
"It's pretty incredible that it's only now dawning on me as I see that Wonder Woman will go on into the future. It's interesting that there will forever be kids who are touched by Wonder Woman, who will talk to me about my version of Wonder Woman. And there's a version of Wonder Woman that I think is important to carry on," Jenkins explains. "Lynda was just saying, it's so lovely that she doesn't feel so lonely anymore, that it's like there are others of us who are trying to protect the gates of Wonder Woman. Not belonging to any of us, but being something that we will forever want represented in a beautiful way."
People like Cameron might not be able to understand the true impact Jenkins and Gadot's Wonder Woman has had, but they don't have to. Wonder Woman has done just fine without them and will continue to for quite some time. The digital release of Wonder Woman is set for Aug. 29, and the DVD will follow a few weeks later on Sept. 19. On top of that, Gadot will reprise the character in Justice League this November (though Jenkins says she's had little to no input on how Diana will be portrayed), and then it's another long wait until the Wonder Woman sequel hits theaters in December 2019. In other words, don't expect the fervor to die down anytime soon.
"You would think a movie would come out, and it would be as successful as it was, the end," Jenkins adds. "But now, I've realized, 'No, this conversation will have different resonance going forward that will continue.' It's never going to stop. It's kind of cool."