How the New "Pinocchio" Remake Compares to the 1940s Original
When you wish upon a star in 2022, Disney uses its magic to turn yet another classic animated film into a live-action movie with top-tier actors and stunning CGI. This summer's trailer of "Pinocchio" marked another live-action retelling of a classic from Disney's catalog — this one, decades after its original animation premiered in 1940. Its core themes — wishful thinking, careful decision-making, honesty, bravery for grand adventures, and staying true to your heart — are just a few reasons why "Pinocchio" is a timeless Disney classic perfect for family movie nights.
But as years come and go, those children and families grow and evolve too, so a "Pinocchio" remake for a 2022 audience is bound to have some deviations from the original while still holding true to its classic origins. Let's break down a few of the key differences and similarities between the live-action "Pinocchio" and the original 1940 animated film.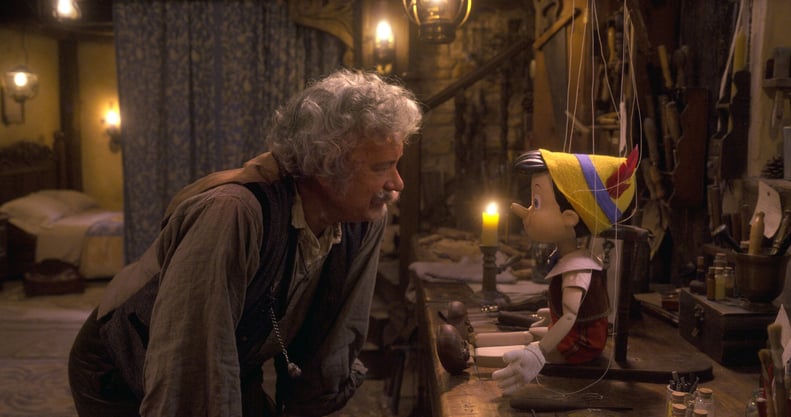 Geppetto's New Backstory for Making "Pinocchio"
At the beginning of the "Pinocchio" remake, viewers see Geppetto, played by Tom Hanks putting the final touches on his new puppet, appropriately naming him Pinocchio (as a "boy" made of "pine" would be called in Italian).
Through Geppetto's lines in the opening scene, a photo of a young boy that sits on his workbench, and the song he sings, "When He Was Here With Me," it's implied something horrible happened to Geppetto's real son, and that's why he has made Pinocchio to mend his broken heart.
The original animation doesn't fully explain why Geppetto crafts Pinocchio, but the remake gives him more of a reason to do so that also fits a tragic origin story that many Disney characters often begin with.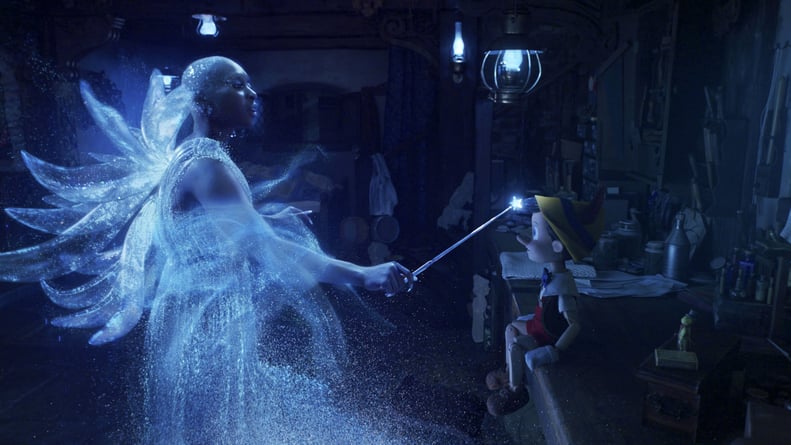 Who Sings "When You Wish Upon A Star" in the Live-Action "Pinocchio"?
"Pinocchio" wouldn't be a true remake without a little magic, specifically from the Blue Fairy. The newest remake sees actress Cynthia Erivo in the starring role, and just like the classic, she brings Pinocchio to life after Geppetto wishes on a star.
The biggest difference is how the remake allows Evrio to sing the iconic song "When You Wish Upon A Star" not only during her first scene of the movie, but also during the ending credits. Although the song was originally sung by Jiminy Cricket in the animation, this character switch makes sense for a new Disney aesthetic and for Erivo, considering her extensive background in film, TV, and on Broadway.
New Characters in the Live-Action "Pinocchio"
New faces appear in the new "Pinocchio" that don't appear in the original animation. Pinocchio's misadventure to Stromboli's evil traveling puppet show leads him to meet Sabina, the French ballerina marionette puppet, and her handler Fabiana (played by Kyanne Lamaya), the puppeteer with a wooden brace who longs to become a dancer herself someday.
Along with Jiminy, the two new characters help Pinocchio escape Stromboli's cage, and by the end, it's revealed that Fabiana and Sabina will start their own puppet show after Stromboli is arrested.
This character arc in the "Pinocchio" universe could mean some kind of sequel or spin-off to their story is in the works for Disney. Also in the remake is a talking seagull named Sofia, voiced by Lorraine Bracco, who consistently keeps the little family together by helping Jiminy find Pinocchio and later flies them across the sea to reunite them with Geppetto. These three new female characters also serve to balance out the original male-dominated characters from the 1940 "Pinocchio" in the remake.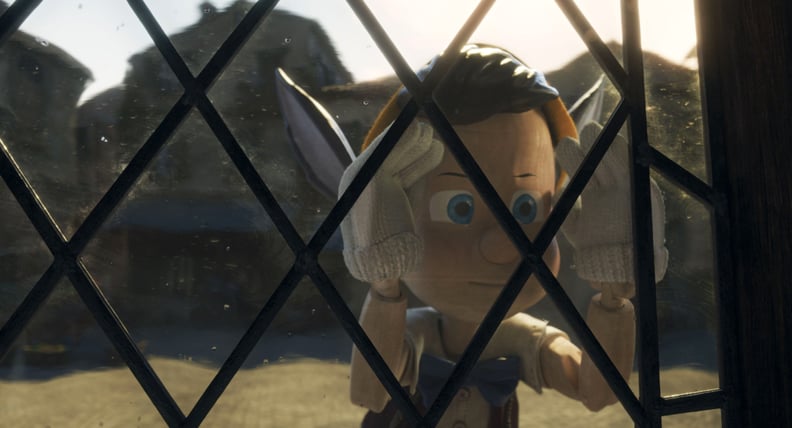 Pleasure Island is Less Problematic
In both the original and the remake, Pinocchio's adventure still leads him to Pleasure Island, an isolated wonderland where children are promised no rules, no consequences, and no parents in exchange for fun, mischief, and freedom. As Pinocchio and Lampwick (a minor character that's consistent with the original animation and played by Lewin Lloyd in the remake) witness the other children destroy property and be gluttonous without care, they're given root beer to indulge in, a big change from the original movie, in which they were given actual beer.
Also removed from the remake is "Tobacco Row," a section of the island in the original film that featured large stereotypical Native American figures and animated children smoking cigars, including Pinocchio himself.
This change from the original movie removes any references to underage drinking and smoking and culturally offensive imagery for a more family-friendly, generationally-appropriate, and far less problematic remake.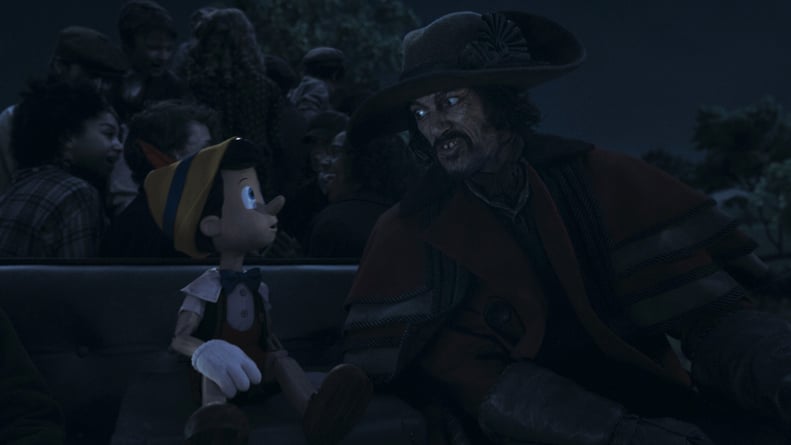 The Coachman Has New Magical Henchmen
The Coachman represents one of the original characters and temptations in the story of "Pinocchio." He still collects "stupid little boys" and takes them to Pleasure Island (where they're magically transformed into donkeys to work in the salt mines for his financial gain). In the animation, it's originally Honest John the Fox and his sidekick Gideon who tip off the Coachman in a bar and learn about Pleasure Island, but this scene isn't present in the remake.
Instead, the Coachman, played by Luke Evans, meets Pinocchio on his way to drop off another cart full of naughty children to Pleasure Island in the remake. It isn't until Pinocchio hops onto the cart, travels to Pleasure Island, witnesses Lampwick turn into a donkey, and sees himself grow donkey ears and a tail that he begins to put the pieces together. Eventually, the Coachman and his "vapor monsters" (the Coachman's new magical henchman for the remake) realize Pinocchio's plans to escape and briefly chase him off the island.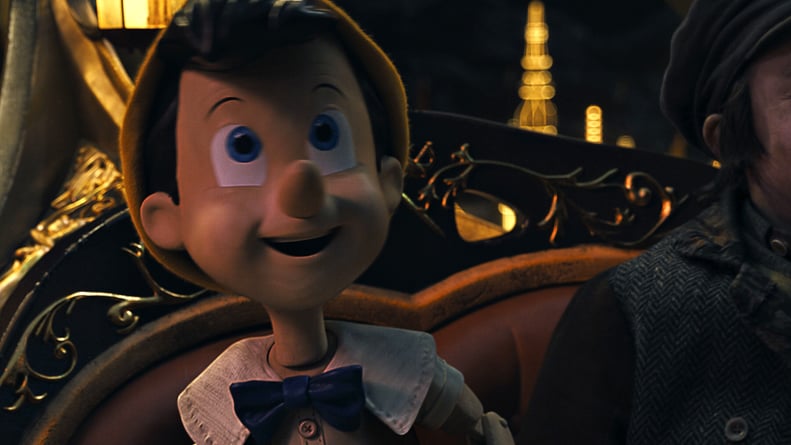 Monstro's New Look
Speaking of creatures, the largest and most climactic scene in the original "Pinocchio" comes when the main antagonist Monstro swallows Geppetto, Pinocchio, Jiminy, Figaro the cat, and Cleo the goldfish into its giant mouth when they're reunited in the middle of the ocean.
Most people will remember Monstro as a giant sperm whale, but in the remake, it is reborn as a sea monster with extra teeth and tentacles. Monstro still completes its villainous purpose to capture Pinocchio and his family, and even their escape (starting a fire that makes Monstro sneeze them out of its mouth) is consistent with the original.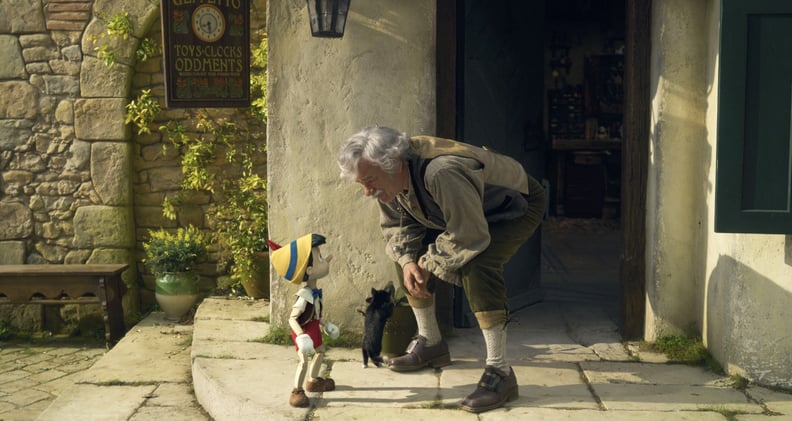 Pinocchio and Geppetto's Role Reversal
After Monstro chases Pinocchio and his family across the ocean, their escape eventually washes them on the shore of a stony beach. In the remake, Geppetto is unconscious and presumed dead, leaving Pinocchio to mourn him before the magic of his tears brings him back to life.
This character arc gives Hanks more chances to shine in his role as Geppetto, but in the original film, Pinocchio is actually the one who drowns and comes back to life from Geppetto's mourning. This change is a role reversal, but for a newer age Disney movie, it could be rooted in the reality that it's much more believable for a human to possibly drown at the end of a violent chase scene rather than a wooden puppet.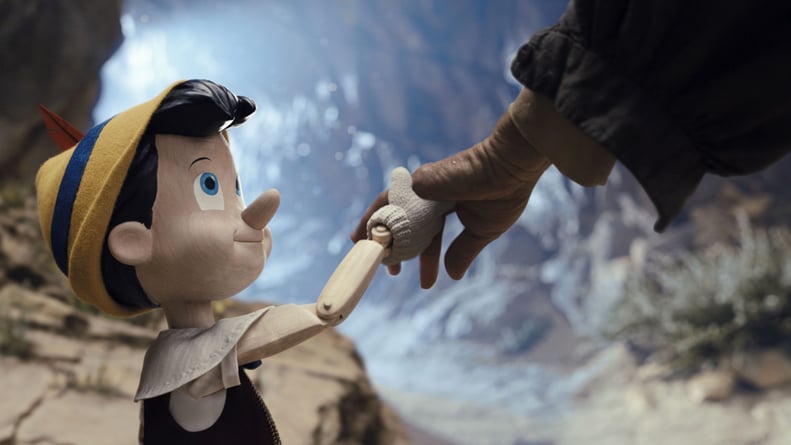 How Does the Live-Action "Pinocchio" Ending Compare to the Original?
After Geppetto comes back to life from Pinocchio's magic in the live-action "Pinocchio," the ending is left much more open to interpretation for the viewer, and it's one of the biggest changes from the original animation.
Geppetto reassures Pinocchio that even though he knew Pinocchio was still only a puppet, his honesty, unselfishness, and bravery was what made him a real boy on the inside, and that's all that mattered. So as Geppetto and Pinocchio walk hand-in-hand off the beach and toward a cave of blue light, Pinocchio subtly transforms into a real boy, but not entirely. Jiminy Cricket's voiceover tells the audience, "People say he was transformed into an honest-to-goodness real boy. But did that really happen?"
This ending is a definite change from the original, as the animation actually shows Pinocchio turning into a real-life boy and living happily-ever-after. This newer ending for "Pinocchio" delivers a stronger level of ambiguity that lets the viewer to decide for themselves if Pinocchio becomes a real boy or not. It could also leave the door open for a sequel for the character in this new Disney universe.