American Horror Story: These Quotes From Ryan Murphy Have Taken On a Whole New Meaning
As the days drag on, we yearn and yearn for more information about American Horror Story's sixth season. We've gotten a handful of details here and there, and we've even had hints at the theme, but on the whole, things have been very quiet. In the meantime, we're doing our best to come up with our own theories and to spot opportunities for more connections throughout the seasons. And, as we've dug back in our archives, a couple older quotes from cocreator Ryan Murphy have really struck us as so much more than vague sound bites.
Before we go on, it's important to acknowledge that we finally have a handful of new season six teasers. The beauty of these teasers, though, is that they don't confirm or deny any sort of theme. They're just more hints and more fodder for speculation. And besides, the teasers only strengthen the points we're about to make.
OK so, the first thing we need to address is the possible second coming of the Antichrist. Now, we have plenty of reasons to support a devil theme in season six. But, as luck would have it, Ryan Murphy himself mentioned the very same demon child to The Hollywood Reporter all the way back in October 2015. He touches on "peoples' obsession with that baby, the Antichrist baby." Continuing, he reveals, "We've talked about that in the writers' room. We haven't committed to it, but he might show up at that hotel." Now, if you watched AHS: Hotel, you'll know that the Antichrist baby never shows up. We do get a weird vampire baby from the Countess, who is surely more of a creature than an actual baby, but we can't really call it the Antichrist. This could mean, if he was excluded from season five, it's possible he could make an appearance in season six.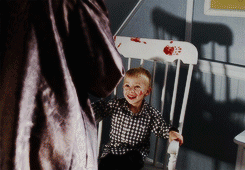 Even more interesting, though, is Murphy's other quote in the THR article. "This year, with season six," Murphy reveals, "it's weird because one idea that I think we're going to do is an idea that we started talking about in season one. We talked a lot about it. There is a clue in there. The clue for season six is not just in the material we're doing now; it's from way back in season one." This ties into one popularly held fan theory: the next season will focus on a cult.
Murphy allegedly considered a cult for the first season. He even mentioned a desire to focus on Charles Manson during an interview with Deadline in 2013. Manson, of course, has been heavily associated with a cult of his own making. There's even a cult that appears in season one — it's those goons who show up and attempt to re-create one of the iconic murders that has occurred within the walls of Murder House. Could this be the inspiration Murphy was referring to? I mean, we're not shooting in the dark. AHS's new VR experience at Comic-Con has its own huge clue that could be rooted in a cult-type narrative.
At this point, we have two growing stories: one involving a cult and one involving the Antichrist. In another interview, this time with Entertainment Weekly, Murphy talked about the potential of a two-season split. "Next year we might do a Fall American Horror Story and a Spring," he said. "We have to decide." Murphy continued, stating, "We're doing something that we've never done before on the show where we're doing two different groups of writers rooms. Some of our writers will be bouncing around but a whole different group coming in late August. The next thing we're crafting up is very, very different than this. Not smaller. But just not opulent. More rogue and more dark."
Going back to the newest teasers, we feel more strongly than ever that these themes could be prevalent parts of season six. This gives us so much to mull over. Isn't it possible that a cult and the Antichrist are the two new AHS stories? Seeing as we don't have any news of plans for a Spring season, could all of this have been combined into one massive season? You have to admit: the argument is pretty compelling. Cults — and the occult, for that matter — inherently paint a "more rogue and more dark" picture. One might describe these twisted subsections of our culture as "not opulent" but nonetheless malevolent and terrifying in the simplest terms.
If you need us, we'll thinking about this continuously and not sleeping at all.