Where Was Dune Filmed?
Here Are the 4 Totally Real Locations That Brought Dune's Fictional World to Life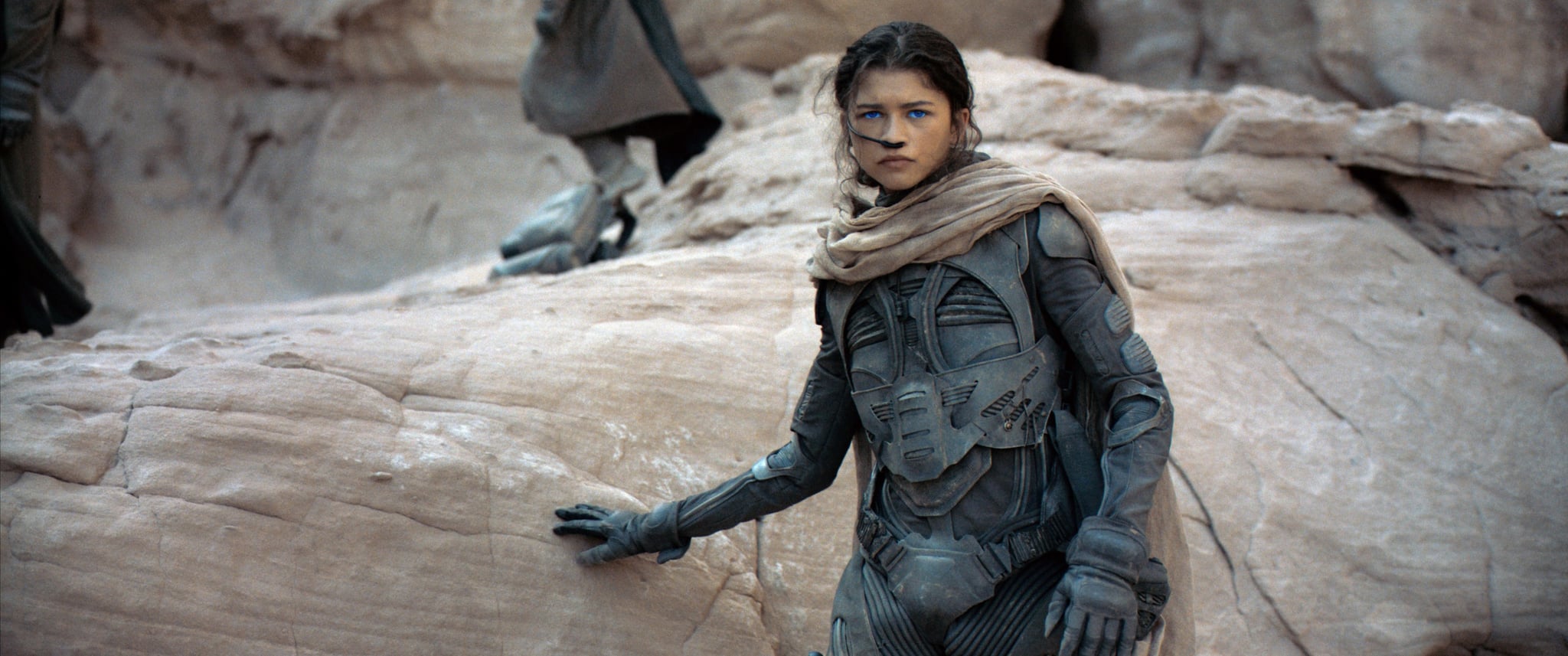 Image Source: Everett Collection
The latest remake of Frank Herbert's 1965 sci-fi novel, Dune, premiered in London on Oct. 18 and will make its way to theaters and HBO Max on Oct. 22. With major stars Timothée Chalamet, Zendaya, Rebecca Ferguson, and Jason Momoa; an epic soundtrack by Hans Zimmer; and an 89 percent certified fresh rating on Rotten Tomatoes, new and old fans of the cult classic are gearing up for one of the biggest releases of 2021. Fans are already captivated by the spectacle of the film just from the trailers alone, which begs the question: where was Dune filmed?
If you haven't read the 688-page novel, here's a quick recap: Dune takes place mainly on Arrakis, a desolate, desert planet used for spice harvesting and home to Fremen (the native people of Arrakis). The environs of Arrakis are harsh, and only the Fremen have adapted to the unrelenting conditions over thousands of years. Previously controlled by House Harkonnen of planet Giedi Prime (who, in turn, dominated the spice trade — an element essential for space travel), Dune takes place as House Atreides of planet Caladan is sent to Arrakis after the imperial emperor grants the planet to them to reign over instead. Obviously, finding the perfect filming locations to capture each planet's environment was crucial for the film to resonate with audiences.
Dune's director, Denis Villeneuve, told The New York Times he refused to use green screens while filming. Instead, he wanted to use real locations to "inspire [himself] to find back that feeling [he] was looking for of isolation, of introspection." Villeneuve also knew this would lend itself to more grounded performances by the movie's star-studded cast, so he spent days in a helicopter scoping out the ideal locations. Filmed from March to July 2019, Dune has four prominent filming locations. Here's a rundown of them all.
Where Were Scenes on Caladan Filmed?
Before House Atreides moves to Arrakis, the movie begins on their home planet, Caladan, which Herbert's novel describes as an ocean planet. According to Silverscreen Tours, filmmakers found the Atreides' home in Norway, specifically the Stadlandet Peninsula situated between the North Sea and the Norwegian Sea.

Where Were Scenes on Arrakis Filmed?
Scenes on Arrakis were primarily filmed in the Wadi Rum desert in Jordan (known as "Valley of the Moon") and the Rub' al Khali desert (known as the "Empty Quarter") in Abu Dhabi, chosen for their rocky landscapes. The Wadi Rum desert may look familiar to film buffs because movies like Lawrence of Arabia (1962), Prometheus (2012), The Martian (2015), Rogue One: A Star Wars Story (2016), and Star Wars: The Rise of Skywalker (2019) also filmed there. Rub' al Khali is the world's largest continuous sand desert, covering much of the southern portion of the Arabian Peninsula. Named for its "hyperarid climate and difficulty to travel through," the Empty Quarter covers parts of Saudi Arabia, Yemen, Oman, and the United Arab Emirates. Star Wars: The Force Awakens (2015) was also shot there.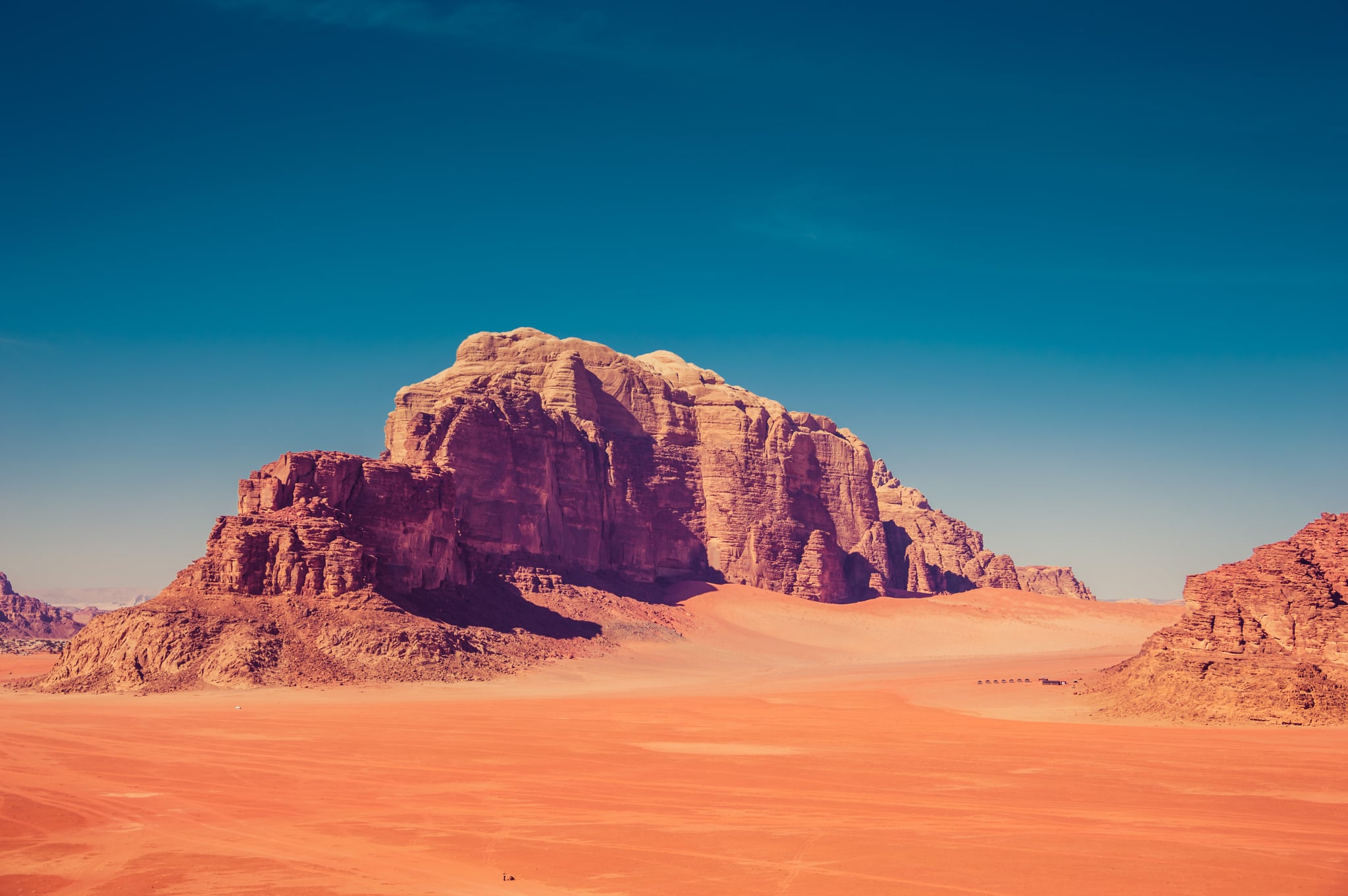 Image Source: Unsplash / Rita
Where Were Dune's Interior Shots Filmed?
Dune's interior shots were mainly filmed in Origo Studios in Budapest, one of the biggest film studios in all of Europe. Opened in 2010, Villeneuve previously filmed Blade Runner 2049 (2017) there. The studio is equipped with advanced filming technology and facilities, which is why many other well-known films, like Atomic Blonde (2017) and Inferno (2016), filmed there, too.
Catch Dune in theaters and on HBO Max on Friday, Oct. 22, to see all the gorgeous filming locations in action. (And good news: a sequel may already be in the works.)