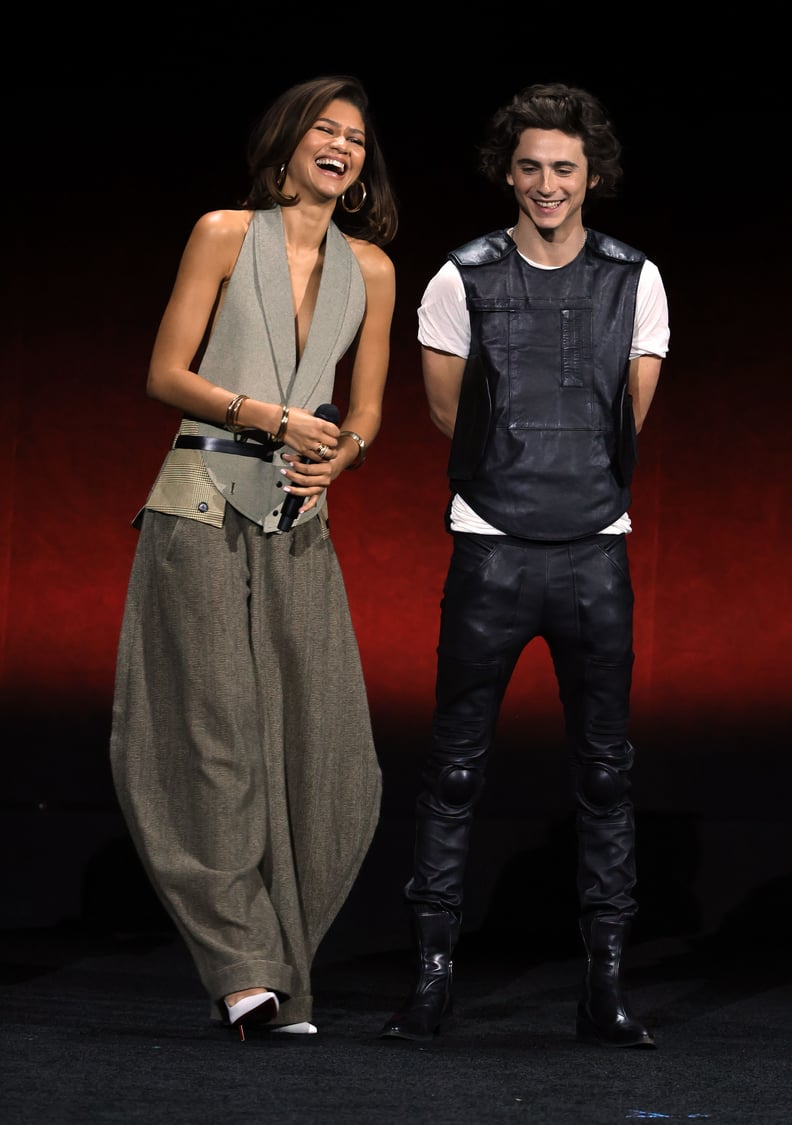 Getty Images/Ethan Miller
Getty Images/Ethan Miller
Zendaya and Timothée Chalamet are getting us super excited about the release of the "Dune" sequel, especially since it means we'll be getting more glimpses of their friendship. On April 25, the two reunited to promote the upcoming film at CinemaCon in Las Vegas. Then, just over a month later, the pair met up as friends to attend Zendaya's assistant Darnell Appling's birthday party. In footage captured from the party and shared on Twitter on June 5, the pair were spotted separately dancing up a storm.
In a Nov. 16, 2022, interview with Variety that focused on his cannibal movie "Bones and All," Chalamet provided us with a window into their bond, as well as a hint of what we might see in the next installment of the Dune fantasy franchise, which premieres in November.
"I'm so grateful to count her as a partner and a sister and a friend," Chalamet said of Zendaya, saying the "Euphoria" star has "really become like a sister" to him. He also promised that she would have more screen time in the sequel. "She hasn't wrapped yet, and it's amazing," the 27-year-old added. "She's bringing exactly what she brought to the first one — which was incredible — but in greater abundance."
This isn't the first time Chalamet has praised Zendaya. In an October 2021 interview with People, Chalamet said Zendaya "was like a breath of fresh air," and added that "she had a great energy." Zendaya echoed his sentiments. "I'm just so grateful that this experience has been with this guy because he's massively talented but also such a good person," she said at the time. "We've been able to have fun and become great friends."
In September 2021, the costars joined forces as they made the rounds at the Venice International Film Festival. After doing a joint photo call with the film's cast, Zendaya and Chalamet continued wowing fans with adorable appearances at their movie's star-studded premieres.
Ahead, check out the best pictures of the "Dune" costars together over the years.