Harry Styles Adds Voicemail From Ex Camille Rowe in "Cherry"
Harry Styles Shares a Voicemail From Ex Camille Rowe in His Ruminative New Song, "Cherry"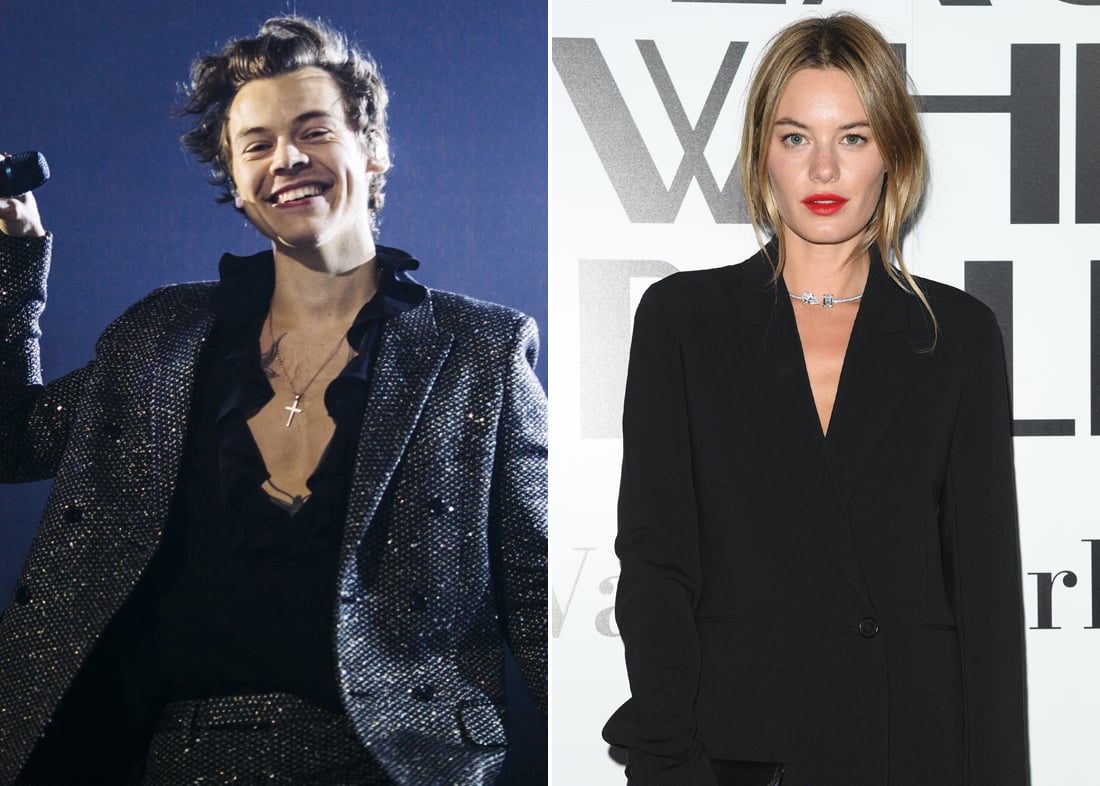 Harry Styles's sophomore album Fine Line dropped on Dec. 13, which means we finally know which one of his exes was featured in the song "Cherry." The end of the four-minute track plays an old voicemail from Styles's most recent girlfriend, 33-year-old French model Camille Rowe, who was linked to the 25-year-old singer from 2017 to 2018. In the sound bite, Rowe leaves a message in French, which many have translated into the following:

"Hello! Are you asleep?"
"Oh, I'm sorry…"
"Well, no… No, it's not important"
"Well… We went to the beach and we…"
"Perfect"
Styles first revealed that "Cherry" would include vocals from an ex during a recent interview with Apple Music's Beats 1 radio station. "It got added in later on, and it felt so part of the song," he said. "It just felt like it needed it. We're friends and stuff, so I asked her if it was OK. And she was OK with it. I think she liked it."
He also shared how "Cherry" came to fruition. "The night that I wrote it, we'd been writing for a few weeks," he said. "And everyone had left the studio. It was me, Tyler [Johnson], and Sammy [Witte], who's our engineer, and we were kind of sitting around talking at 2 a.m., maybe. And I was saying that I was feeling a lot of pressure, because the last record wasn't a radio record."
However, Styles said his team encouraged him to stay true to who he is, adding, "Tyler just said to me, 'You just have to make the record that you want to make right now. That's it. There's no let me make sure this one is a commercial success, so that I can make what I want later down the road. You just have to make the record that you want to make right now.'"
Although we now know that Rowe is the inspiration behind Styles's 2 a.m. musings, there were a few other options on our radar, as Styles has been in a handful of relationships over the years. It could have been Kendall Jenner, with whom he had an on-again, off-again relationship from 2013 to 2016 (and whom he recently reconnected with on The Late Late Show With James Corden). Or it could have been Tess Ward, the food blogger who reportedly split with Styles to get back with her ex after she and the "Watermelon Sugar" singer were briefly together in 2017.
For a while, many were convinced that it was going to be Taylor Swift, whom Styles dated from 2012 to 2013. Swift and Styles do have a history of writing songs about each other. Swift supposedly sang about Styles in her 2012 hit "I Knew You Were Trouble," as well as in 2014's "Out of the Woods," "I Wish You Would," and "Style." According to some fans, Styles responded to the breakup anthems with his 2015 jam "Perfect" and 2017 bops "Two Ghosts" and "Ever Since New York." However, it seems like everything is water under the bridge, so Styles probably wouldn't want to continue with their perceived back and forth. Instead, he just wants to croon about his French love.
Image Source: Getty / Helene Marie Pambrun / Daniele Venturelli