Pitch Is One of the Best Shows You Didn't Watch Live — Here's Why You Should Catch It on Hulu
There are few show cancellations that get me as riled up as the sad case of Fox's Pitch. (Okay, more than a few, I get very passionate about television.) The baseball drama — which is now streaming on Hulu — had everything you could want in a series about the first female player in Major League Baseball: Dan Fogelman behind the scenes, Kylie Bunbury leading an all-star cast that includes Mark-Paul Gosselaar rocking the sexiest beard to grace television, and actual, true-blue, potential. A series with a Black female lead that explores the world of sports and how it deals with sexism, ageism, racism, and even mental health? That's what we call a freaking jackpot, folks!
At this point, you're probably wondering how a series that sounds so great on paper gets cancelled after its freshman season. Despite general acclaim from fans and experts alike, Pitch suffered from a frustrating lack of promotion from its network and low ratings. Even more damning, the series had to compete with the ratings juggernaut that was its sister series, Fogelman's This Is Us on NBC. Although the two are both dramas that tackle a few of the same topics, it's fair to say that aside from Fogelman's involvement, they're two vastly different shows.
While This Is Us focuses on a single family's journey and relies on mystery and surprises that lurk in every season, Pitch knocked out its big surprise right in the first episode and spent the rest of the season fleshing out the world of Ginny Baker (Bunbury) and the San Diego Padres. Pitch went all in at the jump, thoroughly examining how a young woman like Ginny would handle being part of a male-dominated sport, how the world would react to her, and how that affected her mentality.
"I'm a robot in cleats," she despaired in the pilot episode during her first game. "And I'm malfunctioning." As if that isn't an entire mood, a whole three years later.
One of the many things that Pitch got so right was its casting choices. Bunbury and Gosselaar starred alongside familiar faces like Mark Consuelos, Ali Larter, Mo McRae, Meagan Holder, Dan Lauria, and Tim Jo, and I genuinely believe that all those people came together because they like baseball. Not only is it (still!) one of the most diverse casts on television, but they all played their parts so well, they made me want to see more of them together. I am very, very far from being a fan of baseball, but I googled how trades worked, just so I could understand the tension surrounding Gosselaar and McRae in the second half of the season!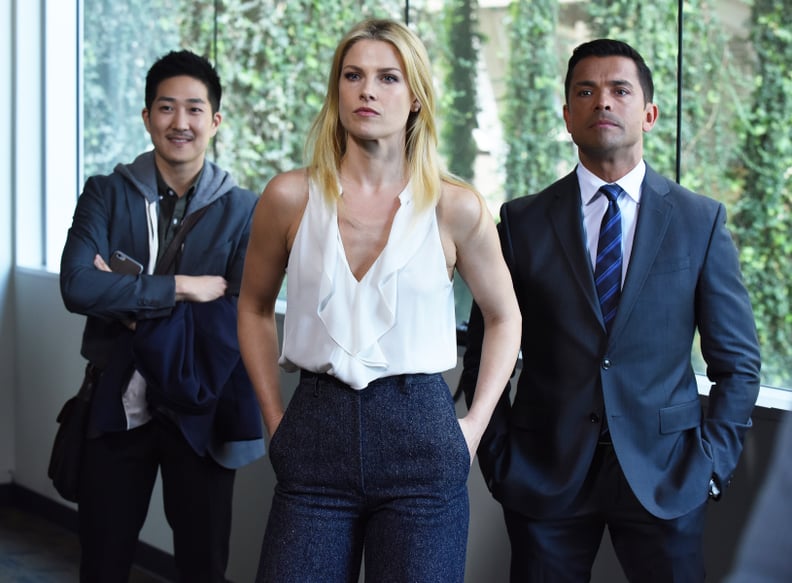 "But what truly makes Pitch special is the way it approaches the female empowerment narrative."
And don't even get me started on the instant chemistry between Bunbury and Gosselaar's Ginny and Mike Lawson; the latter of whom is the Padres' veteran catcher and captain and who happens to be a touch older than the 23-year-old new star player. Yes, their witty banter is enough to make anyone's head spin, but it's the tenuous "will-they-won't-they" energy you feel during the more intimate moments that really makes their connection shine. Mike and Ginny are two people who should be living their best lives at the prime of their lives, doing what they love, but their feelings of isolation make it hard for them to bond with many people. They find solace in each other that they can't with many people. (Yes, I'm still in my feelings over their late-night phone conversations!)
But what truly makes Pitch special, even after it originally aired and TV has since welcomed more stories focused on unique Black experiences, is the way it approaches the female empowerment narrative. Ginny is the lone woman in a male-dominated space that doesn't want her there. But Ginny, the first Black female baseball player in the MLB history, refuses to let people underestimate her. She has her low points — particularly when the stress of her situation overwhelms her and confirms to everyone around her that she would benefit from a therapist — but she strives to make everyone counting on her proud. The show allows her to be vulnerable and explores the strength in being open and asking for help. She keeps her cool with the grace of a woman twice her age and handles the physical rigor of the game with the same intentness as her peers — which is exactly why none of them can say jack sh*t when her screwball leaves them on their ass on the field.
The series was such a hit among fans that when rumors of cancellation were racking through social media, folks began creating campaigns to renew the show, and when it was canceled, to revive it. They originated the hashtags #KeepHerInTheGame, #PickUpPitch, and #RevivePitch, getting fans on social hyped up to save their show. They even had a plane fly a banner to get Hulu to pick up the series! And though similar tactics have worked for shows since then — One Day at a Time, Lucifer, and Sense8, to name a few — it didn't work for the beloved baseball drama. But that hasn't quelled fans' passion! To this day, fans are calling for a revival, and Fogelman is right there alongside them. There was momentarily hope for a revival when 20th Century Fox TV was working to ensure Fogelman extended his contract with them, but the deal fell through after the director had already assembled the core cast and began prepping ideas for season two.
Now you're probably asking yourself, "Is this about me watching the show on Hulu or starting a new campaign to revive the series?" Dear reader, why can't it be both?
But seriously, you won't regret taking the time to give Pitch a thorough watch. It has everything you could want in a sports drama, especially if you're a fan of shows like Friday Night Lights with all heart and just enough lingo to make you feel part of the game. And when you're done with the season, tell your friends to do the same. Maybe we can make enough noise to bring that "Bawson" banter back on our screens, where it belongs.