Stephen Curry POPSUGAR Interview April 2018
The Most Important Parenting Lesson Stephen Curry Has Learned Is 1 All Parents Should Hear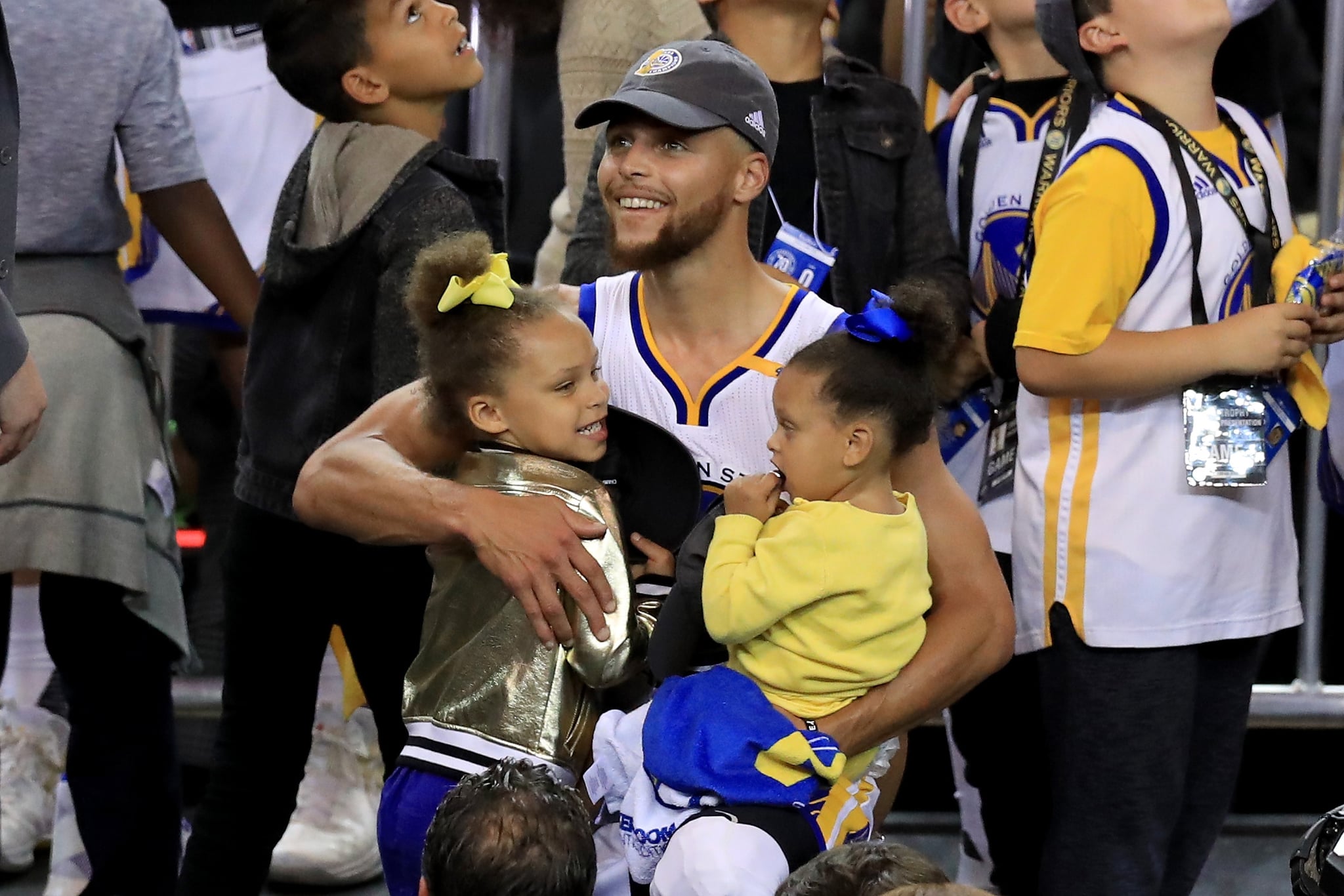 Image Source: Getty / Ronald Martinez
Stephen Curry may be a star on the basketball court, but off the court, he's a husband to wife Ayesha Curry and a father to two daughters, Riley, 5 and Ryan, 2 — with another baby on the way! Stephen recently partnered up with Brita for their new Filter For the Future program — which aims to raise awareness and solve water contamination issues in schools nationwide — and POPSUGAR got the chance to chat with the Golden State Warriors star about everything from what made him want to get involved with the program to his family life and what he loves most about being a dad.
Stephen said he decided to team up with Brita after learning that "school districts all across the country are dealing with contaminated water and relying on bottled water as a solution to offer students." The campaign is pledging $1 from every Brita Longlast replacement filter or Brita System with Longlast purchased to "provide schools across the country with Brita hydration stations to give students access to safe drinking water and cut down on the waste of plastic." Stephen hopes this "small step" is "the first of many," so that "the last thing kids have to worry about is finding safe drinking water." He also wants parents to know that, not only will the program help better the lives of their children, but it will also protect their future and health along the way.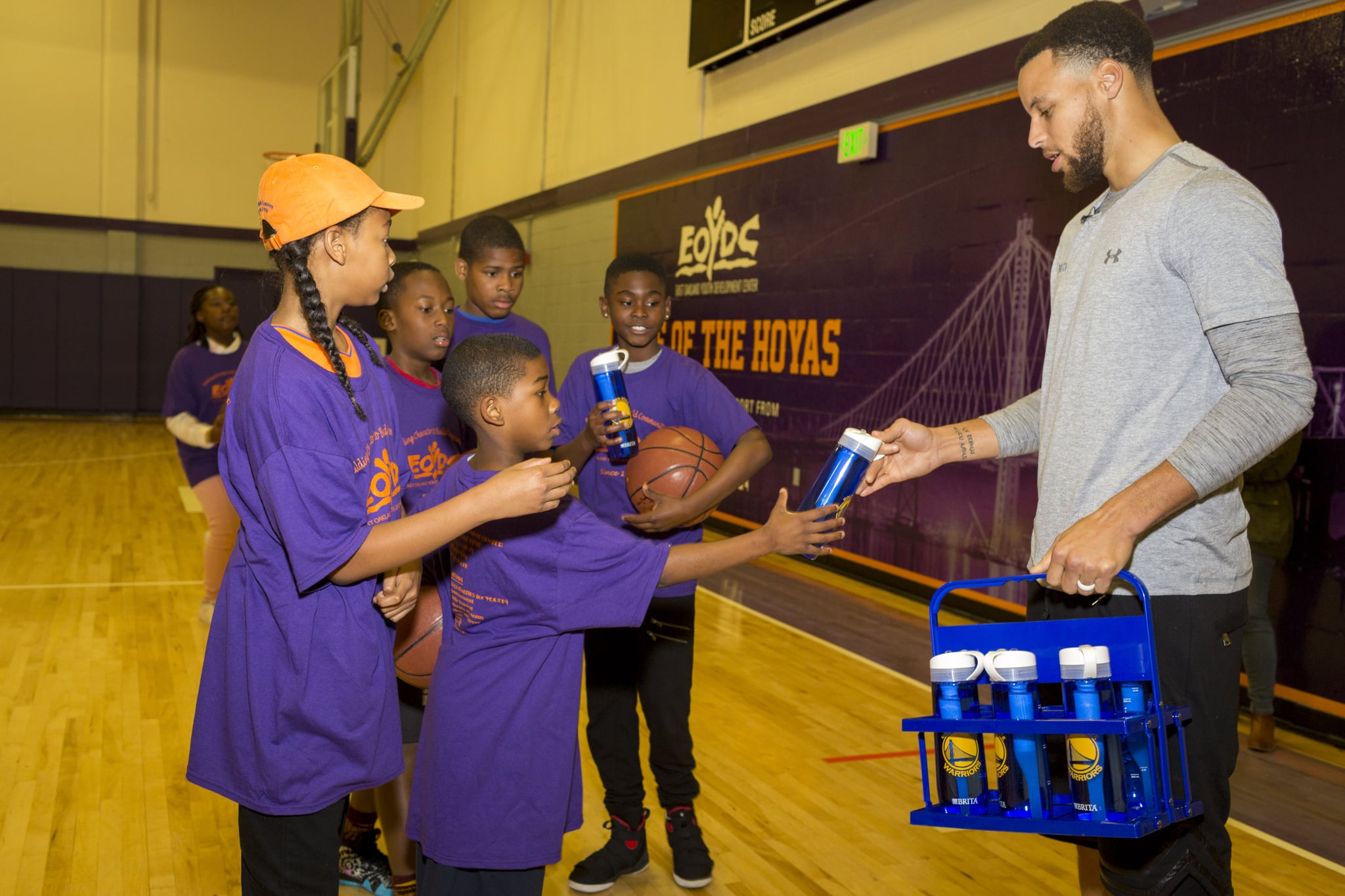 Image Source: AP Images /Eric Kayne
As for his family life, Stephen and Ayesha are currently expecting their third child, but this time around, they're keeping the sex of their baby a surprise until Ayesha gives birth. "Just by having two girls already, having a son would be amazing," Stephen said. "But anybody in this situation [would] just want a healthy baby and it's a blessing either way. We're definitely excited to welcome a new member to the family in the Summer and to raise a beautiful family."
Stephen said what he loves most about being a dad is "the perspective" his daughters give him "on a daily basis." "You learn something from them every single day," the proud father gushed. "They give you a reason to wake up in the morning, regardless of whether work is going well or not. Your biggest responsibility, obviously, is being a parent, and it's just so much fun every single day when they change so fast and you're trying to keep up. You get to share so many experiences with them and I'm enjoying every minute of it."
"They give you a reason to wake up in the morning, regardless of whether work is going well or not."
When it comes to Stephen's experiences as a parent, the biggest lesson he's learned so far is just how "aware" and "observant" kids are of "everything that you do." "You always have to be on your toes when you're around them," Stephen said. "They make me and my wife better every day because of that reason."
On the flip side, the one important lesson Stephen wants to teach his children is to "be confident in themselves and understand that they are unique." "There's something about them that God's put in their life that's going to make them stand out, so embrace whatever that is," Stephen explained. "As they go through life, that's hopefully what sparks their success."
But how exactly do Stephen and Ayesha make things work? Given that Stephen plays basketball for the Golden State Warriors, and Ayesha recently opened up a restaurant in San Francisco and was named the newest CoverGirl, how does the couple maintain a balance and keep everything under control in their household? Well, it's simple actually.
"There's a lot of communication, a lot of dealing with chaos and being able to try to keep your head up the best you can," Stephen said. "You rely on family, for sure. Every year has been a learning lesson when it comes to doing the best we can. Quality time is important and that's when you get the most joy. We really try to protect that at all costs." And from the looks of it, Stephen and Ayesha are doing a great job.