Three-year-old Luna Stephens makes Chrissy Teigen laugh just as much as she makes the rest of us laugh. When I asked the mom of two of the cutest kids ever who in her life makes her laugh the most, Chrissy quickly said, "Luna. [She] is just so funny and so sassy and so different every day. She's just at the best age right now. We have so much fun together, truly." Even so, Chrissy and husband John Legend deal with tantrums just like every other parent on the planet, and that's what we don't see on Instagram.
The refreshingly relatable Chrissy will be at POPSUGAR Play/Ground in NYC this month, along with other inspiring women I'd gladly spend an afternoon with, including Issa Rae, Mandy Moore, and Chrissy's BFF Jen Atkin, who will moderate a Q&A with the cookbook author and TV host on June 23. You can grab tickets for the fun festival now, but until then, hear what Chrissy had to say about postpartum depression, living with her mom, and protecting Luna and Miles from future embarrassment.
POPSUGAR: You have so many fans. What's the most memorable fan encounter you've ever had?
Chrissy Teigen: So many people come up to me about the postpartum story, and I love any of those encounters because usually, I'm just walking through the airport or on the plane or just out at lunch or something and people come up and they've read something that you wrote that was really personal, that's always really wonderful. I love talking to people about that. They always have a story to share. If a man comes up to me, it's usually because their wife is going through it.
And then there are so many devoted fan pages to my kids, and that kind of stuff is just so sweet to me that they would take time. It [was Miles's birthday], so I got so many collages and things — I didn't necessarily remember these photos, but they put them together. They're so beautiful. They're so cute. And it sparks all these memories for me. I really do have wonderful, wonderful fans. I actually think that the ratio of it is incredible, and that's what keeps me going on social media. I count them as actual friendships with them. Some people I've been talking to for like 10 years now online, so to me, that's a bond; that's a friendship. So it's really cool.
I love talking to people about [postpartum depression]. They always have a story to share. If a man comes up to me, it's usually because their wife is going through it.
PS: Are there any topics you consider to be totally off limits when it comes to social media?
CT: I don't really post any things that the kids would be ashamed of or mad at me for posting. I see a lot of people posting their kids' tantrums and having supermeltdowns. I don't post that stuff just because that, to me, is like — I wouldn't want someone to do that. You try to protect them, of course, but for the most part, aside from the kids, there is no limit [laughs].
PS: How has living with your mom changed your relationship, if at all?
CT: I think it's really wonderful. I get to see her flourish as a grandmother, first-hand. The babies love her — they're obsessed with her. I think she just for the first time has a lot of her own stuff going, and she clearly is enjoying it, and she just has so much energy. I don't understand because she drinks Stella from 7 a.m. to midnight, but she never gets drunk, and she is just the happiest person on the planet. It's crazy.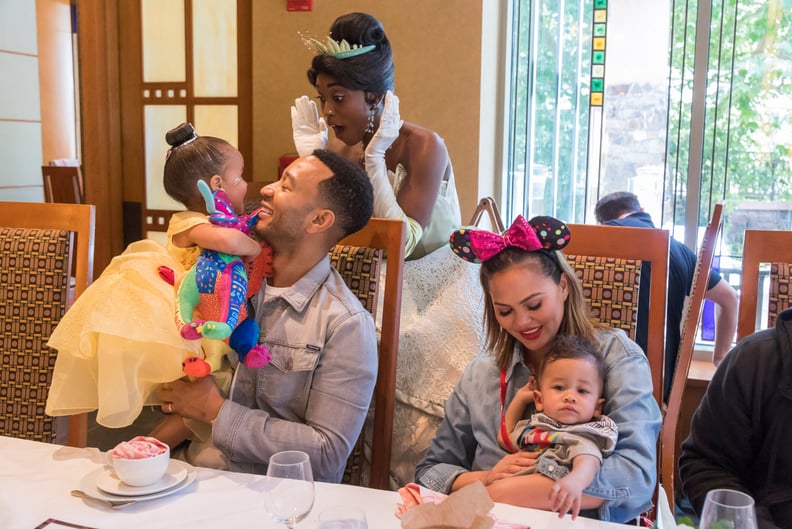 PS: That's the dream. That's living the dream. I'm going to be like, "Mom, move in with me," when I have kids.
CT: Yeah. People always ask, "Is John weirded out by it?" But no, he's completely not. It's not a weird thing at all. We've kind of always had a revolving door in our house or an open-door policy. People are in and out all day. It's just something we don't really notice. But she's been nothing but great. She is our friend. It's not like Mom is lurking around. She's our buddy.