Chrissy Teigen Interview June 2019
Chrissy Teigen on Confidence, Casseroles, and Her Surprising Dream Dinner-Party Guest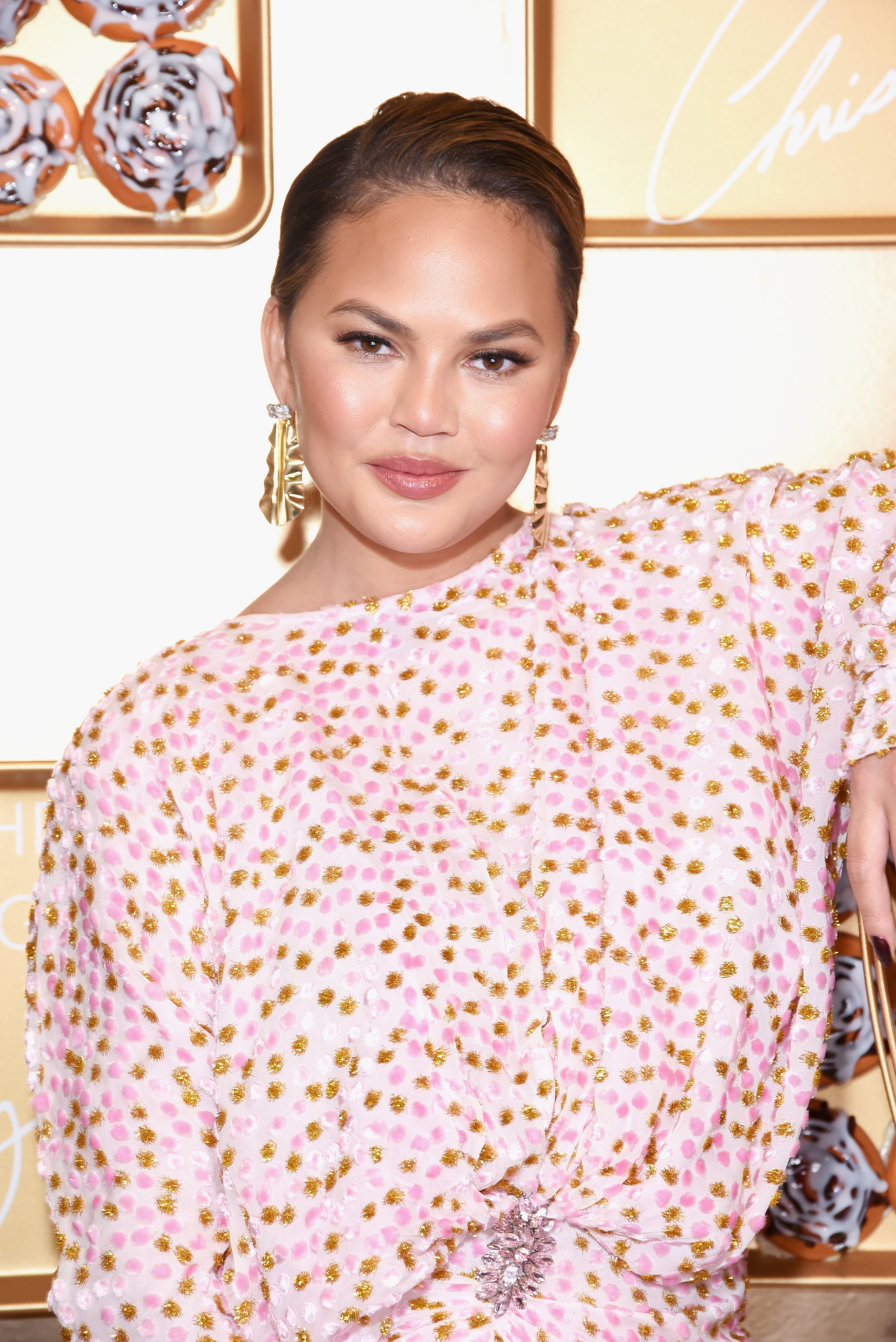 Chrissy Teigen's happy place is on her couch between the hours of 8 p.m. and midnight, eating food with her husband and friends and catching up on Bravo TV shows. She's one of those people you might assume you have nothing in common with — she's a celebrity! She's married to John Legend! — until you actually get the chance to pull back her layers. Then you realize that she's probably at home in a robe, scrolling through Twitter and eating sushi, just like you. As a cookbook author and a busy mom of two with a lot going on, including hosting Lip Sync Battle and an upcoming show with David Chang, the model and cookware designer really appreciates quiet time.
Chrissy is both aspirational and down to earth, which makes her the perfect headliner for POPSUGAR Play/Ground, an event that aims to both entertain and uplift women. I spoke to Chrissy ahead of the festival taking place in NYC from June 22-23, and she touched on everything from building confidence to how she and celebrity hairstylist Jen Atkin make time for each other as best friends. Learn more about Chrissy ahead, and catch her at Play/Ground on June 23 for a fun Q&A moderated by Jen herself.
POPSUGAR: You always seem so confident in who you are. What powers that confidence?
Chrissy Teigen: I think just getting older, honestly. I used to be very much a "yes" person; always wanting to make other people happy and not necessarily putting my own needs and desires first. But I think it just came from age. I've been through different stages in my life — different types of work, different agencies, had different teams — and I think as you just get older, you gain confidence and realize that there are certain things that are important to you, and you're not afraid to speak up on them anymore. As a young person working, I was kind of a pushover. I just was such a people pleaser. And now it's more about family life and doing things that I think are going to be great and that people are going to love. I have just as many insecurities as anybody else, if not more. I think we all have ups and downs. I really wouldn't even describe myself as a superconfident person.
PS: What advice would you give to young people looking to achieve that confidence?
"I think there's so much more to be said about the quality of friendships you have around you than the quantity of."
CT: I'd say you have to really surround yourself with good people. I think there's so much more to be said about the quality of friendships you have around you than the quantity of. I used to suffer from super FOMO. I'd want to do everything. But in that regard, I just don't care anymore. It's really about being around the right people and wanting those people to challenge you; not [having] people pleasers and "yes" people around you. But having people — honest, good people — who you respect for what they do and the way they live their lives.
PS: You and your BFF Jen Atkin have such busy schedules. How do you make time for each other?
CT: For the most part, when she's home, we have exactly the same desires. And that is to watch TV, watch a movie, and to eat sushi. We're really close. When [Jen and her husband, Mike] come over to the house, they know that I'm going to be in a robe. They're wearing comfy clothes. We know that when we're hanging out, that it is pure comfort, no makeup, no anything, and it's just catching up on our lives. And it's not a thing where we have to apologize for working, because there are some people in your life where you have to do that. There are some friends that need more from you. But I think with us, we respect each other's work, and it's just so nice to wind down and do nothing. Mike and John love each other; they watch their Game of Thrones. Jen and I will be on the couch watching some horrific movie and eating Sugarfish.
PS: Who are you dream dinner-party guests?
CT: That's such a tough question because it would just be myself, alone [laughs]. I relish in being such an introvert now. I think we get to do those "dream dinner parties" a lot, and it's fun for the moment. But if if I could choose, it would just be the quietest dinner date at Spago or something.
PS: If you were like, "All right, it's just me tonight. I'm making whatever I want." What would you make?
CT: I've been on such a crazy kick lately wanting supercomfort food. I think I wrote about eating this midnight sandwich. I just reverted back to how I was when I was pregnant, and I don't know how this came about. But I need comfort lately, so there's a lot of nighttime bed food. But if I were by myself, I'm just ordering in. [When it comes to] cooking for the people, I've been doing a lot of casseroles lately. Chicken and biscuits — we [just] had that. We absolutely destroyed it.