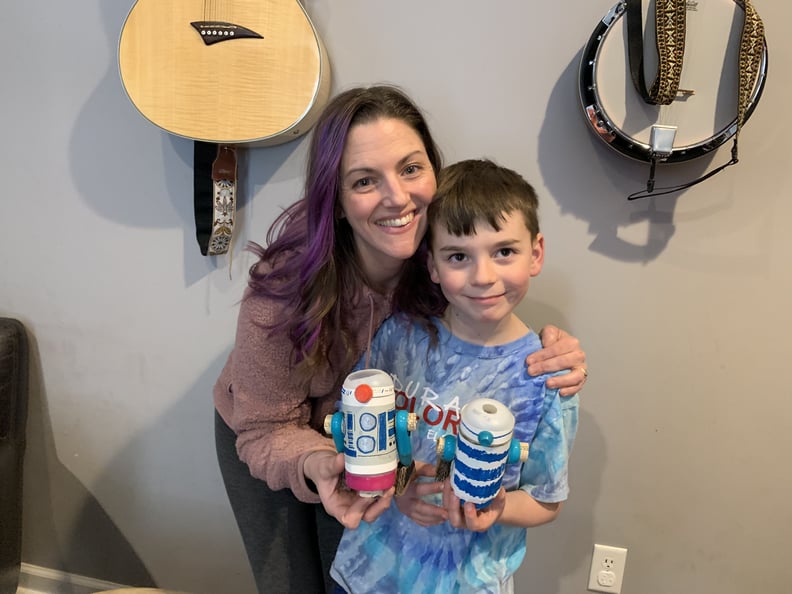 Tarah Chieffi
Between the virtual learning, social distancing, and the cold, Midwestern winter, my family has been spending a lot of time at home lately. Needless to say, we've been going a bit stir crazy, so I was pretty excited when I saw that Disney had released a video series with at-home projects I could tackle with my kids. The videos in the Imagine From Home series are led by Disney Imagineers and each one includes elements of art, STEM, and, most importantly, imagination. We are a Star Wars family through and through, so we went with "Build Your R2 Droid" first.
The supply list called for common household items, most of which we already had lying around. Matthew Jamieson Abiva is the Imagineer who led this video, and he gave lots of alternatives for the different supplies. You could probably build these droids without even making a trip to the store. The whole video was only about 30 minutes long, but we did have to pause it quite a few times while we were working through the project.
This particular project was labeled with an "intermediate" level of difficulty because of the sharp tools and precise measurements, so it was definitely a team effort between me and my 7-year-old son. Even though we had to take our time, the instructions were clear and easy to follow. If you're looking for something your child can do on their own, I would recommend starting with the "Draw Your Own Big Thunder Mountain Railroad" video.
Building droids together inspired us to tap into our creativity and problem-solving skills, but we also had fun simply spending time together. We didn't just create droids that we can proudly display on our toy shelf, we created memories that we'll both cherish forever. Keep reading to see how they turned out!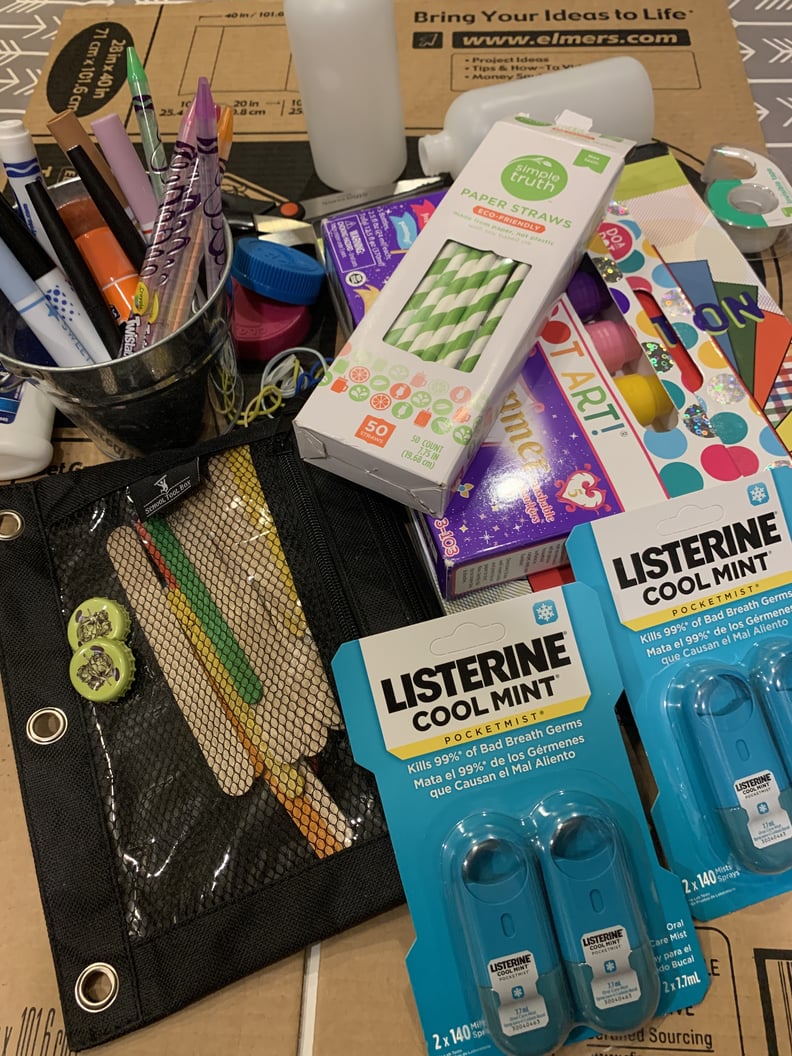 We Already Had Most of the Supplies We Needed
We build plenty of model airplanes and LEGO sets where the supplies are provided for us, but I love that this project let us get creative with items we already had around the house. We gathered up things like soap bottles, cardboard, paper, scissors, markers, and old vitamin bottle caps.
The only items we didn't have were wine corks and the Listerine pocket mist used for the arms. We picked up a small bag of wine corks at a local craft store and found the pocket mist at Target.
We Started By Building the Droid Body
We constructed the R2 droid's body out of old soap bottles. In the video, Abiva pointed out that he chose soap bottles because he knows we are all washing our hands a lot right now and probably have some soap bottles lying around.
To build the body, we used a utility knife to cut the soap bottle into three pieces (the middle section was discarded). My son is only seven so I handled this step. We wrapped a strip of paper around the bottom section of the body and squeezed the top section inside and the body was complete.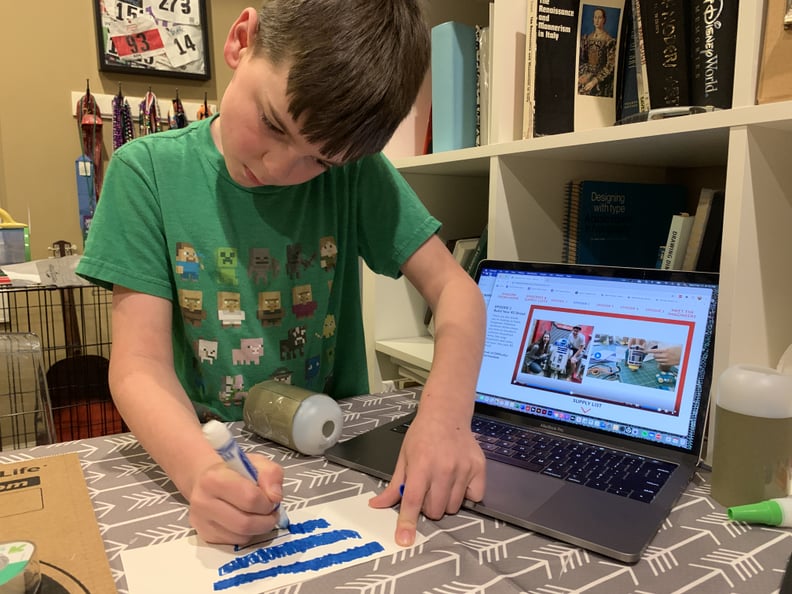 Next, We Got to Decorate Our Droids
The video gave a couple options for decorating the droids – either drawing your design on a strip of paper or cutting out small shapes and gluing them on. I'm not the most patient crafter, so we decided to draw on our designs. Going with this option also meant my son could do this step without any help from me.
In the video, Abiva used the cap from a travel-size conditioner bottle for the droid's eye. I dug through our kitchen junk drawer and found a couple bolt caps, but you could use beads, buttons, or any number of household items.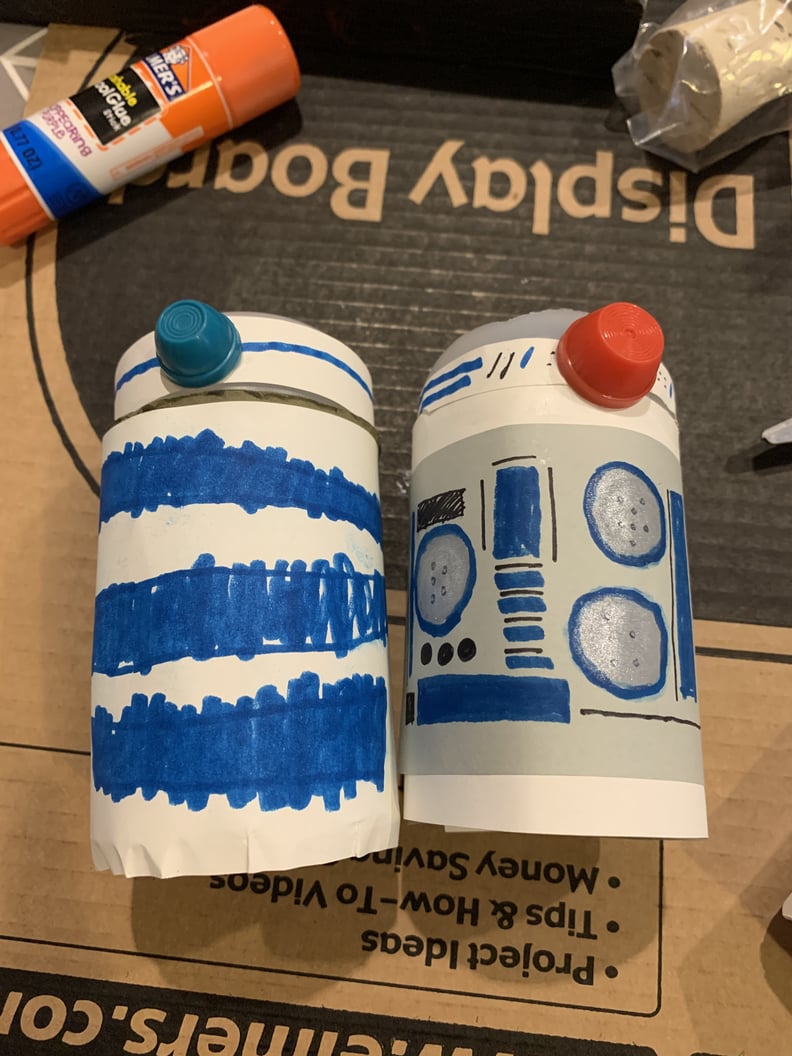 We Let Our Droids Dry Overnight After Decorating
We used a combination of double stick tape and super glue to attach the decorations to the droid bodies so we left them to dry overnight before adding the final touches. If we had started earlier in the day, we could have completed the entire project in under two hours, but it was close enough to bedtime that we left it for the following day.
We Teamed Up to Build the Arms
Building the arms was the most exciting step because the droid really started to look like R2-D2 from the Star Wars films. We had to glue corks to the body to serve as the droid's "shoulders, "cut up lots of small pieces of cardboard for the feet, and then glue all of it together with the pocket mist.
We were also so impressed that Abiva though to use those little Listerine contraptions for the arms. It reminded us you have to think outside the box when you're creating something new!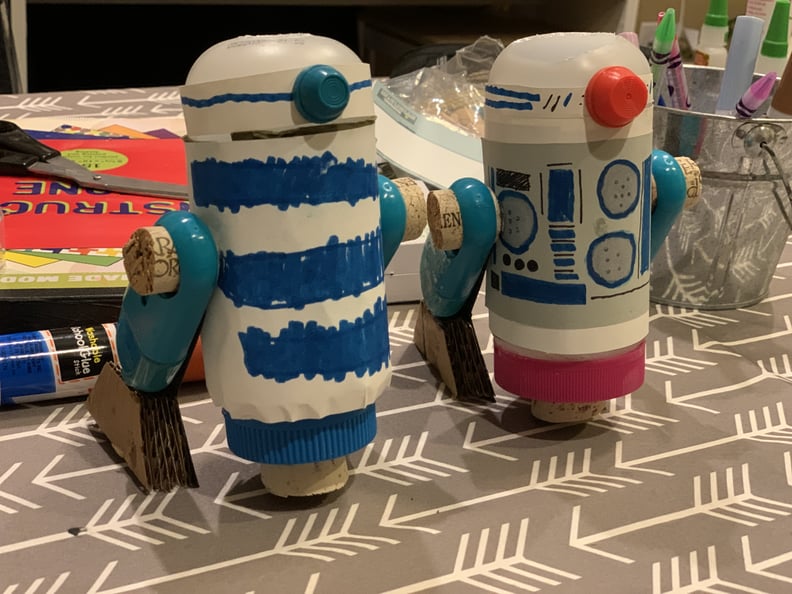 The Final Step Was Building the Droid's Center Leg
For the center leg, we glued a larger cork to a vitamin bottle cap and then attached that to the droid body. Abiva even gave us a little challenge during the video to help us "think like an Imagineer." I won't give it away, but if you can figure out how he did it, it'll help bring your droid to life.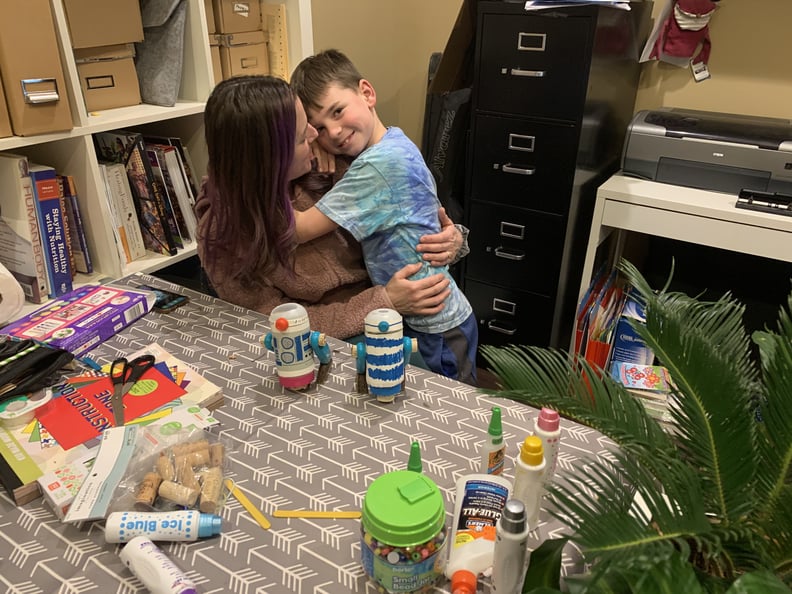 We Had So Much Fun and Can't Wait to Try the Other Projects
My son and I were so proud of our creations and we had a great time putting them together (minus the super glue all over my hands). It even gave us a chance to talk about about what we would want our droids to do for us if they were real R2 units. My son would like his to help with school work and cleaning his room.
Fantasies aside, it's sometimes hard for me to carve out one-on-one time with my kids. When I saw this video, I knew it was something my son and I would love and we can't wait to try out some of the others. Next time, I think we'll dream up and design our own castle.