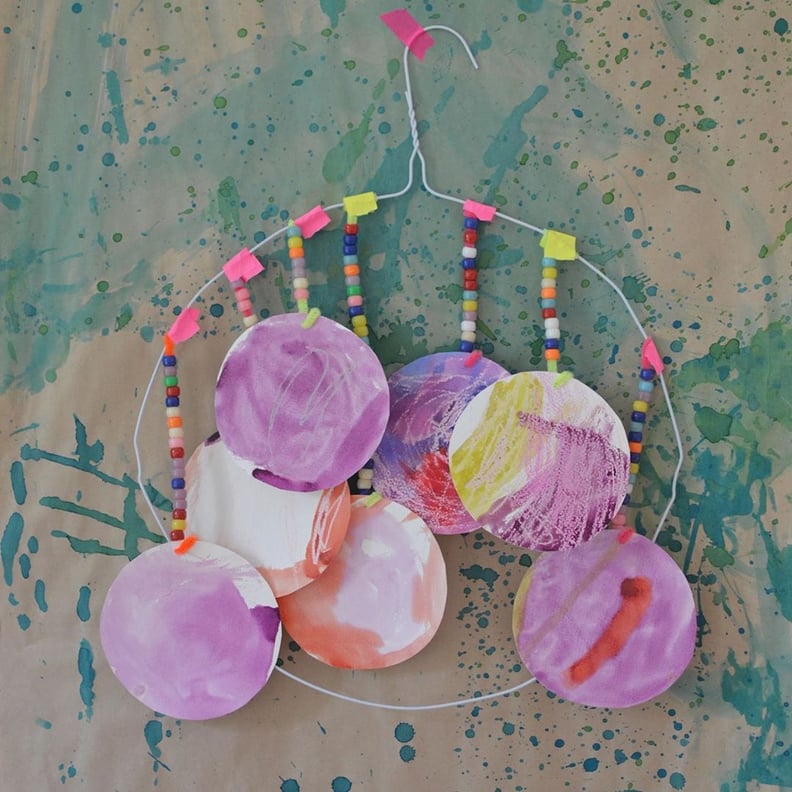 Getting messy is fun, especially when you're a kid! But there are some days when parents just don't want to worry about the white walls or brand-new couch. Let's face it, keeping a clean house with kids is a struggle without adding a messy art project to the mix.
The good news is that not all indoor art projects require you to mess-proof the house like you're getting ready for some kind of paint battle. Keep your kids busy while they're stuck inside and try out these projects today!
01
Calming Jars
Calming jars aren't just a creative activity, they also help kids express their emotions. To make this one from Art Feeds, use a clear plastic or glass recycled jar or container and decorate it with sharpies on the outside. Kids can add beads, glitter, pom poms, sequins, or small objects to make it their own. Add water, then shake and watch the objects spin when you need to take a breather.
02
Flower Art
These beautiful flowers from Newlands Neighborhood House are fun and easy to make. Just grab an empty toilet paper roll and cut lines halfway up around the entire roll. Fold the slits back and let the kids use it to stamp flowers on any type of paper. Psst: Stamps mean less splatter!
03
Plate Faces
Get creative with what you have around the house to make these funny faces from Art with Mr. Giannetto! Set out some regular dinner plates, then send kids to find objects to make eyes, noses, ears, hair, and mouths. If they need some suggestions, try fruit, utensils, crayons, and even q-tips!
04
Rock Art
When you're on a nature walk on a sunny day (or just rooting around in your backyard), gather rocks in all different shapes and sizes for rock art, as shown by the Chehalem Cultural Center. All you need is any kind of paint and paint brushes for kids to create beautiful art on their rocks. The small surface means your kids have less chance to get paint everywhere. Spread some kindness by giving them to a neighbor in need or putting them somewhere in public next time you go out.
05
Spinning Origami Tops
These spinning origami tops from Picklebums are just easy to make (find the folding instructions here), but they also provide lasting fun for the whole family.
06
Pom Pom Painting
Pom poms, a clothes pin, paint, and construction paper are all you need to let your little ones create some beautiful works of art with this craft from Fantastic Fun and Learning. Make a paintbrush with the pom pom and clothes pin, then let them create away! Flowers are easy, but this technique is good for any kind of painting. And because it's a cotton ball, it absorbs up some of those drips! This is also a great activity for kids who need occupational therapy support.
07
Puff Paint Easter Eggs
If you didn't have a chance to get to the store to get Easter egg dye, this craft from Mama's Classroom is a great alternative. All you need is shaving cream, white glue, and food coloring to make a cool puff paint. The thick texture makes it easier for little ones to control, too, so let your child paint it on to egg shapes, flowers, or anything their heart desires without worry.
08
Blooming Origami Flowers
This craft from Happenstance Adventure is perfect for the start of Spring. Once you cut out flowers, let the kids color them. Fold the petals and drop their creations (petal up) into a plate with water and watch their flowers bloom. What's even better is that you can let them dry, refold the petals, and do this activity over and over!
09
Matchbox Car Art
A large canvas or paper, some matchbox cars, and paint are the perfect combination for an indoor art project that the kids will love! (It's a favorite in my house.) Let them dip the cars in a paint color of their choice, then drive the cars back and forth over the canvas or paper; the treaded wheels make cool patterns. Just make sure not to use wind up wheels, or you'll have a mess when they lift the car off the canvas!
10
Stain Glass Votive Holder
This indoor art project from the Chalhelm Cultural Center won't just keep the kids occupied, but you'll also have a beautiful votive holder when they're done. Grab a clear glass jar, tissue paper, glue stick, and some Modge Podge to finish the job. You can even read The Rainbow Fish as you work for extra credit!
11
Egg Carton Mermaids
These gorgeous mermaids from @projectartworkathome (and inspired by @artcampla) are easy to pull off. Cut out and paint (or color with markers!) the egg cups from an empty egg carton, then glue them together into a stack for the tail! Let the kids draw the body freehand then color in as desired. They can dress and decorate their mermaid as they like.
12
Spring Windsocks
Empty toilet paper or paper towel rolls are great for indoor art projects. With some construction paper, pipe cleaners, sticky eyes, and streamers, your child can make these beautiful insect windsocks from I Heart Crafty Things to enjoy all season.
13
Hanger Art
If you're rearranging your closet while spring cleaning, save some wire hangers for this craft from Art Bar Blog! Let kids decorate a large piece of paper with any materials (they used watercolor here, but markers or crayons would be just as cool), then cut out circles from their creation. Bend the hanger into a circle and use beads and pipe cleaners to hang the circles. They're pretty enough that you can hang them in the house!
14
Bathtub Paint
While you might not want to get the kids in the habit of painting on the walls, bathroom walls are different — try out this recipe for bathtub paint from The Artful Parent. It's a mix of dish soap, corn starch, water, and dye that won't stain your tub. Let your kids create away and get as messy as they want since they're already in the right place to clean up!