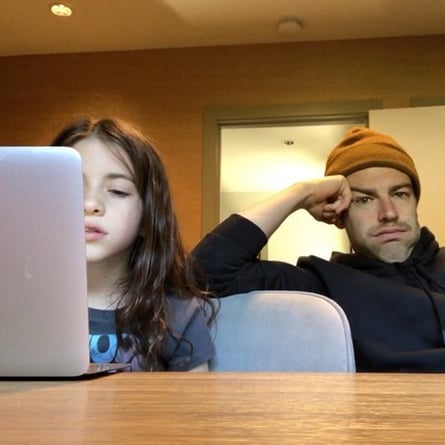 New Girl alum Max Greenfield and his twin daughter, Lilly, have been trying to navigate this new world of homeschooling in recent weeks, and, well, it's not going all that great for them. Like many of us, Max is reaching deep into his brain to fish out what he can remember from his own school experiences; though Lilly says maybe if he hadn't spent so much time "puff puff puff"ing and "glug glug glug"ing through his own high school and college years (it's OK, we're not here to judge, Max), he'd remember more.
"God bless the teachers (the real ones)," Max captioned one of the videos, adding in another one, "#HomeSchooling #ProfessorGreenfield God Help Us All." Sounds like the mood in the Greenfield house matches the one in all of our homes.
Keep scrolling to see Max and Lilly's most hilarious clips of homeschool life (some of which feature choice phrases we can only imagine Max fed to Lilly prior to filming, though if he didn't, we are even bigger fans of Lilly than we originally thought).
This Photo From the First Day of Homeschooling
This Video of Max Reading The Birchbark House by Louise Erdrich
The way he says "used" is so Schmidt that we need to go watch New Girl, stat (and the way he loses it in the middle is so accurate).
And Lilly's Response to His Reading in the Form of a Comment to Her Teacher
"My dad is having trouble." LOL.
This Video of Lilly Trying to Type Without Comments From the Peanut Gallery
Lilly's clapback is everything!
This Video of Lilly Judging Max's Past School Experiences
Maybe he'd be more equipped to homeschool had he spent more time paying attention when he was in high school? Perhaps not.
This Video of Max Trying to Get In on a Singing Break
"Dad, stop, you have a dogsh*t voice."
This Video of Lilly Recording a Progress Report For Her Teachers
"Alright, this is just a progress report for your teachers [to] let them know what we've been working on. Be cool." "Hey, guys! What's up? As you can see, we just finished grammar." "This is to your teachers . . . what the fu-?"
This Video of Lilly Doing TikTok Dances Instead of Focusing on Her Studies
This Video of Max Justifying Teaching in Pajamas
"Daddy was up late last night watching a show . . . Tiger King." "Is that like The Lion King?" "No."
And This Video of Max Explaining Tiger King to Lilly
"Like all stories, it's a love story."
This Photo of a Math Lesson
We're pretty sure we know which of them needed a calculator . . .
And This One of an English Lesson
This Video of Max Trying to Convince Lilly That Spring Break Isn't a Thing This Year
This Video of Max Fostering Lilly's Independence
LOL at when he breaks at the end.
This Montage of Max Trying to Get Through a Lesson With Zero Help From Lilly
This Video of Max Trying to Impress Lilly With His Skills
This Photo Showing How Lilly Is Utilizing Her Chair For Maximum Comfort
"We (my wife) purchased these chairs specifically to give Lilly comfortable back support."
This Video of Lilly Asking For Help With Hyphens and Dashes
This How It Started Versus How It's Going Update