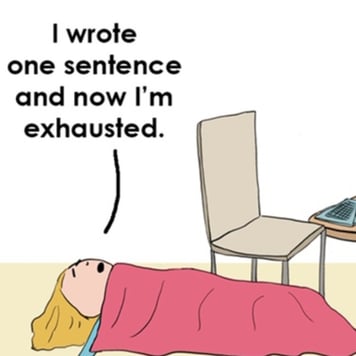 Cartoonist Adrienne Hedger has been making the most of self-isolation with her husband and two teenage daughters, and that means putting her creative skills to the test. Known for her website Hedger Humor, the California-based artist decided to illustrate what staying home looks like in her household, and to say we can relate is a serious understatement.
"Since I'm home 24/7 with the family, ideas are coming at me fast," she told HuffPost. "A lot of my self-isolation cartoons involve my 14-year-old daughter, Claire. I told Claire, 'These cartoons are writing themselves!' And she replied, 'No, I'm writing them for you.' Touché."
Like pretty much every other parent right now, all sense of scheduling has gone utterly out the window for Adrienne. "They usually don't surface until late morning, and they do schoolwork in the late afternoon," she explained. "For their 'free time,' I had all these ideas about educational videos they could watch or enriching projects they could take on. But I've given all that up. You want to lie face down on the ground while listening to an episode of The Office that you've memorized? Go for it."
Scroll ahead to get a look at Adrienne's incredible illustrations that might just hit a little too close to home!
On Working From Home With Kids . . .
On Distance Learning . . .
On Recurring Questions . . .
On Homeschooling Her Kids . . .