The pressure to homeschool is at a fever pitch, particularly as more and more states are announcing sweeping school closures until the fall. And with such polarizing guidance, it's easy for parents to look at a typical seven-hour school day and assume that they simply aren't doing enough.
In late March, the Illinois State Board of Education released "remote learning recommendations" in order to provide clarification to districts, schools, teachers, students, and parents as to what virtual education should look like during the "COVID-19 emergency."
And within this 60-page document, perhaps the most helpful section was a small chart outlining the "suggested minimum and maximum times of engagement by each student in remote learning activities." Broken down by grade level, it gives parents achievable benchmarks for how much time should be spent doing remote learning each day: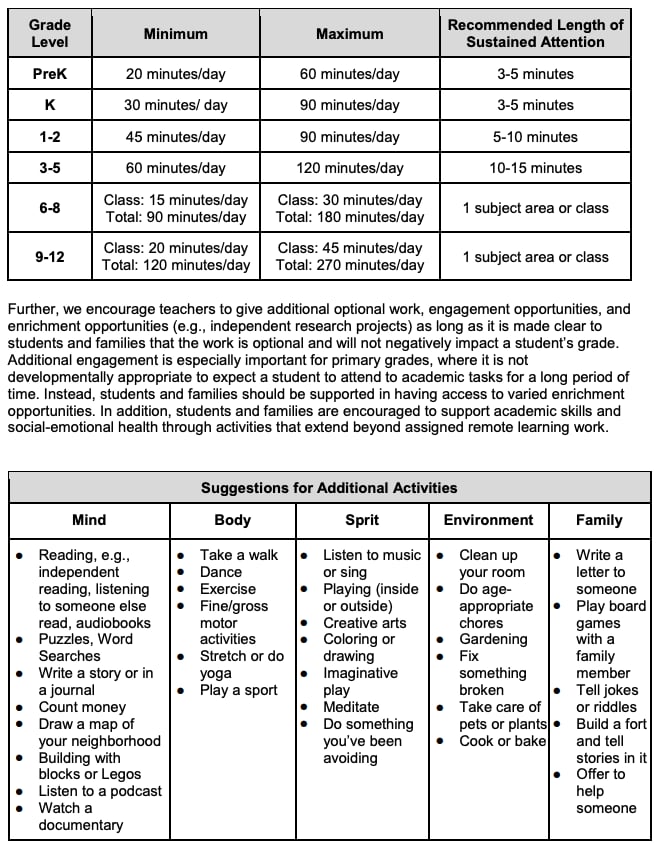 In addition to the time parameters, it also outlined how additional engagement opportunities – versus strict remote learning assignments – are especially vital for preschool and elementary grade levels, where it is not "developmentally appropriate to expect a student to attend to academic tasks for a long period of time." For those kids, the organization offered up a separate table of activities and noted that families are "encouraged" to support learning via these methods instead.
Illinois's Board of Education said it created these recommendations because it "acknowledges that all students, families, and schools are diverse and supports remote learning that meets local needs, and to the greatest extent possible, minimizes the negative impact this unprecedented moment has on our students' educational trajectories."
And although these guidelines might vary state to state, it serves as a helpful baseline for those parents who have been trying to fill full school days when they should actually be homeschooling a lot less.