What Parents Should Know About Moxie | Parents' Guide
Everything Parents Should Know Before Streaming Moxie With Kids
Watch out! This post contains spoilers.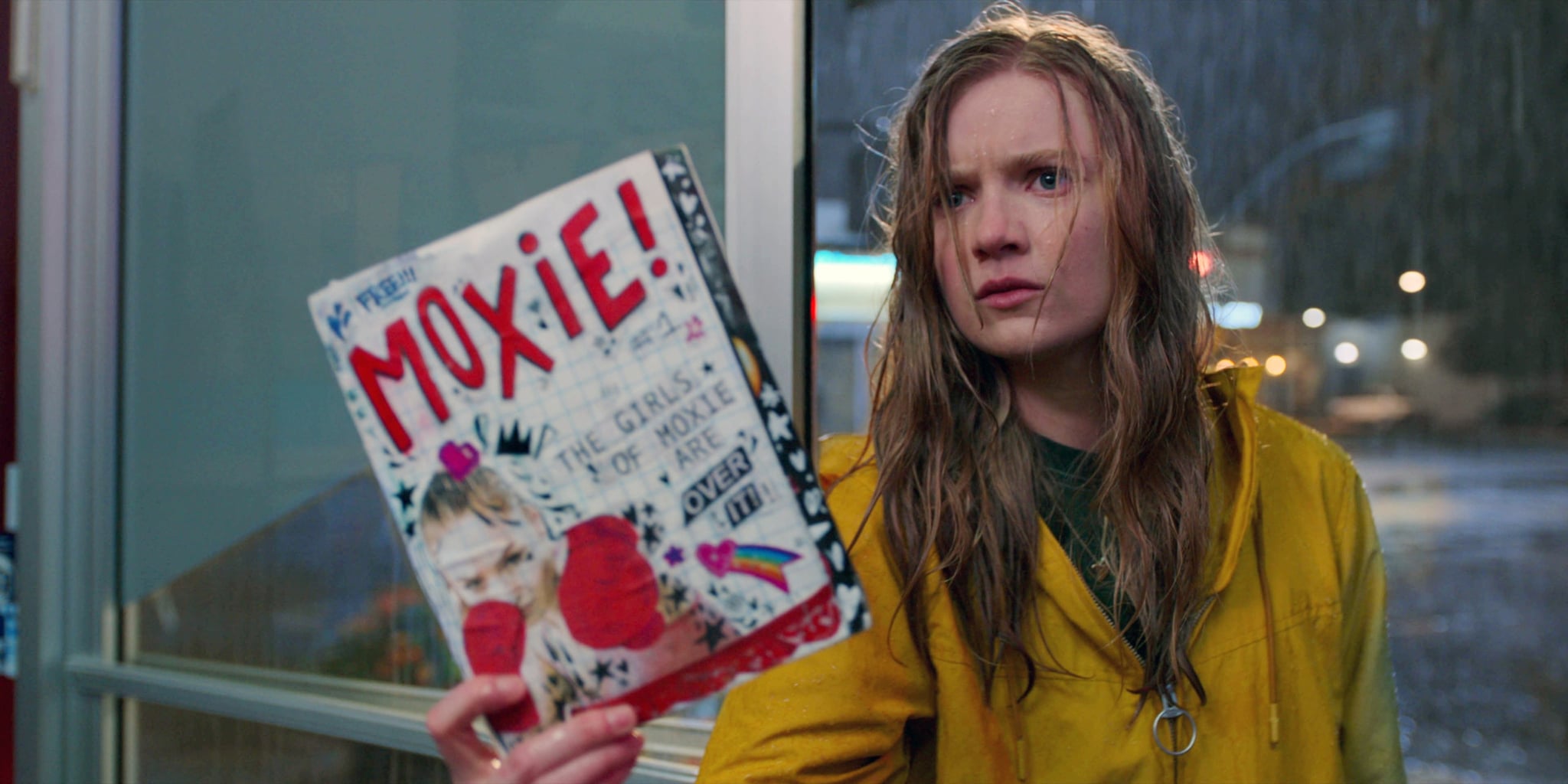 I'm all about introducing the younger generation to feminist tropes — it's practically why I had kids — so I love seeing teen movies attempt to tackle these issues, while making me laugh at the same time. Enter the new Netflix original movie, Moxie, now streaming.
Directed by Amy Poehler and adapted from a novel of the same name by Jennifer Mathieu, Moxie tells the story of a teenage girl named Vivian (Hadley Robinson) who is frustrated with her toxic and sexist high school environment and decides to fight back with a zine. The movie also stars Alycia Pascual-Peña as a new student named Lucy who helps Vivian see the injustice at the school, as well as Amy Poehler, Nico Hiraga, Patrick Schwarzenegger, Josie Totah, Josephine Langford, Ike Barinholtz, and more.
It's adrenaline-packed soundtrack, equality-focused theme, and feel-good teen comedy makes Moxie a must-watch! But before you hit play with your teenagers, there are a few things parents should keep in mind.
Curse words are prevalent.
You'll hear "sh*t" at least five times, "ass" at least 13 times, "b*tch" at least twice, "hell" at least three times, "oh my god" at least once, "d*ck" at least once, and one "f*ck the patriarchy." At one point, Vivian creates "assh*le" stickers and puts them all over school.
Crude, harassing language is used.
The students create a list, ranking everyone with things like "most bangable," "best ass," and "best rack," even hinting that one girl was named in a new category that included "the c-word."
It centers on a feminist awakening, but doesn't address the whole conversation.
Heavy issues are talked about throughout the film, including one girl who complained that a boy was "harassing" her, with the principal assuring her that he was just "bothering" or "annoying" her. Women are talked down to, interrupted, and treated as less than by their men counterparts. The Moxie club stands up for various feminist issues, such as highlighting the double standards of a dress code, the way white men authors are emphasized in the curriculum, the way men students are given priority treatment over women, the way the women's soccer team (led by a Black captain) are consistently ignored even though they win games, and more. However, the film doesn't do much examining of the harm that can come from white feminism, nor does it explore the complexity of feminism and inclusion. And while there are conversations about race, identity, and their intersection with feminism, they're surface level and feel a bit like hollow lip service. It's a start, but it's certainly not comprehensive. You might want to initiate a larger conversation with your kid about these dynamics.
There are sexual themes.
Some consensual and nonconsensual sexual scenes occur in this movie. There's kissing in the back of a car, where the boy is half-dressed and the couple has a respectful conversation about virginity and waiting until the right time. Another brief kissing scene between two girls occurs, which is also consensual. Nonconsensual elements include teenage boys slapping girls' butts, putting their hands on girls, and a powerful statement by one student telling everyone that her boyfriend raped her after prom and she was too ashamed to admit it.
Underage partying and drinking occurs.
This includes one scene where Vivian is upset and comes home drunk, yelling at her mom.
This movie may have used a few too many stereotypes to prove its point (we all know dress codes are sexist, right?), and the white savior complex demonstrated with the white main character leading the movement was uncomfortable at times, but, overall, I really liked it. It showed the themes of white privilege, harassment, how women are rarely believed, how "nice" abusers can seem to others, and how women can take a stand instead of the alternative of doing nothing. Be prepared to have a conversation with your kids throughout the film, as there still are lots of complexities to untangle. Though Moxie may not be the perfect teen movie, it's trying to make a difference and inspire the next generation of rebel girls and their feminist men allies.