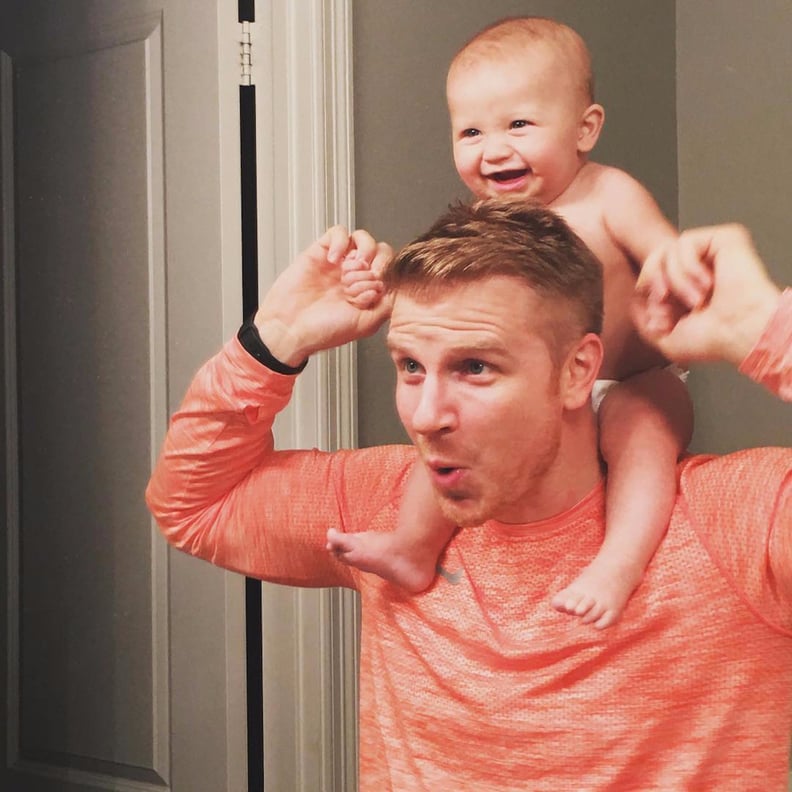 If there's anything we enjoy more than passionately filling out our brackets for The Bachelor while downing a glass of wine, it's witnessing those true love stories unfold when former contestants actually stay together once the cameras stop rolling. To date, Sean and Catherine Lowe are the only couple from The Bachelor that have gotten (and stayed) married, and it's easy to see why. The two goofballs go together like peanut butter and jelly, and as of July 2016, they added another ingredient to that sandwich: their adorable son, Samuel.
Ever since the dynamic duo welcomed their bundle of joy into the world, they've been documenting their cutest parenting moments on social media, subsequently making our hearts melt all over the place. It seriously doesn't get any more precious than Sean and Samuel's bond (which is filled with ample giggles and smiles), so we've gathered their cutest father-son moments to date. Bachelor Nation, get ready to swoon, because Sean is one heck of a dad.
When He Totally Busted Samuel For Breaking His "Summer Diet"
When They Grabbed Some Cinco de Mayo Grub Together
That Time He Got Down to Business With Samuel
When He Induced the Cutest Giggle Attack Ever
JK These Giggle Attacks Are Basically a Daily Occurrence . . .
. . . and They're Just as Adorable Every. Single. Time.
When He Stopped a Play Session to Take Poopy Duty
In Case You Were Wondering What They Do When Catherine Isn't Home, Now You Know
That Time He Snapped a Sneaky Picture of His Fam
We'll Just Leave This One Right Here . . .
When He Jokingly Called Out Samuel For Being "Too Chipper in the Morning"
Oh, and Let's Not Forget When He Was ALL of Us on a Sunday
4 Generations of Fatherhood — It Doesn't Get Much Better Than That!
If You Have Trouble Getting Your Baby to Like Bathtime, Sean Has the Answer
We Told You Those Giggle Fits Are Frequent!
This Daddy-Son Duo Loves to Kick It on the Couch Together
When Sean Captured the Cutest Morning Selfie With Samuel
OMG and This Hilarious Boomerang, Too!
That Saturday Night When He Fully Embraced His New Dad Life
That Time He Revealed Our Favorite New Parenting Hack
We Couldn't Help but Chuckle at This Classic IHOP Selfie
When He Called Out Samuel and His Big "Ego"
Now This . . . This Is #DadGoals Right Here
He's Also Not Afraid to Document the Downsides of Having a Newborn
And of Course, When He First Welcomed Samuel Into the World