Trader Joe's Foods Moms Should Eat Instead of Those Leftover Chicken Nuggets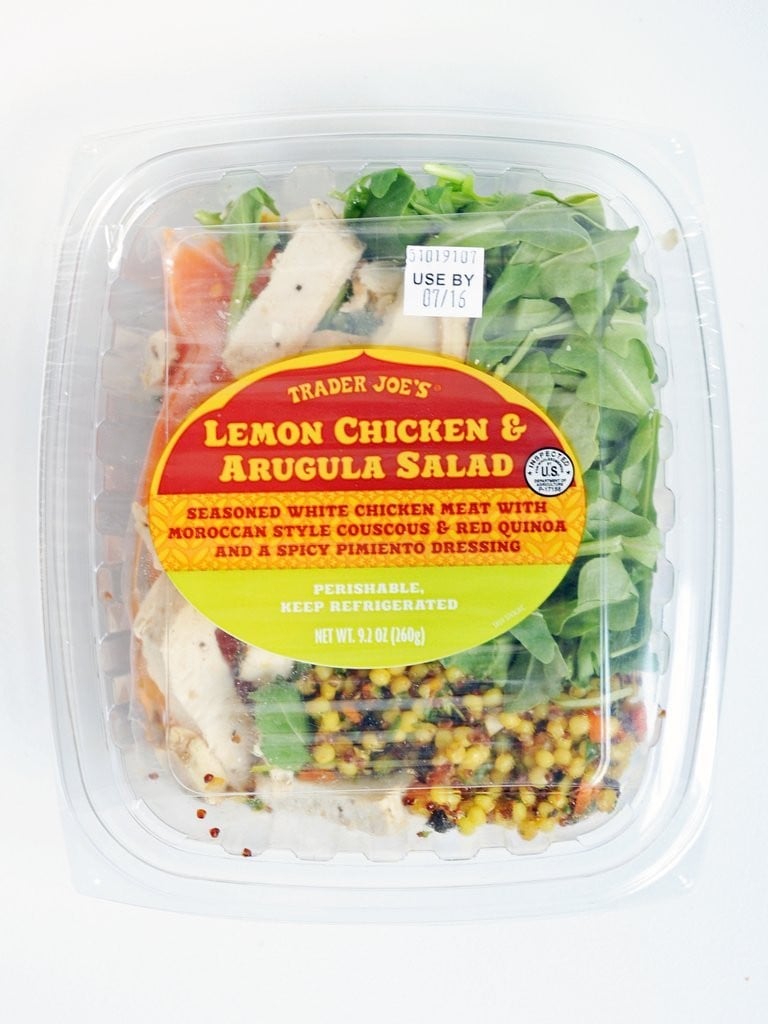 POPSUGAR Photography | Anna Monette Roberts
POPSUGAR Photography | Anna Monette Roberts
If you live near a Trader Joe's and have children to feed, you probably spend a lot of time wandering the aisles (or racing through them if you're shopping with a kid who's found themselves a pint-size, ankle-nipping cart). But Trader Joe's plentiful, kid-friendly options aren't the only things you should be picking up on your next TJ's trip. The grocery chain didn't get its cult status by only selling frozen breaded chicken, after all — though you should buy that, too (I prefer the bagged tenderloin breasts).
Besides its constant, innovative new arrivals, Trader Joe's is also stocked full of healthy, easy options for moms on the go who are trying to keep their diets from becoming 50 percent coffee and wine, 50 percent leftover french fries and nuggets.
From quick breakfast options to grab-and-go lunches you'll want to eat over and over again, here are 12 mom-friendly foods you have to pick up during your next Trader Joe's run.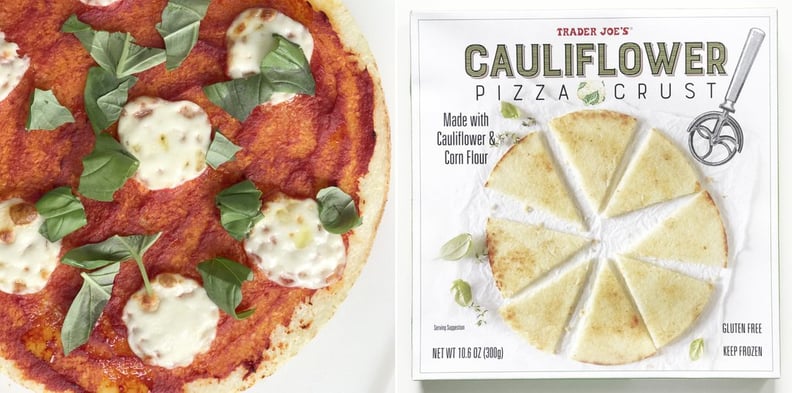 Cauliflower Pizza Crust ($4)
Who isn't excited for the new Cauliflower Pizza Crust?! We did an extensive taste test and added tomato paste, mozzarella, and fresh basil to the crust and baked it according to package directions.
The crust comes out tasting like grits or polenta — not necessarily bad, but it definitely needs a salty component. Be sure to salt it liberally before baking and load up the cheese big time. Also, note that it's still fairly soft after 10 minutes of baking. If you want a crispier crust, try baking it for longer or throwing it on a pizza stone. Then add those toppings and make the easiest, most guilt-free pizza ever.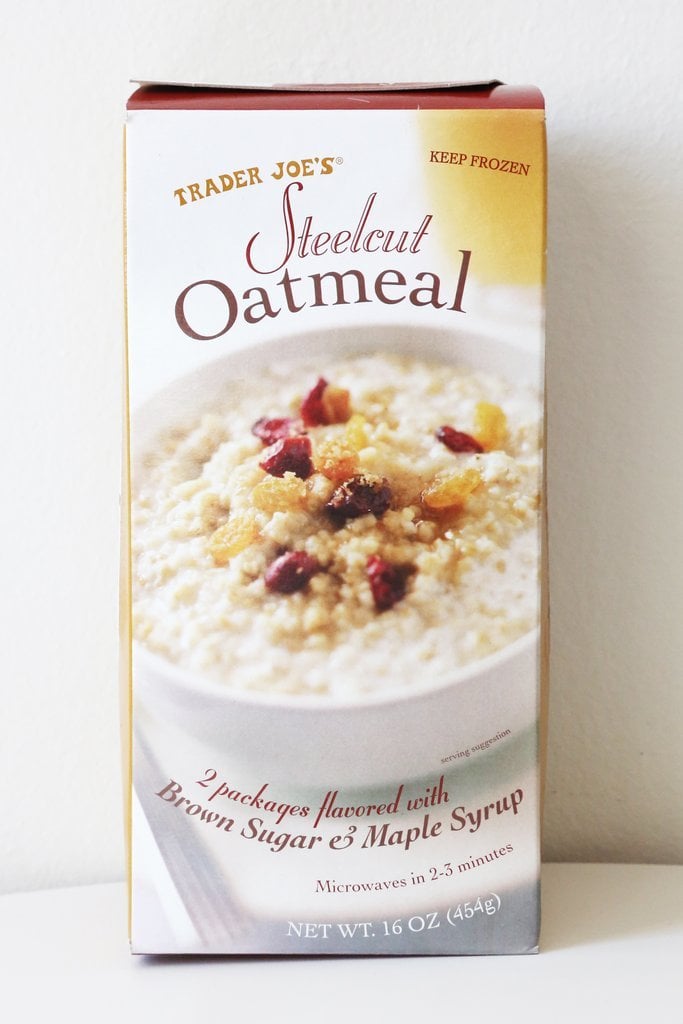 Steelcut Oatmeal ($2)
Hands down one of the best (and cheapest) breakfasts for hectic mornings is Trader Joe's frozen Steelcut Oatmeal. Each box comes with two packets of oatmeal flavored with brown sugar and maple syrup, and you can have breakfast ready in less than two minutes thanks to the microwave. You'll have no excuses for not downing some nutrition with that pre-school bus coffee.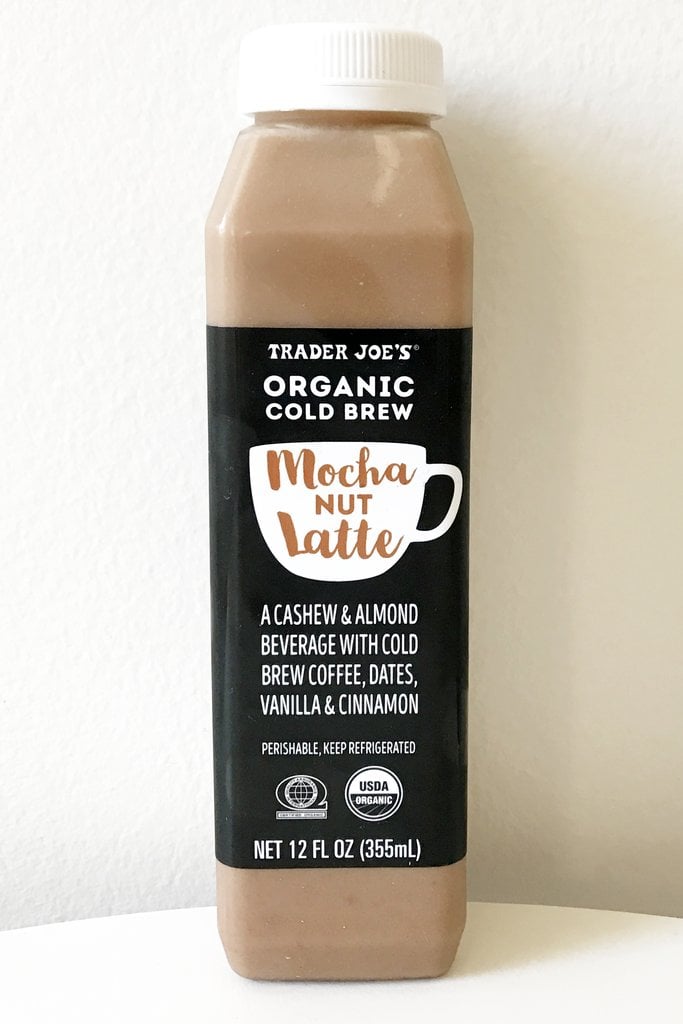 Organic Cold Brew Mocha Nut Latte ($4)
Listen up, dairy-free moms who also love lattes: the new Organic Cold Brew Mocha Nut Latte will be your newest staple. Made with cashews, almonds, organic cold-brew coffee, dates, vanilla, and cinnamon, this bottled latte is creamy, nutty, and not overly sweet. It's a little bit on the thick and gritty side, which makes it feel more substantial than a regular cold brew.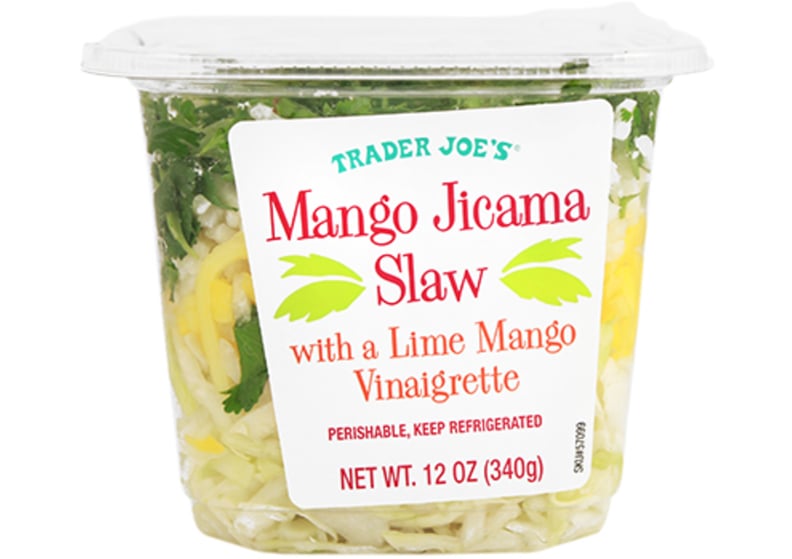 Mango Jicama Slaw ($5)
One of my new favorite Trader Joe's finds, the Mango Jicama Slaw, includes julienned slices of green cabbage, jicama, mango, a bit of cilantro, and a yummy, tangy, and spicy mango-lime vinaigrette — that's it. It's totally delicious by itself but also pairs well with fish tacos, chicken, burgers, or pulled pork.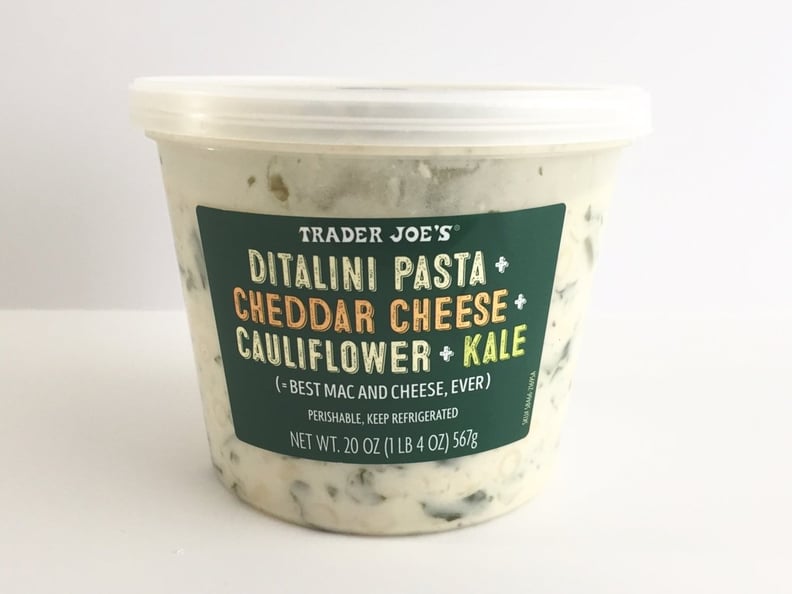 Ditalini Pasta + Cheddar Cheese + Cauliflower + Kale ($5)
If you love mac and cheese but want a more nutritious version, pick up the Ditalini Pasta + Cheddar Cheese + Cauliflower + Kale. It's creamy and thick with a generous amount of kale in every bite. This is definitely on the healthy side of the mac and cheese scale with only a small serving of actual pasta but plenty of cheese and butter.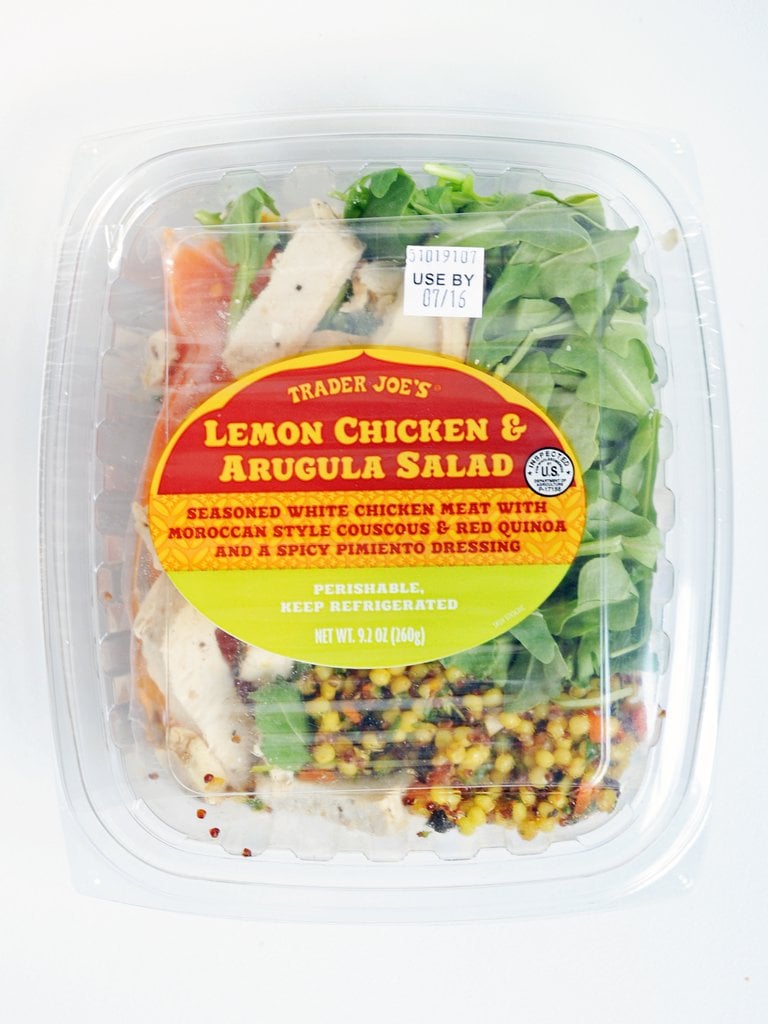 Lemon Chicken and Argula Salad ($4)
One of my go-to lunches, the Lemon Chicken and Arugula salad, is Moroccan-inspired and made with couscous and red quinoa, parsley, mint, smoked paprika, and sweet currants. The smoky-sweet flavors of the couscous pair well with the arugula, but the spicy pimento dressing is what put it really over the top in my book.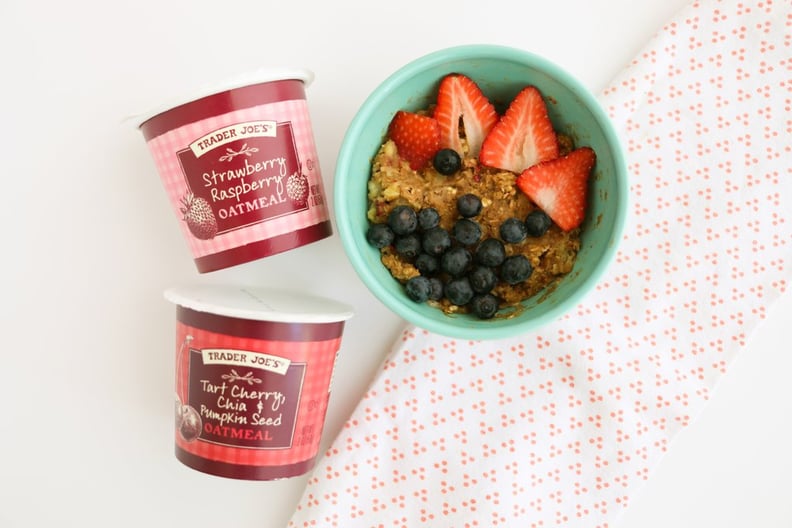 Oatmeal Cups ($1)
Trader Joe's new Oatmeal Cups come ready in a microwavable cup, so all you need to do is add hot water or milk and stir (i.e. easy enough that you won't eat that leftover frozen waffle for breakfast). Choose from two flavors, Strawberry Raspberry or Tart Cherry, Chia, & Pumpkin Seed. I used the Strawberry Raspberry flavor to try this microwaveable oatmeal cookie recipe, topped with fresh strawberries and blueberries. The result was a tasty breakfast that actually did taste like a cookie.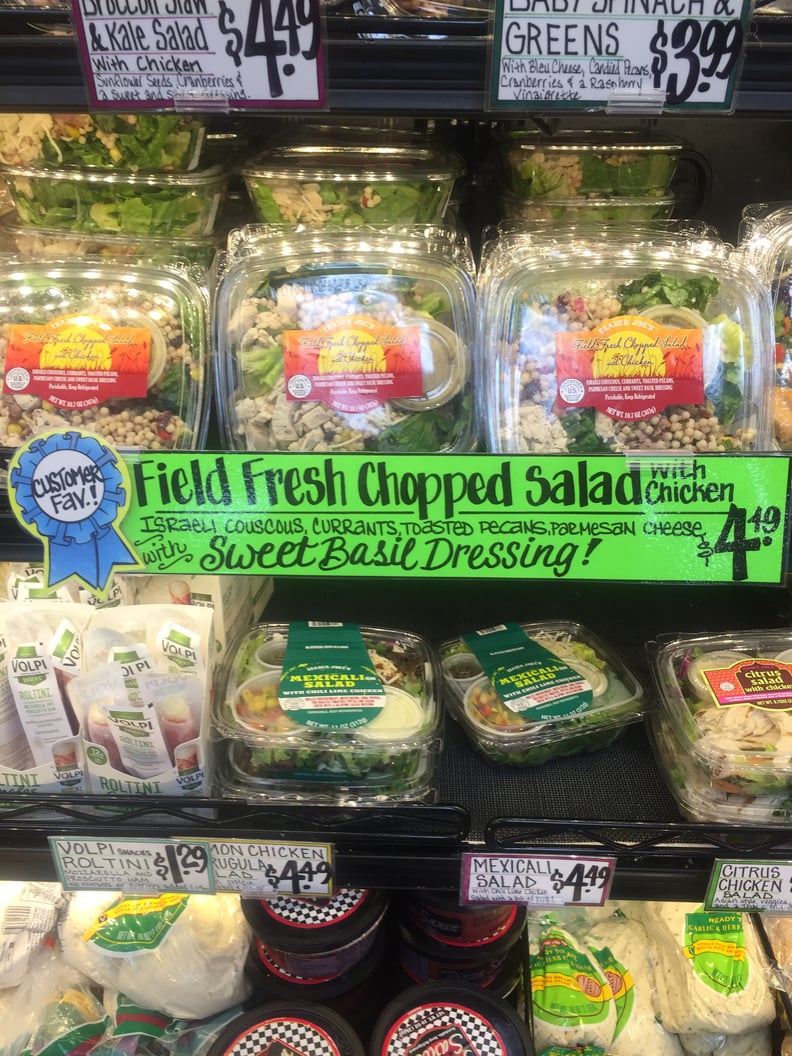 Field Fresh Chopped Salad ($4)
Trader Joe's Field Fresh Chopped Salad is another one of my go-to salad options. Crunchy, sweet, and savory, this filling salad includes chopped leafy greens, grilled white chicken, Israeli couscous, dried currants, asiago cheese, and crunchy chopped pecans. The creamy sweet basil dressing brings all those flavors together perfectly.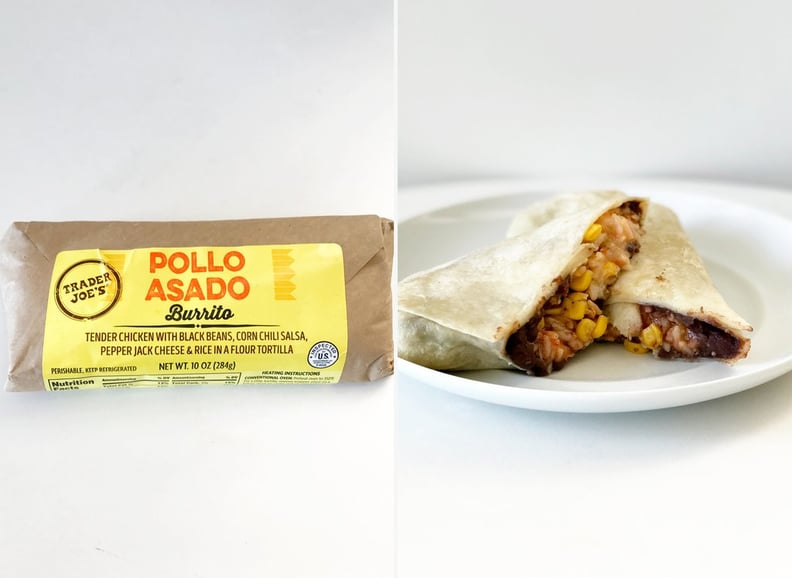 Pollo Asado Burrito ($4)
You'll find a couple of new burritos in Trader Joe's packaged, refrigerated foods section (by the salads and sushi), including the Pollo Asado Burrito. The soft flour tortilla is filled with shredded chicken, black beans, pepper jack cheese, rice, and corn salsa. You could almost call it a quesadilla — it's on the thinner side — but in terms of convenience and taste, it's a solid buy. You can microwave it in two minutes for an instant lunch or dinner that will keep you full.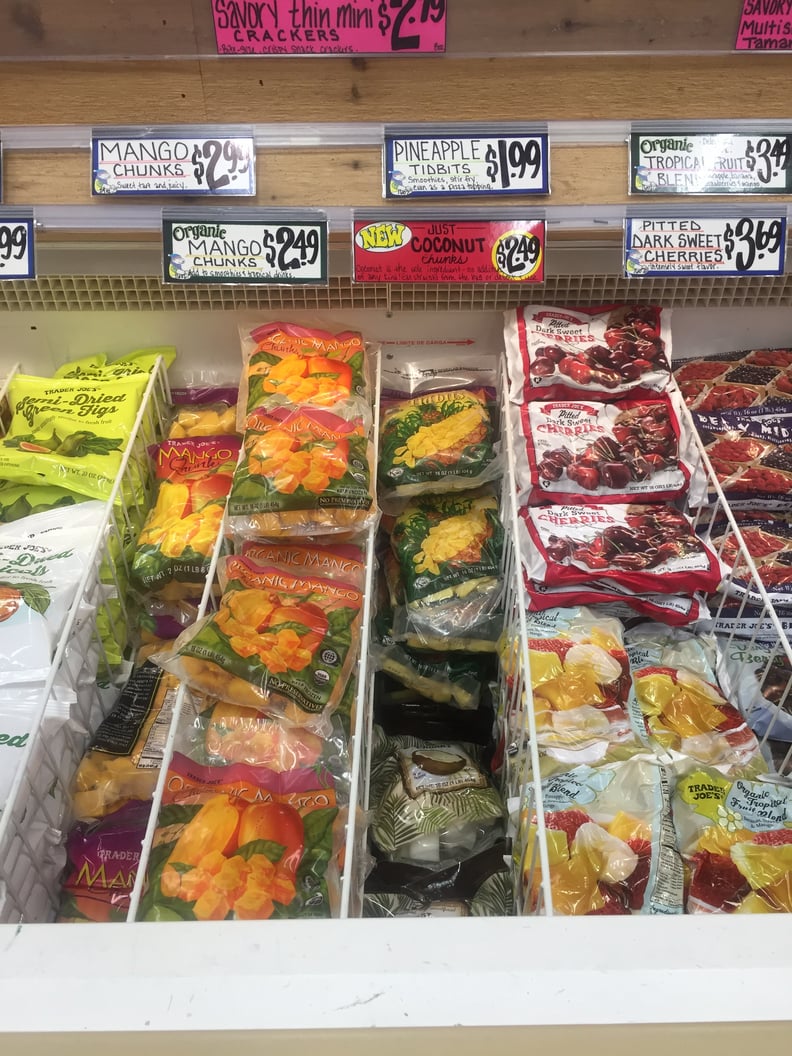 Frozen Fruit ($2-$4)
I am obsessed with all the prepackaged frozen fruit options at Trader Joe's because they make the best smoothies ever. You'll always find a bag of mango, sweet cherries, and pineapple in my freezer, ready to blend with the almond milk, spinach, Greek yogurt, and bananas I also pick up at the store.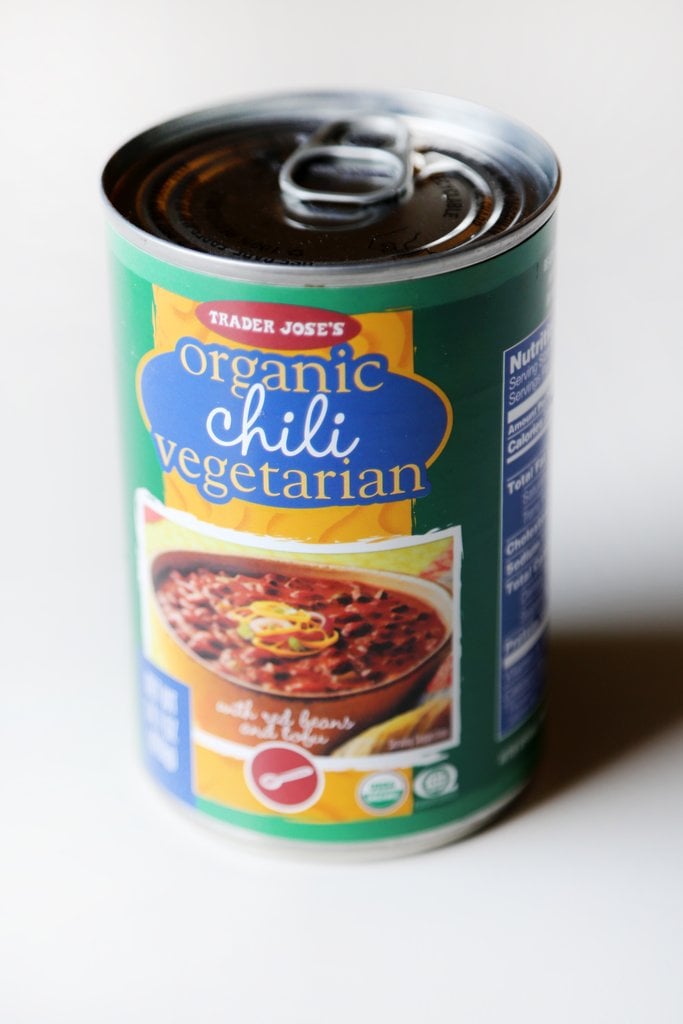 Organic Vegetarian Chili ($2)
We're convinced that Trader Joe's Organic Vegetarian Chili is a knockoff of Amy's, another brand we love. At just $2 per can, it's hard to beat Trader Joe's version of a filling, organic, and vegetarian meal. We always keep a few cans of this stocked in our pantries to make sure we have a backup option for a quick dinner.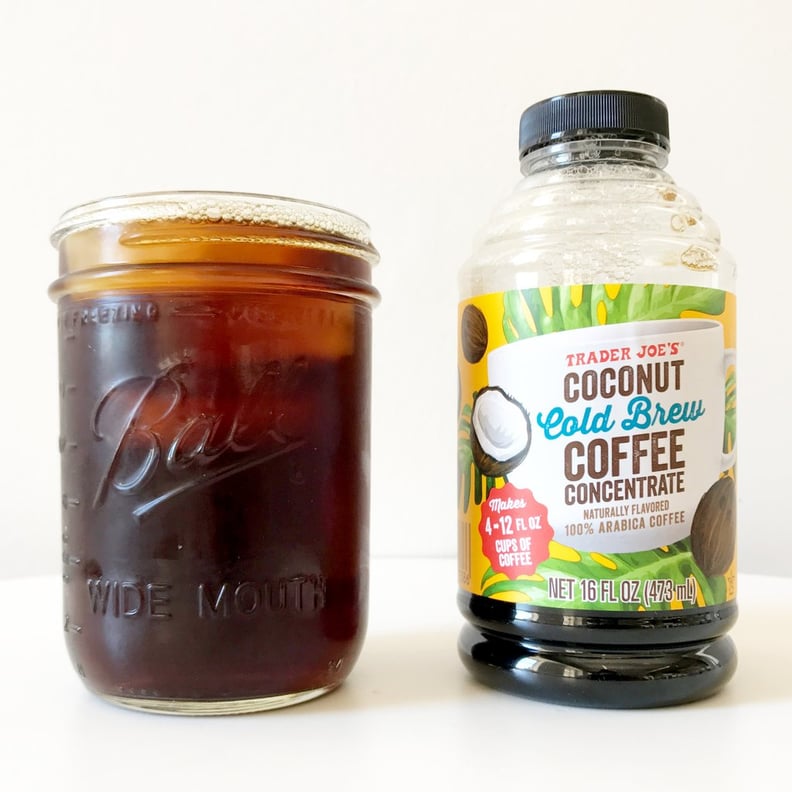 Coconut Cold Brew Coffee Concentrate ($5)
Drinking the same old cold-brew coffee can get a little boring, and Trader Joe's new Coconut Cold Brew Coffee Concentrate is exactly what you need to reinvigorate your morning routine. Enhanced with "natural coconut flavors," this strong, just-bitter-enough cold brew is not overwhelmingly coconutty and tastes the tiniest bit sweet without any added sugar. Because it's a concentrate, you'll need to dilute it with water or milk before mixing it up and drinking over ice. Plus, a little goes a long way: each 16-ounce bottle makes four servings.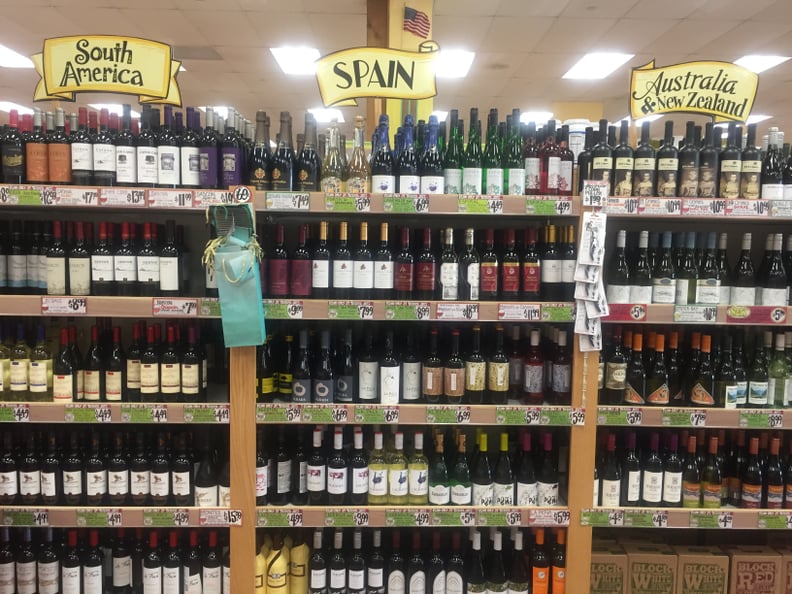 Wine ($3 and up)
You need something to wash all that food down with, right? And TJ's has the best, most reasonably priced selection of wine around! So go for it, Mama!