My Child Is Getting the COVID Vaccine Because It Is Necessary — in More Ways Than You Might Think
Following the news that the Centers For Disease Control and Prevention officially recommended the COVID-19 vaccine for children as young as five years old, my husband and I immediately went online in search of the next available appointment. There was no question — no hesitation. We were getting our child vaccinated.
Our efforts were interrupted with texts and a phone call from well-meaning relatives — who themselves eagerly signed up to be first in line for their jab — wanting to double check that this was the right move. "Don't you want to wait and see how it goes first?" "She's a perfectly healthy kid . . . she probably doesn't even need it."
The truth is, she might not need it. There's a very good chance that if she got COVID while unvaccinated, she'd have a few rough days, a mind-numbingly boring quarantine, and then get right back to it. There's a good chance most of her peers would fare the same.
The truth is, my child might not need it. There's a very good chance that if she got COVID, she'd have a few rough days, a mind-numbingly boring quarantine, and then get right back to it.
Since the start of the pandemic, approximately 1.8 million children ages 5 to 11 have been infected — that's nine percent of all cases. According to federal data, 8,600 have been hospitalized and nearly 140 have died. In comparison to other age groups, these numbers are incredibly small. In fact, the Food and Drug Administration panel, in advance of their Oct. 29 vote to unanimously authorize the pediatric vaccine, deliberated as to whether the vaccine was truly necessary for all children in this age group. Some floated the idea of only approving it for certain compromised children or families.
As Dr. James Hildreth of Meharry Medical College said, "I do believe that children at highest risk do need to be vaccinated, but vaccinating all of the children to achieve that just seems a bit much for me."
Although he later voted in favor of the Pfizer vaccine, that general notion — the question about whether it's even "necessary"— is what has long left many parents hesitant to vaccinate. Early on in the pandemic, parents were divided on whether they'd give the vaccine to their child if one were made available. To them, getting COVID in this age group is not a death sentence. It's barely even cause for a visit to the doctor. And this thinking has held steady. In a more recent survey from the Kaiser Family Foundation, a third of parents plan to wait awhile to see how the vaccine is working, and 30 percent say they will definitely not get the vaccine for their child, compared to 27 percent eager to make an appointment for one.
So, I do understand why parents might take pause with this decision. Children are at a lower risk of severe complications stemming from COVID. Less than two percent of children wind up in the hospital and, even amid the Delta variant, less than 0.03 percent die. "Less than 0.03 percent! That's nothing!"
But it's not nothing. The death toll in the past year puts COVID in the top 10 causes of death for this age group. And even if parents are willing to play those odds with their children, hospitalization and death aren't the only benchmarks to avoid here. Otherwise healthy kids have suffered from "long COVID" — when symptoms like fatigue, headaches, shortness of breath, and difficulty focusing last months after testing positive. Those fearful that a vaccine could lead to myocarditis aren't alone — the rare cases of heart inflammation in real-world settings loomed over the FDA meeting despite no cases of it in the clinical trial. However, the risk of getting myocarditis is more than 30 times greater with COVID than with the vaccine, and the side effects are worse as well.
I certainly want to protect my young child from contracting COVID-19 — I don't want to put her health at risk. That's a big reason she's getting the vaccine. But it's by no means the only reason — or the one that finds its way to the top of my list.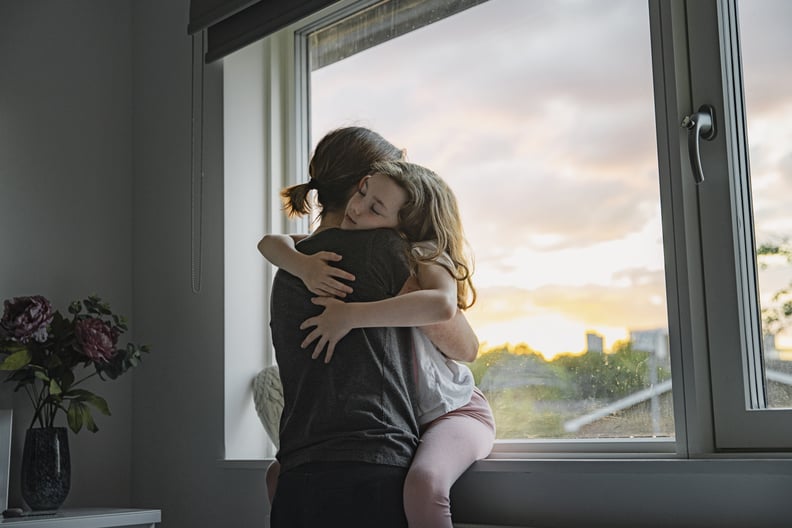 My child is getting this vaccine in order to keep safe the more vulnerable people in her community. Just because she is healthy herself doesn't mean she doesn't encounter immunocompromised adults, classmates with underlying conditions, or otherwise unvaccinated individuals — her younger sister included. Looking out for oneself has never been the way out of this pandemic, yet it's how so many continue to operate. Underrepresented minorities are bearing the brunt of the coronavirus, and a disproportionate and unacceptable number of Black and brown children are dying. As are those children with asthma, obesity, and developmental disorders. They deserve protection.
My child is getting this vaccine so that we can finally end the years-long interruptions to her education. So far this fall, my family has had to undergo two classroom-based quarantines — three more weeks of disorder on top of more than one full academic year punctured by closures and barely salvaged by remote schooling. The learning loss is unquestioned: most kids ended up four months behind in math and three months behind in reading. Of course, students in majority-Black schools exhibited a six month lag. Aside from educational inequities, there have been studies on top of studies demonstrating the social-emotional backslide in our youngest population — and of built-up anxiety and depression. Even the smallest interruptions add up. Each Monday morning, my child is pulled out of her class to get a COVID test. Each week, it seems, we get school-wide emails about "confirmed cases" and "close contacts" that threaten to shut it all down. Every third message home from a teacher is about a wet mask, a lost mask. Every other complaint from my child is about not being able to understand the teacher or sit next to anyone at lunch.
We can all get our lives back. If we don't "need" that — if all of that isn't necessary, I don't know what is.
My child is getting this vaccine so that I can get back to work. This past month alone, my husband and I have had to take a total of 11 unexpected days off the clock to manage the sudden need for childcare. To be clear, this is on top of 18 straight months of being forced to lean so far back in the wobbling chair that is my career, that I nearly tipped over — a scenario that feels lucky considering hundreds of thousands of working mothers left their jobs to assume the unpaid labor of caring for their families amid the unending pandemic. And of course it's working-class parents who've suffered the most. Sadly, even with a vaccine on the table, they still do: a recent poll showed that more than half of parents who make less than $50,000 a year said that they were concerned about getting the pediatric vaccine — because they'd have to take time off to travel to a vaccination site or take time off to care for a sick child if they experienced side effects. Imagine what a COVID outbreak and subsequent 14-day classroom quarantine would do to an hourly employee.
My child is getting this vaccine because it is an entry ticket to a life we've had to put on pause. Swim lessons, birthday parties, dinner reservations, playdates that aren't relegated to a quiet park on a 40-degree day, vacations, family gatherings, visits with grandparents. This long-awaited vaccine can secure for our family a future without the constant risk analysis and guilt-tinged anxiety that has consumed our minds every time we considered stepping one foot out our front door. My child can get her childhood back. We can all get our lives back. If we don't "need" that — if all of that isn't necessary, I don't know what is.