COVID Vaccines For Children: Doctor Tips and What to Expect
This Doctor Answers Parents' Most Common Questions About What to Expect From the Child COVID-19 Vaccine Rollout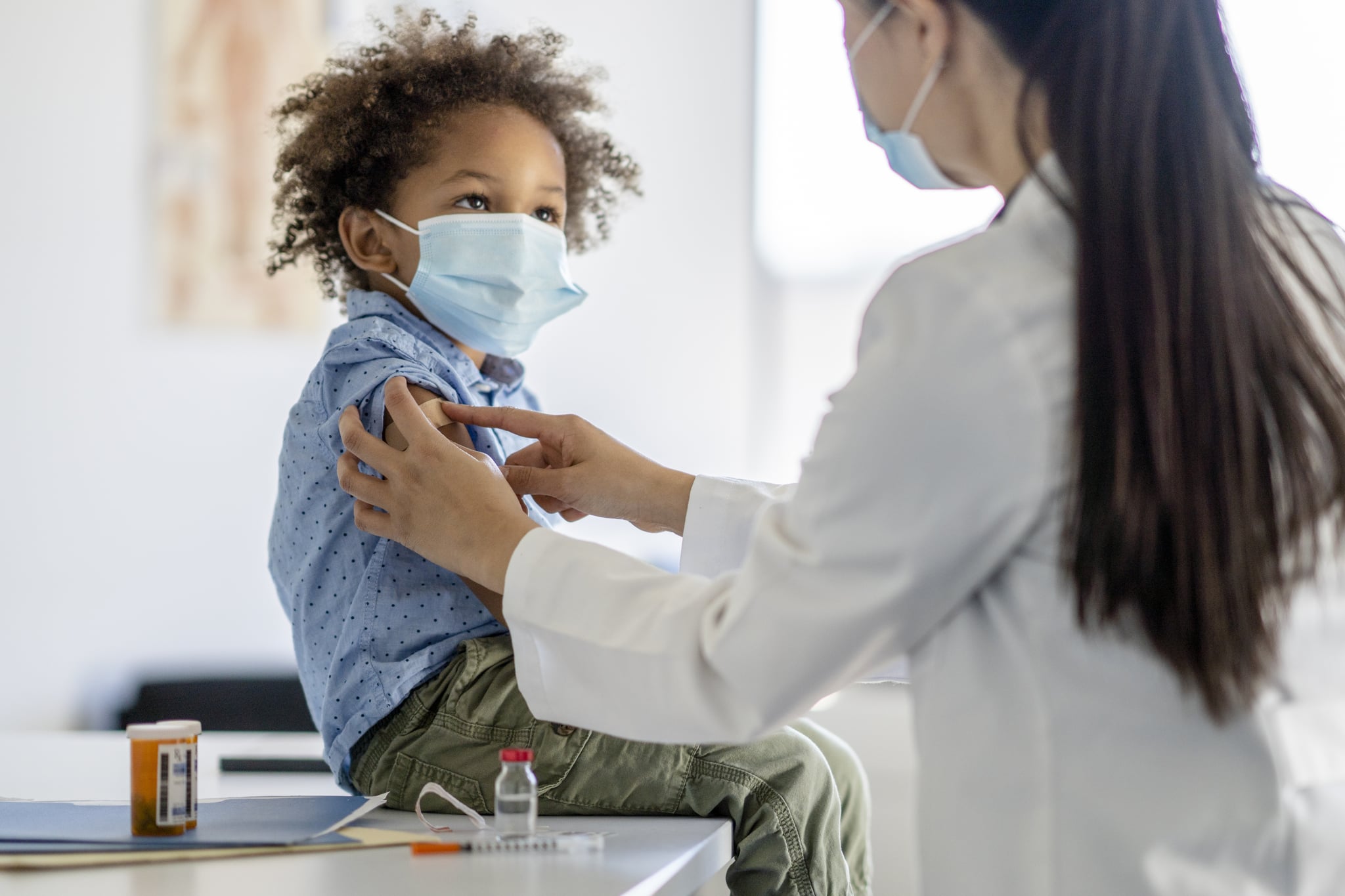 The Pfizer COVID-19 vaccine for children as young as 5 years old could be rolled out as soon as next week, and parents who haven't yet had the opportunity to vaccinate their kids are now scrambling to plan for the long-awaited jab. Bayo Curry-Winchell, MD, a Regional Clinical Director at Carbon Health and a family-medicine doctor based in Nevada, understands this feeling well. She too is eager for her two young kids, ages 5 and 7, to get their shots once this age group is eligible.
"This really allows parents to have another layer of protection for our most vulnerable population," she said. "As a mom and a doctor, I have experienced, just like most of us, school closures and outbreaks, and this will allow us to have far less of that."
Dr. Curry-Winchell spoke to POPSUGAR about the most common questions parents ask her about the COVID-19 vaccine for young kids.
What Exactly Is the "Child Version" of the COVID-19 Vaccine?
Put simply, it's the exact same mRNA vaccine that's been given to millions of Americans, but it's just a smaller dose. "It's one-third of the adult dose, and it's separated by three weeks apart," she said.
When Should I Take My Kid to Get the COVID-19 Vaccine?
Parents might prefer to schedule their child's vaccination on a Friday so they won't miss school if they exhibit any side effects, but Dr. Curry-Winchell maintains that the best time is as soon as possible.
"It's better to get it done sooner than later," she said. "My concern is every day is a risk that you could contract COVID-19. And so you don't want to wait until the weekend and then unfortunately your school has an outbreak. Just get it done. That's what I plan on doing."
Although Dr. Curry-Winchell is "hopeful" that there will be an equitable rollout of the pediatric vaccine, she understands how hard it might be for families to find the time for these shots. "Of course there's some concern, and I think of how disproportionately kids and families of color have been affected," she said. "If you can't make an appointment, if you don't have WiFi, if you're working certain hours and can't take time off . . . what are we going to do to help you get your child vaccinated? We're going to have to think about late hours and weekends and in locations that are underserved. Great, big vaccination sites are wonderful, but it's the small pods that are in those areas of need that we need more of."
Where Should I Take My Kid to Get the COVID-19 Vaccine?
The COVID-19 vaccine for children could be available at locations where adult shots are administered — doctor's offices, pharmacies, and other pop-up distribution sites like schools and churches.
Dr. Curry-Winchell said that families can safely consider any of these options, and — as she urged with timing — to consider a location that is convenient. However, she recommends that kiddos with a history of allergies to other vaccines or antibiotics get their shots at their family doctor or pediatrician's office, or at a pharmacy they trust. "Just make sure you are having the shot administered at a place where they can closely monitor your child," she said. "If they have a history of allergies, you want to watch them for at least 30 minutes, and you'll want to make sure that location can appropriately respond in a timely manner if there is a reaction."
What COVID-19 Vaccine Side Effects Should I Expect in My Kid?
For those children receiving the vaccine, Dr. Curry-Winchell listed possible side effects similar to those experienced by adults.
"Expect mild to moderate symptoms — fever, chills, headache, and muscle aches," she said. "I always like to tell kids that it's a rehearsal, or like a practice. When you get those shots, your body is arming itself against if it were to ever come into contact with COVID-19. So, the fever and the chills and body aches, it's a practice that teaches your body to protect itself in hopes that you can really play the game if unfortunately you are exposed to it."
She also noted that the likelihood of side effects is still unknown: "Some kiddos have had no symptoms and others have."
How Long Do COVID-19 Vaccine Side Effects Last in Kids?
Thankfully, not long at all. "Side effects are fleeting," Dr. Curry-Winchell said. "They normally last only a couple of days."
When Should I Call My Kid's Doctor About COVID-19 Vaccine Side Effects?
As parents do whenever their child has cold or flulike symptoms, closely monitor their progress. "If something doesn't look right with your child after receiving the vaccine, seek a healthcare provider," she said. "Never feel bad about seeing someone because that's your most precious person, and you need to feel heard."
If it has been 24 hours and the fever is above 101°F and not responding to Tylenol or ibuprofen, call your pediatrician or family doctor. A noticeable decrease in fluid intake should prompt a call, too.
"Sometimes our little ones won't eat when they're not feeling well, but the biggest thing is liquid," she said. "As long as they're consuming water and peeing and pooping, we're OK. But if that stops, that's another sign when you really should seek out a healthcare provider."
Of course, trust your instincts, she advised: "We know our kids best, and so if their energy, their baseline, is off, go see your doctor."
What Is the Risk of My Kid Getting Myocarditis After the COVID-19 Vaccine?
Parents are understandably concerned about the reports that a small group of teenagers and young adults have developed myocarditis — a rare inflammation of the heart muscle — following their COVID-19 vaccination.
Of the 2,300 participants in the pediatric Pfizer trial, no signs of myocarditis appeared. "That's huge," Dr. Curry-Winchell said. "So, right now, there are no cases of myocarditis, but we have seen in the past where new developments have occurred. As always, watch your child closely. If they're having any signs of shortness of breath, chest pain, or any changes to their normal state — because kiddos can present very differently — seek out a healthcare provider."
She added: "It's also important to remind ourselves that if you get COVID-19, the risk of myocarditis, and other complications, are multiplied."
Are There Any Kids Who Should Delay Getting the COVID-19 Vaccine?
The short answer? No, said Dr. Curry-Winchell. She recommends parents of children with relevant allergies or any sort of severe, chronic underlying conditions consult their doctors. "It doesn't mean they can't get the vaccine, but if there's any neurological issues — like Guillain-Barré syndrome — that need to be closely monitored, the decision would need to be made by their doctor," she said. "But at this time, there really isn't any other population that should be removed from getting vaccinated."
Her advice for any parents still hesitant about the pediatric vaccine is her most common refrain: "Talk to your family-medicine doctor or your pediatrician. Talk to them to see if your child is eligible or if there's any other factors that would make your child ineligible. That conversation is key."
Image Source: Getty / FatCamera