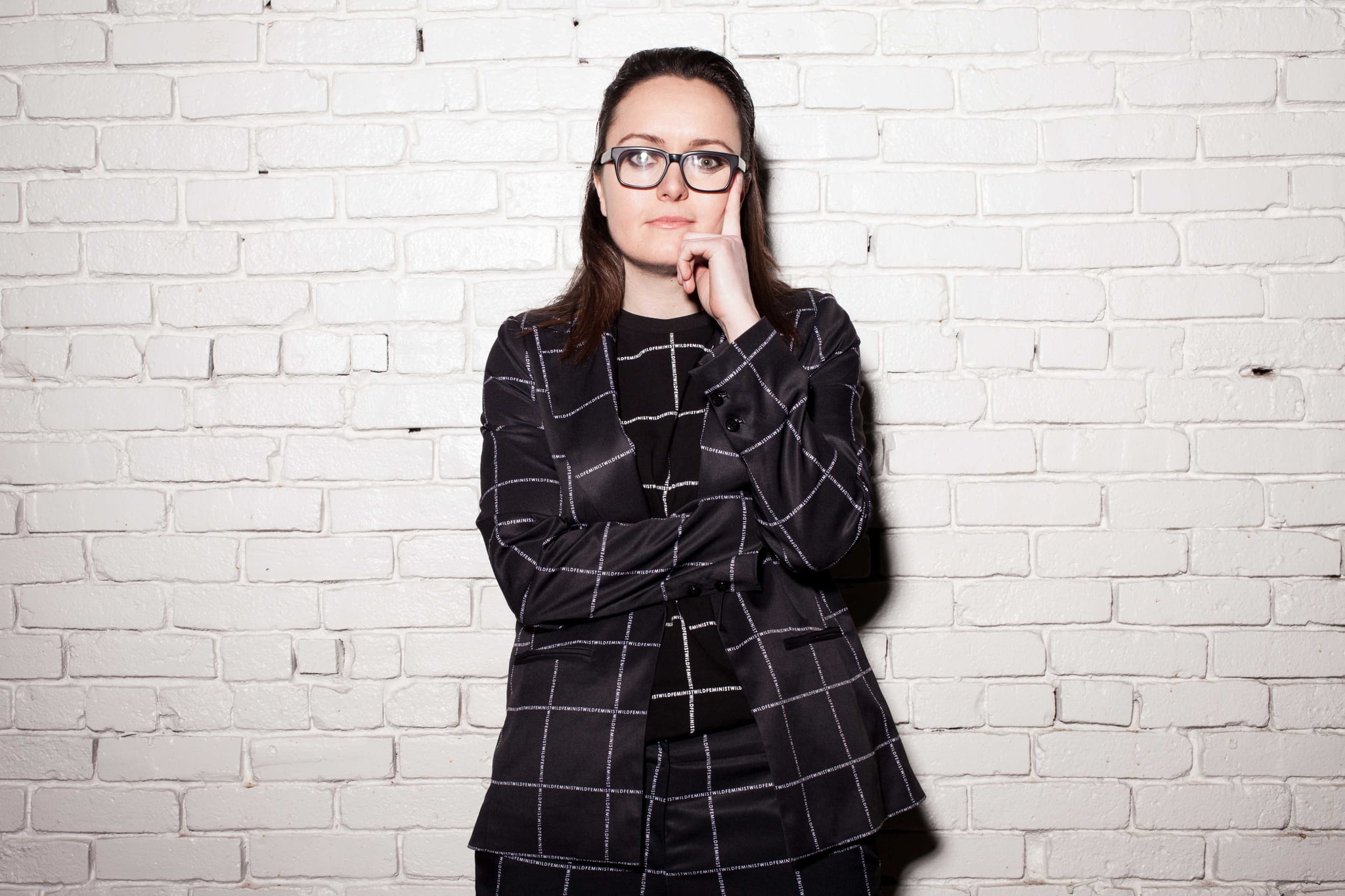 Image Source: Courtesy of Emma Mcilroy
Emma Mcilroy Pride Month Interview 2018
Wildfang CEO Emma Mcilroy Makes Menswear-Inspired Clothes For Wild Feminists
In the wake of the tumultuous 2016 presidential election, many people — across many communities and identities — woke with a renewed spirit of activism and intent, ready to spend the next four years fighting for their rights against an administration hoping to erase them. Emma Mcilroy, cofounder of menswear-inspired clothing brand Wildfang, was among them — though her history of feminism and political action stretches much further back.
"I was certainly a tomboy when I was brought up," Emma, 34, says when I get her on the phone. Growing up in Northern Ireland with two older brothers, she says she has a keen awareness of "the rules that typically hold back many women in society. And where the gender-conforming rules exist, I maybe didn't grow up with them. And so I think some of that rebellious spirit, some of that bravery, some of that fearlessness comes through [in the brand]."
Nestled in the progressive city of Portland, OR, Wildfang aims to "empower every kind of woman to be the best possible version of herself, smashing gender roles and the patriarchy in the process. Our store may be founded upon a woman's right to menswear, but our core is founded upon a woman's right to rights." Emma, who identifies as a queer woman, cofounded the brand in 2013 with COO Julia Parsley and Creative Director Taralyn Thuot, and now she acts as CEO.
"There's a quiet confidence in putting on that suit that I love."
Image Source: Courtesy of Emma Mcilroy
When it comes to fashion, Wildfang veers toward traditional menswear styles and graphic-print t-shirts meant for nonbinary and female bodies. In order to make clothing more accessible, Wildfang's designers focus on silhouettes historically offered in men's departments. "The tuxedo blazer, the long tailcoat, the double-breasted blazer — we've developed them to work for people with wider hips and smaller shoulders and breasts," Emma says. "Queering fashion is really about challenging the gender norms that exist. We like to f*ck with all those gender norms and prove that anyone can wear anything as long as they rock it with confidence and feel good."
Though not a designer herself — "I've learnt to hire great people, get out of their way, and let them make great products" — Emma leads the brand to meet customer demands and works with Wildfang's merchandising, design, creative, planning, and retail teams to bring items to life. Her own fierceness shines through, but Emma acknowledges Wildfang encompasses more than just a "f*ck you" attitude. "We wanted vulnerability to be a part of the brand from the start," she says, crediting that to cofounder Julia's influence. "It's a really collaborative effort."
When asked which product she's most proud of, Emma points to the Wild Feminist suit, a well-tailored, fully lined blazer and trouser set with a Wild Feminist grid pattern. "It's a custom print, and there's nothing like it that exists in the market. It's a huge effort to make custom fabrics, especially for a small business like ours, but we made it happen. Every time I put that suit on, I feel badass in a cool, understated way. There's a quiet confidence in putting on that suit that I love."
The brand makes itself known in other ways as well. In addition to designing clothing favored by the likes of Evan Rachel Wood, Janelle Monáe, and Ellen Page, Wildfang also evokes a spirit of activism and dedication to walking the walk. Ten percent of the profits from its popular Wild Feminist line go to different charities every month.
"I think there are a lot of people in the market that position themselves in a certain way and can't really back it up. And I think the market is going to really feel how real we are and how much we believe in it. The conversation on feminism only became popular in the last 18 months, but our Wild Feminist line is over three years old," she says. "We didn't wake up to these conversations yesterday . . . it's who we are."
That notion certainly comes through when one takes Wildfang's actions into account. Five years after its inception, Wildfang has worked with more than 100 charities. In February alone, the brand raised $100,000 for the last remaining abortion clinic in South Dakota. "You want to talk about feminism? I don't know many other brands out there that would put the word abortion in their comms, never mind raise $100,000 for abortion clinics, never mind one of the perks in that campaign being an abortion. We allow you the right to buy another woman's abortion directly. That's pretty f*cking feminist," she says. "The money was a part of it, but I think it says a lot when a small brand from Portland gives a sh*t about the lives of women in South Dakota. I think we need a lot more of that right now in the world, to be completely honest."

"People think we're a gay brand sometimes. I like to say that Wildfang is a gay brand, an athletic brand, and a female brand. It's all of those things."
Talking about feminism and LGBTQ+ rights necessarily means talking politics nowadays — especially since the current administration intends to curtail women's rights to health care and abortion access, aims to strip protections for LGBTQ+ folks, and, statistics and common sense suggest, encourages racism and xenophobia in the general populace. Emma acknowledges that intersectionality is key in our current political and social climate and actively works to make sure Wildfang represents that, from its diverse choice of models to events held at the stores to even the way she describes the brand.
"People think we're a gay brand sometimes. That's a label that I've heard being described for Wildfang, and I like to say that Wildfang is a gay brand, an athletic brand, and a female brand. It's all of those things," she says.

That vulnerability and inclusivity extend to the community around Wildfang as well. In Portland, the two store locations also host Free Speech events wherein six women or genderqueer folks, often of the LGBTQ+ community or communities of color, tell personal stories with a message. "We don't prep their talks beforehand. We don't give them prizes. It's just really about trying to save space for people to share stories that matter to them," Emma says. "Especially in Portland, it would be all too easy to just have a straight, white lineup, and so the event is very diverse. It's very representational of all women, very inclusive. And so you just get these incredible, incredible stories. They're all on our blog."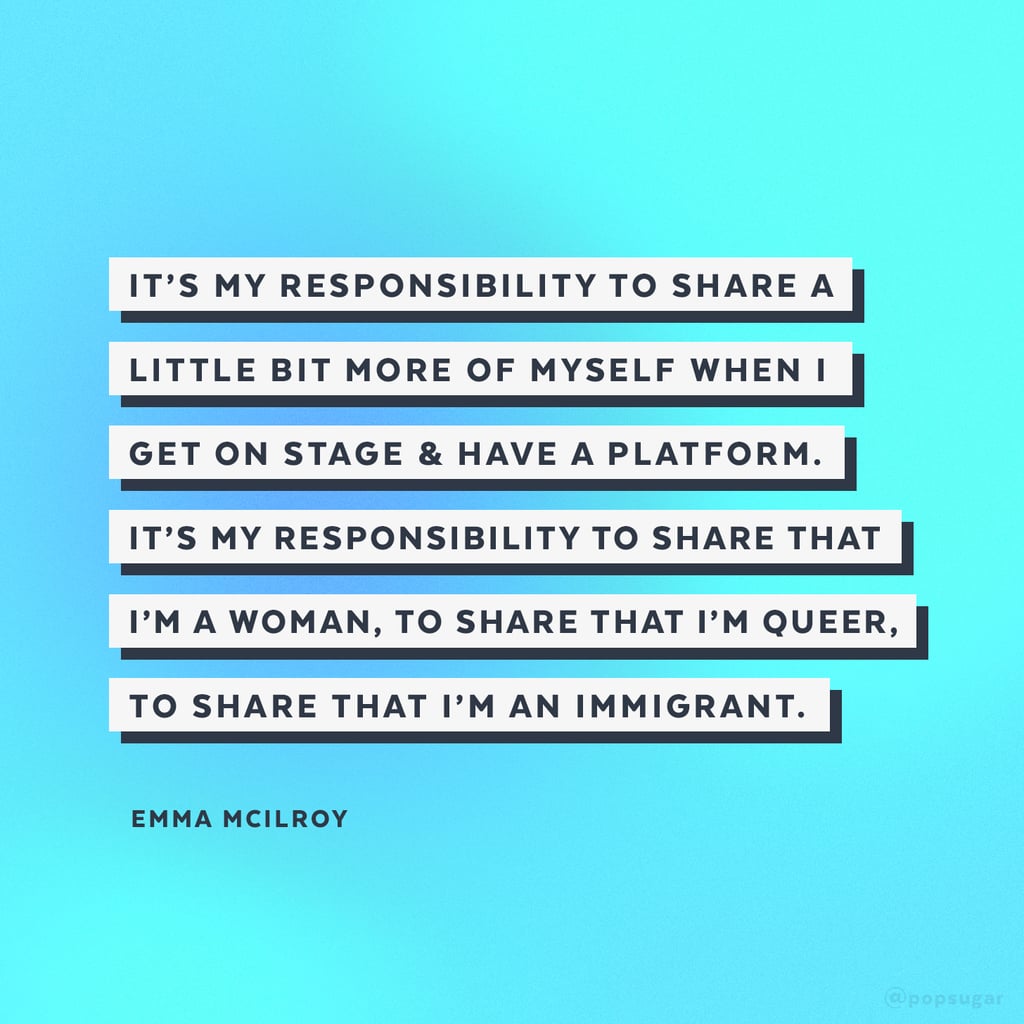 Connecting with other people, much as Free Speech encourages, is one of Emma's favorite parts of her job. "We have a really rad fan base, and it's the emails when somebody is like, 'I've never felt comfortable shopping anywhere before,' or, 'Yeah, I live in the Midwest and the election nearly killed me, and being able to wear your Wild Feminist shirt to work the next day just made me feel a bit bolder and stronger.'"

When it comes to the younger generation, Emma full-heartedly believes in them, too. "Gen Z is the most fluid generation we've seen yet," she points out. "They are going to reinvent so many things in terms of ethnicity, sexuality — just so many things. I think it's an exciting time to watch that generation come through."
For her part, Emma also helps to educate that younger generation. Women and LGBTQ+ folks are stepping forward into the spotlight more often now, but representation still matters in a big way.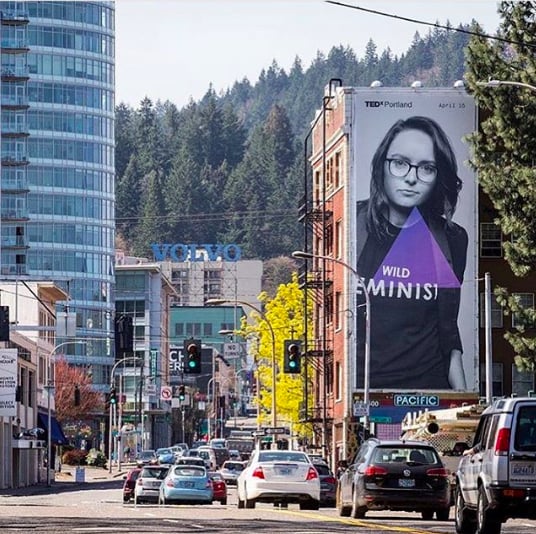 Image Source: Courtesy of Emma Mcilroy
Emma's wife, Sarah Briggs, reminded her of that earlier this year prior to Emma visiting a high school for a speech. She told her, "You're really privileged. You have epic privilege. If, as a kid, I could have seen you — if I could have seen a young, queer, female CEO — it might have changed my whole life. I might have done something different, all because I knew that you existed."
"As soon as she said that, I just realized what a sh*thead I was being and what a huge privilege it is to run Wildfang, what an honor and privilege it is to have the platform and community we have," Emma recalls. "It's my responsibility to share a little bit more of myself when I get on a stage and have a platform. It's my responsibility to share that I'm a woman, to share that I'm queer, to share that I'm an immigrant. I think I'm really fortunate to have a huge responsibility to, essentially, kick down the door for every woman that looks like me to come behind me."
The future continually comes up throughout our talk. As for Wildfang, the near future involves the just-opened Soho store, finding a lease for a location in LA, and more celebrity partnerships to come. Further out, Emma envisions 15 stores across the US, being known as the go-to brand for menswear-inspired clothing and raw, bold graphics, and making Wildfang into the best place to work.
"We're hustling just like everyone else. People love working with us and love working for us, but they love us because of the mission, because of the environment, and I want to be able to create the best-paying jobs in the market and the best-paying benefits. I think, if you want to talk about oppressed communities and marginalized communities, at the end of the day, it all starts with economic impact and money."
In addition to the future of the brand, Emma looks forward to the next generation, to the next presidency, to the next next. Making a real impact starts with acknowledging the flaws of the present and the past to fix them and avoid them from here on out. Whether she encourages those changes by donating to charities like the Tegan and Sara Foundation, providing opportunities to people generally overlooked, or making herself and her success visible, Emma continues to push for the better.
She also adds one more cheeky hope for the next couple of years: "A new president — you could put that in writing for sure. A queer, black, female president."