Lack of Plus-Size Models in Victoria's Secret Fashion Show
Something's Missing From the Victoria's Secret Fashion Show, and You Already Know What It Is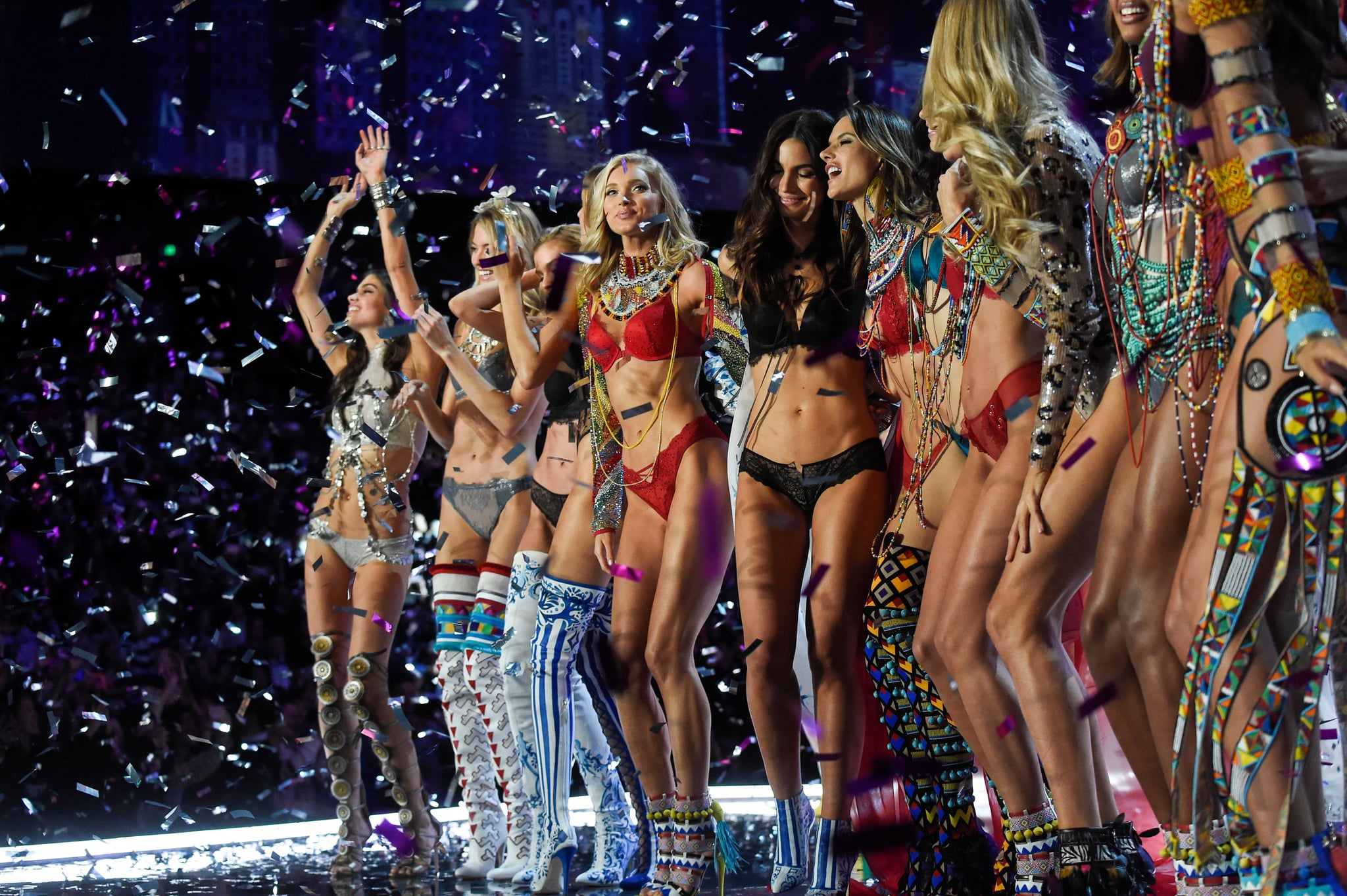 Image Source: Getty Images/Fred Dufour
The last time I walked into Victoria's Secret and treated myself to red silk coordinates for Valentine's Day, it was because I wanted to feel sexy. That's what I love about the brand: it encourages women to embrace their inner sexiness, and I think that's important. Whether it's buying a new push-up bra or investing in one of the signature VS body scents, a woman should make herself feel desirable by shopping for underthings, if that's what she wants. At Victoria's Secret, there are so many high-quality pieces that cater to a wide range of tastes. Every time I walk into the store, my eyes widen at some sort of luxurious looking lingerie set (I really love shopping for lingerie).
Maybe I made the wrong selection on this aforementioned Valentine's Day. The push-up bra, strappy panties, and satin sash that was somehow supposed to wrap through a loop somewhere, then crisscross around my midriff and tuck into the waist belt (What?) ended up being a $150 look I simply couldn't pull off. I definitely didn't look like Lily Aldridge in this thing, but according to the images on the website, it should've been at least possible to wear correctly. Even though I bought the right cup size and I definitely know my waist measurements, the ensemble just wasn't right for me. It just didn't fit — my confidence level, more than anything.
At this point, I have exactly three unused Victoria's Secret gift cards tucked away in my wallet, and there's a good chance they've expired. It's not because I forgot about them — those glittery pink rectangles stand out way more than my office building entry pass and even my Frozen-themed Disney Visa. And it's not because I don't like Victoria's Secret. But the image the brand has projected lately and the lineup of Angels — all of whom have virtually the same figure — feel a little bit discouraging.
That's not to say I don't look forward to the annual VS runway, or that I don't understand the excitement behind finding out who's opening each section of the show. If you follow celebrity relationships and you love the personalities of all the different models, it's always interesting when one of them is best friends with the performer (Remember Karlie Kloss and Taylor Swift's adorable interaction in 2014?) or if, perhaps, the dude singing on stage is the hot new Angel's ex (flashback to Bella Hadid and The Weeknd). With all the glitz and the confetti that falls on the scene, this spectacle is a form of entertainment, and it's damn fun to watch. But it's impossible to ignore how similar the women all look as they strut on by.
The Prototypical Angel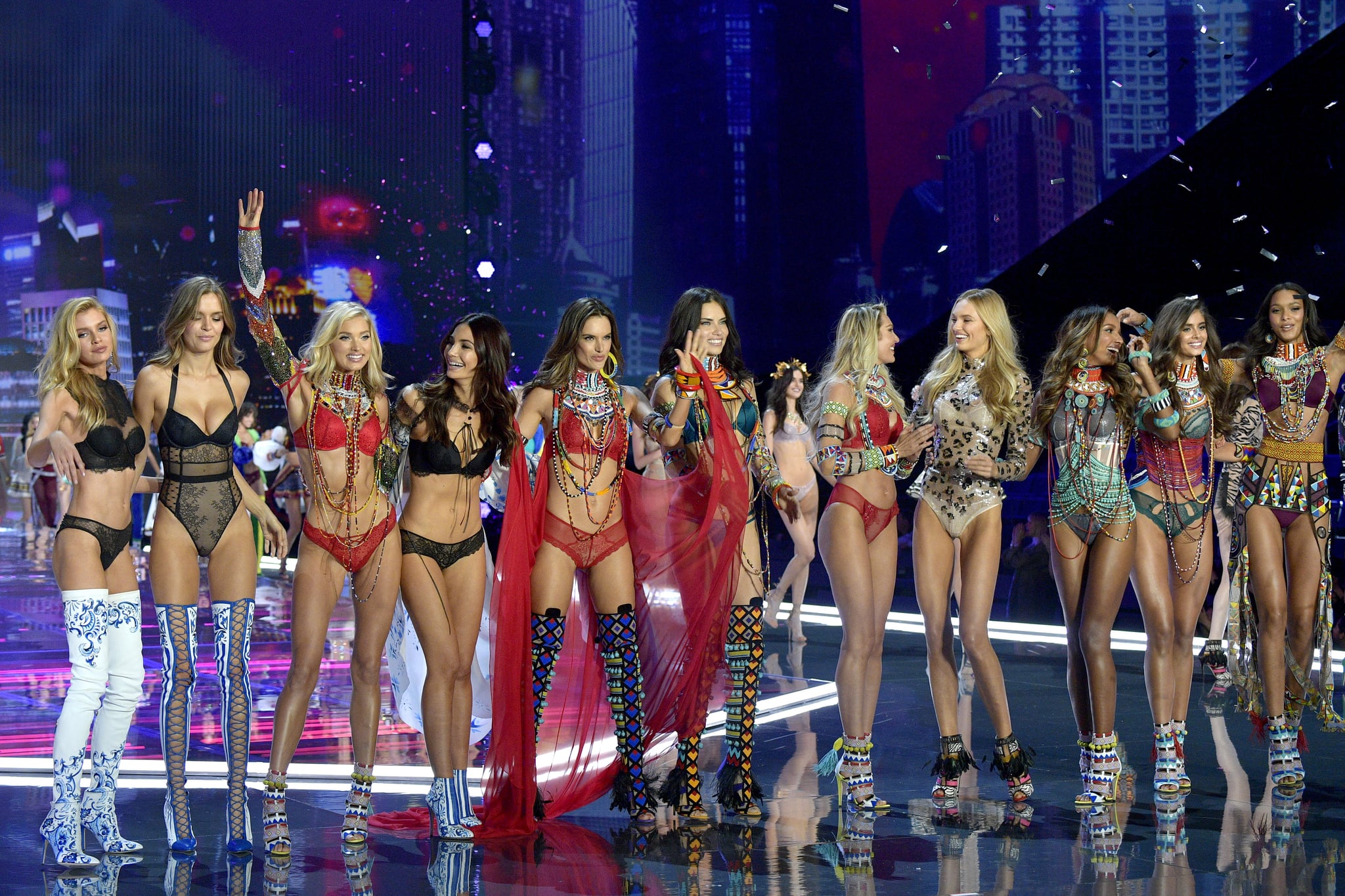 Image Source: Getty Images/Matt Winkelmeyer
I've met a lot of Victoria's Secret models in the flesh, and they really do look exactly like you see in the pictures. They're really that tall; they really have that flawless skin, the hair you want after a visit to the salon but never end up with, and that toned-enough-for-a-six-pack but thin-enough-to-look-capital-S-skinny ab situation. They really don't appear to have any cellulite.
Of course, these women have access to camera-friendly, air-brushed makeup and quality body glitter and cover-up, and I haven't seen them all in a thong, but I've seen a bunch of them wearing little to nothing up close and attended the Victoria's Secret Fashion Shows. I can promise you that my body looks so different from theirs in lingerie, I might as well be another species.
And here's the thing: I'm petite, and while I have athletic legs, I am not particularly curvy. What about the women who are? Do they want anything to do with Victoria's Secret? Do they feel angry at or limited by the photos of the Angels on the retailer's site? Do they roll their eyes at the girls on the runway or feel saddened by the lack of diversity? My guess is that, like me, they do.
Where Are All the Curve Models?
Victoria's Secret is America's largest lingerie company. It's owned by the Les Wexner and family business L Brands, which has a current net worth of $5 billion. It's everywhere — plastered on one of the biggest billboards in Times Square, on your TV screen, and in the pages of the magazines you read.
While the runways at Fashion Week are continuing to become more diverse — at Christian Siriano, Chromat, and Prabal Gurung, to name a select few — there is still no cemented acceptance of difference in the fashion industry, only the possibility of acknowledgment. Many designers make an effort by including just one curve model on the runway. In my opinion, that is absolutely not enough. But at Victoria's Secret, there isn't just one curve model — there are none.
In Victoria's Secret's defense, the brand has made it a point to include women of color and various backgrounds and ethnicities in its casting — both on the runway and in shoots — but they still all seem to fit a certain "look," as far as size is concerned.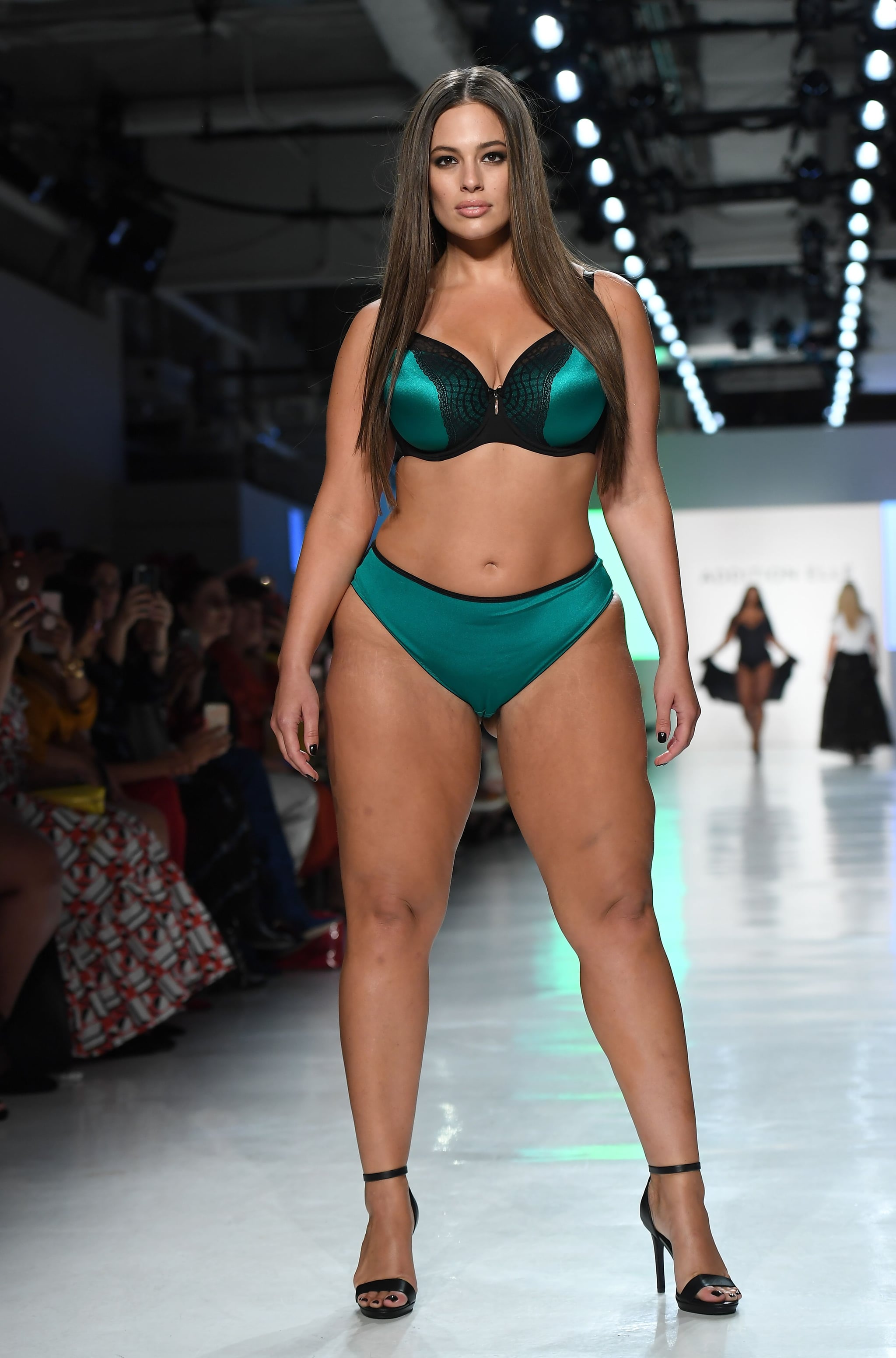 Image Source: Getty Images/Angela Weiss
Curve models with large social media platforms have publicly acknowledged, in various ways, that they realize they don't fit the Victoria's Secret mold. It was Ashley Graham who, in 2017, posted a photo of herself on Instagram modeling for Addition Elle, a size-inclusive lingerie brand she works with and designs for, on the exact same day the VS show was being filmed in Shanghai. She wrote, "Got my wings! My #AdditionElle wings! #ThickThighsSaveLives." Curve model Tabria Majors has also re-created Victoria's Secret campaigns in order to "revisit the conversation of average-sized women being represented in mainstream media."
Of course, we can't be positive that Ashley Graham was taking a jab at the brand, but she was certainly comparing another popular lingerie line to the powerhouse that is Victoria's Secret. I've been to an Addition Elle runway show, which includes models of all shapes and sizes, and there's something so comfortable about seeing them debut the new bras and panties. When they walk, their butt cheeks jiggle. A lot of them have gorgeous pear figures, and they're rocking flattering bustiers or camisoles that accentuate and draw attention to body parts of their choice. "Yeah," I thought when I saw them. "That's what I look like in lingerie." And these girls do look just as confident as the likes of Alessandra Ambrosio and Adriana Lima, who are VS vets that strutted their stuff for years.
I'm definitely not the only one in fashion who notices this clear juxtaposition. Director of Vogue Runway Nicole Phelps uploaded a row of diverse runway shots on the day of the 2017 VS show, all of which celebrate diversity in body type, age, and clothing taste (i.e., modest dressing). "In honor of the Victoria's Secret Fashion Show, a reminder, courtesy of Chromat and Becca McCharen-Tran, that the battle for true diversity on the runway is ongoing. #SizeDiversity," she wrote.
Is Time Running Out?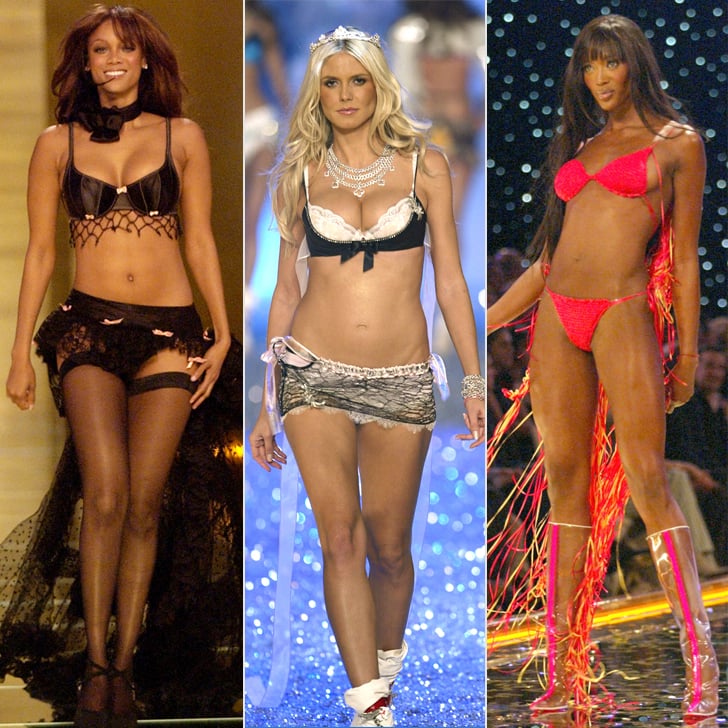 Image Source: Getty Images/KMazur/WireImage // Getty Images/Frank Micelotta // Getty Images/Gregory Pace/FilmMagic
Has Victoria's Secret always been lacking in size diversity? Well, not exactly. Throughout the years, there have been some iconic Angels, such as Naomi Campbell, Heidi Klum, and Tyra Banks, who were more shapely than shockingly thin. But as the years passed and these supermodels hung up their wings — Naomi and Tyra in 2005 and Heidi in 2009 — the media began to embrace an increasingly svelte woman. Victoria's Secret put her on a pedestal by featuring this idealized figure in all its ads and certainly on all its runways. This single-track version of unattainable perfection is what Victoria's Secret continues to publicize today.
That's why sometimes, on days I feel a little more self-conscious than others, walking into a Victoria's Secret can feel daunting. If I do happen to feel sexy, I'll probably march right into the store and see if my gift cards have expired and whether I still have a balance left to use. But it won't be on the same day as the Victoria's Secret runway taping, nor the day the sparkly, mystical extravaganza airs on CBS. Probably not the day after either. That's because, in a way, I feel excluded from that runway — as though that very limited idea of beauty doesn't apply to me. Not one of those girls is 5'1" with athletic thighs and a double A cup. Can you imagine how many other women and girls feel discouraged, too?
A company as big as Victoria's Secret can and should have an answer for the rest of us, and it should start with the spectacle that is the runway show. It didn't happen in LA in 2006, in Miami in 2008, in London in 2014, nor in Paris in 2016. In 2017 it didn't happen in Shanghai, and not in 2018 in New York. The model lineups on those catwalks all looked the same to me. I don't know about my gift cards, but I wonder: what's the expiration date on this same old show where body diversity is never a theme?