Alicia Silverstone Clueless Super Bowl Ad 2023 | Video
Alicia Silverstone Gives Cher's Best "Clueless" Outfits a 2023 Makeover
Cher Horowitz has been a shopping expert since 1995, and she's back with some major styling tips. Ahead of Super Bowl LVII, Alicia Silverstone partnered with cash-back shopping app Rakuten for a "Clueless"-inspired ad spot released on Feb. 6. "I used to be pretty clueless about shopping," Silverstone says as she steps up for debate class nearly 30 years after Cher's onscreen debut. In the video, she's wearing an updated version of the character's classic plaid blazer and yellow miniskirt.
"People are still into the fashion 25 years later, and it influences so many designers today and yesterday."
The modern take on Cher's ensemble comes courtesy of Christian Siriano, Silverstone's longtime friend and collaborator. The two-piece set — an homage to "Clueless" costume designer Mona May and director Amy Heckerling — features a black and yellow plaid blazer with red accent pinstripes and a matching skirt. In place of Cher's sunshine-yellow cardigan, Siriano layered the blazer over a white scoop-neck T-shirt. He styled the look with a crystal necklace featuring the fictional high schooler's first initial.
"Christian always dresses me beautifully, so I knew that he'd know how to do this, and I think he did a beautiful job," Silverstone tells POPSUGAR of the designer, who made a cameo in the ad. "He did such a good job with it because it was more schoolgirl and now it's a little bit more sophisticated and edgy because obviously I'm not 17."
Silverstone explains that Siriano also helped deepen her personal appreciation for fashion. "I feel like I'm in the presence of an artist," she says. "I'm so inspired by him, and I feel really safe because I love his vision."
With "Clueless" going on 28 years old, it only made sense to revitalize Cher's wardrobe. "I think many of us would agree that Cher is one of film history's most iconic shoppers," Silverstone says. "People are still into the fashion 25 years later, and it influences so many designers today and yesterday, and it's just been going on and on. Every year I hear from someone, '"Clueless" is really in the fashion [sphere] this year,' and I'm like, 'That was last year. And it was the year before.'"
Other pieces in the commercial include Cher's red sweater vest, her black and white miniskirt, and a fresh take on one of the character's few denim outfits. Silverstone was even able to keep a few pieces from the shoot. "Stella McCartney has these loafers with these big gold chunky bits on them, and I took those ones home and I can't wait," she says of the shoes, which her stylist paired with the sweater vest. "I've worn them once, and they're really cool." The three updated ensembles will make their runway debut at Siriano's ready-to-wear show during New York Fashion Week on Feb. 9.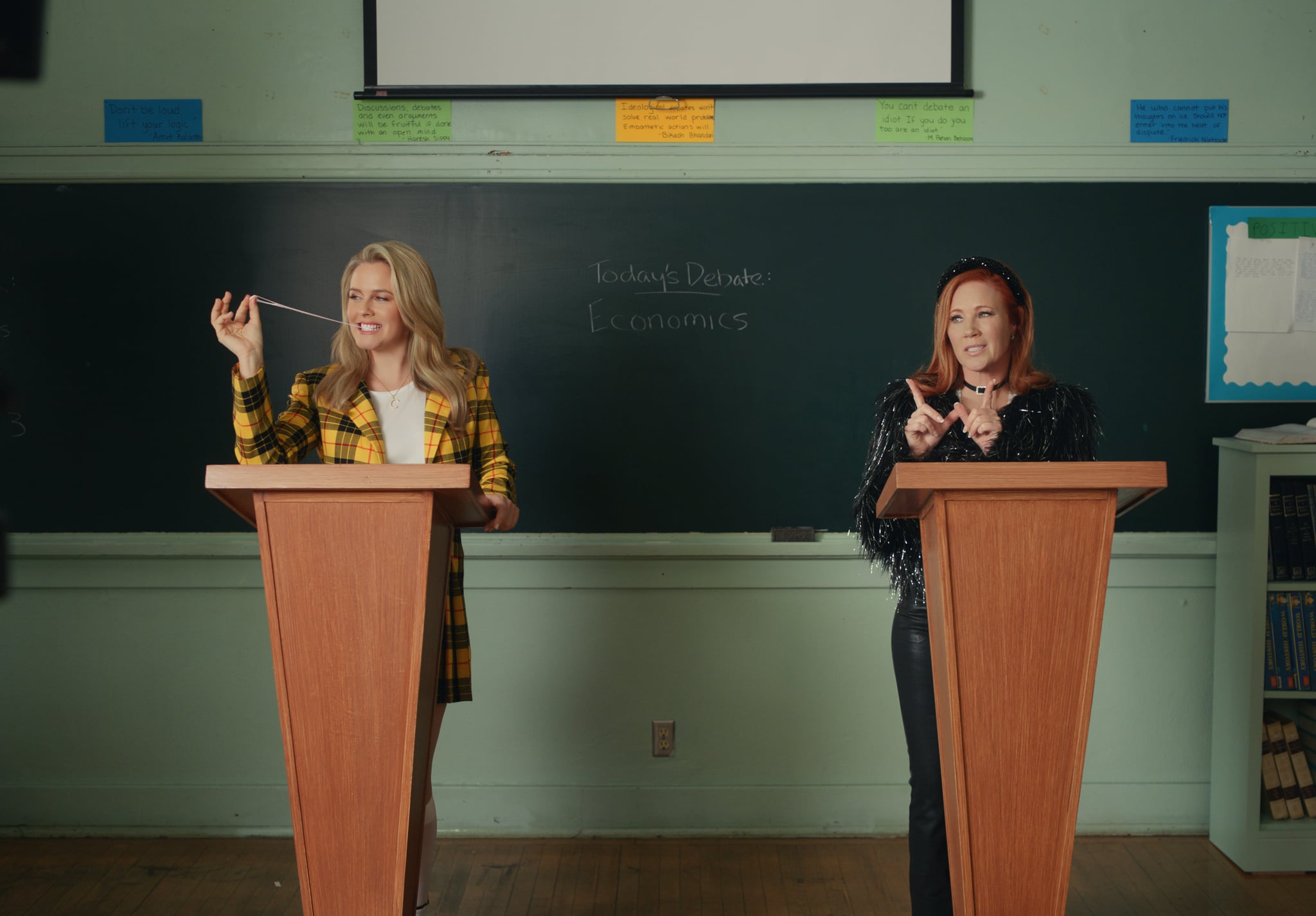 Image Source: Rakuten
During our interview, Silverstone wears black jeans, a preowned sweater, and a jacket sourced from The RealReal. "I like to imagine that I look very French chic, but I'm sure Christian would argue that that is not true," she jokes. While Silverstone does not consider herself as fashion savvy as Cher — ultimately keeping her distance from style trends — her personal wardrobe does present one defining theme: sustainability.
"I am really a conscious consumer," Silverstone says. "[Cher] had a heart of gold, and she really has an awakening in the film. So I like to think that she would also be conscious of sustainability." She adds, "I think Rakuten would really appeal to Cher getting cash back for doing her favorite activity." The app allows customers to save while they shop and earn cash back on purchases.
Adding to the '90s nostalgia, Silverstone's "Clueless" costar Elisa Donovan reprises her role as Amber Mariens in the ad. While their reunion was brief, Silverstone was thrilled to reunite with her onscreen frenemy. "We didn't get to talk very much, but we did our scene together and we had fun," she says. "We gave each other a big hug, and it was lovely to see her." A few months earlier, Silverstone also reunited with Stacey Dash, who plays Dionne Davenport in the movie.
Fans have been championing a "Clueless" reboot for years. Silverstone did not confirm whether she'd reprise her role as Cher in a feature-length film, but the 60-second Super Bowl ad gives us a hopeful glimpse of what could be.
Ahead, watch Silverstone's full "Clueless"-inspired ad, which will air during the Super Bowl on Feb. 12, and take a tour through Cher's wardrobe then and now.