As POPSUGAR editors, we independently select and write about stuff we love and think you'll like too. If you buy a product we have recommended, we may receive affiliate commission, which in turn supports our work.
If your bust is on the smaller side, you know that shopping for tops can oftentimes be a challenge. On one hand, you want to feel empowered to wear whatever you want — there's no real harm in that, right? But on the other, not all tops are created equal; stuff can either look way too baggy, make you appear flatter than you actually are, or might simply feel like a wardrobe malfunction waiting to happen. Fortunately, we understand the struggle all too well, and our editors have developed a particular expertise in understanding what the most flattering tops for a small chest are — and more importantly, where to shop them.
What Are the Best Types of Tops For Small Busts?
As with every body type or size, some styles are designed to fit better than others, and such is the case for those with smaller busts. There are a couple things to keep in mind when shopping out the best type of top or silhouette for your chest size. Because you might not have to worry about cleavage as extensively as those with larger busts, you have the freedom to wear tighter, more body-hugging pieces — like vests, corset tops, and even lightweight tank tops.
While oversize fashion might be on trend, it also brings with it a lot of extra material, which might look overwhelming if you've got a smaller bust. That being said, if you'd like to create a little more volume up top, you might opt for something with boob-lifting capabilities like a bustier or curate a more layered look with pieces like a classic T-shirt and button-down layered on top. The options are truly endless, and you'll have even more to take into consideration depending on the occasion, dress code, or season you might be shopping for; sleeveless tops are always a winner, but off-the-shoulder long-sleeve blouses are great alternatives when the temperatures start cooling down, too.
With all this in mind, ahead, we rounded up the 10 best tops for small busts, with styles that come in a wide range of silhouettes, fits, and even prices. Whether you're looking for a breezy everyday basic or a cool statement piece, we've got you covered. Keep reading to shop them all and grab your favorites while they're still in stock.
— Additional Reporting by Samantha Sutton, Krista Jones, and India Yaffe
01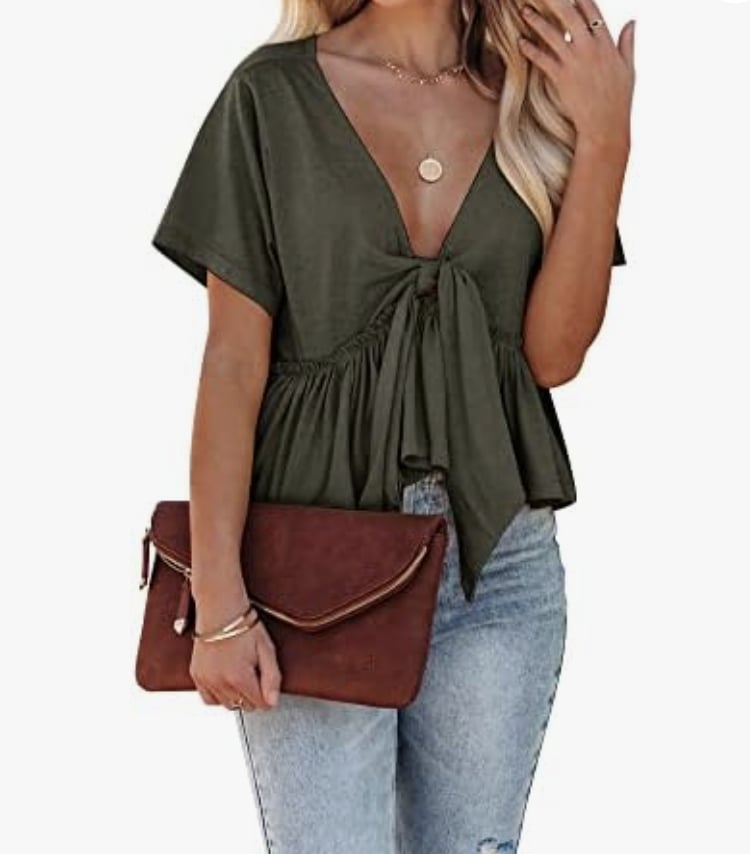 Best Blouse Top For Small Busts
Fanway&EC Short Sleeve V-Neck Blouse ($24)
According to reviews, this V-neck blouse is designed to look good on just about all body types or sizes, but it's especially flattering on those with smaller busts. The textured style features a plunging V-neckline that falls perfectly over the chest and even gives the illusion of a subtle lift up top. The olive green coloring feels so on trend for the season, and we love the versatility provided by the casual top's drawstring closure.
02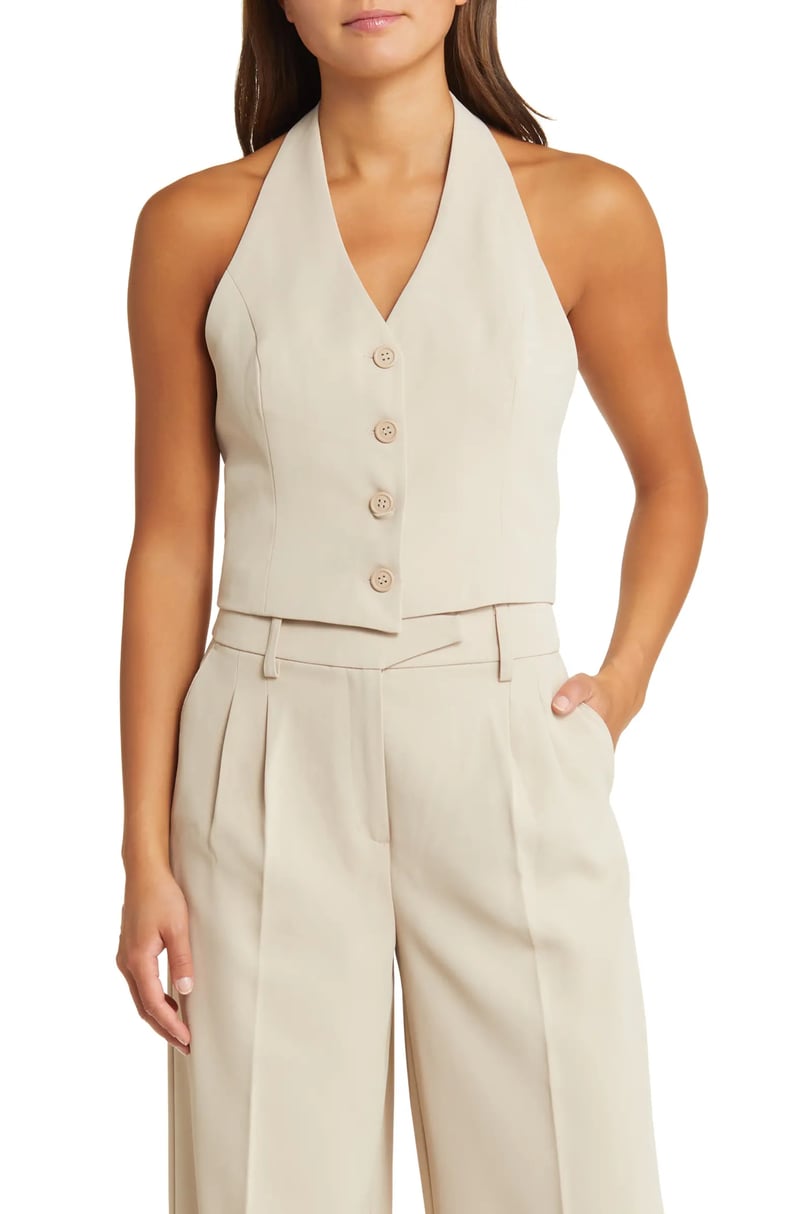 Best Vest For Small Busts
03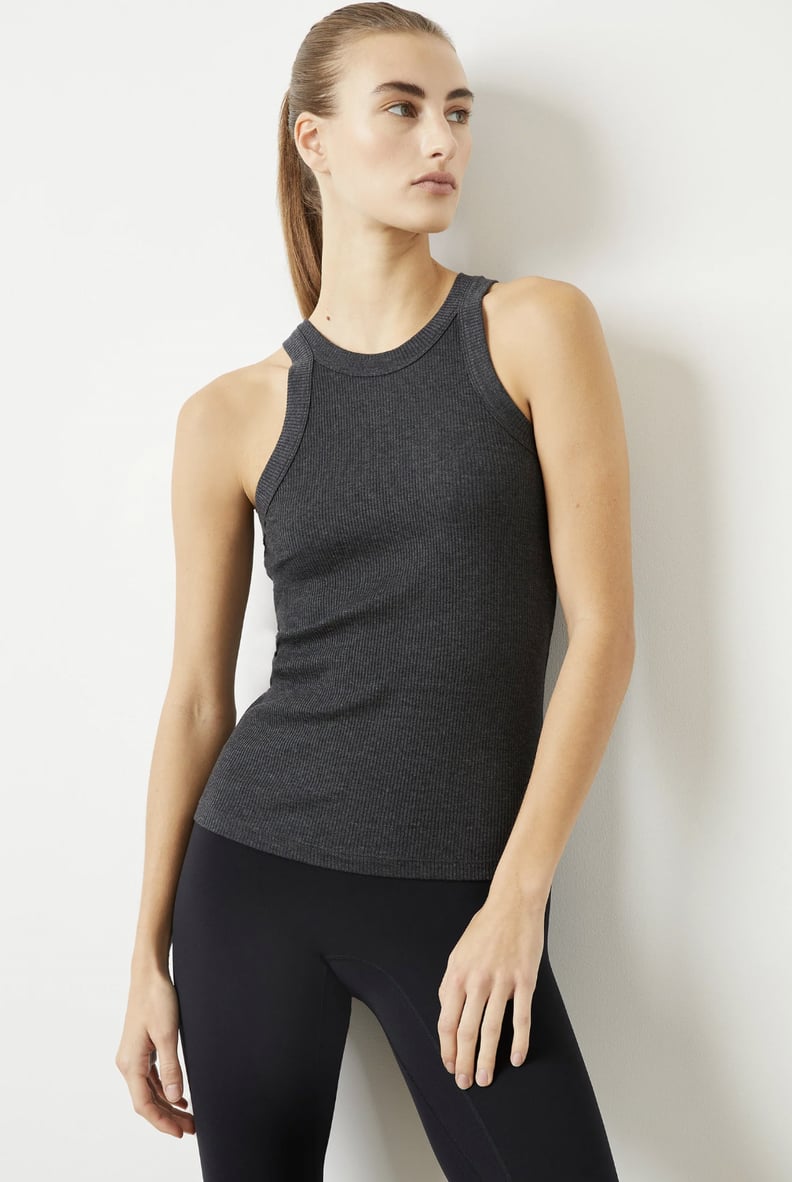 Best Tank Top For Small Busts
WSLY Rivington Ribbed Tank ($68)
A basic tank top is such a timeless wardrobe essential. The style can be worn on its own or beneath an oversize button-down or thick cardigan. We love the design of this particular piece because it boasts a high neckline design that fits so well, and the silhouette is incredibly sophisticated. Plus, if the charcoal coloring isn't your favorite, it's also available in a number of other colorways.
04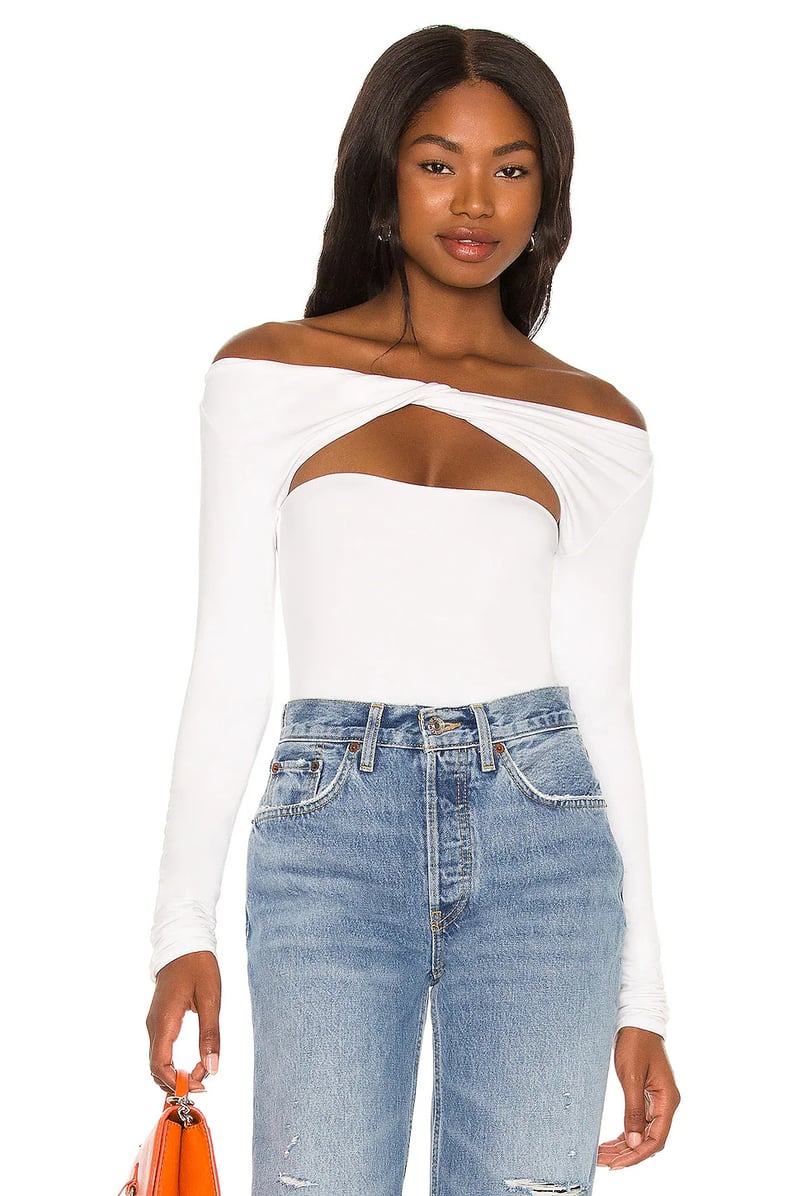 Best Off-the-Shoulder Top For Small Busts
SER.O.YA Artemis Top ($145)
We love an off the shoulder top, particularly if you've got a smaller bust, because the silhouette is designed to fit much more effortlessly on the body. This long-sleeve style is made all the more fun with its cute cutout detailing, which teases plenty of skin without feeling too revealing.
05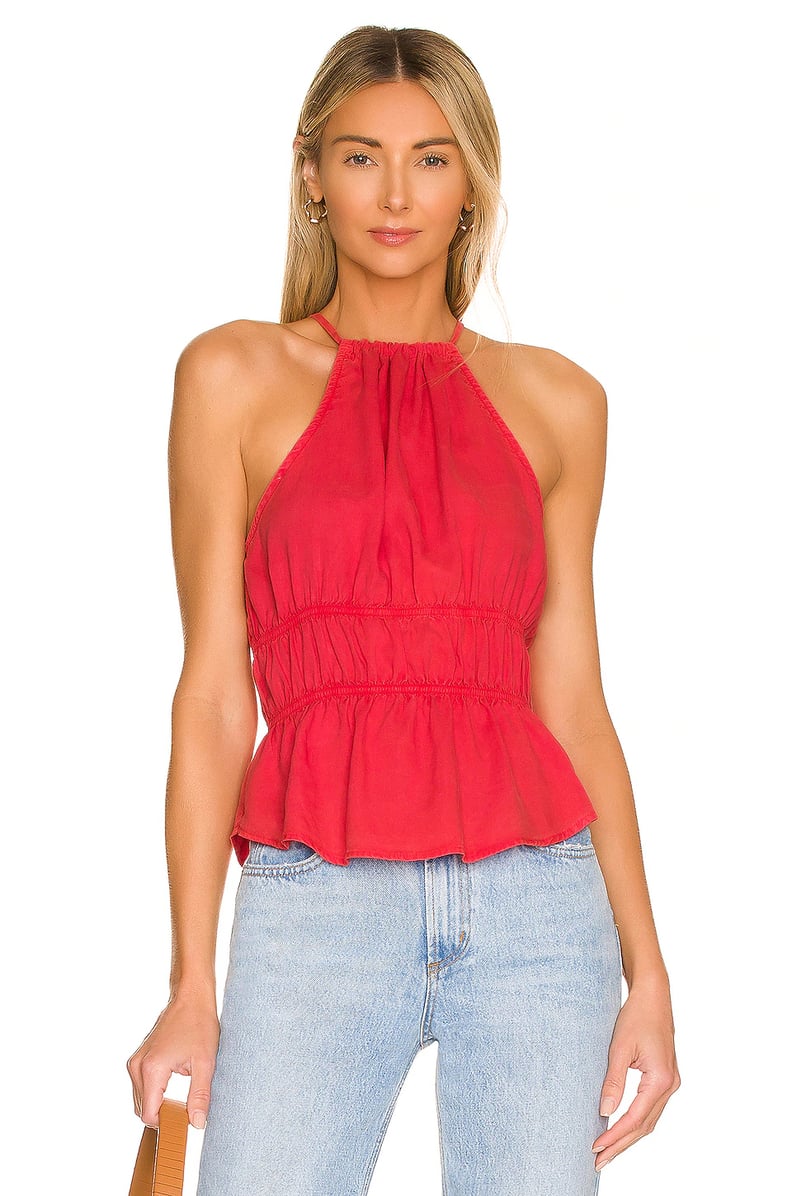 Best Halter Top For Small Busts
Bella Dahl Smocked Waist Halter Top ($110)
Halter tops are a really flattering silhouette for those with small busts, especially when they have skinny straps. We like this red-hot style from Revolve as it ticks all of our boxes and even features a cool cinched-in design at the waist which helps to create more of an hourglass look.
06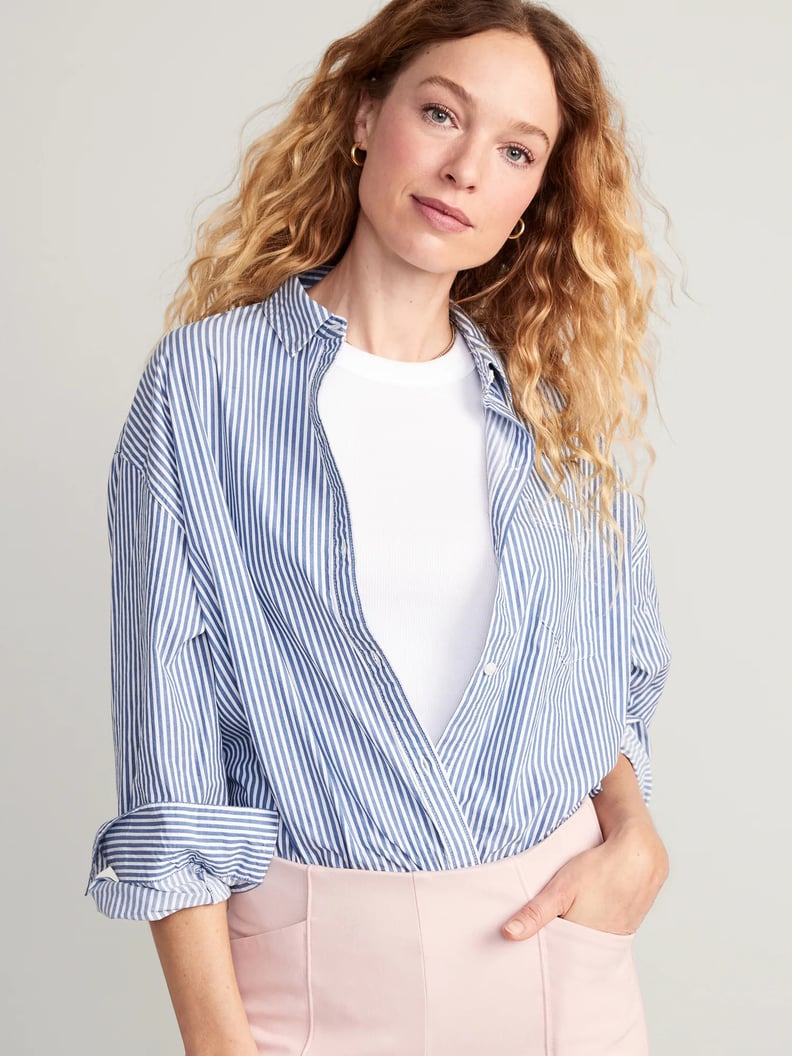 Best Button-Down Top For Small Busts
07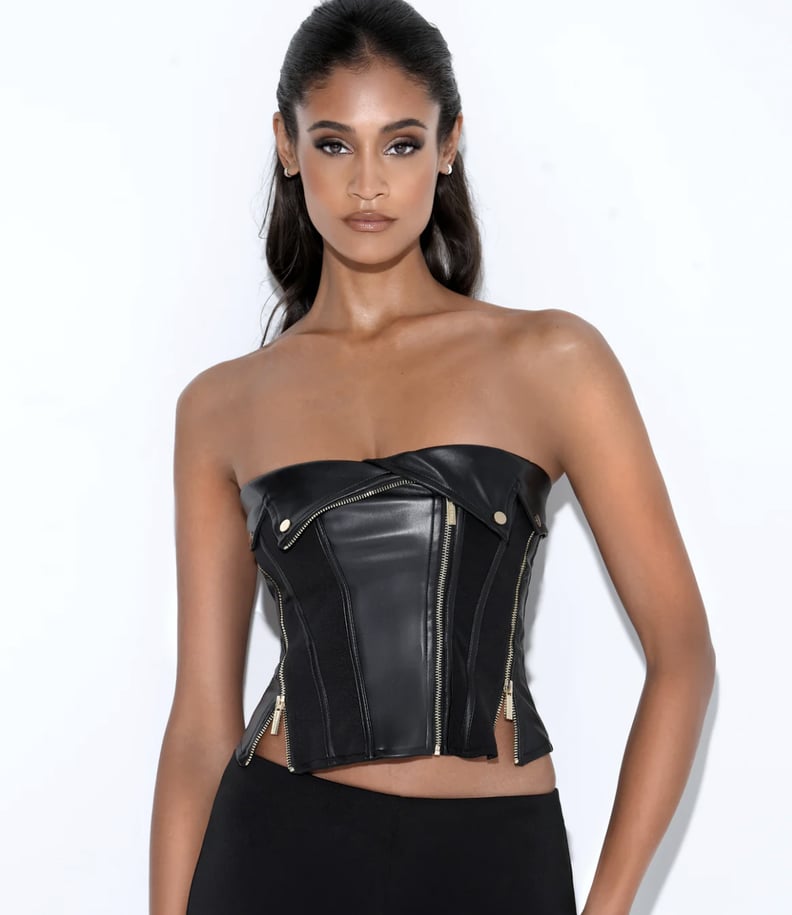 Best Corset Top For Small Busts
Miss Circle Merlina Black Vegan Leather Bustier Top ($129)
One of the biggest benefits of having a smaller bust is that you can get away with wearing something a bit tighter, as you won't have to worry about factoring in too much extra material up top. We love the design of this figure-flattering leather bustier top, which hugs the body in all the right ways and even helps to give your boobs a subtle lift. There are so many unique ways to style a corset top, so the options are truly endless.
08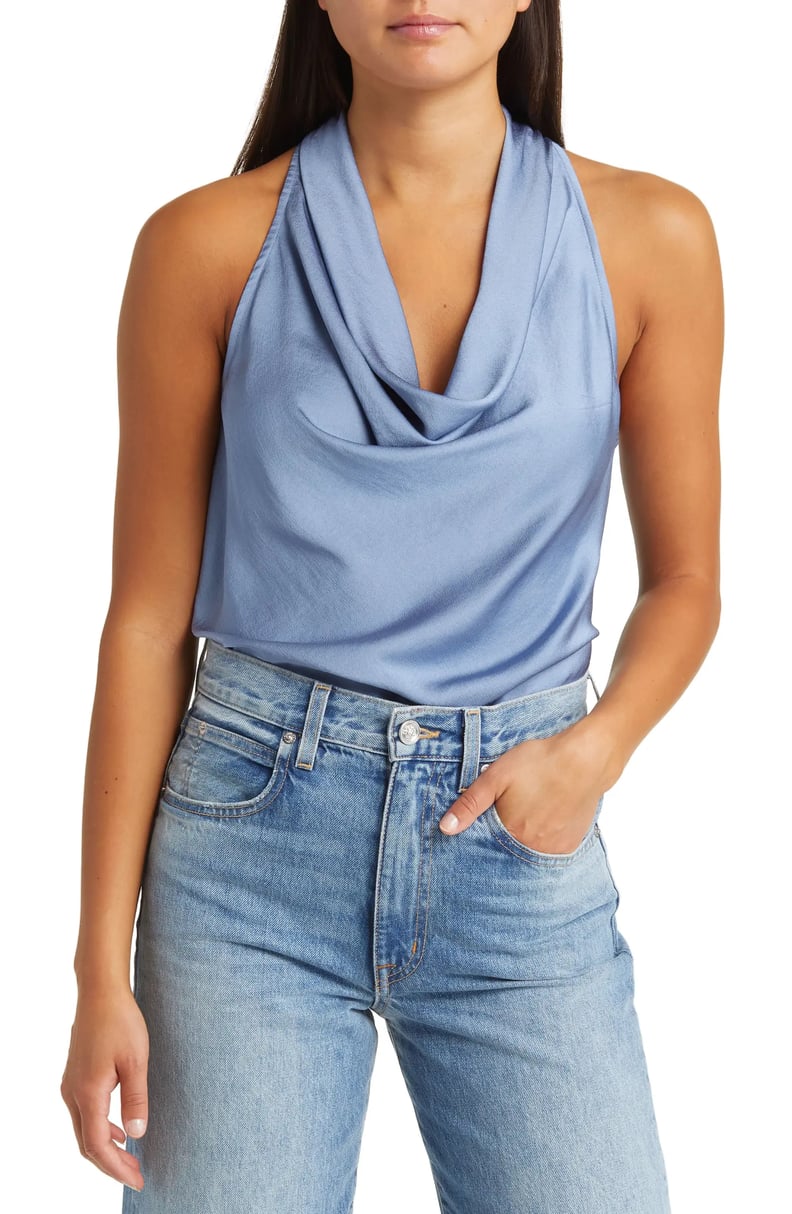 Best Cowl Neck Top For Small Busts
Open Edit Cowl Neck Satin Tank ($49)
As far as necklines go, a cowl neck style often looks the most flattering on those with smaller busts, as it adopts a more effortless drape that shows distinguishable layers. This satin style is a perfect example, and we love the piece's halter-like silhouette paired with its shimmery coating.
09
Best Camisole For Small Busts
Cami NYC The Racer Top ($175)
There's something so simple yet sexy about a classic camisole. Not only is the style supremely comfortable, but it's also perfect for those with smaller busts who prefer to forgo wearing a bra whenever possible. This particular version is elevated by delicate lace detailing along the neckline.
10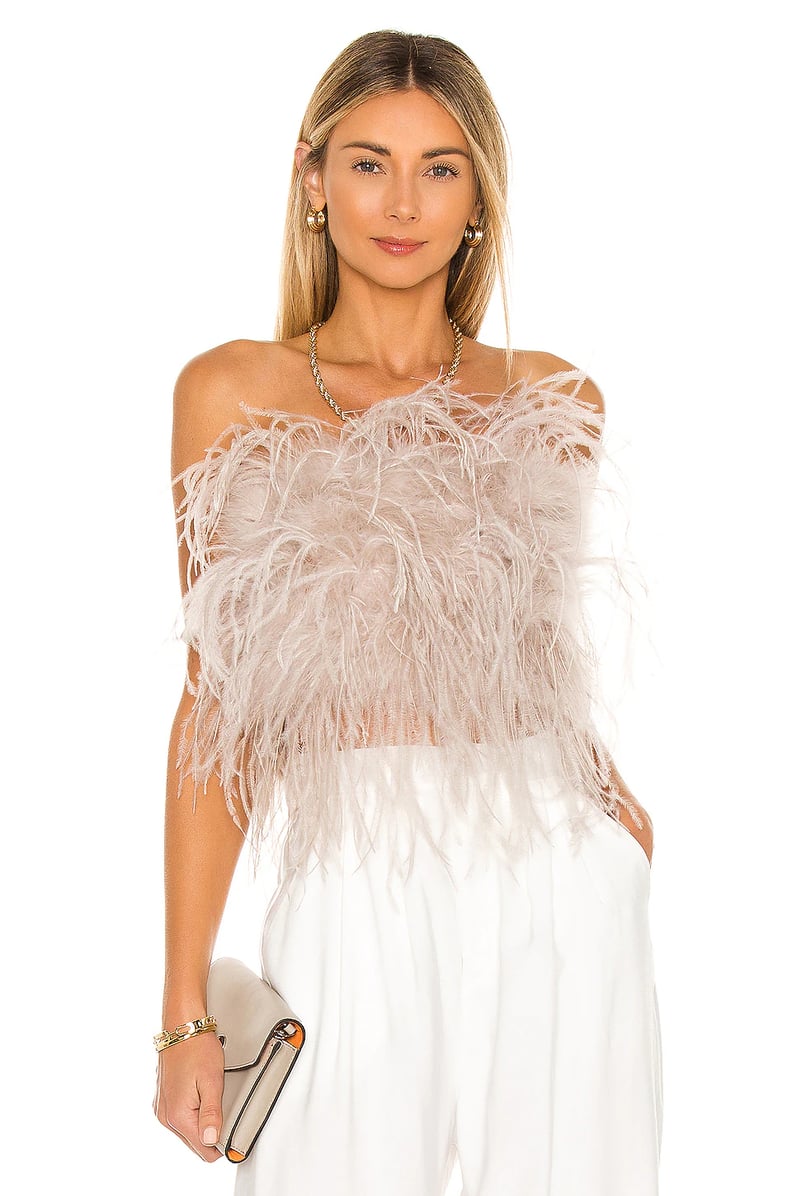 Best Stylish Top For Small Busts
Lamarque Zaina Top ($275)
No doubt you'll make a serious statement in any room while wearing this flounced and fluffy tube top. Even if you have a smaller chest or bust, this style will help to give your look some welcomed volume, thanks (of course) to its puffy feather design. The formal top comes in a bunch of colors, but we like the light pink shade best.