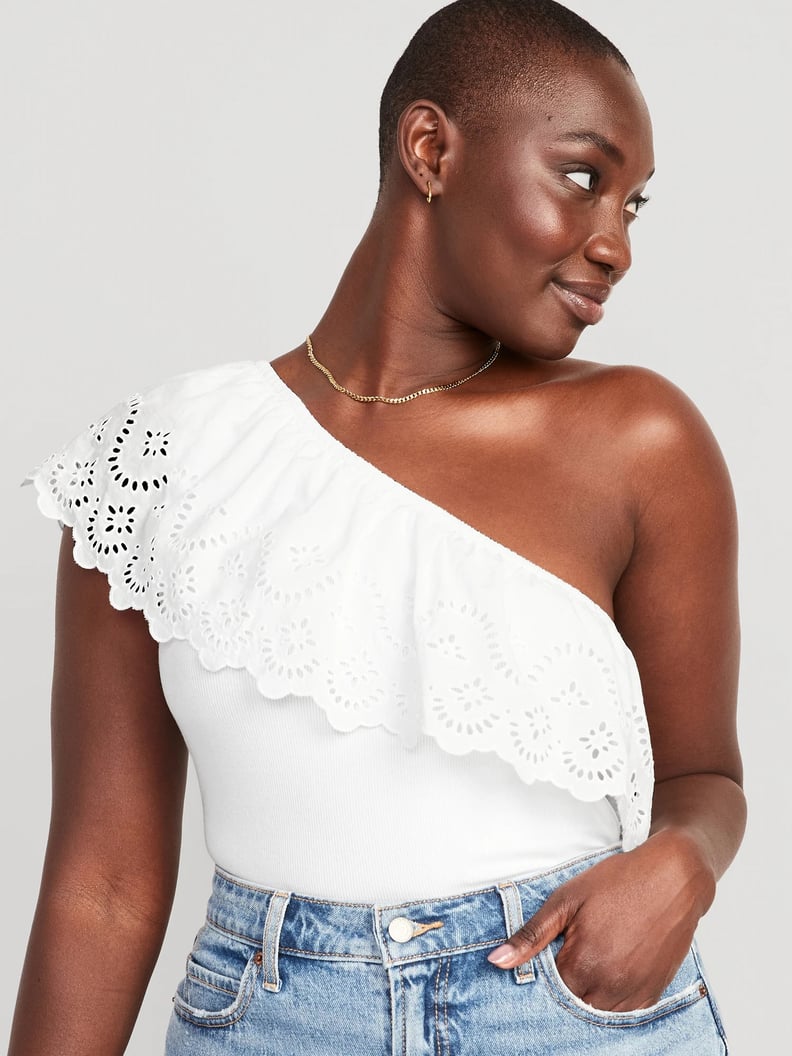 Old Navy
Old Navy
As POPSUGAR editors, we independently select and write about stuff we love and think you'll like too. If you buy a product we have recommended, we may receive affiliate commission, which in turn supports our work.
Tanks and camis are more than just essential layering pieces. On occasion (say, on a super hot day), they deserve to be the center of attention, teamed with a pair of denim shorts or distressed Old Navy jeans. Whether you prefer a halter, square neck, or V-neck, there are so many ways to style these shirts to perfection.
When it comes to warm weather tanks, Old Navy has some of the best options around. The retailer boasts everything from neutrals, boldly colored choices, and patterns to crop tops and long styles perfect for draping over a pair of trousers. Best yet, tops start at $4 (!), so you just may be tempted to stock up with a rainbow assortment to wear through summer.
— Additional reporting by Marisa Petrarca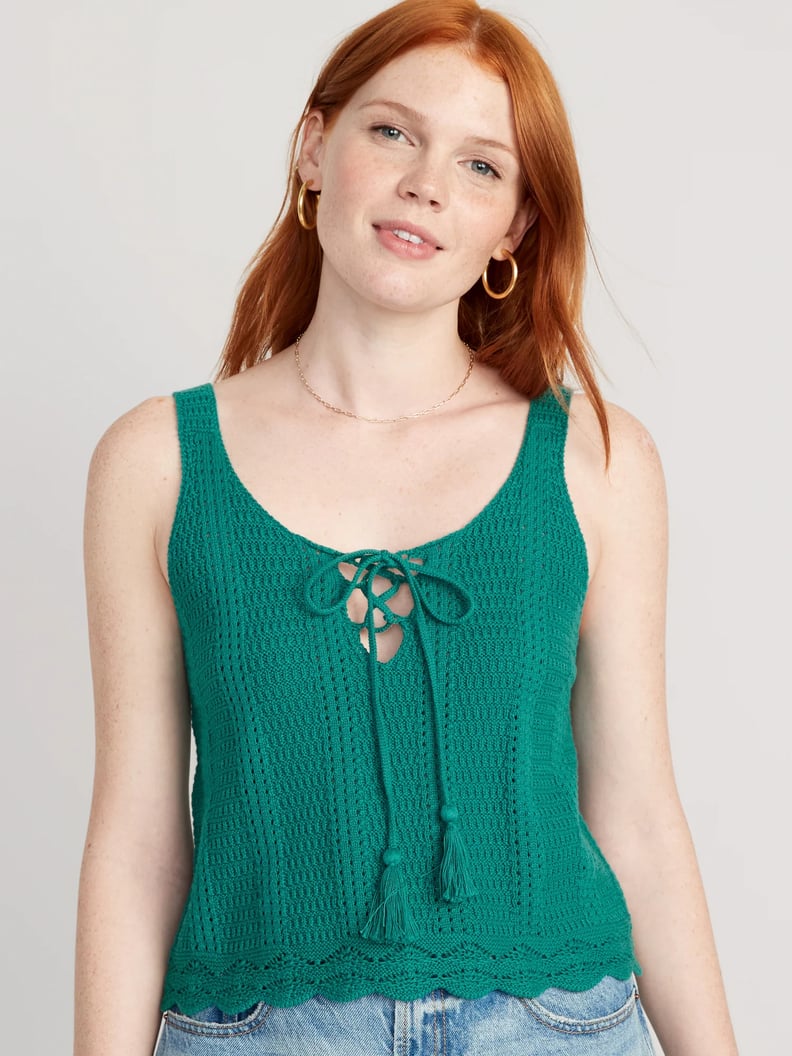 Best Tie-Front Knitted Tank Top
Tie-Front Sweater Tank Top ($16, originally $37)
This lace-up sweater tank has a '70s bohemian feel that we love. We'd wear it with gold, midsize hoops and high-waisted flared jeans to drive home the aesthetic. We adore this emerald green, but it also comes in a deep fuchsia, black, and white options. Be sure to wash it in cold water on a gentle cycle and lay it flat to dry.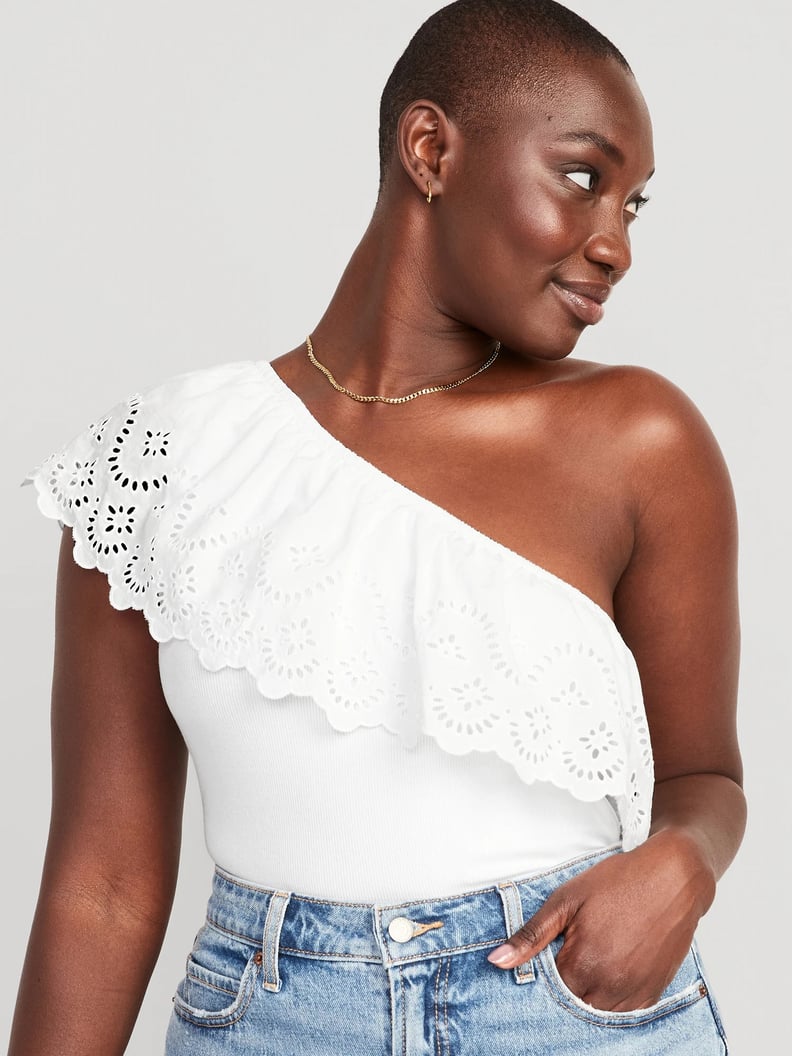 Best One-Shoulder Tank Top
Eyelet One-Shoulder Paneled Rib-Knit Top ($5, originally $25)
When you need a dressier tank, this single-shoulder, eyelet ruffled option is an unexpected departure from a classic white blouse. It's mostly cotton but has a smidge of spandex, so it's easy to tuck into pants. We love how this looks paired with light-washed jeans and heels.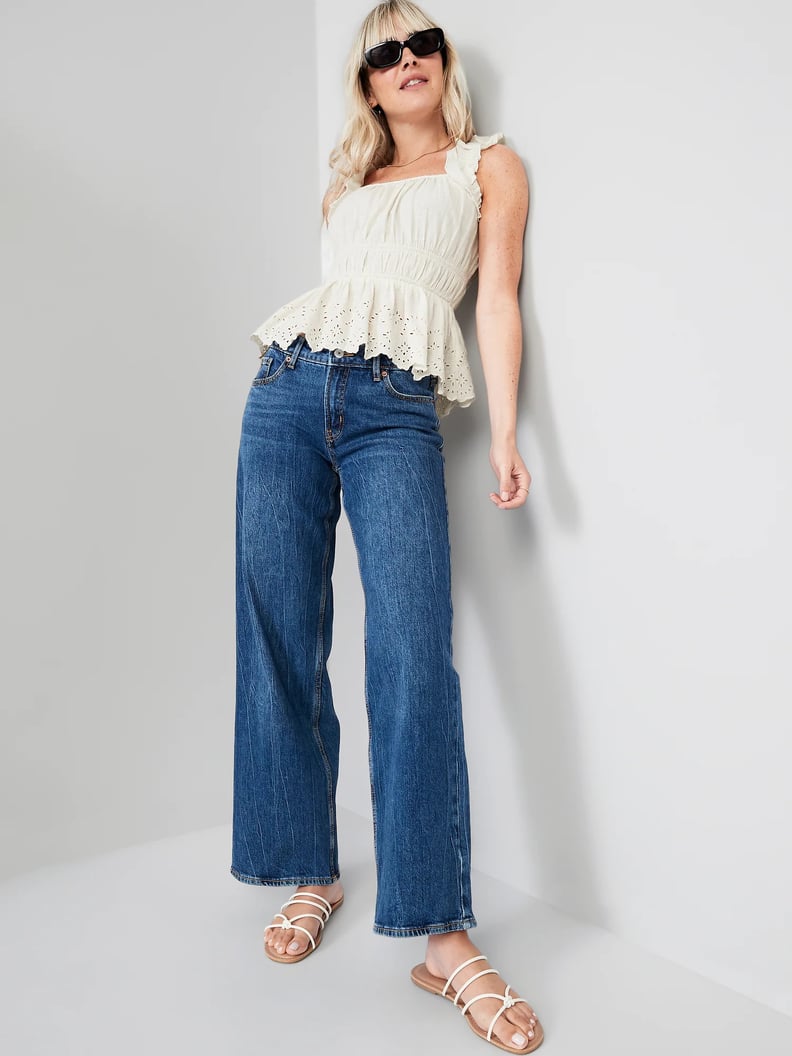 Best Babydoll Tank Top
Sleeveless Waist-Defined Ruffle-Trimmed Embroidered Babydoll Blouse ($27, originally $40)
If you prefer a ruffle of eyelet cotton along your waistline instead of across your chest, opt for this ruffled babydoll tank top instead. It's a quick way to dress up a pair of jeans and looks extra sharp with skinny ankle pants. If white makes you nervous, it also comes in black.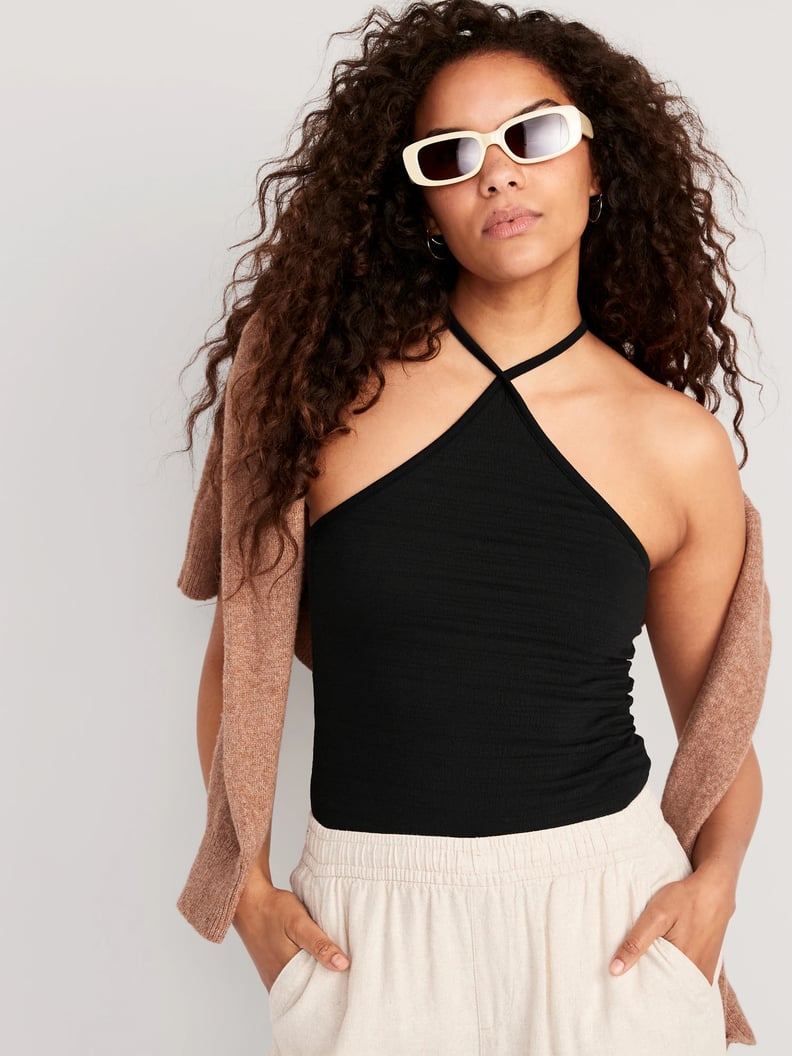 Best Halter Tank Top
Cropped Smocked Crossover Halter Cami Top ($11, originally $20)
The crossover halter straps offer a twist on a traditional cami tank. It comes in four neutral colors and looks especially great with flowy wide leg pants or skirts. It's made from a combination of cotton, polyester and spandex materials, so it hugs your body. The smocked, jacquard-knit adds texture and a subtle pattern when you look closely.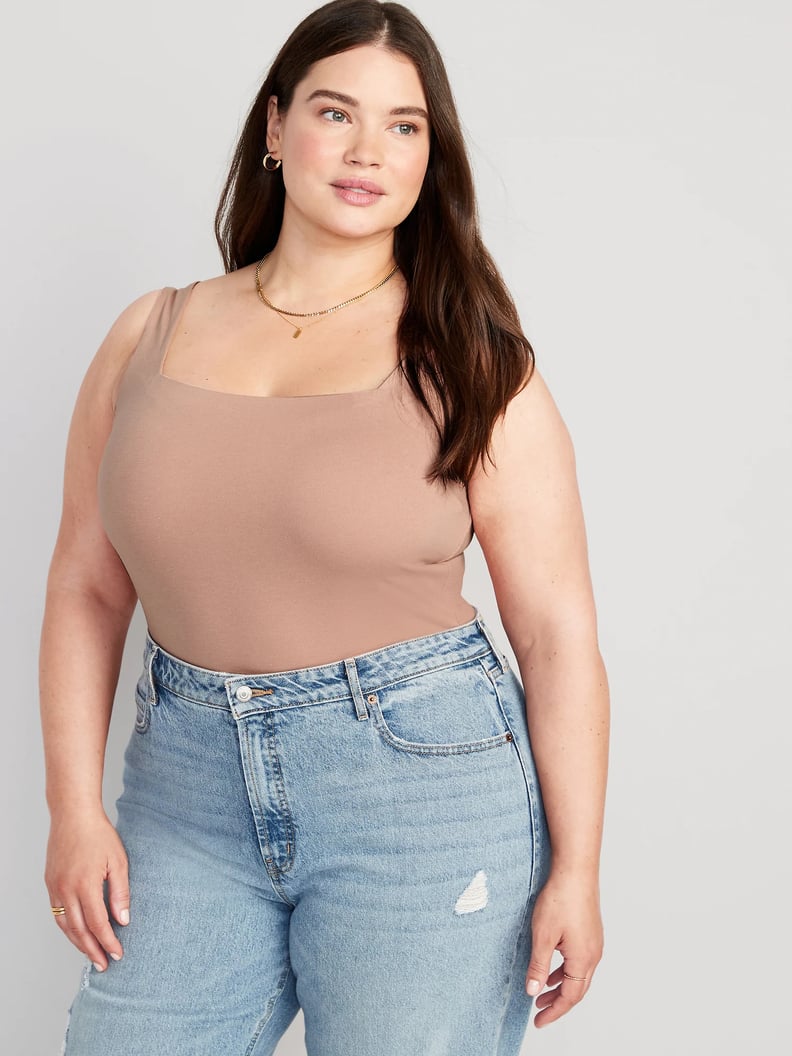 Best Square-Neck Tank Top Bodysuit
Fitted Sleeveless Square-Neck Bodysuit ($20, originally $25)
For a bodysuit that fits like a second skin, this buttery-soft square neck option is a favorite among Old Navy shoppers. It has an impressive amount of reviews (over 2,000!) and is just shy of a perfect five star average. It comes in seven different shades, so you'll definitely want to stock up.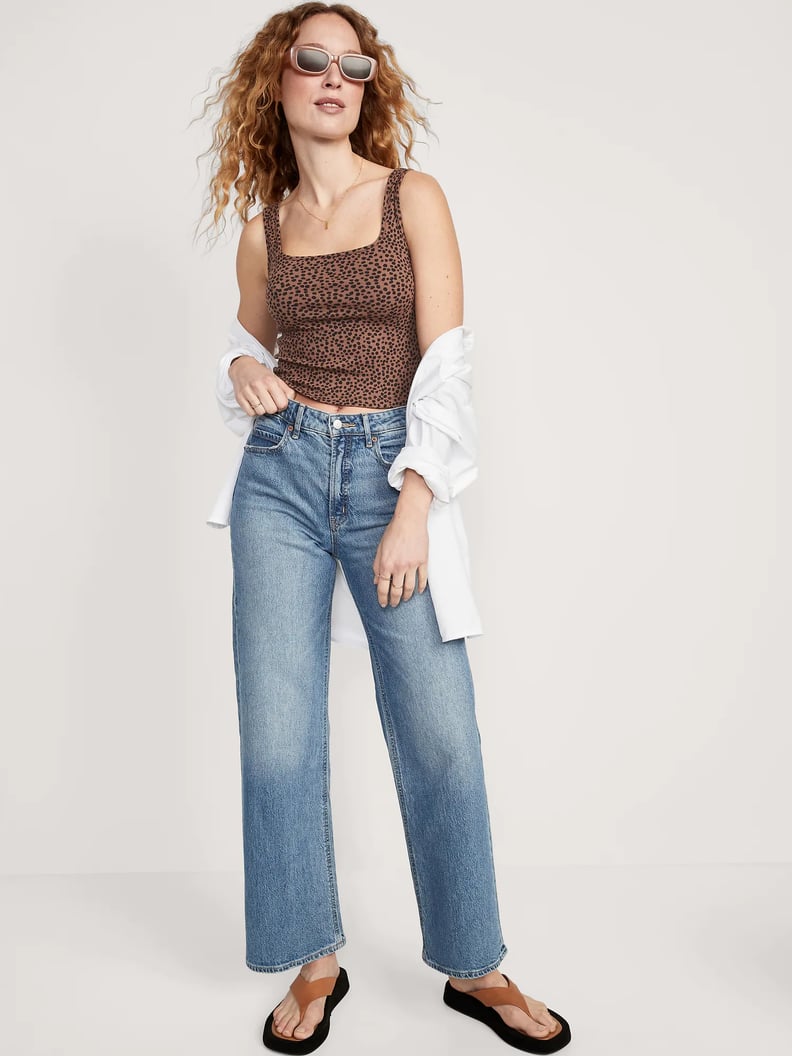 Best Cropped Tank Top
Fitted Printed Square-Neck Ultra-Cropped Rib-Knit Tank Top ($4, originally $15)
The square neck and cropped fit give this tank top a nostalgic '90s vibe. We love how the Brown Print pattern is a modern, abstract take on a classic animal print. It looks especially sexy paired with high-waisted denim and a leather motorcycle jacket for a night out or wide-leg linen trousers for a cute daytime look.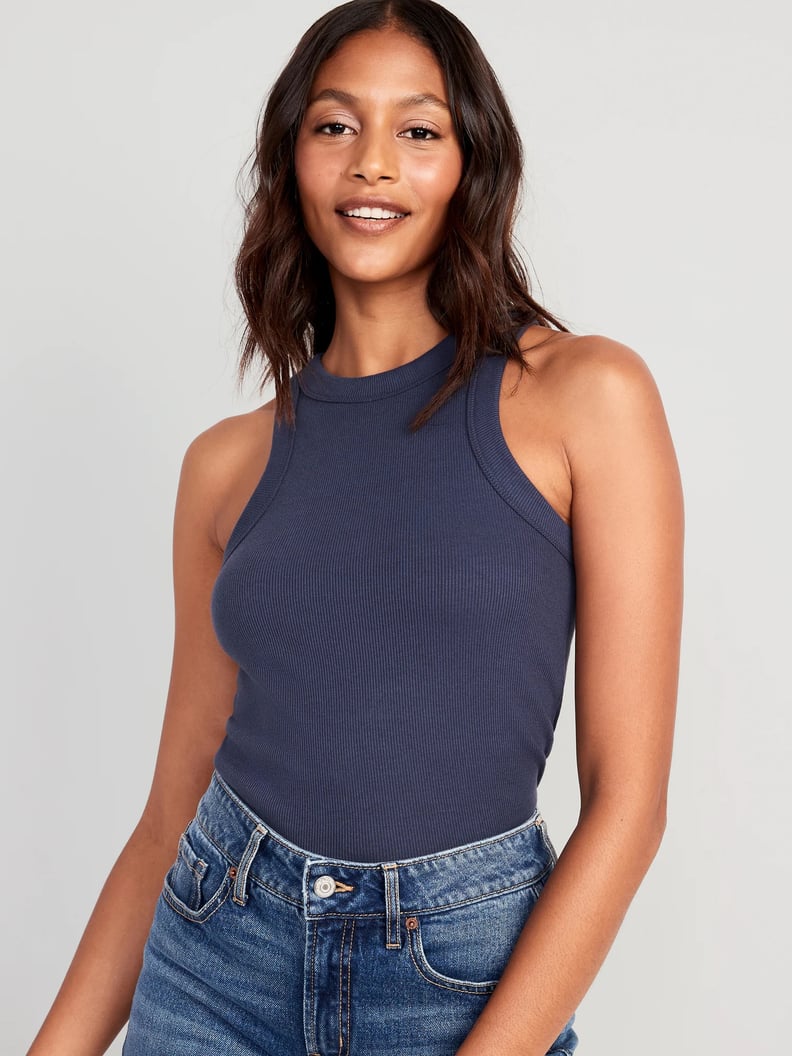 Best Rib-Knit Tank Top
Rib-Knit Tank Top ($10, originally $13)
The high neckline and extra-large arm holes of this tank top give it a chic halter-like look. We love it on its own or with a cardigan or oversize button up shirt thrown over (unbuttoned, of course) to still show some skin. It's made from a blend of cotton, polyester and spandex, so it's soft and stretchy. Choose between eight different colors ranging from neutrals to brights perfect for spring and summer.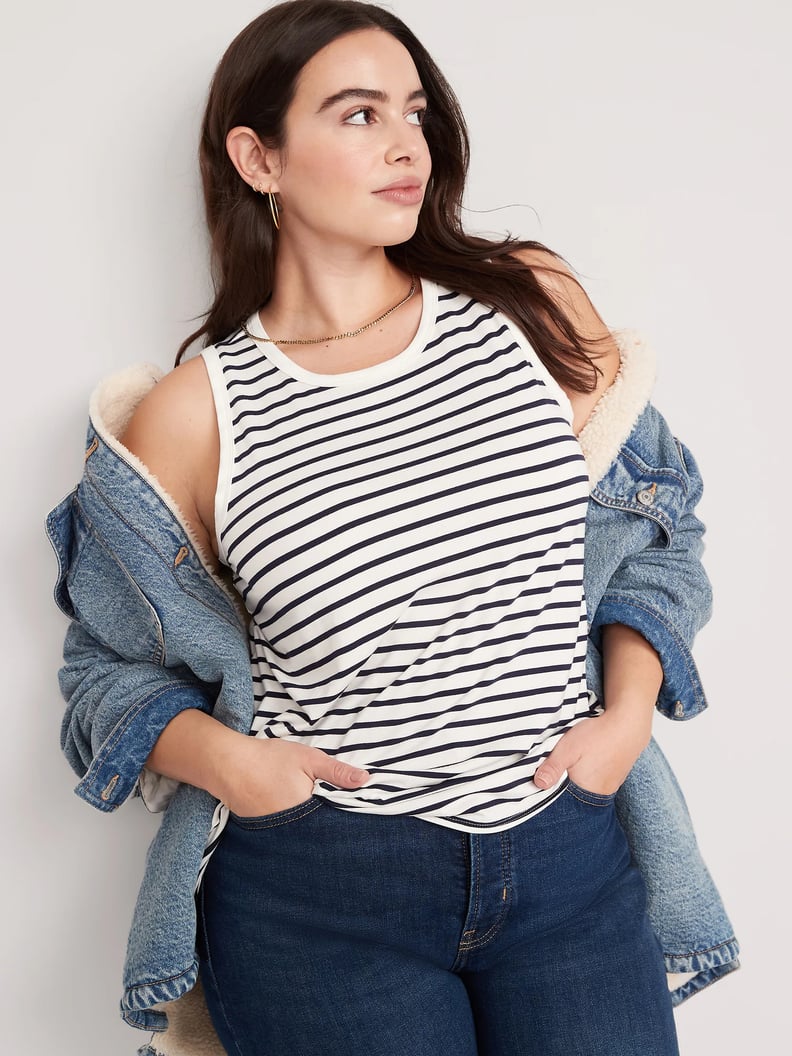 Best Striped Tank Top
Sleeveless Luxe Striped T-Shirt Tank Top ($8, originally $20)
For a classic pop of pattern, this striped tank top has a relaxed fit and extra soft material so it's especially comfortable. You can't go wrong with this red and white option, but it also comes in Earth Brown Stripe if that's more your speed.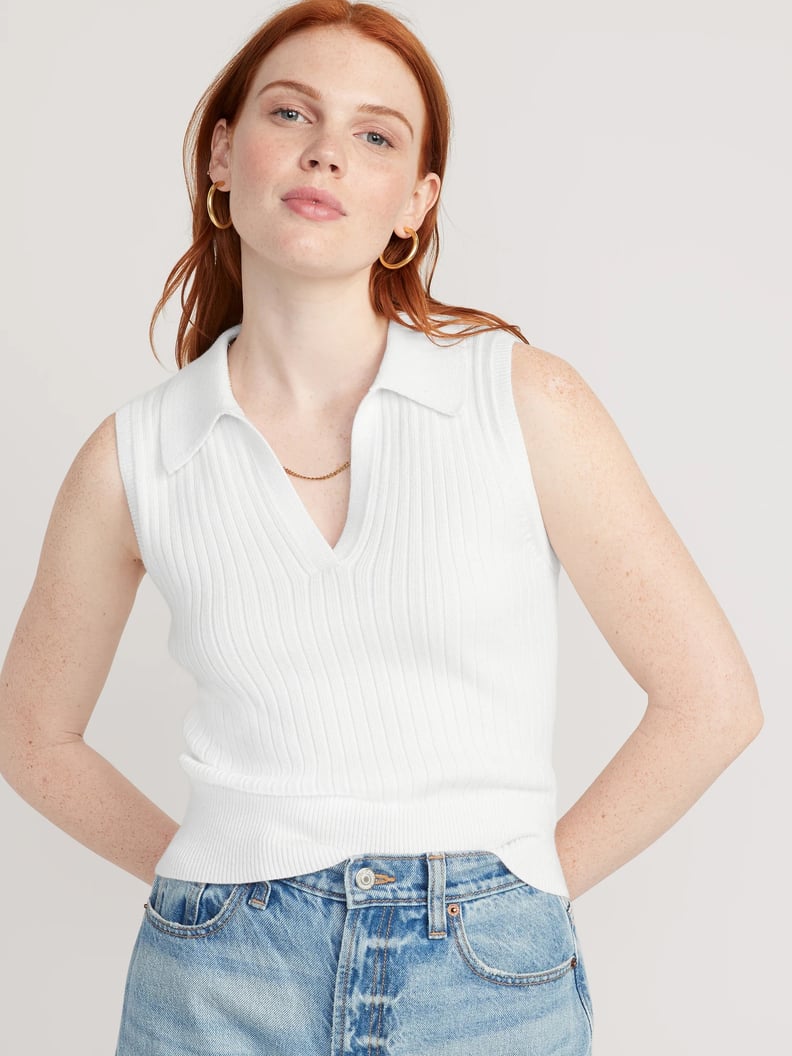 Best Polo Tank Top
Sleeveless Rib-Knit Cropped Polo ($19, originally $37)
For a dose of laidback prep, this cropped polo's V-neck looks amazing topped with a gold herringbone necklace or chain. French tuck it into a pair of chinos or pair it with something more unexpected like slouchy distressed denim. It comes in four different colors, so you can grab more than one.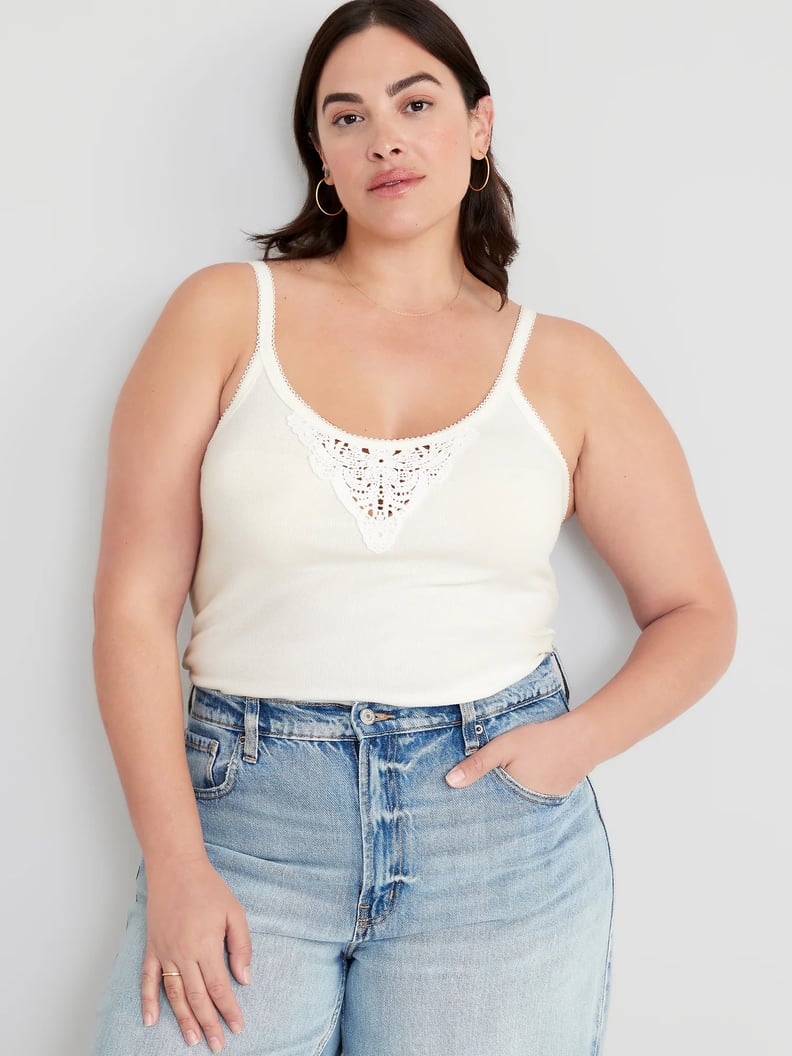 Best Lace-Trim Tank Top
Lace-Trim Tank Top ($8, originally $20)
The triangle-shaped lace cut-out at the top of this tank adds the sweetest detail. It also comes in seven other colors, including pastels and jewel tones.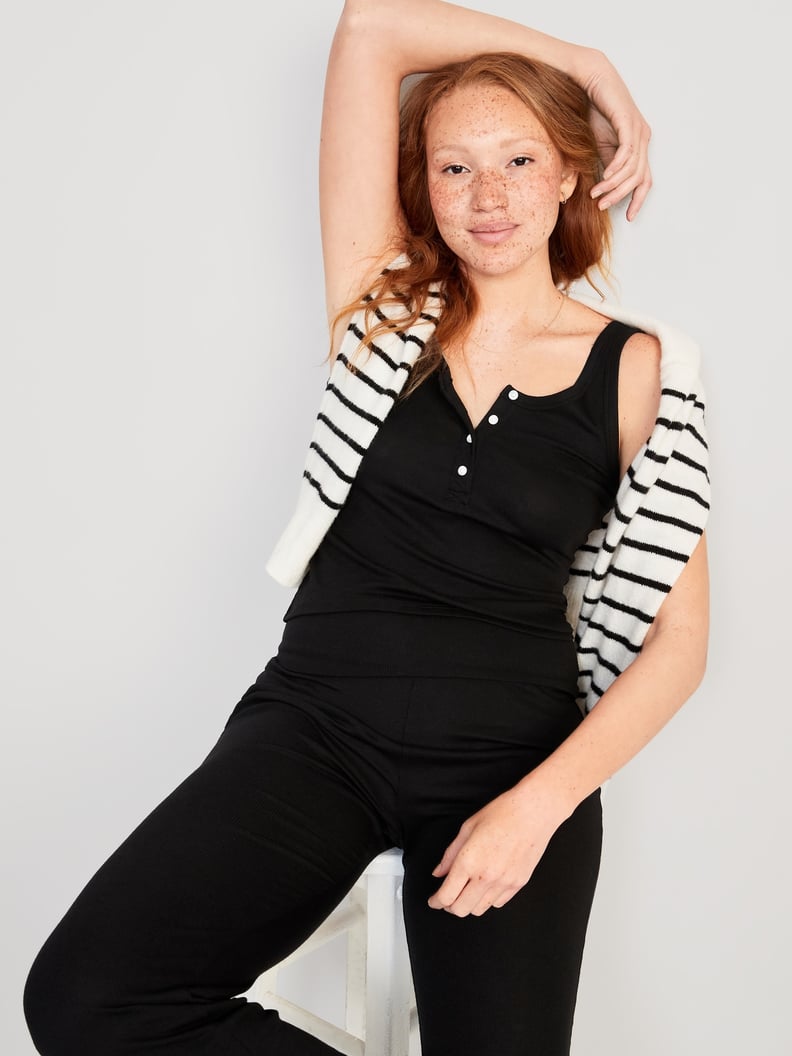 Best Henley Tank Top
UltraLite Rib-Knit Henley Lounge Tank Top ($10, originally $20)
A classic henley tank never gets old. Unbutton it as much or as little as you like for the perfect fit. It comes in three other colors and even a couple of patterns as well.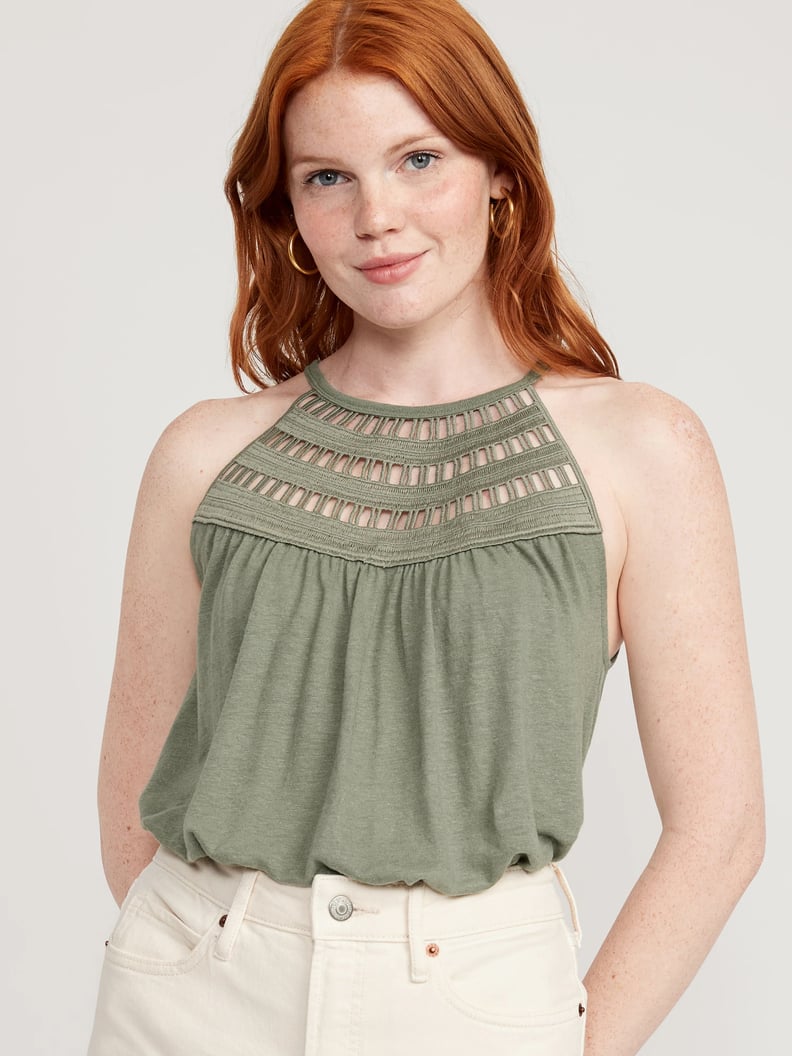 Best Crochet-Trim Tank Top